Halo Reactor Mega Starter Kit Review
Halo is one of the oldest, most respected companies in the vaping industry. Primarily known for its wide range of high-quality e-liquids, this U.S. brand also offers various vaping devices, from basic cigalikes and eGo-style kits to advanced mods and tanks. The Reactor Mega starter kit falls in the latter category, and, in my humble opinion, it's what every rebranded vaping package should be.
While most American e-cigarette companies simply license popular devices from experienced Chinese manufacturers, slap their logo on them and sell them at double the price, Halo apparently does things a bit differently. Yes, they also rely on tried-and-true vaping gear, but they sell it for what it's actually worth. In fact, if you were to purchase the mod and tank that make up the Halo Reactor Mega starter kit from other vendors, they would most likely end up costing you a bit more that the $70 that this kit sells for. Not to mention that Halo also throws in a free 30 ml bottle of juice at no extra cost, and offers a 30-day money back guarantee, if you're not satisfied with your purchase, for any reason. This is pretty much as good as it gets, if you're looking to buy a great product from a reliable vendor.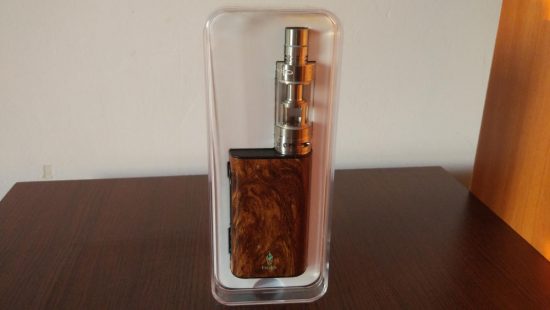 A Look at the Contents
The Halo Reactor Mega starter kit comes in a sturdy clear plastic box that offers a clear view of the actual products inside. This way, you see exactly what you're buying, and not just a digital rendition or a photo of the product. On the back, you have a short description of the products, a list of starter kit contents, the usual age restriction and nicotine-related warnings, and company info.
The assembled Reactor Mega sits snug in a foam holder, under which are all the included accessories packed in separate cardboard boxes. You will find a USB charging cable, a wall charger, a spare coil-head (the tank comes with one pre-installed) and two instruction manuals, one for the mod and another for the tank.
I love the fact that they included a wall charger, an accessory that you don't normally see in advanced vaporizer kits. Not everyone walks around with a laptop, but you can find a power outlet pretty much anywhere. On the downside, I wish Halo had included a spare glass tube for the tank, as the exposed glass cylinder makes it prone to cracking. It's not a big con, but it would have been nice of them to offer a spare.
All in all, it's a decent package for the $70 price.
Design and Build Quality
Halo, a NicoPure company, make some of the best e-liquid money can buy, but when it comes to hardware, they license technology from other manufacturers. For this kit, they have opted for a combination of the Eleaf iStick Power 80W box mod, and the Freemax Scylla 5 ml tank. Both feature the Halo logo and name, but the company has confirmed that they are rebranded versions of the original products mentioned above.
That's not a bad thing by any means. A lot of companies sell licensed vaping products built by reputed manufacturers, but most just double the price for slapping their brand on them. That's not Halo's case though. The whole kit sells for just $70, which is very reasonable and in line with the price of the original products. If anything, this way you get a guarantee that the products are in fact original, not knockoffs, and you also get a free bottle of e-liquid, as a bonus. It's a win-win situation.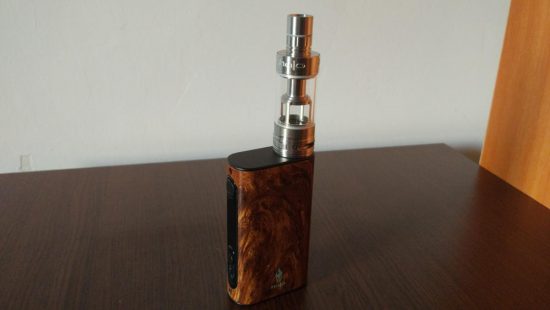 The Reactor mod, is a rebranded Eleaf iStick Power, a  tried-and-true advanced mod made by one of the most popular manufacturers in the industry. The design and features are virtually identical, except of the small Halo logo.
The box mod measures 83.5 x 49.5 x 23.5 mm, which puts it in the mid-size category. However, it's one of the lightest devices of this size that I've ever used, which makes it very comfortable to use and carry around in a pocket or a purse. The mod I received for this review has a wood grain finish, but Halo offers several other color options – white, silver, grey and bronze.
The reactor features a sturdy spring-loaded 510 connection on top, the buttons and display are located on one of its rounded edges, and on the bottom, it has battery venting holes and a USB port that can be used both for charging and software upgrades.  The black plastic buttons are very solid, so there aren't any rattling issues to report, and the display, while relatively small, is bright enough to be visible in any lighting conditions.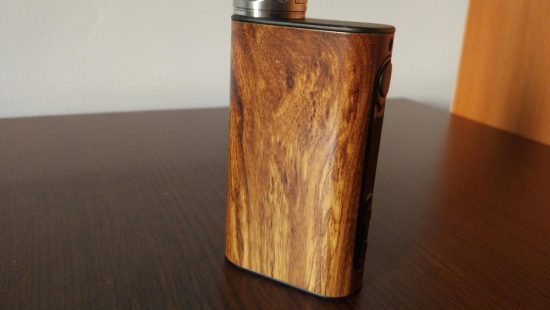 The Reactor tank, which is based on the highly-praised Freemax Scylla, is made of stainless steel and tempered glass, and has an official e-liquid capacity of 5ml – although I was able to fit a bit more in it. It's 22 mm in diameter and 75.8 mm tall, which is a bit too tall for my taste, but it fits great on the included box mod, and the high-juice capacity justifies the size.
One of the things that sets the Reactor/Scylla apart from other advanced tanks is the unique top filling system. Instead of a classic threading, the top cap features a cool notch-system that requires the user to simply grab the base of the drip tip and turn it counter-clockwise and then pull up to remove the top cap and reveal the fill ports. To lock it after refilling just put the top cap back on and rotate it clockwise. That's all it takes.
The two large airflow slots at the bottom of the tank can be opened and closed using a ratchet metallic ring that snaps into place with a satisfying sound whenever you turn it. A stopper on the tank prevents you from turning the ring continuously in either direction.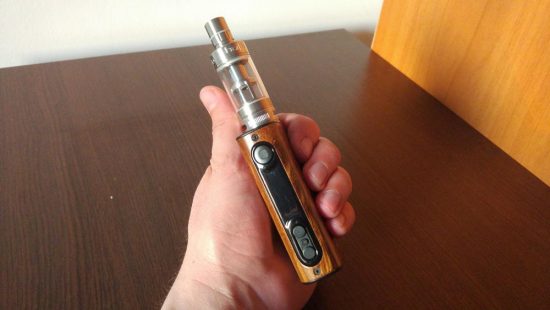 The drip tip included in the Reactor Mega starter kit is made of Delrin and wrapped in stainless steel to match the look of the tank. So it look good but won't burn your lips even when vaping at high wattage. It's removable, so you can swap it out with your favorite drip tip, or purchase a clear glass one from Halo.
Like the original Freemax Scylla, the Reactor Mega tank works with Aspire Atlantis or Triton-like coil heads, which gives you the freedom to experiment with a variety of resistances and materials, included ceramic.
Battery Life
To save users the trouble of having to purchase 18650 batteries separately, Halo opted for a high-power vaporizer with a built-in, non-removable battery. But unlike other such devices, the Eleaf iStick Power actually rivals the battery capacity of dual-18650 mods, offering plenty of battery life, regardless of your preferred power output. The battery has an impressive capacity of 5000 mAh, which is on par with the capacity of two 2500 mAh high-discharge 18650 batteries, like the Samsung 25R, for example.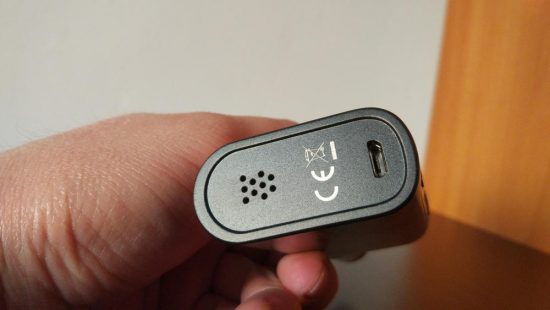 It's hard to accurately predict how long the battery is going to last, due to the many variables that have to be taken into account – set wattage/temperature, vaping time, puff time, etc. – but I'm going to go out on a limb here and say that most vapers will probably get at least a full day of vaping out of it.
I have been using the Reactor Mega with the 0.25Ω coil-head, at around 60W, and I got a good 10 hours out of the battery. I consider myself a heavy vaper – as in I hardly ever put my mod down – so casual vapers should get at least one day of vaping out of it, if not more.
As far as built-in battery mods go, the Reactor Mega/Eleaf iStick Power definitely has the best battery life of all such mods I have ever used.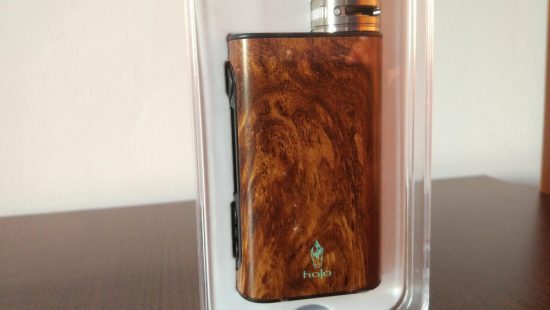 Menu System and Navigation
The Reactor Mega box mod has a very simple and intuitive menu system. Everything happens on the main screen, so there aren't any sub-menus to get lost in. But we've seen that done before on Joyetech mods, and it's actually more complicated than it looks. But Eleaf has solved this problem by adding a fourth button to the classic three-button configuration – a power button and the "up" and "down" adjustment buttons.
This extra button, which the user manual refers to as the "menu button", is much smaller than the other three, and is located between the "up" and "down" buttons. It was the only available space, but it's somewhat problematic, because I can see people withe large fingers having trouble pressing this tiny button without accidentally pressing one of the other two buttons as well. Again, not a big con, but something to keep in mind.
First things first: to turn the Reactor Mega box mod on and off, you have to press the fire button five times in rapid succession.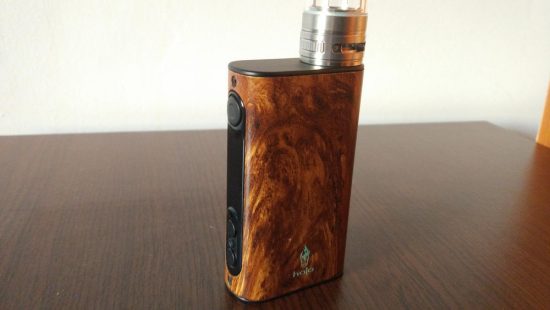 To go through all the different modes of the Eleaf iStick Power, all you have to do is keep the menu button pressed for a couple of seconds. This will allow you to browse through wattage mode, temperature control mode, bypass mode (which makes the device work as a mechanical mod), smart mode, and  three different memory modes. In temp.control mode, pressing the menu button will let you go through the three different supported materials – Ni200, titanium and stainless steel.
Smart Mode allows you to set and save the power output for 10 different resistances, so that when you're using multiple atomizers with this mod you don't have to go through the settings every time you switch.
There are also a number of button combinations you can use to fiddle with secondary settings. For instance, pressing down the "up" and "down" buttons simultaneously will lock these buttons so that you don't accidentally change the settings, while pressing the menu button and either the "up" or "down" button in temp control mode will let you adjust the initial wattage output.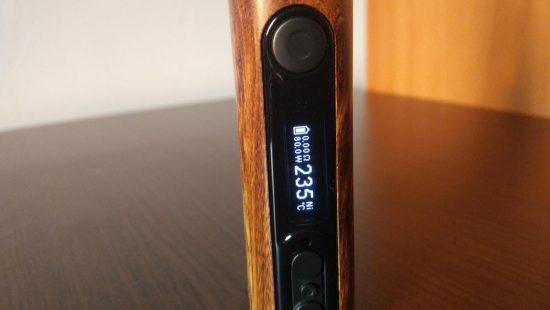 The beefy user manual covers the menu and navigation in great detail, which was actually surprising, considering that most mods these days only come with a flimsy manual that only mentions the basics.
Overall, the Reactor Mega is a joy to fiddle with, thanks primarily to the menu button, which makes browsing through all the different options a breeze.
Oh, and interesting thing I found about this mod is that even though this isn't officially an Eleaf iStick Power, you can actually go on the Eleaf website and download the upgrade tool, which you can then use to upgrade your device to the latest version. You can even take advantage of the "logo" feature, which allows you to customize the mod by having a logo show up on the display.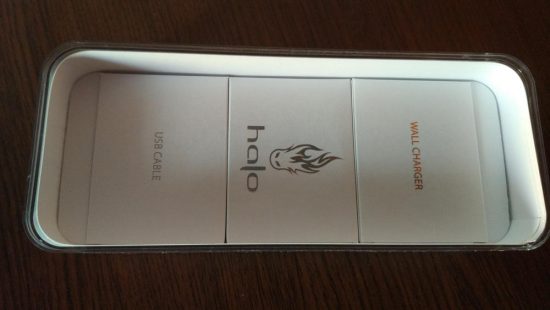 How It Vapes
The Halo Reactor Mega is a nice looking mod with plenty of useful features and an easy menu to boot, but all that doesn't really add up to much if a mod doesn't vape well. That's ultimately what the quality of a vaporizer comes down to, how good of a vaping experience you get when using it. Luckily, the Reactor Mega doesn't disappoint in this department, although there are a couple of things that, if changed, could make this an even better starter kit.
The Reactor Mega/Eleaf iStick Power has a power out put range of 1W – 80W, but the problem is that you can't safely use it in wattage mode right out of the box, due to the nature of the coils that come included in the kit. Both coil heads are made of nickel (Ni200), a material that can potentially release toxic compounds if heated past a certain point, which only makes it suitable for temperature control vaping. The good news is that Halo does offer stainless steel and kanthal coil-heads on its website, but I just don't get why they didn't include one in the starter kit to begin with. That would allow users to try out both modes safely, and make up their own minds about what kind of coils they want to use moving on.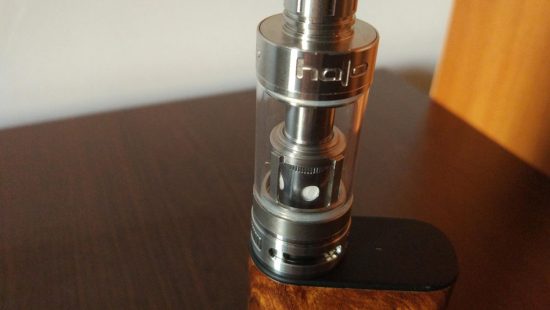 This is kind of a big deal for me, as it exposes unsuspecting vapers to some serious problems, especially those who don't know about the danger of vaping Ni200 in pure power mode. Hopefully they'll start including another type of coil-head in their starter kits soon, and inform users about which mode is suitable for every coil material.
Fortunately, the Reactor Mega tank is compatible with Aspire Atlantis/Triton coil heads, and I just happened to have a set of Kanthal ones around, so I was able to use it wattage mode as well. Otherwise, temp. control would have been my only option.
My coil heads were 1.5Ω in resistance, so I was only able to test this setup in mouth-to-lung mode, which isn't the way I normally vape. Still, I was happy to try wattage mode at all, so I'm not complaining. I'm happy to report that both the mod and the tank preformed pretty well. There was no noticeable delay when pressing the fire button, the power output felt pretty accurate, and I had no leaking problems. Vapor production was decent for the level of power I used, but I had a feeling it could be a lot better at higher wattages.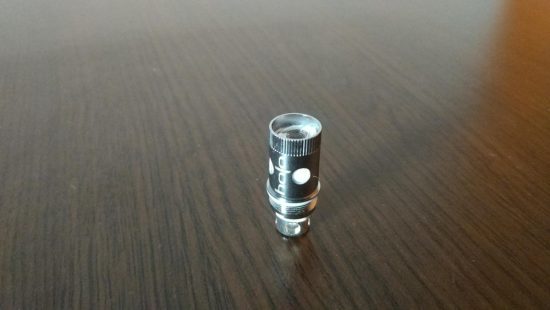 In temp. control mode, the Reactor Mega offers a range of 100º C to 315º C/200º F to 600º F, which is in line with most other advanced mods. I'm usually not a big fan of temperature control vaping, but due to my limited options for wattage mode, it was the only way to get an idea of what this vaping kit was really capable of.
The 0.15Ω Ni200 coil-head was my favorite of the two included in the kit – the other is 0.50Ω – simply because it allowed me to vape at a higher temperature and produced considerably hotter vapor, just the way I like it. The vapor production was way better that what I got when using the device in wattage mode, and while not exactly on par with tanks like the SMOK TFV8, it was definitely satisfying.
Coil heads also last a lot longer when used in temp. control mode, so that's one advantage, but I would have really liked to test the limits of the Halo Reactor Mega in wattage mode as well. I'm sure it works great, but I still can't understand why Halo wouldn't give me the chance to try it.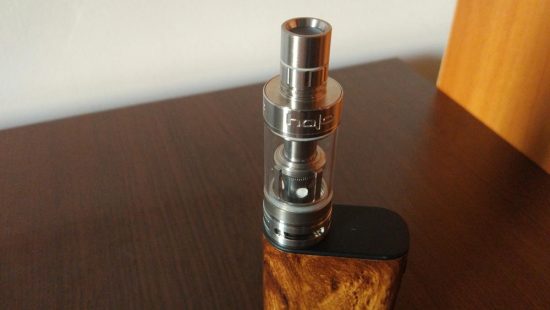 Conclusion
Overall, the Halo Reactor Mega is a really solid vaping kit. The mod is one of the best, if not the best, built-in battery unit I've ever used, featuring an impressive 5000 mAh capacity, plenty of useful features, easy menu navigation, and also a pleasant, ergonomic design. The tank, while not my favorite, is based on a popular, proven, design, and offers great e-liquid capacity and compatibility with one of the most widely used coil-head models. Vapor production is above average, as is the flavor production. But the best thing about this kit is the price. For $70 you're not only getting a very good vaping kit, but also a 30 ml bottle of high-quality e-liquid, and the Halo quality guarantee. That's really good value for money!