Vapelustion Hannya Nano Review
After testing the vape market with a 230W dual-battery mod, Chinese manufacturer Vapelustion is getting into the pod system game with a beginner-friendly vape pod that stands out primarily through its unique, manga-inspired look. Let's take a look at the Vapelustion Hannya Nano:
Hannya Nano Packaging and Presentation
As its name suggests, the Hannya Nano is a really tiny vaping device, but it comes in one of the largest, most eye-catching boxes I've ever seen. I've used triple-battery vape mods that came in much smaller, less conspicuous packages than this.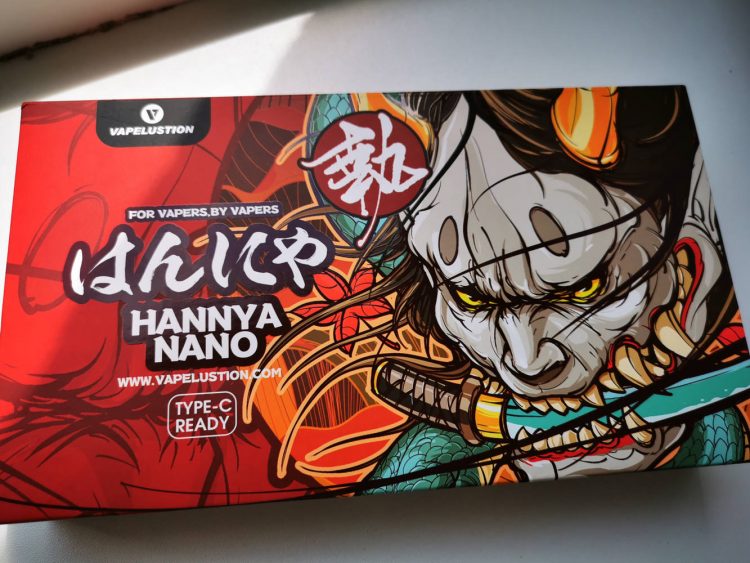 The rectangular box features the same demon-like creature present on the panels of the pod system itself on both sides, as well as some Japanese branding, for added effect. It's definitely one of the most cool packaging designs I've seen in all my years as a vaper, but in terms of practicality it's not the best. I mean, with so much real estate available, the manufacturer somehow failed to include a list of kit contents…
Inside the large box we have a lot of Styrofoam filler, the Hannya vape pod, a set of extra detachable panels, one refillable pod, a Type-C USB cable for charging, a lanyard that matches the manga-inspired theme of the vape pod, and a user manual. There is a lot of wasted space inside the packaging, to be honest, and the parts that are used could have been used more efficiently for example the lanyard and the USB cable come in their own individual boxes, which I personally consider wasteful and unnecessary.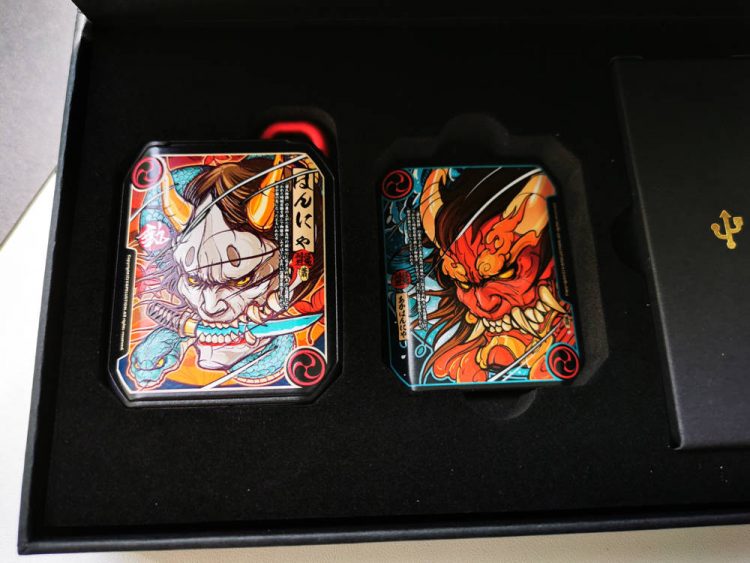 But my biggest problem with the Hannya Nano kit is the lack of a spare refillable pod. That's pretty much unacceptable at this point, especially since this device doesn't support interchangeable coil-heads. If you accidentally ruin a pod, you have to throw it away, which is why including a spare is so important. Unfortunately, Vapelustion didn't seem to think so.
Vapelustion Hannya Nano Design and Build Quality
Just like Vapelustion's Hannya dual-battery advanced mod, the Hannya Nano relies heavily on its look to draw in potential buyers. It is indeed one of the most eye-catching vaping products available on the market, especially if you're a fan of Japanese traditional art or of manga and anime.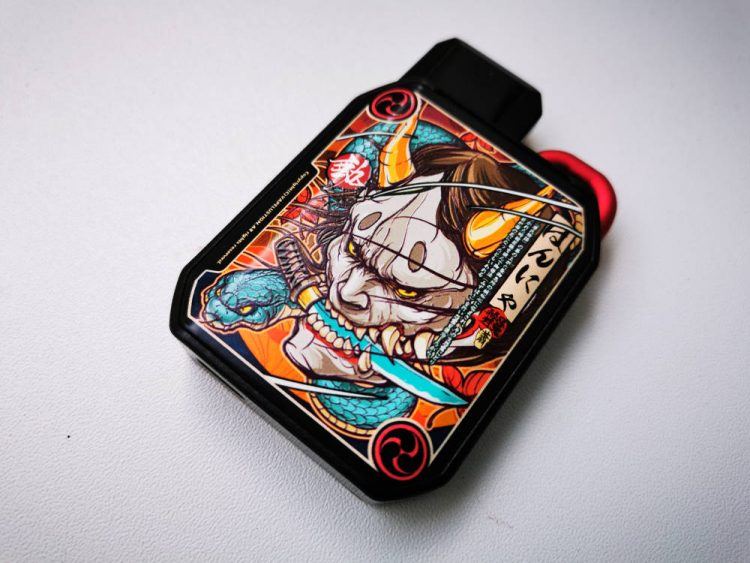 Shape-wise, the Hannya Nano is very similar to other pod systems we've seen in recent months, like the VooPoo Drag Nano or the Smoant Charon Baby. It's basically a flat square design with rounded corners for improved ergonomics. Apart from the large red ring at the top which is where you are supposed to attach the lanyard, there is nothing to be confused about.
The Hannya Nano vape pod is made primarily of plastic and zinc alloy, measures 66mm x 49mm x 14mm and weighs just under 66 grams. It's definitely one of the smallest and pocket-friendly vaping devices you can  buy, and as I already mentioned, one of the most attractive as well.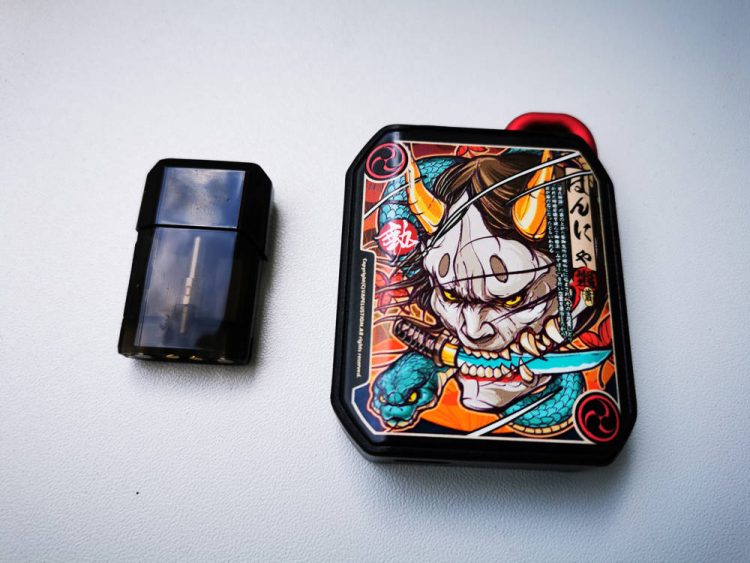 The main draw of this device are the detachable panels, of which two sets are included in the kit. The vape pod features these very discrete grooves near the top of the side panels where you can insert a fingernail to help detach the panels on both sides. They are magnetic and stay firmly in place when using the Hannya Nano, but a slight pull with the fingernail will make them come off.
Both sets of panels feature the same style of artwork inspired by yōkai, a type of monsters and demons from Japanese folklore. One set features the same artwork as the one on the box, and the other a mean-looking red demon. I think they both look cool, but if you're looking for something else, Vapelustion also sells panel sets separately, and they come in both other anime-inspired designs, but also some inspired by Western fiction, like DC Comics villains The Joker or Harley Quinn.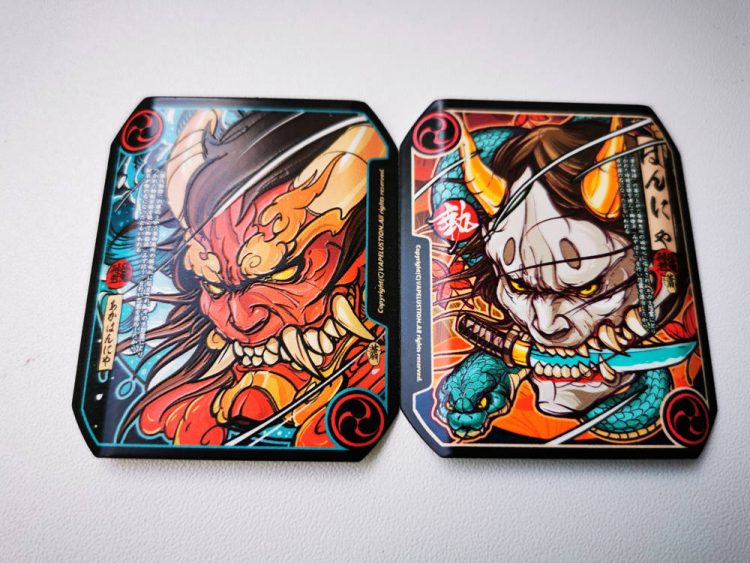 Honestly, when I first saw this device, I was convinced that the panels would be made of flimsy plastic, but that is most certainly not the case. In fact, it's the mod itself that feels plastic, but the side panels are metallic and the paint job is very high quality as well. Not only does the artwork have a matte finish I like very much, but it's also textured, so you can feel all the features of the monsters as you brush your fingers over them.
Vapelustion Hannya Nano Pod
The pods for this device are very similar to the ones for the Drag Nano or Charon Baby. They hold up to 2ml of e-liquid, have a built-in 1.2Ω and feature a classic fill port on the side. Just like the pods of the above mentioned devices, the pods are only slightly tinted, but suffer from the same design flaw: they go inside the mod, so you can't see the juice level without removing them.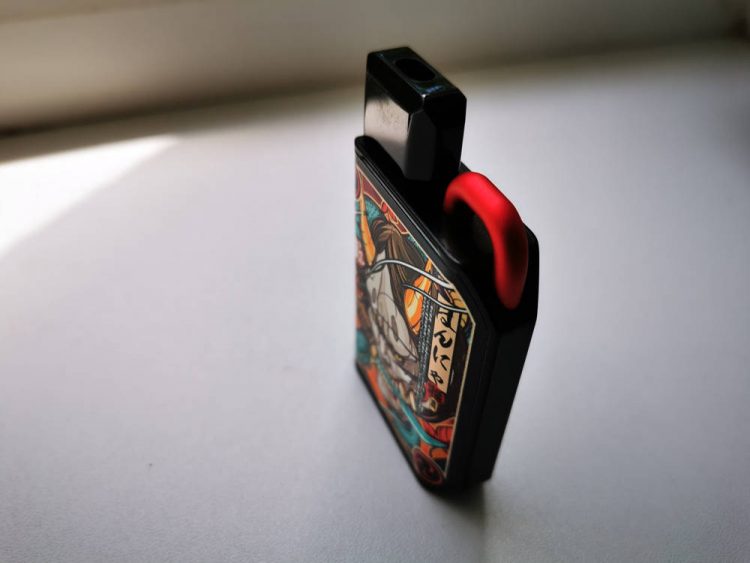 It's not that big of a deal, unless you're the forgetful type who also doesn't pay attention to the drop in vapor production and flavor when the juice level drops significantly, but I wish manufacturers came up with a design that let you keep an eye on the e-liquid.
The pods hook up to the battery section via magnets, are easy to remove and refill, but I still can't get over the fact that you only get one included in the kit. As nice as the Hannya Nano looks and feels, that's something I just can't ignore. There should be at least two pods in this kit, there is no getting around it!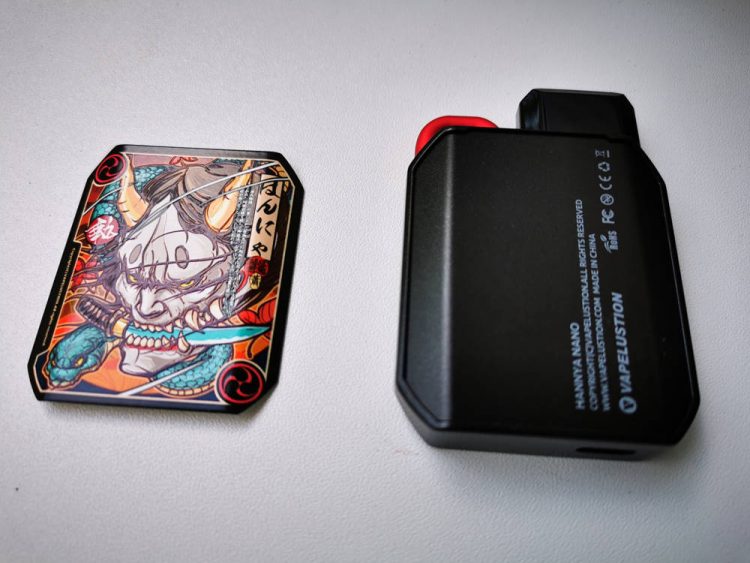 Hannya Nano Battery Life
There was a time when devices the size of the Hannya Nano didn't have more than 400 mAh battery capacity, but manufacturers have been getting a lot better at designing and allocating space, and we now have pod very small pod systems with battery capacity in the 700 milliamphours.
Sadly, the Hannya Nano doesn't excel in this department, sporting a battery capacity of 600mAh, which is decent, but nowhere close to similar size vape pods like the Smoant Battlestar Baby, for example. Luckily, the 1.2Ω coil-head inside the pod of this device shouldn't drain your battery too fast, so there's that…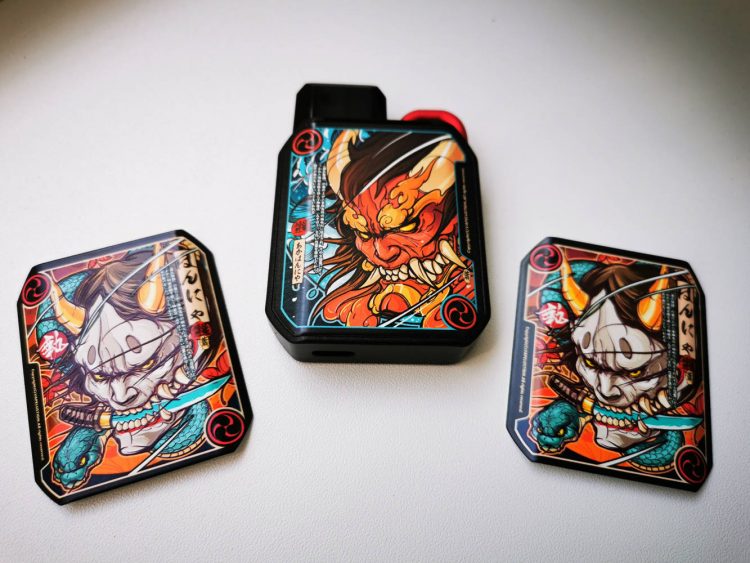 Also, you can use the Hannya Nano with the USB-C charging cable attached, and the device does support fast charging, which means you can have a full pod system in around 30 minutes.
How the Vapelustion Hannya Nano Vapes
It's important to note that this is a fairly basic vaping device, so if you're expecting features like variable wattage, temperature control or even adjustable airflow, you'll be very disappointed. The Hannya Nano is aimed at beginners and casual users looking for fast and easy ways to get their nicotine fix. With that said, let's talk about performance: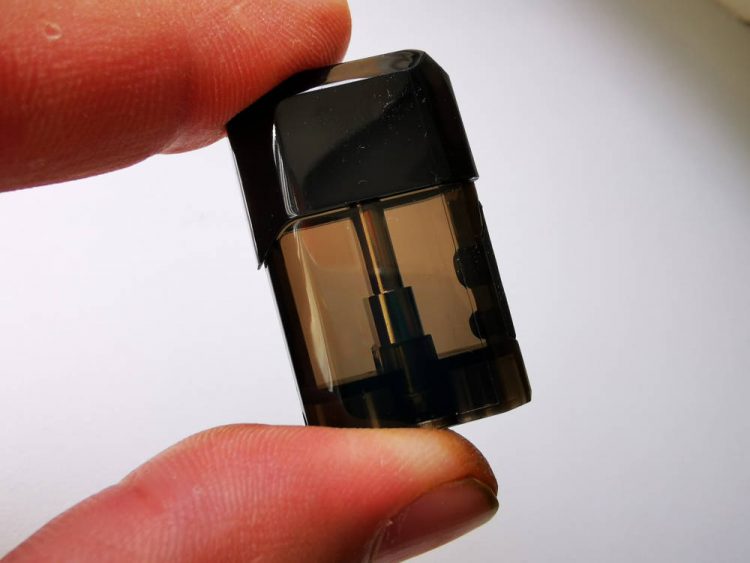 As you've probably already guessed by the size of Vapelustion's newest pod system and the design of its refillable pod, this is a device aimed at MTL (mouth-to-lung) vapers. You're never going to be "chugging the clouds" with this thing, no matter how hard you try. But if you're just looking for something affordable and easy to carry around to satisfy your nicotine cravings, it'll do the trick.
I find it odd that Vapelustion is currently only offering the 1.2Ω coil option, when competitors are offering at least two coil resistances, but I will admit that if they were to have just one coil, this was probably the right one to go for. It's great for the loose MTL draw you get on the Hannya Nano, the flavor is above average in terms of intensity and very clean, compared to other pod systems out there, and it's not too hard on the battery either.
I've only been using the Hannya Nano for a couple of days now, but it's been doing ok so far. The coil is still going strong, I've detected no changes in flavor yet, and I've been getting about 4-5 hours, which, considering my rate of use, is not too shabby.
Conclusion
The Vapelustion Hanna Nano, like the Hannya 230W mod, is a device that stands out solely because of its eye-catching look. Those high-quality metal panels do look bad-ass, I will give it that, but otherwise there is nothing impressive about this pod system. It's basically the same type of rudimentary vape pod we have seen numerous times before, only this time it looks a lot cooler. That said, if you're looking for something simple to keep you off tobacco cigarettes, the Hannya Nano works just fine.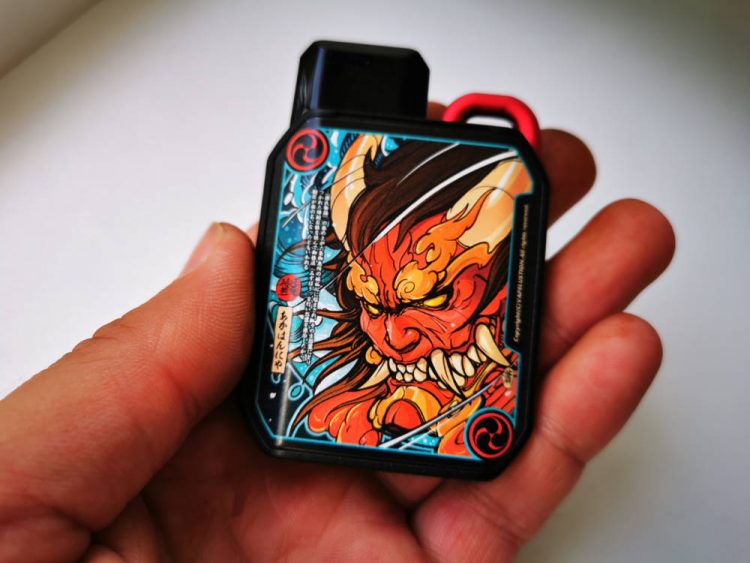 The Vapelustion Hanna Nano was sent to me by Heaven Gifts for the purpose of this review. They currently have it in stock for just $37.82
Pros
cool design
great presentation
metallic detachable panels
decent performance
Cons
only one pod included
no adjustable airflow
e-liquid level not visible