Top 5 Most Durable Mods of 2020
Vape mods are generally a lot more durable than people think, but obviously, some are a lot sturdier than other, and a few are actually designed to be able to take serious punishment and still function. In this post, we'll be looking at my top five most durable vape mods I've tried in 2020.
You're probably expecting this to be a list of five GeekVape Aegis products, but 2020 was actually the year that the popular line of IP67-rated vape mods has seen some serious competition, with big brands like Vaporesso and SMOK finally entering the sector dominated by GeekVape for so long.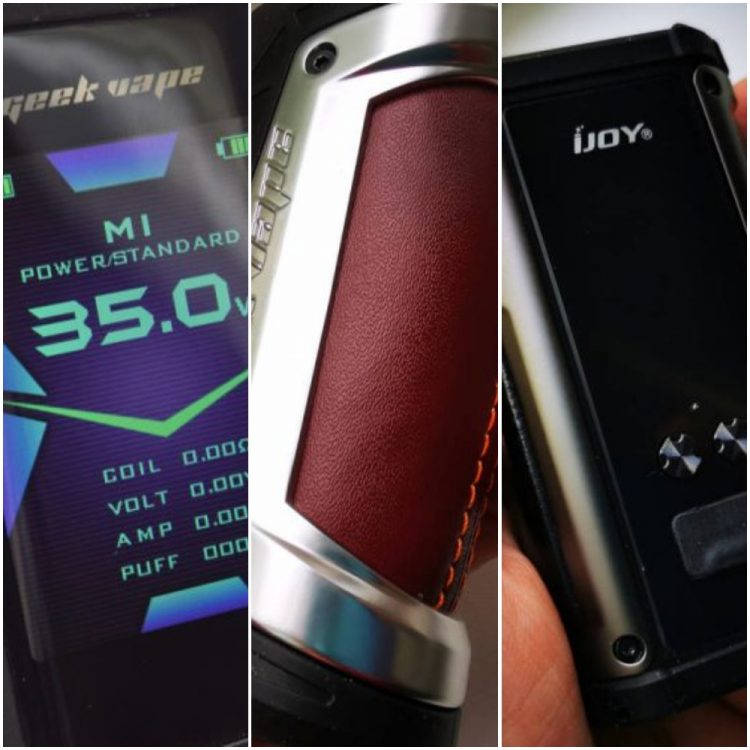 Just like my other lists of best vape products, this one is based on my personal experience and the products I had a chance to try out until now. I have been fortunate enough to test almost every Aegis mod ever launched, as well as some other interesting ones, but there are a few devices I haven't reviewed yet, so this isn't an "ultimate list".
Before we get into the nitty gritty, I just want to point out that this is NOT sponsored content, I receive no endorsements from the manufacturers listed below. Some of them have sent me review samples over the years, but with no strings attached.
With all that said, here is my list of the five most durable vape mods:
No. 5 – SMOK Scar-Mini
SMOK used to make some of the most durable vaping devices. I still own a couple of perfectly functional Alien 220W mods; their paint chipped off in months, but despite being dropped countless times, they still work. That said, the Chinese manufacturer never officially targeted the durable mod market until recently, when it launched the Scar-Mini, a compact, IP67-rated vape mod featuring a silicone finish and a design reminiscent of the Aegis.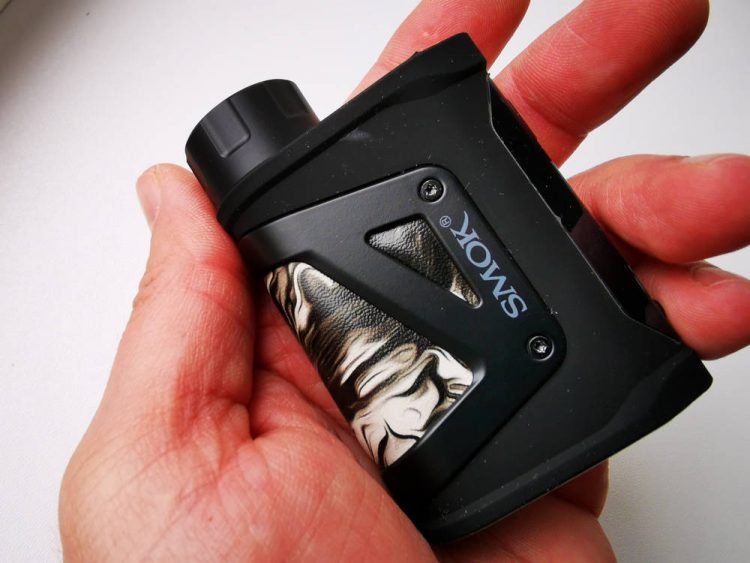 The Scar-Mini is the smallest device on this list, so if you're looking for something that easily fits in a small pocket, this is probably right up your alley. Like all the other mods on this list, the Scar-Mini is waterproof, shockproof and dustproof, and although I haven't really put it to the test, it does feel like it could take some punishment.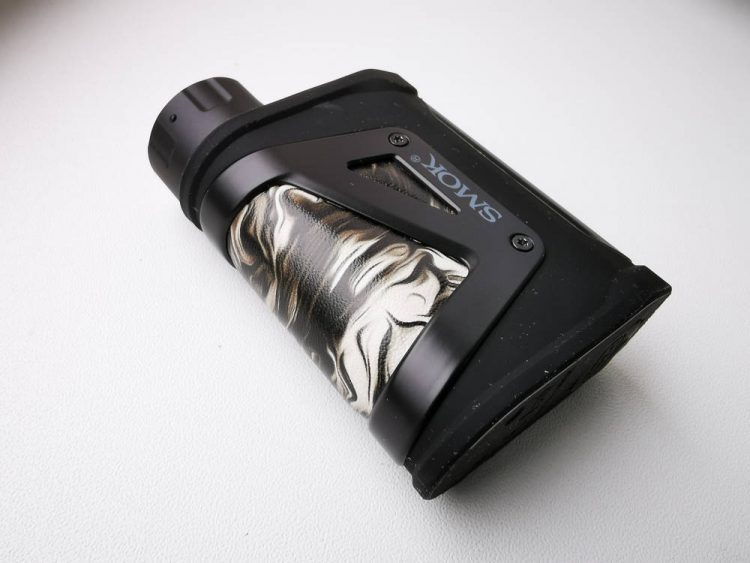 Unfortunately, the Scar-Mini is lacking in features, has a very outdated display, and the quality of materials isn't quite as high as on the other devices listed here.
Buy the SMOK Scar-Mini Kit
Get a great discount on the SMOK Scar-Mini vape kit from a trusted seller.
No. 4 – iJoy Captain 2
The original iJoy Captain PD270 is one of my favorite all-time vape mods. I still have it in my connection, it still works, and even though I haven't used it in over 2 years, I have very fond memories of it. So when iJoy cam out with a version 2 of the Captain, I just had to try it for myself. Referred to as "The Strongest Warrior" on the iJoy website, this beast of a mod turned out to be sturdier than the original.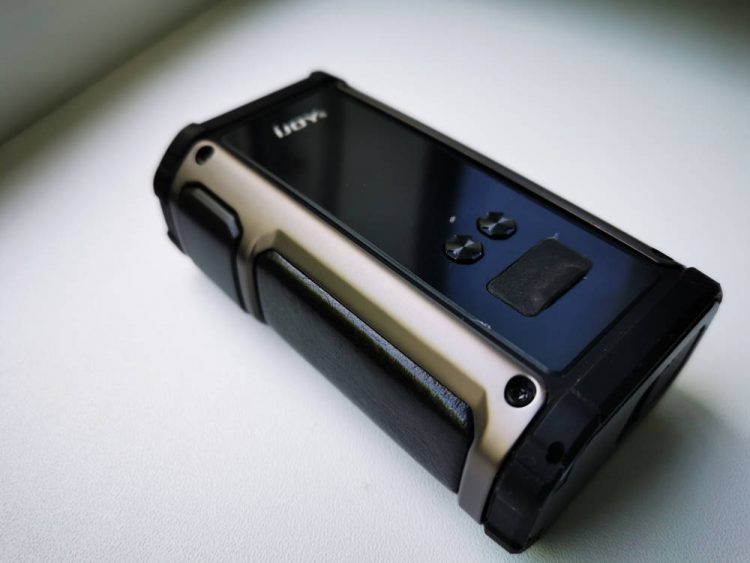 While it only takes 18650 batteries, and not 20700 ones, like the PD270, the new iJoy Captain 2 is even larger and bulkier. That's because it has different ambitions this time around. Featuring a die-cast aluminum alloy frame, and advanced LSR injection molding, the Captain 2 is described as a "real military grade mod".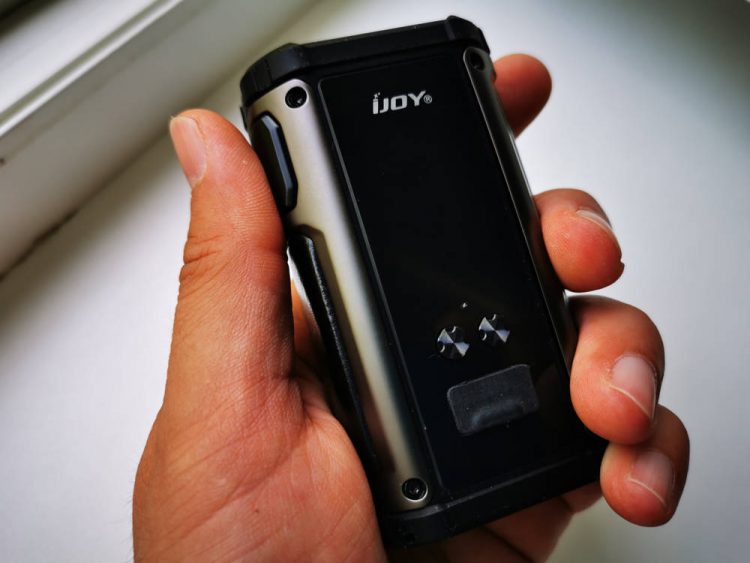 Apart from its IP67 rating, the iJoy Captain 2 actually feels very heavy and sturdy in the hand, so there's definitely more than marketing to it. That said, it may be a bit too large for most people, and the outdated display doesn't help it too much either.
Buy the iJoy Captain 2
Get a special price on the iJoy Captain 2 IP67 vape kit from one of the most trusted online vape shops.
No. 3 – GeekVape Aegis Max
This is a list of the most durable vape mods, so there was bound to be at least one Aegis entry. While the original Aegis 100 and the Aegis Legend definitely deserved to be included as well, I opted for the Aegis Max, simply because it is the newest of them all. Plus, they are all so similar in both design and functionality, that there was no point in featuring them all.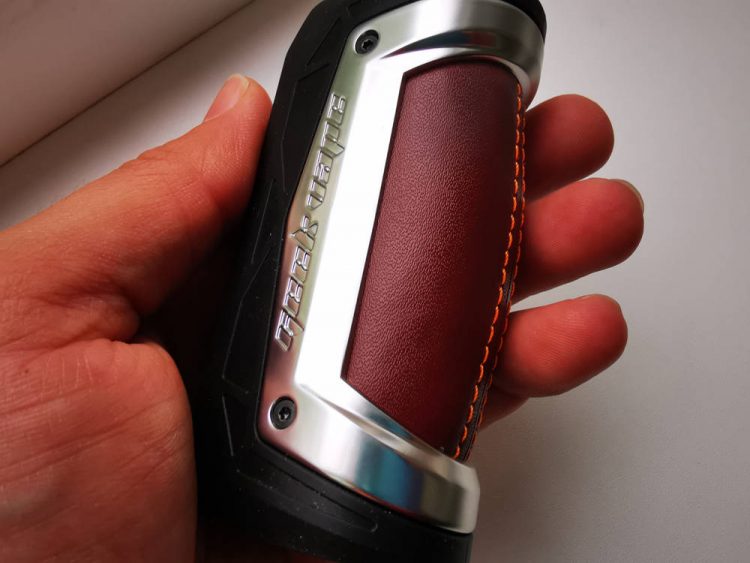 The GeekVape Aegis Max has the iconic design of the Aegis line, complete with a very large 510 stainless steel plate that accommodates the largest atomizers without any overhang, a sturdy metal battery door, and the high-quality leather finish that we've come to know and love. It's also a 21700 battery mod, so it offers improved battery life over single 18650  mods.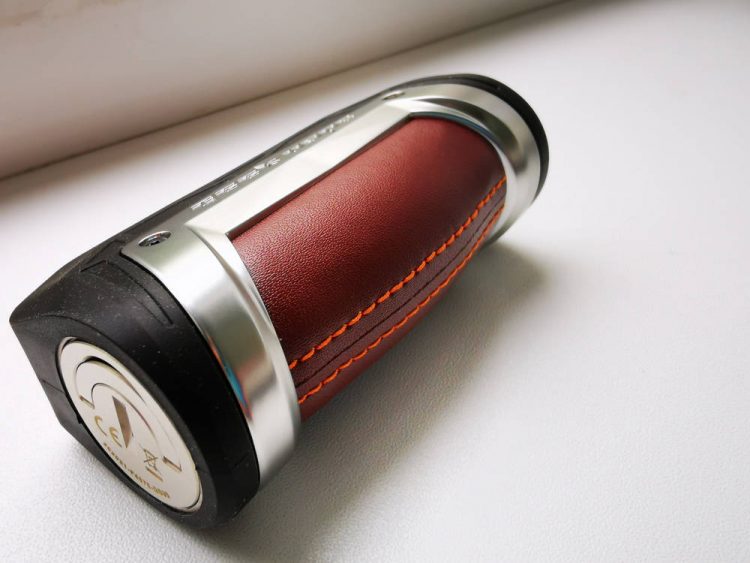 The Aegis Max retains the IP67 rating that originally made the Aegis so popular, and the same high build-quality, but at the end it's just more of the same. The same design, same chip and black-and-white display, and the same micro-USB port. It's time for something new, GeekVape!
Buy the GeekVape Aegis Max
Get a significant discount on the GeekVape Aegis Max kit from a trusted online seller.
N0. 2 – Vaporesso FORZ TX80
Vaporesso has been a top vape manufacturer for many years now, so it made sense for them to finally target one of the most lucrative sectors of the market. This year they did just that, launching the FORZ TX80, a durable, IP67-rated vape mod designed to compete against the Aegis single-battery mods.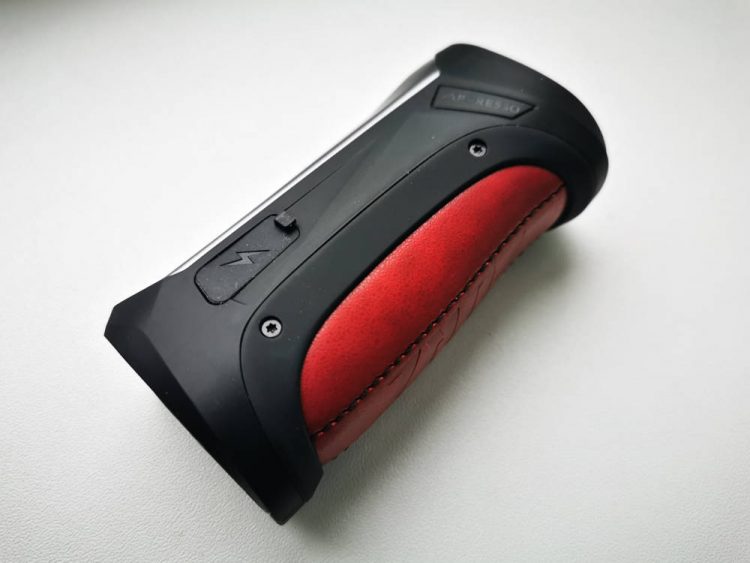 Although I feel like the general design of the FORZ TX80 is heavily inspired by the Aegis line (same shape, same battery door, and very similar leather handle), there is also a lot that sets it apart, For example, it is powered by Vaporesso's excellent Axon 2.0 chip which puts GeekVape's chips to shame, and features USB Type-C.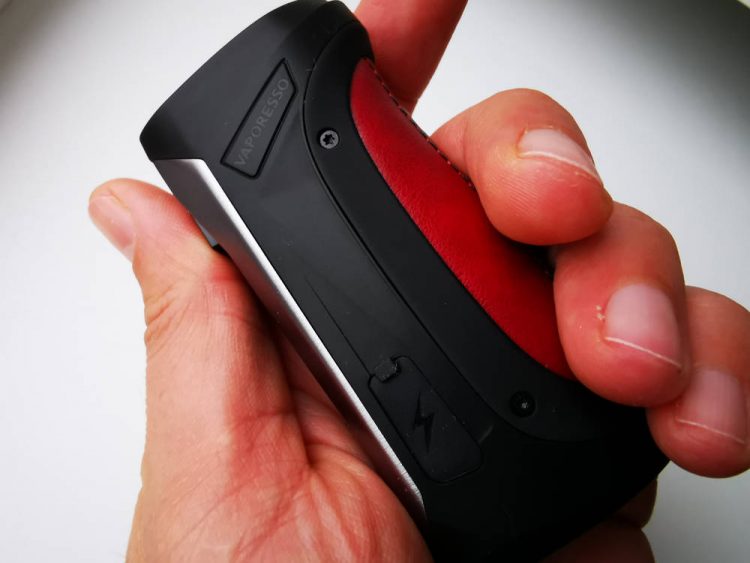 For me, the Vaporesso FORZ TX80 was one of the most impressive mods of this year, and definitely a solid first step into the durable vape mod sector. I for one can't wait to see where Vaporesso goes from here.
Buy the Vaporesso FORZ TX80
Get a nice discount on the Vaporesso FORZ TX80 vape kit from a trusted online vendor.
No. 1 – GeekVape Aegis X
I knew what device would be at number one before I even decided what mods I was going to include, and if you've ever had the chance to try the Aegis X, you probably understand why. This is not only the most advanced Aegis mod GeekVape ever made, it's one of the most stunning-looking mods ever, period!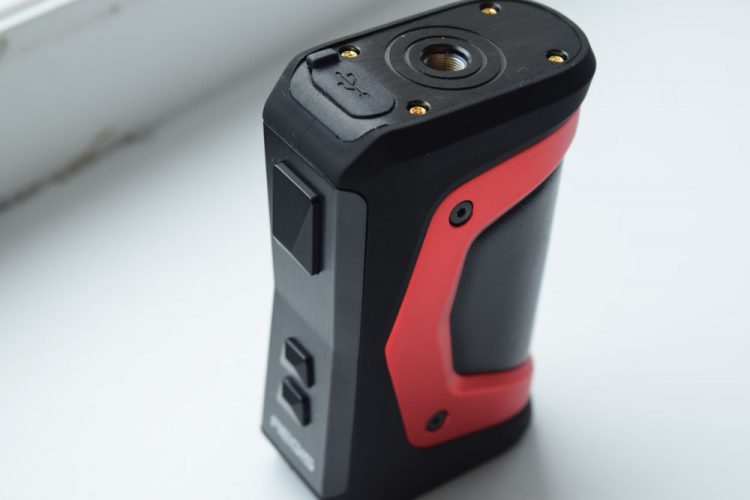 The Aegis X is IP67-rated (waterproof, shockproof and dustproof), although you couldn't really tell by its massive color display and cushioned leather handle. It doesn't really look like an Aegis mod – and that's what makes it special – but it's just as durable as the other devices in GeekVape's popular line.
The Aegis X features the same silicone finish and excellent build quality that define the Aegis line, but what really puts it in a league of its own is the gorgeous color display. It's one of the most stunning screens I've ever seen on a vape mod and the fact that such a solid vape mod can look this nice earns the GeekVape Aegis X the top spot on my list.
GeekVape Aegis Legend X
Get a discounted price on the GeekVape Aegis X kit from a reputable seller.
So there you have it, my top five most durable mods. I'd love to know what your favorite durable vaping device is, so please leave a comment if you have any notable suggestions. Also, as I continue to test and review vape mods, this ranking is likely to change, so check back to see if there are any new entries.