GeekVape Aegis 100W Review
GeekVape Aegis 100W Deal
Get a discounted price on the GeekVape Aegis 100W IP67-rated vape mod from a reputable seller.
The GeekVape Aegis is a single 26650/18650 battery mod that not only has the most advanced features built-in, but is also designed to be shockproof, waterproof and dustproof. So if you work in an extreme environment and are looking for a vaporizer that can take a beating, or if you're just really clumsy, the GeekVape Aegis may be the device you've been waiting for.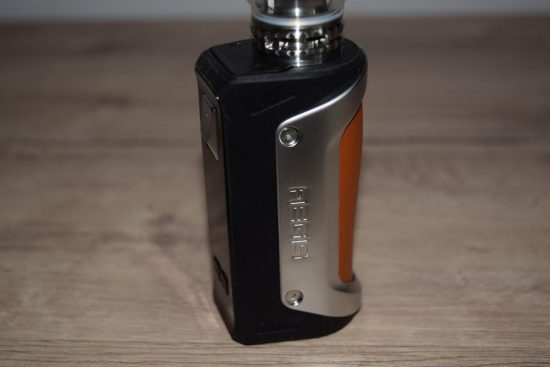 A Look at the Contents
The Aegis 100W mod comes in a large cardboard box featuring a picture of the device covered in water droplets, which hints at its waterproof rating. On the back, instead of the usual list of contents, we only have GeekVape's company information, as well as the several specs and features of the device, including IP67 waterproof and dustproof certification, adherence to the 810G-516.6 Military Shockproof Standard, and its ability to support both 18650 and 26650 batteries. There's also a warning that despite its shockproof construction, users should NOT damage the Aegis on purpose.
Inside the box, we have the GeekVape Aegis 100W mod, an 18650 battery adapter, a small silicone cap, a couple of hex screws and a user manual. The sample I received for this review also came with a pre-installed 26650 battery with its positive contact taped with plastic to avoid accidental activation. I don't know if all Aegis kits come with the battery included, though.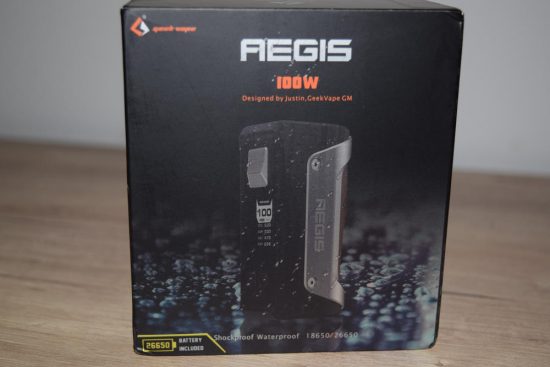 Design and Build Quality
The GeekVape Aegis is not the world's first shockproof and waterproof vape mod. I remember the Heatvape Invader came out a couple of years ago, and there have been others, but the Aegis is undoubtedly the most attractive one I've seen. It has a pleasant design even when compared to conventional vaporizers, which is saying something, because making a good-looking shockproof mod is not the easiest thing in the world. On the packaging, it says "Designed by Justin, GeekVape GM", so I guess he deserves props for the eye-catching design.
There are so many things I want to mention about this device that I don't even know where to start. It measures 88.6mm x 37,8mm x 46,6mm and consists of a combination of metal (aluminum and zinc alloy), LSR (Liquid Silicone Rubber), plastic and genuine leather. The buttons and display protector are the only bits of plastic on this mod, so overall, it has a high-quality feel to it.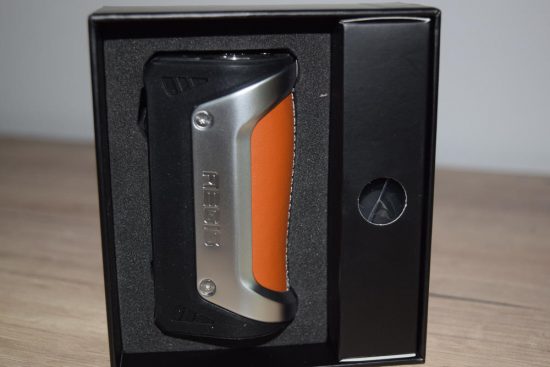 Apart from the screen protector, every element of the mod is held in place by screws, which makes sense if you really want this thing to remain in place during extreme situations. They are all 5T type screws, so you will need a special screwdriver to take it apart.
On top of the Aegis we have a spring-loaded 510 connection with a gold-plated pin. It's screwed on to the mod with three small screws, whereas most manufacturers prefer to press fit their connections, for aesthetic purposes, but the thing I love most about it is that it is located toward the center of the device, making atomizer overhang a non-issue. You can easily fit a 30mm diameter atomizer on this device without it overhanging. In fact, if they ever make any larger tanks, they are still going to fit just fine.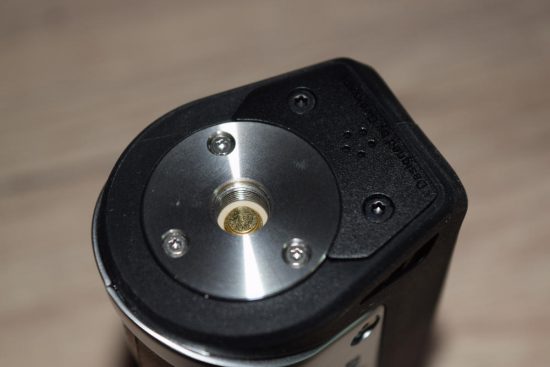 Next to the 510 connection plate, you'll notice a small metal plate held in place by two small screws. That's where the micro-USB port is hidden, and you'll actually have to unscrew that plate and remove a little silicone cap to reach it. The Aegis 100W doesn't support on-board charging, but it is firmware upgradable, so you'll only need to access this port when you want to upgrade your mod. The plate ensures that the port doesn't get damaged in case of contact with hard surfaces, while the silicone cap prevents water from getting through. If the plate screws or the cap somhow get damaged, you have backups included in the kit.
You'll also notice a few tiny holes punched into that little plate that covers the micro-USB port, as well as a sharp but on the other side of the plate. Those holes are designed to allow the battery to vent, if it gets too hot. But what about that silicone cap covering the USB port, tight? Well, that's what the burr is for. In case something goes wrong, gasses from the battery will push that silicone cap into the burr, eventually puncturing it, allowing the gasses to explain. This is just a safety precaution, but if you use quality batteries and don't stress your device too much, you'll probably never get to see it in action.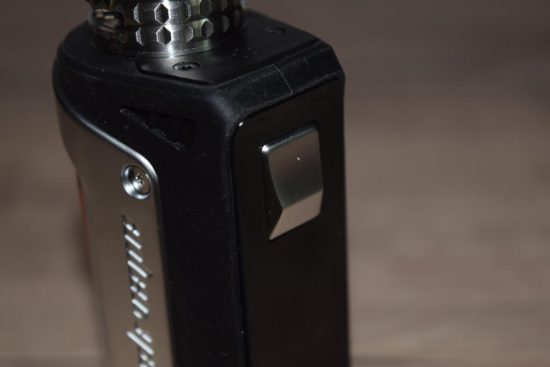 On the bottom of the Aegis we have a special type of battery door. A magnetic of hinged door just wouldn't have cut it on a shockproof, waterproof and dustproof vaporizer, so GeekVape went for a threaded cap-like design instead. It features a metal tap that you can use to screw and unscrew the battery cap, which looks and feels as sturdy as a miniature bunker door. The battery compartment is large enough to fit one 26650 battery, but you can also use an 18650, thanks to the Styrofoam adapter included in the kit. The threaded battery cap insulates this area perfectly, so you don't have to worry about water or dust getting in.
The GeekVape Aegis 100W is primarily made of zinc alloy, but the only time your hand actually comes in contact with this material is when you screw or unscrew the battery cap. That's because half the mod is wrapped in shock-absorbing LSR, while the rest is covered in aluminium plates and genuine leather. As I mentioned in the beginning, the screen protector and buttons are the only plastic elements, and this is really good quality plastic we're talking about, not the cheap stuff.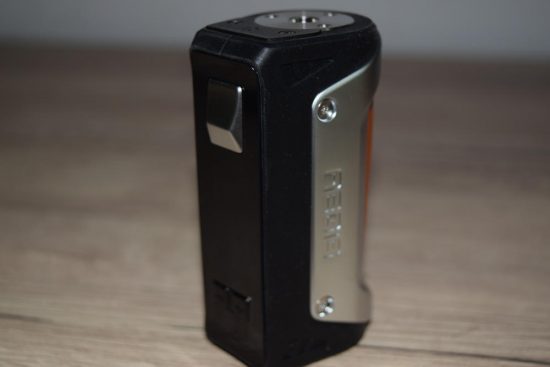 The medium-sized fire button is one of my favorite things about the Aegis, I love the light-switch shape of it, and the fact that is suits thumb pressing so well, not to mention the satisfying clickiness. I protrudes from the mod quite a bit, but that only makes it stand out more  The "+" and "-" buttons are located under the display and they are just as clicky as the power button. None of the buttons have any rattle, no matter how hard you shake the vaporizer.
The plastic screen protector is on the glossy side, so not only is it going to pick up fingerprints, but it's also going to scratch very easily compared to the rest of the mod. On the bright side, it does come off, so I suspect you can change it if it becomes unusable. The OLED display itself is fairly large and bright enough to see even in strong sunlight. You can also adjust the brightness of the screen by holding the "-" or the "+" button and the fire button down at the same time.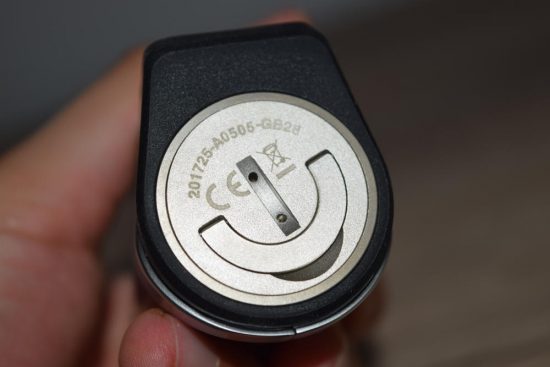 Opposite the display, we have the most elegant element of this mod, a section wrapped in stitched leather. It's a bit strange to see leather used on a shockproof device, but I can't deny that I love it. It's genuine leather, by the way, not some cheap sticker, and it feels great to the touch. It's also been holding up very well so far, although I have to admit that I haven't abused the Aegis the way I've seen other reviewers have.
We've seen a lot of manufacturers use carbon fiber stickers on their mods, like the iJoy Captain PD270, for example, and that's nice too, but I would definitely see others use real leather, even if it bumps up the price a bit.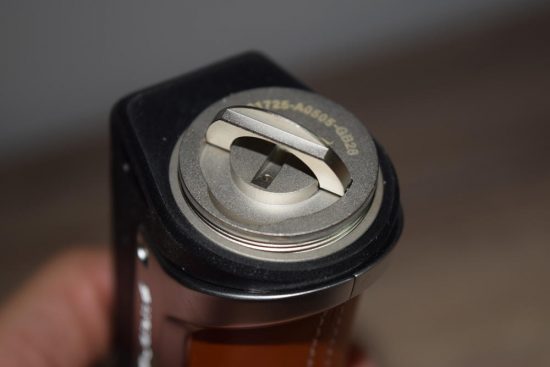 Overall, I think the GeekVape Aegis has an exquisite design and build quality, especially if you take into consideration its waterproof, shockproof and dustproof qualities. Sure, it's a bit more girthy than conventional single battery mods, and even most dual-battery ones, but that's understandable for the reasons I already mentioned. The rubber finish also tends to attract a lot of dust and pocket lint, but it's obviously easy to clean, since you can safely wash everything off. But, as a whole, the Aegis looks and feels great, and it's a worthy addition to any vaper's collection.
How Tough Is It?
GeekVape recommends users not damage the Aegis on purpose, but a quick search on YouTube yields all sorts of torture tests people have subjected it to. From being dropped it in the toilet, to being thrown off a bridge and even being run over by a car, this mod has been through a lot, but I have yet to see one that stopped working after being subjected to extreme punishment. In the worst cases, the plastic screen protector came off, but the device still worked.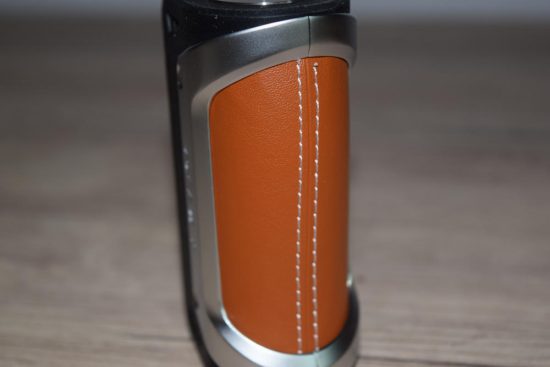 I for one didn't go too far during torture tests. For one thing, I only received on unit for this review, and I didn't want to risk breaking it before completing the review. Plus, while I fully acknowledge the entertainment value of extreme torture tests, most of this situations are highly unlikely to occur in real life. I mean, what are the odds of having a car run over your mod, or even dropping it in the toilet? And if it did fall in, would you reach in and take it out?
That said, I did throw it around on hardwood floor a few times, dropped it on pavement from shoulder height to see how it handled potential shocks, and I also took it with me in the shower a couple of times and submerged it in the sink, to see if it was actually waterproof. Apart from some scratches on the screen protector and on the decorative aluminium plate, the Aegis looks as good as new and works perfectly. I definitely don't recommend dropping the GeekVape Aegis on hardwood though, because it's pretty heavy and it can actually make dents. I learned that the hard way.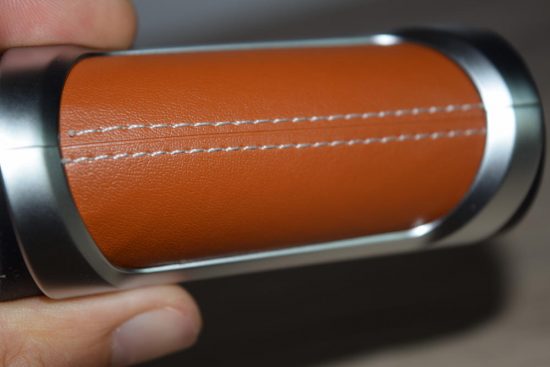 The Aegis seems able to handle whatever punishment you throw at it and still work fine, which I think is really impressive, but I wouldn't abuse it too much just for kicks, because you'll end up with a beat-up device. Yes, it will probably still function, but it'll look like a wreck. The rubber will start to chip off, the aluminium will scratch and bend and the leather will tear. It's one thing if the damage occurs by accident, but doing it on purpose just seems silly.
Menu System and Navigation
The GeekVape Aegis 100W has one of the most user-friendly menus I've ever seen, and navigating through all the different options is a joy. There's no menu system to go into, as all the settings and adjustments are done on the home screen.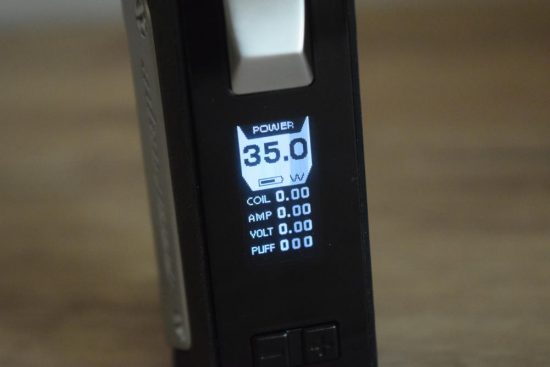 You start by pressing the fire button three times in rapid succession to access the menu. You'll then see the "Power" field become highlighted, which lets you know that you are now in settings mode. You can switch to temperature control for all three supported materials (nickel, stainless steel and titanium), TCR, Bypass (mech mode) or VPC (curves) by pressing the "+" or "-" buttons, and make your selection with a long press of the fire button.
But you can also scroll down to the secondary settings with short presses of the fire button, after accessing the menu. In Power mode, this allows you to reset the resistance of the atomizer and have the mod read it again, lock the resistance or reset the puff counter. In Temp. Control, you can also adjust the wattage, and in TCR, you can adjust the value of the TCR for your selected material.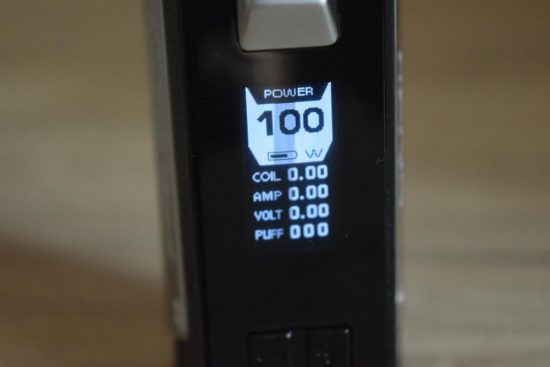 One of the coolest features of the Aegis 100W is the VPC mode, where you can create custom wattage/temperature curves for a personalized vaping experience. The mod lets input five values, each representing a second, and it even displays a graph of the curves you create. So you can have the mod fire at 100W for one second, than drop to 75W for another second, make it go up to 90W, and so on. After going through all five inputs, the Aegis will keep firing at the wattage/temperature level in your fifth input, until you take your finger off the power button or it reaches the cutoff time.
Overall, the whole menu system is simple and intuitive, so even though it's a bit different than most other menus I've seen, it's easy to get used to. Plus there are so many options and settings you can play with to make your vaping experience enjoyable.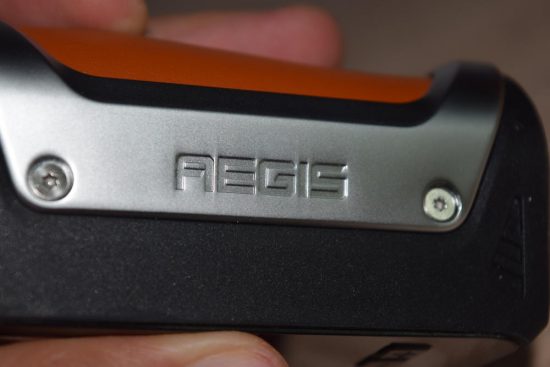 Battery Life and Overall Performance
Whether you plan on using the GeekVape Aegis 100W with a 26650 battery or an 18650 one, it's still a single-battery mod. It's hard to give you an estimate of the battery life, because it depends on a lot of factors, like your preferred wattage output, how often you use it and your vaping style, but I can tell you my experience with it. I've been using it for over a week now, exclusively with the 26650 battery, and it has never lasted me a whole day, not even close. I think 8 hours was the most I've gotten out of it, which is not bad, but it's also not as good as a dual 18650 mod, like the SMOK T-Priv, not to mention the dual-20700 iJoy PD270 Captain.
But I really can't complain abut battery life. I honestly believe that the single 26650 battery option was the best solution for this mod. It was all down to a compromise between battery life and size, as going for a dual-18650 battery design would have increased the size of the device considerably, due to all the extra padding required to keep it shockproof. It already has a larger girth than most dual-18650 mods, so making room for two batteries would have made it almost unusable for people with small hands.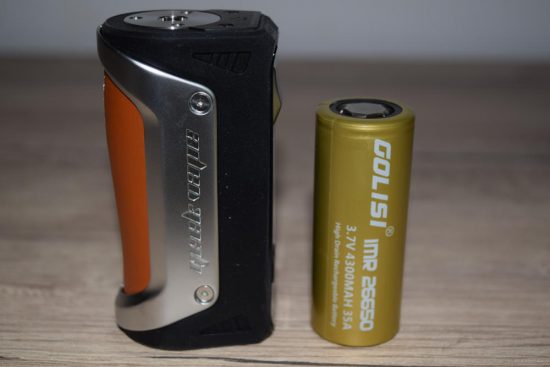 With so many 200W+ watts on the market these days, the 100W max output of the Aegis will probably leave some people unimpressed, but it was the best GeekVape could do with a single 26650. On the bright side, this mod actually puts out 100W with a charge battery, and the vast majority of vapers never go over 100W anyway. Sure, a lot of users just like to know that they have a lot of power at their fingertips, even though they never need it, but the reality is that 100W is a perfectly decent power level.
One of the first things I noticed while testing the Aegis mod was how fast it fired. It is virtually instantaneous, you just the press the power button and you can hear the coil sizzling inside the atomizer. The power ramp-up is just as lightning-fast, making the mod a joy to use.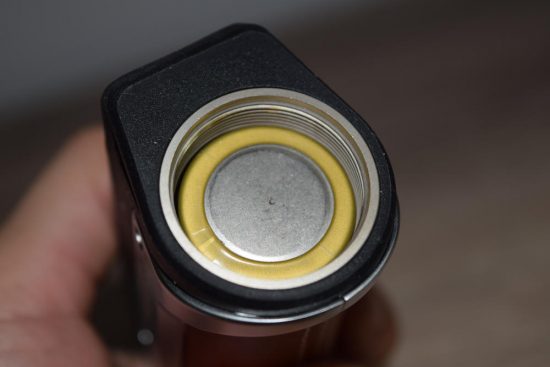 I'm not a big fan of temperature control, but from the few times I actually used it, the GeekVape Aegis seems to do a good job of controlling the temperature. I also read that the company shipped out a few units to tech-savvy reviewers like DJLsb Vapes , for beta-testing, and tweaked out any issues they found prior to rolling the mod out to retailers. That may not guarantee flawless performance, but it does show that GeekVape tried its best to make sure everything worked properly prior to release. I for one think they succeeded.
After over a week of using the Aegis, I have yet to find any serious performance issues. The mod seems to read resistances very accurately and has that useful "reset resistance" feature, it fires instantly, the power output is real, not inflated as with other devices, and according to my limited testing, temperature control was pretty well too. You really can't ask for much more.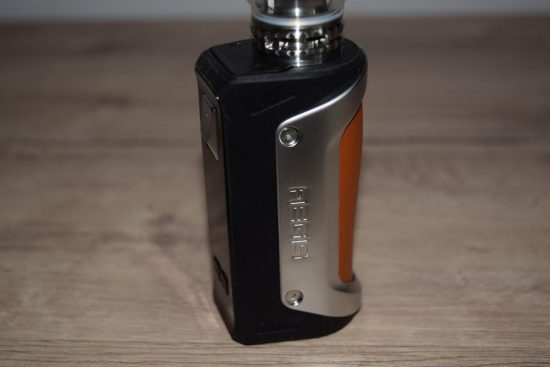 Conclusion
This may very well be the longest review I have ever written, but I still feel there was a lot more to say about this device. Everything about it is special, from its shockproof, waterproof and dustproof rating, to the design and build quality and even the user-friendly interface and navigation. It's not going to appeal to everyone, though. I'm pretty sure some people are going to have a problem with its size and weight, but in my opinion they are completely justified to make the device as resistant to abuse as possible.
Despite its few subjective cons, the GeekVape Aegis 100W has already generated a lot of interest in the vaping community, and people are already asking for a dual-battery version for improved battery life. Something tells me we'll be seeing more Aegis mods in the future, and maybe even other shockproof and waterproof mods from other manufacturers.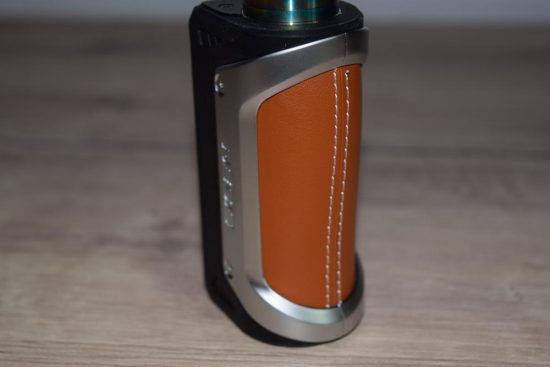 Considering its special properties, I think a higher price would have been justified, but you can currently buy the Aegis 100W for only 69.99, at eFun.top, which makes it a steal, in my opinion.
GeekVape Aegis 100W Deal
Get a discounted price on the GeekVape Aegis 100W IP67-rated vape mod from a reputable seller.