SMOK TFV8 Cloud Beast Review
Last year, when I reviewed the SMOK TFV4, I remember referring to it as a beast of a tank, but now, after trying out the new TFV8 Cloud Beast, the old version seems pretty tame. Featuring by far the largest coil heads I have ever seen, a huge chimney and 6ml e-juice capcity, the TFV8 is designed to create monster clouds of vapor, but you're going to need a heck of a lot of power to get the best vaping experience out of it. So before you even think about getting one, or even reading this review, make sure you have a mod with a power output of at least 100 watts.
The TFV8 Cloud Beast comes in the usual SMOK black cardboard box, but this time, instead of the usual white and grey paper sleeve, the Chinese company went for a volcano background, which they also mention in the metaphoric description of the new tank: "The ancient volcano, Mount Vesuvius, is a cloud beast entrenched into the earth. Although calm, the 2,000 foot diameter crater fills with steam; a formidable, gasping lion. Once awakened, she erupts lava into an ominous sky, and the earth trembles with her great power. Now, SMOK brings you this magnificent power, completely changing your vaping experience. The TFV8, is the ultimate sub-ohm atomizer."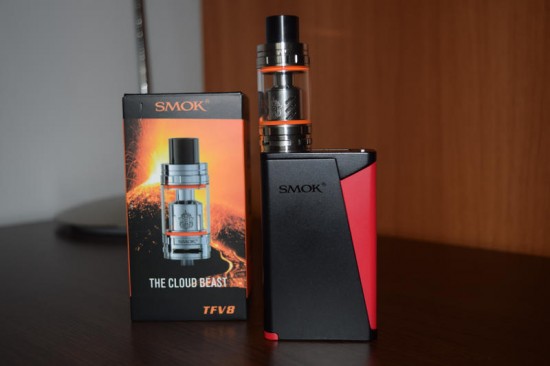 Inside the box, we have the Cloud Beast sitting in a foam holder, and underneath that are two massive coil heads, a spare glass tube, a bag of organic cotton, an Allen key, spare O-rings and gaskets, a couple of vape bands and a small instructional leaflet. It's about as meaty as a sub-ohm tank kit can get, so in that regard, you're definitely getting your money's worth.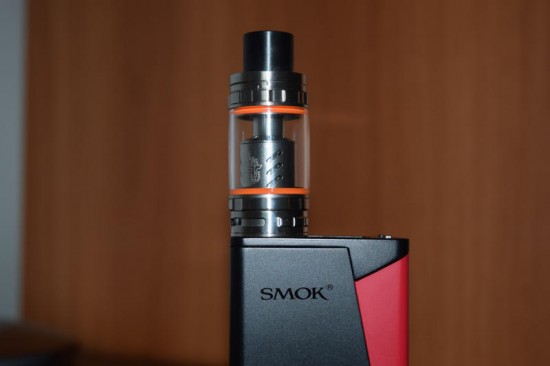 In terms of size and appearance, the SMOK TFV8 is not all that different from the TFV4. They share the same general design, they are just as long, and have the same diameter (24.5mm), at least at the base, because the glass portion of the Cloud Beast opens into 25.5mm to accommodate a maximum of 6ml of e-liquid. Also, the refilling system is the same on both tanks, with SMOK's patented swivel top-cap that can be pushed to the side to reveal a silicone gasket with a large fill port.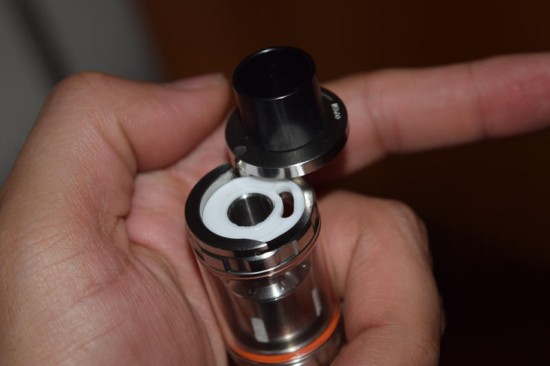 However, on closer inspection, you can tell that SMOK decided to change quite a few things on the new TFV8. First of all, they've done away with the top airflow on the drip tip, which I'm sure most vapers will be happy to hear, as it wasn't really wasn't the most beloved feature of the TFV4. Instead, they went with a large diameter chuff-style wide boar drip tip made of delrin. It's not really my favorite type of drip tip, but I will admit that it was probably the best choice for such a powerful tank. But if you can't stand it, you can use a standard 510 tip thanks to the included delrin adapter.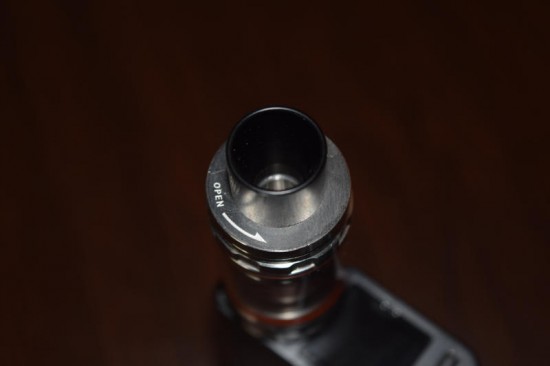 The bottom airflow control system has also been modified. The four cyclops air slots of the TFV4 have now been reduced to two massive holes that can be opened and closed freely by rotating a metallic ring. Despite the reduction in the number of air slots, their size makes the TFV8 even airier than SMOK's former flagship tank.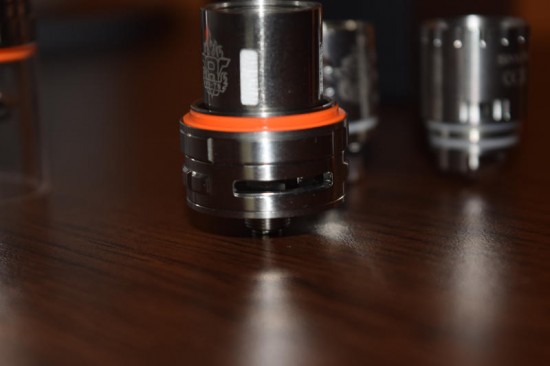 As I mentioned in the beginning of this review, the stainless steel chimney of the TFV8 is much larger than that of the TFV4, allowing a massive volume of vapor to smoothly make its way to your mouth. The coil heads are also very different than the older generation. First of all, they are simply enormous. When SMOK released the TFV4, its coils were bigger than everything I'd ever seen, but compared to those of the Cloud Beast they now look tiny. The octuple coil-head is particularly impressive, both in size  – when installed it lowers the juice capacity to 5.5ml – and architecture, but the quadruple coil head and the RBA are no joke either.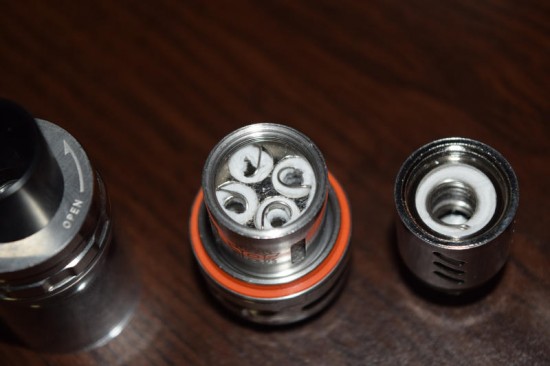 Finally, the TFV8 comes with bright orange o-rings that make the tank stand out more, and the connector pin protrudes much more than it did on the TFV4, so the chances of getting a short circuit  warning because of the threading touching the battery connection are virtually non-existent.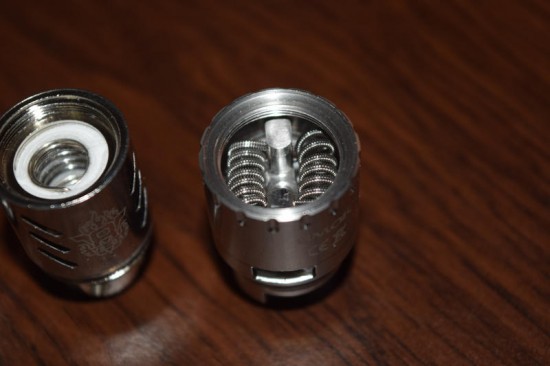 Overall, the build quality of the new SMOK TFV8 Cloud Beast tank is impeccable. The hinged top cap now locks firmly in place, unlike that of the TFV4, the bottom airflow ring is not loose at all, but turns smoothly when you apply a bit of pressure to it, and the machining is excellent. Everything is smoothed out, there are no scratches on it whatsoever, and it comes squeaky clean. I couldn't find a smudge of machine oil on either of the two samples that I received for this review, so after a quick rinse they were ready for use.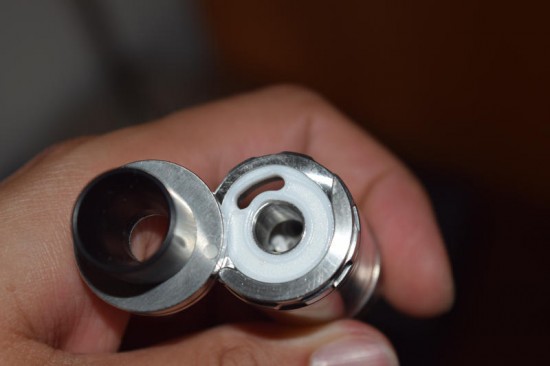 The SMOK TFV8 currently has three types of coil heads available, plus an 18mm RBA. The tank comes pre-installed with a 1.5Ω quadruple coil head, and the kit also contains the massive 1.5Ω octuple coil head and the RBA which comes with two pre-installed large-diameter fused Clapton coils. The 0.2Ω sextuple coil head can be purchased separately from the SMOK website. All these different options should keep you busy for a while, but knowing SMOK, we'll probably have around 15 different coil heads and RBAs to choose from in just a few months. When it comes to diversity, no other company even comes close to SMOK, but don't take my word for it, just check out their site and see all the different variants of mods, tanks and coil options for yourself.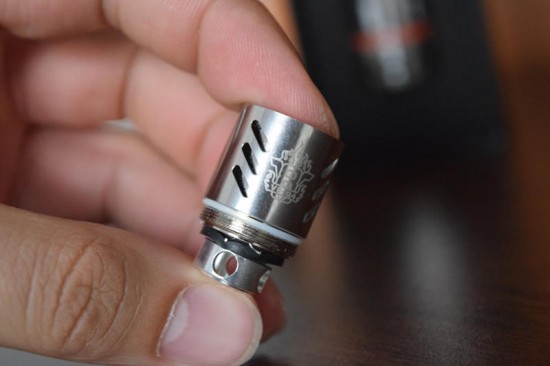 Performance-wise, the TFV8 is definitely worthy of its "Cloud Beast" name. I can't begin to describe how much vapor this thing can produce under the right circumstances. I say that because anything under 90W just isn't enough to unleash the beast in the Cloud Beast. You might get a decent mouthful of cool vapor at around 70W, but you're going to need a lot more than that to bring out the best of its massive coil heads.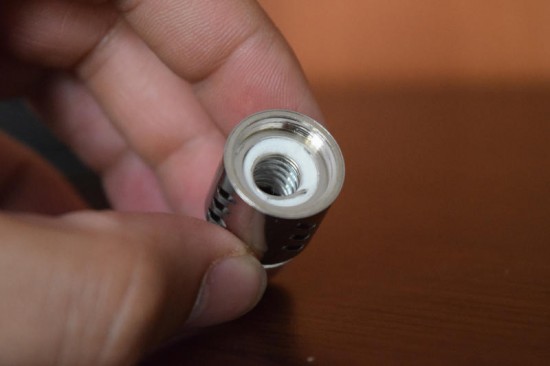 For example, on the quadruple coil, it says it can be used in the 50W-180W range, but performs best between 90W – 150W. I tried vaping with it at 50W and barely got a whiff of vapor out of it. It starts to pick up at around 80W, but my sweet spot was 100W. I tried to go higher, but after 120W, the vapor became a bit too hot for my taste, and the flavor of the juice was considerably muted. Plus, I didn't notice a big difference in vapor production from 100W to 150W and the trade-off in flavor was just not worth it for me.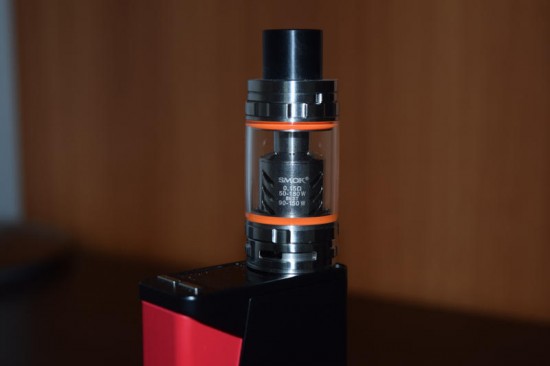 The wattage range for the octuple coil head is 50W – 260W, but SMOK recommends using it at 120W – 180W. Yes, you read that correctly, this thing can be used at a whopping 260W, which I think is insane. Strangely enough, even at 120W, this thing feels under-powered. The vapor is dense but unusually cool for such high wattage. It starts to get warmer at around 150W, which is as high as I was willing to go, but I could tell it needed a bit more power. I usually vape in the 60W – 80W so I was already way over my limits. I did check to see if anyone had used it at the full 260W, and managed to find this video by Vapin' Heathen, one of my favorite reviewers. He actually took a couple of short hits at 300W, on a three-18650-battery monster, and reported no burnt taste whatsoever. It looked pretty uncomfortable, though.
I have yet to use the RBA, but the experience you get with it depends on the build you're using. I can say that it looks easy to work with thanks to its massive size, Velocity-style posts and intuitive design. I'm definitely going to give it a try with the stock coils, but the two coil heads have been keeping me busy so far. I've been using the the quad coil head for about a week and a half now and I'm still not getting any weird taste from it. I'm vaping a sweet full VG tobacco, so I'm actually pleasantly surprised by how well the coil is holding out.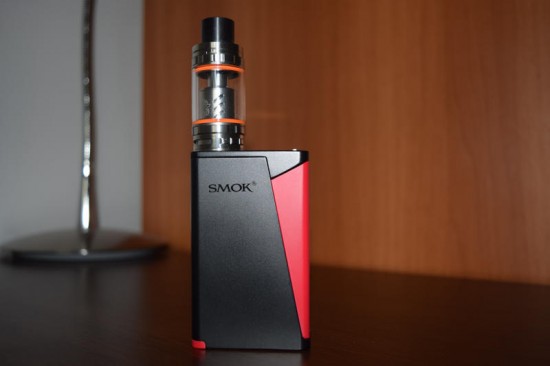 Another thing that left me impressed after a week and a half of constant use was the fact that I did not experience any leaking problems at all. Apart from small droplets of condensation visible through the airflow slots, the TFV8 is completely dry. Juice leakage is the most annoying vaping issue for me, so this is a big plus.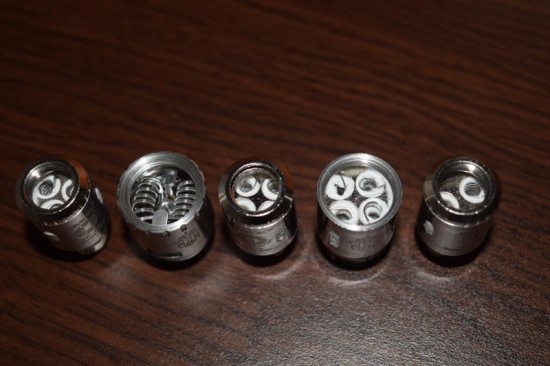 As you can imagine, juice consumption is going to be an issue with this powerful a tank. Just like with the TFV4, you can see the level of juice dropping in the tank after just 4 or 5 serious hits. There's a reason the TFV8 has a juice capacity of 6ml, any less and you'd have to refill it every 15 minutes. But what do you expect from a tank designed with cloud chasing in mind? Those big, thick clouds don't form out of thin air, you know. They need juice, lots of juice. If you're used to vaping expensive, gourmet e-liquid, the TFV8 will probably burn a big hole in your wallet, but if you blend your own, you should be alright.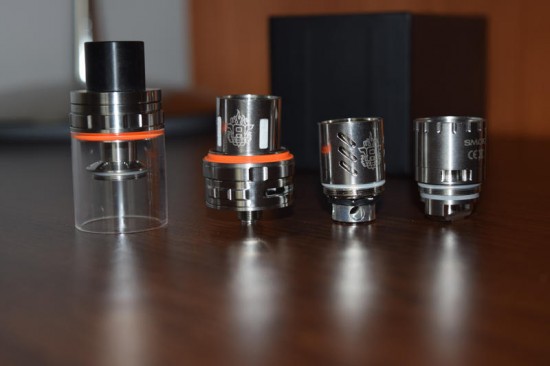 The TFV8 is a cloud chaser's dream come true, but as far as flavor goes, it's not the best tank I've ever used. The Joyetech Cubis is much better in this department, as is the Eleaf Melo 3 Mini, but they dont even come close to the Cloud Beast in terms of vapor production. As the nickname suggests, the TFV8  is all about huge clouds, and while the flavor intensity of the juice was not completely neglected, it definitely wasn't the designers' main concern.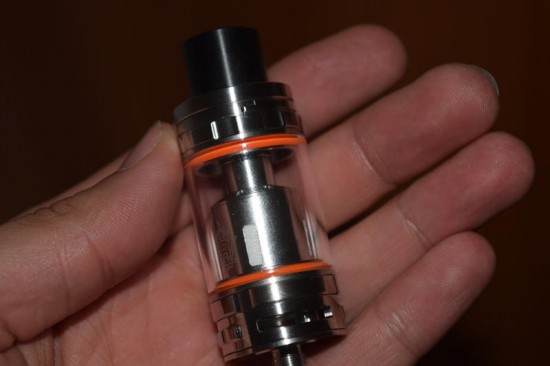 So is the SMOK TFV8 worth your money? If you're into high-wattage vaping and cloud chasing, it is probably the best tank you can buy. But while I can respect and appreciate its power and vapor production capabilities, I also find it overwhelming. As I mentioned before, I usually vape in the 60W – 80W range, so having to go over 100W just to get a satisfying experience takes me out of my comfort zone. Also, its large size makes it harder to carry around, and the high vapor consumption makes using it pretty expensive for me, because I don't mix my own juice. I had fun using it, and will probably take it out every once in a while just to impress my friends, but it's just not something I would use on a daily basis.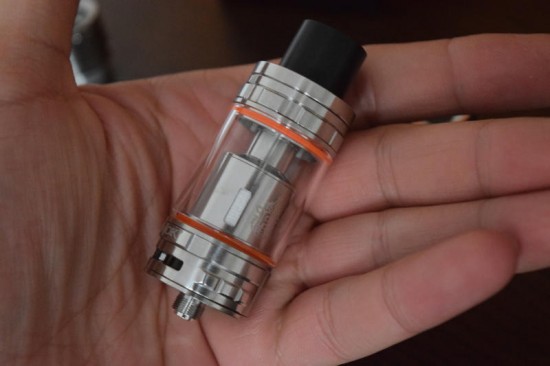 But that's just me! I'm sure the TFV8 will make a lot of vapers very happy, and if you're into cloud chasing, you'll probably love it.