Renova Zero Review
Renova Zero
Get a discounted price on the Renova Zero advanced pod system from a reputable buyer.
Ever since the JUUL changed the vaping industry forever, we've seen countless other pod systems, but very little in terms of innovation. Yes, they all have different designs, battery capacity and airflow, but when it comes to technological advancement, it's almost non-existent for this category of vaping devices. That's what makes the Renova Zero so special, in my opinion; it's packed full of interesting features that I've never seen on a pod system before, and it's also one of the coolest vape pods I've ever used. Let's check it out:
A Look at the Contents
The Renova Zero comes in a turquoise cardboard box with a picture of the device in the color it comes in on the front, and a short description, a list of kit contents, as well as information about the manufacturer, on the back. I personally haven't heard about Renova before, but judging by the "created by Vaporesso" logo on the side of the box, I'm guessing it's an offshoot of Smoore, the parent company of Vaporesso.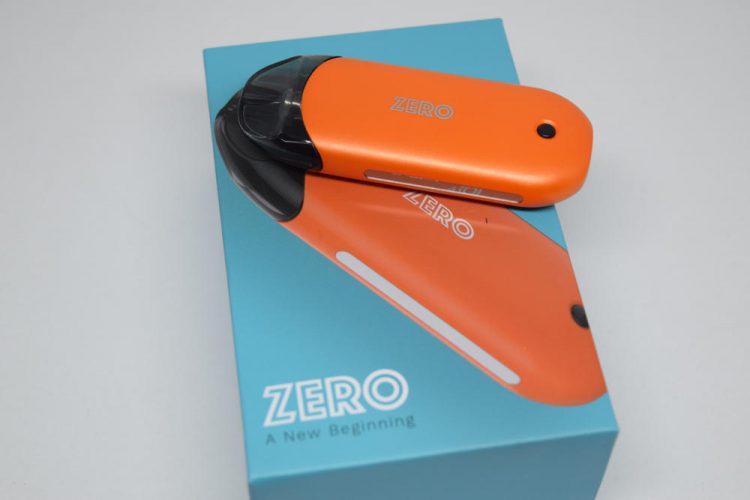 Inside the box we have the Renova Zero pod placed in a plastic holder, and underneath that is a smaller box which contains a micro-USB cable for charging, a plastic refill bottle, and a user manual. I was disappointed to see that the Zero kit only includes one refillable pod, which is definitely not enough for the average user. I and other reviewers have been saying that vape pod kits need to include at least two pods, but some companies simply reviews to get with the program. For some reason, they simply refuse to accept the fact that most users would gladly pay a couple of bucks extra for an extra pod, because having a second pod to fall back on, instead of having to order one, is really important. This is a big con in my book.
Design and Build Quality
The Renova Zero pod system has an elongated oval shape, measures 31mm x 13.5mm x 80mm and is primarily made of zinc alloy. I received the orange version for this review – which looks absolutely stunning – but the device comes in nine different colors, all of which have a matte finish that minimizes fingerprint staining. Design-wise, the Renova Zero reminds me a lot of the Wismec Motiv 2 pod system. In fact, the first time I saw the Zero, I was convinced that it was Wismec's newest generation vape pod, but it turns out that the similar design is the only thing these two devices have in common.
Like most pod systems, the new Renova Zero is made up of the battery section and a detachable, refillable pod. The pod has magnetic contacts on the bottom, so you need only drop it into the loading bay on the battery and it snaps into place. It's draw activated, so all you need to do is suck on the mouthpiece of the pod after you've filled it and it will start to heat the coil inside. But first, you need to turn it on, and that leads us to that tiny button on the battery.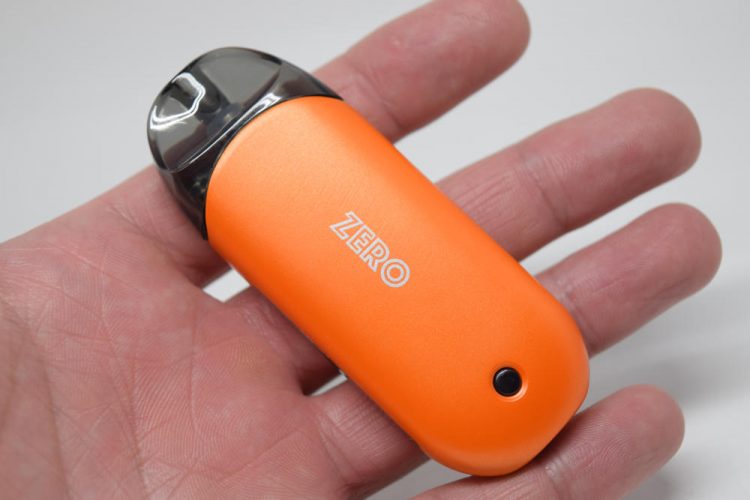 The vast majority of pod systems are automatic, so they don't have any buttons, but the Zero by Renova is a bit different. It's also an automatic, regulated vaping device, but it also features a small round button on the battery which does some cool stuff. First of all, you can click that little button five times in rapid succession to turn the battery on or off. This allows you to draw on the mouthpiece without accidentally activating the battery, just in case you need to check something. But there is a lot more to it than that.
One of the things that sets the Renova Zero apart from virtually all other pod systems is the built-in variable wattage feature. Pressing that same plastic button three times rapidly, will cause the color of the build-in LED to chance to either green, blue or yellow, each corresponding to a different wattage level. Green is 12.5W, blue is 10.5W and red is 9W. Although there's no way to adjust the airflow on this device, the variable wattage function lets you adjust the vapor production as well as the temperature of the vapor. The differences between the three available settings aren't huge, but thy are definitely noticeable. Simply pressing the button one time will cause it to light up in one of the three colors (green, blue, red) letting you know the wattage level it is currently at, so you can change it if you need to.
The button on the battery also acts as a classic battery level indicator. It lights up whenever you draw on the mouthpiece of the pod, and the color it lights up in corresponds to the power left in the battery. A green light lets you know that battery life is over 70 percent, blue means it's between 70 percent and 30 percent, while red means it's under 30 percent. The Renova Zero is a regulated vaping device, so you shouldn't notice any difference in power output regardless of battery life. However, when the battery is nearly depleted, you'll definitely notice a drop in vapor production.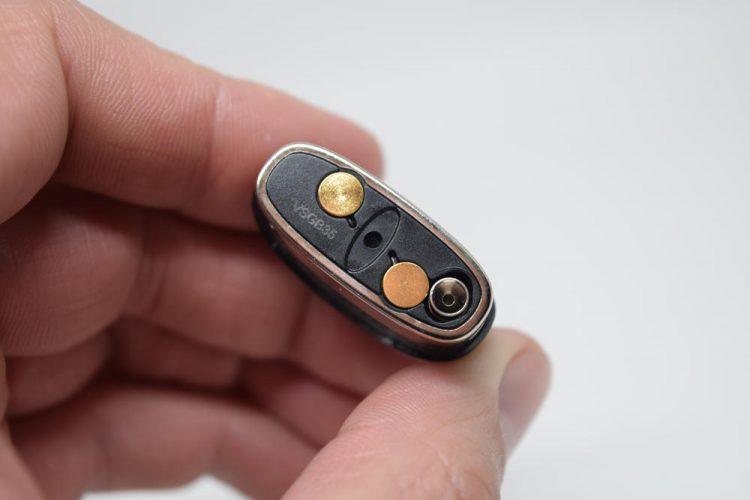 There's more innovation in this little button of the Renova Zero than I've seen in all pods I've reviewed, but there's actually more to go over. For example, the Zero pods have an innovative push-to-fill refilling system which eliminates the need for rubber plugs. Basically, there is this small metallic funnel on the bottom of the pods which you need to press down on when filling. It actually requires some pressure, so pressing down with a glass dropper isn't advisable, as it may crack, so Renova actually included a fine tip refill bottle. If you already have one of those thin tip unicorn or gorilla bottles, you don't really need the included refill bottle, but it's nice that they're offering it anyway.
This innovative refill system has been working excellently so far. Even though there's no visible plug stopping the juice from leaking out of the pod, the fill port is as dry as a bone right now, so I'm willing to bet that we'll be seeing more of it in the future.
Finally, the Omni Board Mini chip powering the Renova Zero also features temperature control technology, which I've never seen used on a pod system before. While you are not able to set the temperature or the TCR, like on advanced vape mods, this handy feature prevents users from accidentally burning the coil inside the refillable pod and thus ruining it. When the chip detects that there isn't enough e-liquid left inside the pod to saturate the wick around the ceramic coil, it cuts off power from the battery. That's one of the coolest features I've seen on a pod system, and definitely one I'd love to see implemented on other devices as well.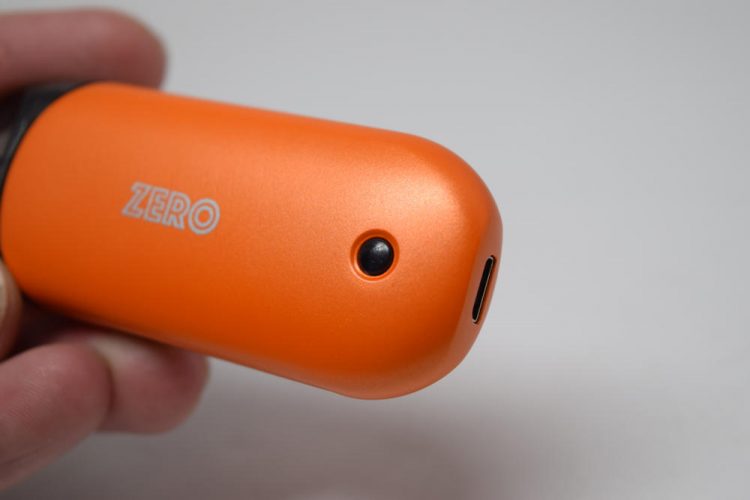 All in all, from the ergonomic, pocket-friendly design and quality paint job, to the multitude of innovative features, the Renova Zero vape pod left me impressed. In fact, it's so ahead of everything else I've used that I'm having trouble even comparing it to other pod systems.
Battery Life and Performance
The Renova Zero is shorter than the Wismec Motiv 2 and slightly thinner than the SMOK Novo vape pod, so I was surprised that it has a considerably higher battery capacity. The Zero features a 650mAh built-in battery which is nothing short of amazing for a device this compact. How long it will last you depends on a variety of factors, from how much you vape to what wattage putput you are using it in, but one thing is for sure, it will keep you vaping a lot longer than the 150mAh JUUL.
You'll also be happy to know that the Renova Zero features fast-charging technology (1 amp charging rate) which allows you to fully recharge the battery in about 45 minutes. If that's still too long, you can also use it while it's charging, which is a big plus, considering many vape pods don't have passthrough functionality.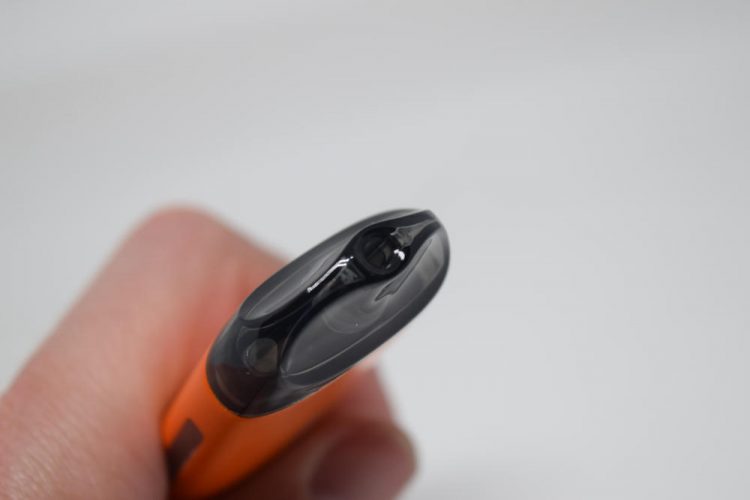 I've been using the Renova Zero for almost a week, and so far I've been very pleased with the way it's been performing. The draw is what I would call middle-of-the-road, not to loose, not too tight, which is actually ideal for such a customizable device. Having too tight a draw would have negated the potential of the adjustable wattage function, at least in terms of vapor production, and making it too airy would have made it disappointing for mouth-to-lung vapers. This way, it's a decent compromise that will please most users.
The Renova Zero pods come with a built-in 1-ohm ceramic Ccell coil which really brings out the flavor of the e-liquid. It's not as good as a triple mesh-coil tank, like the Freemax Mesh Pro, but compared to other pod systems, the taste is very clean. Another advantage of this ceramic coil is that it's supposed to last longer than cotton wicked ones. I've only been using it for a week, but I expect to get at least another seven days out of it, especially since I am using a clear, very lightly sweetened juice.
One thing to keep in mind with the Renova Zero is that when using it at max power output (12.5W), it tends to burn through e-liquid a lot faster than regular pod systems. You get some impressive plumes of vapor, but you have to pay for them in e-liquid.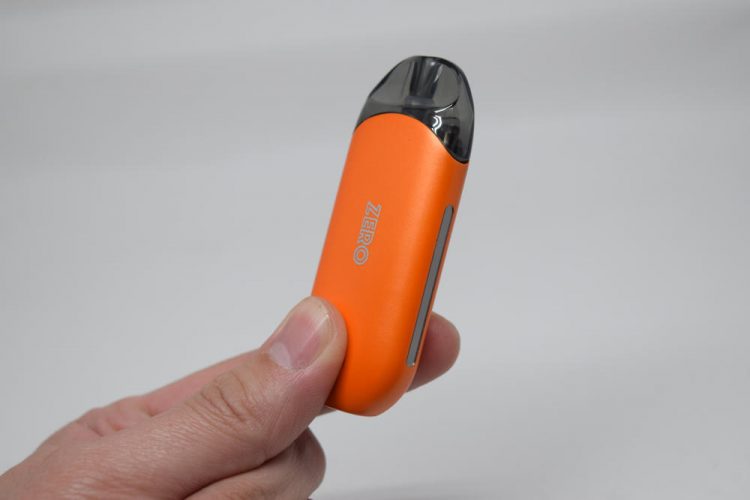 As I already mentioned, I've had no leaking issues with this device, the coil has been holding up well and flavor is better than I expected. One very small con would be that the draw activated switch is not the most sensitive I've seen, so you really have to suck on the mouthpiece of the pod to activate the battery. But other than that, I have no problems to report.
Conclusion
I've used dozens of pod systems in the last year alone, and I've liked some more than others, but apart from the usual differences in design airflow and battery capacity, there wasn't a lot setting them apart. The Renova Zero is in a league of its own in that regard. Not only is it a solid device that actually performs really well, but it also introduces some truly innovative features, from the new push-to-fill system, to the variable power output and temperature control. This is without a doubt the most advanced vape pod system I have ever used, and that alone is worth your money.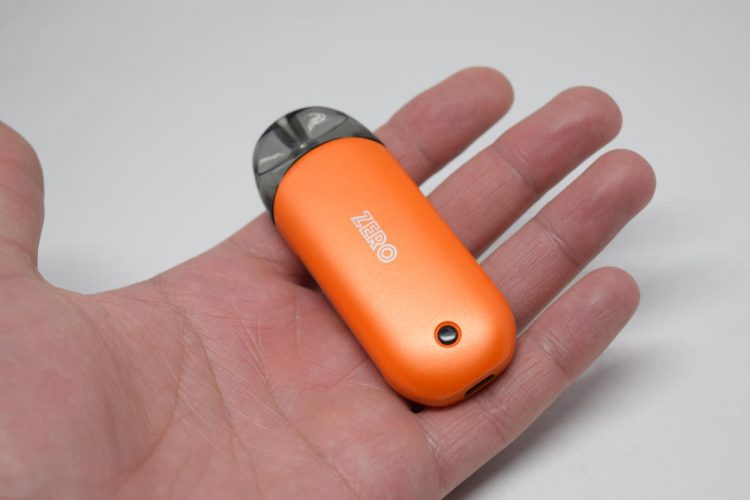 The Renova Zero was sent to me by Buy Best, for the purpose of this review. They currently have it on sale for just $28.42.
Renova Zero
Get a discounted price on the Renova Zero advanced pod system from a reputable buyer.