Suorin Air E-Cigarette Review
Suorin Air E-Cig
Get a discounted price on the Suorin Air electronic cigarette from a reputable seller.
The Suorin Air is a stylish vape pod designed for beginners and smokers looking for an alternative. This all-in-one device is designed by Chinese company Goldreams Technology and allegedly manufactured by Foxconn, the world's largest contract electronics manufacturer, with clients like Apple, Sony or Intel. That doesn't really tell us much about the Suorin, but it's what marketing efforts seems to be focusing on right now, so I thought I'd mention it.
A Look at the Contents
For a relatively unknown vaping device, the Suorin Air features surprisingly high-quality packaging  – a large white cardboard box with the "Air" logo on top and all sorts of useful information on the back. We have the device dimensions – 88 x 45 x 8 mm – starter kit contents, instructions of use, company information, a QR code and an authenticity seal.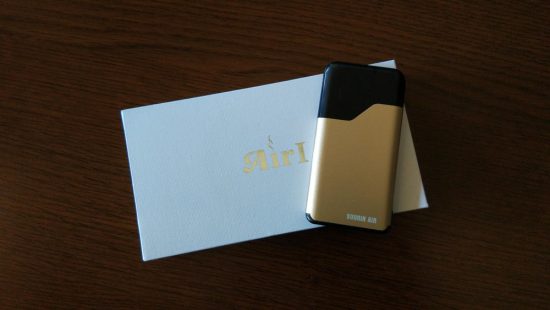 Inside the box we have the Suorin battery and one refillable cartridge sitting snug in a plastic holder, and underneath that is a box containing a USB charging cable and a user manual. That's about it.
To be honest, I was expecting to find at least one extra cartridge included in the kit, but no such luck. So if you're planning on quitting smoking with the Suorin Air, I suggest also ordering some extra cartridges as well.
But probably the most surprising thing about this kit is that it doesn't come with any e-liquid whatsoever. The included cartridge is empty and has to be filled before you can use it. I almost ruined it, because I was expecting it to be prefilled, but after holding it up to a light source, I could tell that it was perfectly dry inside. Luckily, I have plenty of juice, so this wasn't a big deal, but for someone just getting into vaping and looking for a ready-to-vape kit, this is going to be a big let-down.
Design and Build Quality
Having transitioned to advanced vaporizers a long time ago, the Suorin Air didn't really sound very appealing to me, but it was the unusual design that caught my attention. The first thing that comes to mind when trying to describe the Suorin Air vape pod is a credit card. It's actually a bit smaller than that and about three times as thick, but at just 8 mm thin, it's the second slickest device I have ever used, after the Pax JUUL.
It certainly doesn't look like an e-cigarette, so if you're looking for a very stealthy device, that's a good thing. That said, putting the Suorin Air in your mouth and blowing vapor is bound to get a few raised eyebrows. It doesn't even have a proper mouthpiece, you just put on of the top corners in your mouth and draw, just like you would on the JUUL or any other automatic e-cigarette, for that matter.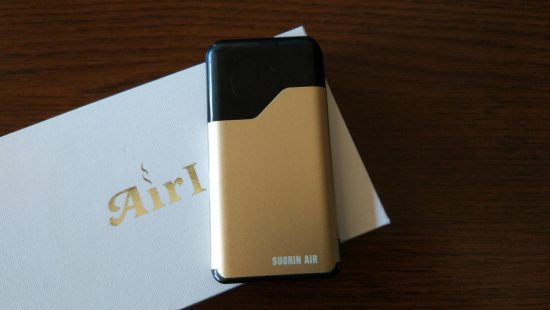 There's nothing about the Suorin Air that even hints at the fact that it is a vaporizer. You might think it's a portable SSD, or a smartphone battery, but you'd never guess its real purpose. The metallic main body has a very minimalist design, with just a small "on/off" switch at the bottom, on one of its narrow edges, and a micro -USB charging port on the bottom. There's also a small air slot there, but again, you'd never guess what it is if you didn't know this was a vape pod.
On the top, the battery casing has a narrow opening where the removable cartridge snaps on. There is a large magnetic connection, as well as two small metal pins that connect to the cartridge, and three small air holes through which the air travels from that round slot at the bottom.
The cartridge has a square shape and is made of dark plastic that makes it harder to see the contents. It is made up of two compartments – a larger one that holds 2 ml of e-liquid, and a narrower one through which the vapor comes through to the mouthpiece in one of the corners of the cartridge. The atomization chamber is covered up by a paper sticker, but you can see part of the cotton wick sticking out into the tank.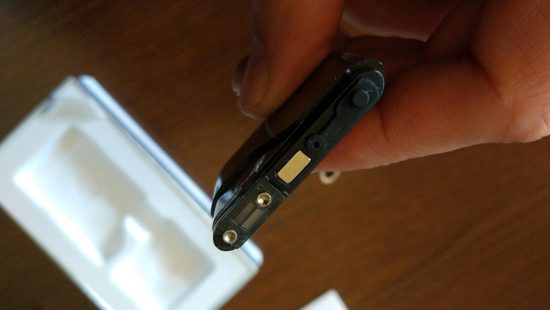 On the bottom of the cartridge we have a magnetic connection and a round fill port covered by a rubber plug. Just pull that out with your fingernail and you can use a syringe or even a small dropper to fill the cartridge. Once you're done, just put the plug back on and you're good to go.
Putting the Suorin Air together is as easy as placing the cartridge into the slot on the battery casing. It doesn't snap on as you'd probably expect it too, but in a week of constant use, I've never had the cartridge pop out of its slot.
Unlike other closed vaping systems, the Suorin Air cartridge is refillable, meaning you don't have to through it away and replace it with a new one, once you've vaped it dry. Just unplug the fill port, add more juice and you can reuse it for as long as the coil and wicking last. Granted, you will have to replace it at some point, as no coil lasts forever, but it's way better and cheaper than single-use disposable cartridges.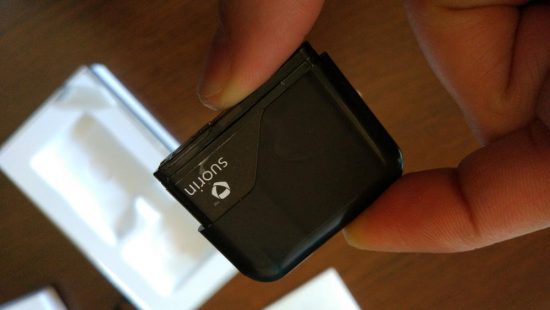 I have been using the original Suorin cartridge for a week now and it's still working fine. As long as you don't let it run out of juice and burn the wick, it should be good for at least two weeks. One thing to keep in mind though, as with most other basic devices, heavy VG juices are not ideal, due to their high viscosity. But 60% VG juices and below that should wick just fine.
Battery Life and Overall Performance
The Suorin Air is a tiny device, so you can't really expect too much from it in terms of battery life. Its official battery rating is 400 mAh, which I would say is pretty decent in relation to its size. That puts it somewhere in between the Pax JUUL (100 mAh) and the Eleaf iCare (650 mAh), which again makes sense, when you take into consideration the size difference.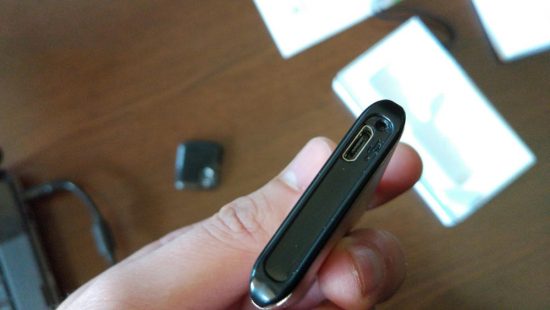 Regarding real-life use, how much vaping time you can get out of this modest battery, it all depends on your vaping habits. I consider myself a heavy vaper, and during a couple of tests, where I used the Suorin Air exclusively, I couldn't get more than 4 – 5 hours of use out of it. Again, not bad, in my opinion, but I think a beginner, someone who just got off tobacco cigarettes will likely get a couple of hours more out of it.
I really miss the days of the early e-cigarette starter kits, when manufacturers would include two batteries in the kit to guarantee that users always had a spare when they ran out of battery. That's not the case anymore, unfortunately, so if your battery depletes and you don't have a power source to charge it, you just have to go without nicotine, or turn to analogs, which is the worst thing you can do, by the way.
If you spend most of your time at home or at the office, the USB charging cable can be used as a passthrough, allowing you to vape while the battery is charging, which is nice.
The Suorin Air electronic cigarette has an LED indicator in one of the bottom corners, which shows you how much battery you have left. It usually lights up blue when you draw, but when the battery level becomes low, it turns red, letting you know that it's time for a recharge. The recharge time is one of the most impressive features of the Suorin Air – just 30 minutes from empty to full battery. I suspect that has to do with the capacity of the included USB cable, which is thicker than most other cables I've used.
When it comes to vaping, the Suorin Air performs as well as I expected it to. It produces about the same amount of vapor as a cigarette does smoke. As a user of advanced mods, I found it unsatisfying, but then again, it's not meant for me, but for fresh ex-smokers looking for a similar experience, minus the tar and carbon dioxide. So you could say that it does what it's supposed to.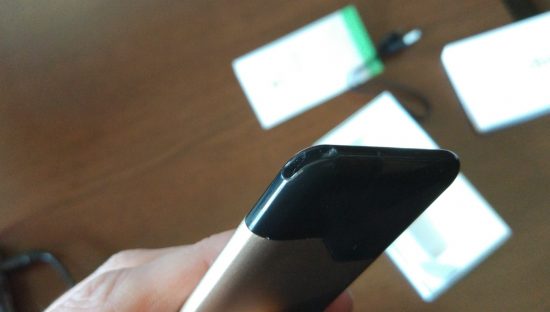 Also, since we're talking about a low-power vaporizer – power output is just 16 Watts – the 2 ml capacity of the cartridge ensures that you won't have to refill it more than once a day. And when you do have to add juice, it's as easy as unplugging the fill port on the bottom and pouring it in.
The Suorin Air is an automatic vaporizer, meaning that instead of the button-activation system used on the vast majority of modern vaping devices, it features a built-in draw-activated switch, which turns on the battery when you draw on the mouthpiece. This makes using the Suorin very similar to smoking, but it comes with a drawback. The switch on this device is not the most responsive I've ever used, so in order to activate the battery, you have to draw really hard. If you prefer a tighter draw – even tighter than on a real cigarette, I dare say – you'll probably consider this a pro, but for vapers used to an airier draw, it's an inconvenience.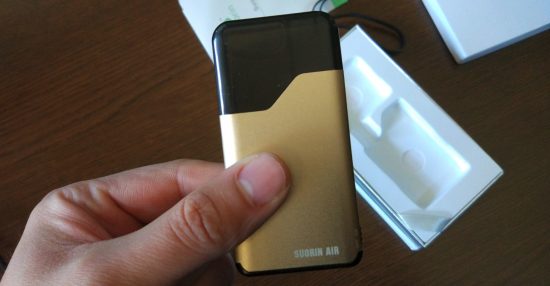 Conclusion
Apart from its unusual design, the Suorin Air doesn't really bring anything new to the table. That doesn't mean that it's a bad device, just that it's a novelty electronic cigarette, featuring the same technology we've had available for many years now. It works as intended, producing a decent amount of vapor for someone used to tobacco cigarettes, the battery life is reasonable for its reduced size, and it's easy to carry around in the smallest of pockets.
Would I recommend the Suorin Air to someone looking to quit smoking. The answer is yes, especially if the alternative is an expensive cigalike sold by Big Tobacco. At $25,00, this slick e-cig is reasonably priced and performs reasonably well. Plus, the cartridges are refillable, so that lets you save a few bucks.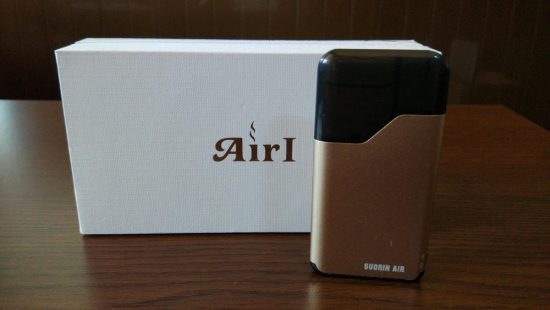 The Suorin Air e-cigarette starter kit was provided by Heaven Gifts, for the purpose of this review.
Suorin Air E-Cig
Get a discounted price on the Suorin Air electronic cigarette from a reputable seller.