Halo JAG6 Tank Review
The Halo JAG6 is an advanced tank that features top-only airflow, an innovative double wall atomization chamber, ceramic cover coils (CCC) and a capacity of 4 ml of e-liquid. It sounds like a genuinely interesting device, which is somewhat surprising as it's sold by a company that specializes in e-liquid, and usually licenses technology from other companies for its hardware.
In fact, I just did a review of the Halo Reactor Mega starter kit which was basically made up of a rebranded Eleaf iStick Power and a Freemax Scylla tank, both really good products, and with a decent price to boot. As long as they use high-quality gear and don't inflate the price too much, there's nothing wrong with licensing existing technology to make it easier for their customers to try out their amazing e-juices. And they're open about it, which is even better.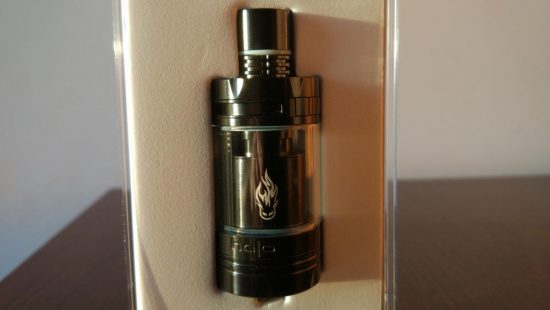 I had expected the Halo JAG6 tank to also be a rebranded version of a popular model, but I'm having a tough time figuring out which one. This may actually be an original design, because I for one can't remember seeing anything like it, but if you can figure out what it's based one, please let me know in the comments.
A Look at the Contents
The Halo JAG6 comes in a small clear plastic case and contains the assembled tank sitting in a foam holder, and a user manual underneath. That's about all you get. Sure, there's a coil-head pre-installed in the tank, but I was also expecting an extra coil to be included, as well as a spare-parts bag containing spare o-rings, and maybe even a spare glass tube. But the tank and just one ceramic cover coil is pretty much all you get.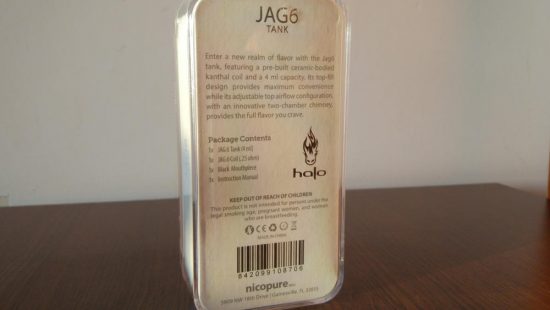 It's definitely not the most generous tank kit I've ever reviewed, but then again, at $29.99, it's also pretty cheap so I can't really complain. If the tank turns out to be good, this is definitely something I can overlook.
Design and Build Quality
The Halo JAG6 is primarily made of stainless steel and glass, with just a bit of Delrin on the inside of the removable drip tip. It's 65 mm tall and has a diameter of 25 mm. This means that you want to be using it with a bulkier mod, to prevent it overhanging. The Halo Reactor Mega mod is a bit too slim, for example, leaving the JAG6 hanging on three sides of the mod, but it looks great on my trusty Limitless LMC 200W box mod.
The JAG6 features a three-piece design, meaning that you can take apart both the top and bottom. The mid section also comes apart in three pieces – the top fill ring, chimney section and glass tube – which makes it very easy to clean thoroughly. But the best part about this three-piece design is that you can change the coil-head without wasting the juice in the tank.
The first thing you notice about the Halo JAG6 tank is the lack of airflow slots on the base. That's because this particular tank only features top airflow, in order to prevent accidental leaks, which occur rather frequently with bottom airflow tanks.
The two large airflow slots are located right under the top cap of the tank, and can be opened and closed partially or completely by turning a metal ring. This ring has just the right amount of tension to make it easy to adjust smoothly, but not loose enough to turn on its own. Whatever you adjust on one slot, automatically adjusts on the other.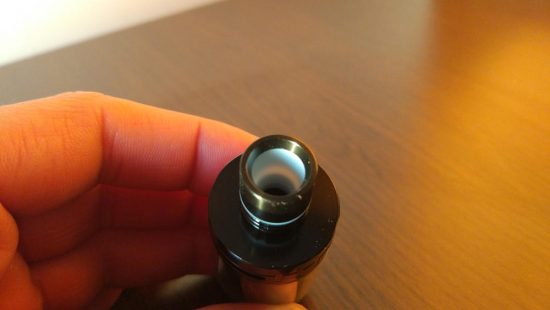 Like most modern sub-ohm tanks, the JAG6 has a top-filling system, which can be accessed by unscrewing the top cap. It consists of two cyclops slots that can easily fit any style of dropper or unicorn bottle. It' basically the same system we've seen on the iJoy EXO RTA or the GeekVape Ammit.
The drip tip is made of Delrin, but features a stainless steel cover that matches the overall look of the tank. The best thing about this is that it looks great but doesn't burn your lips when vaping at high wattage. And if you don't like it, you can just swap it for any other 510 drip tip.
The middle section of the Halo JAG6 is described as a "two-chamber chimney", which basically means that both the chimney and the atomization chamber have double walls which create a space for the air to travel from the top air slots down to the coil. It's the same design we've seen on the OBS Engine and OBS Engine Nano, and it works just as well here.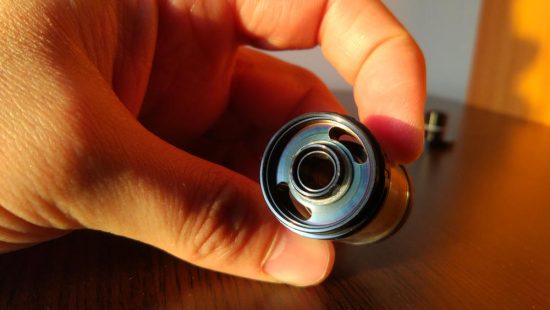 Finally, the coil-heads for the Halo JAG6 are also pretty interesting. They are called Ceramic Cover Coils (CCC), and actually feature an outer shell made primarily of ceramic. That's pretty unusual, since the ceramic coils I've seen in the past feature a ceramic wicking material, but a regular metallic cover. I don't really know what the purpose of this ceramic cover is supposed to be, since the inside of the coil head consists of a large-diameter Kanthal coil with classic organic cotton wicking. It might make wicking more efficient, as the porous ceramic makes it easier for the juice to reach the cotton wicking, but I'm not 100 percent certain of that.
Setting up
Getting the Halo JAG6 ready for vaping is a breeze. I recommend you start by taking it apart and giving all the pieces a good rinse, to remove any leftover machining oil. Make sure you let them dry for a few minutes, or use a paper napkin to soak up excess water.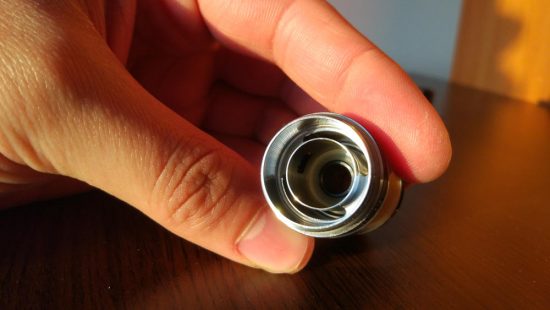 All you have to do then is screw the CCC coil heads onto the base on the JAG6, prime it by dripping some juice onto the cotton wick, and put the whole tank back together. Fill the tank about three quarters before screwing the top cap back on, and leave it for a few minutes to wick properly. That's all it takes.
How It Vapes
I was curious to see how the Halo JAG6 performed, especially after getting a little confused about the design of the ceramic cover coil head. The one that comes included in the kit has a resistance of 0.25Ω and a recommended wattage range of 20W – 70W, but if you prefer a cooler vape, Halo also sells them in 0.5Ω resistance, to be vaped at between 20W – 40W.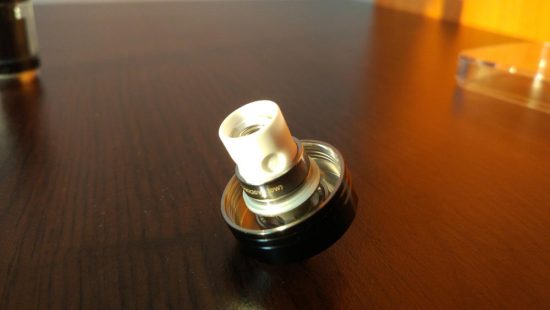 I have to say I like this tank a lot. I didn't really expect too much from it, seeing as Halo isn't exactly known for its innovative hardware, but they actually did a really good job with the JAG6. Vapor production is above average, although not exactly on par with big names like the SMOK TFV8 or iJoy Tornado, and the flavor is right up there with the best I've gotten from a tank.
To be honest, the experience I've had vaping the Halo JAG6 is very similar to that of the Vaporesso Target cCELL tank, which features a similar type of ceramic coil heads. The flavor is definitely the strong point of both devices, so as long as you don't plan on using it for cloud-chasing, you should be pretty happy with it.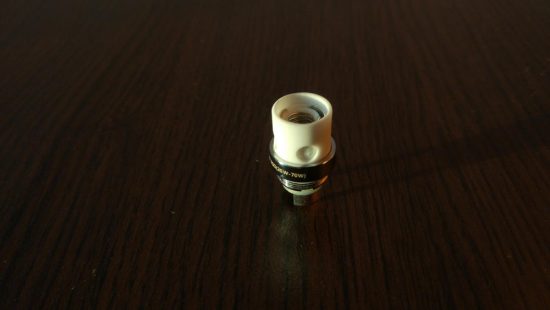 The leak-proof design works as intended, as I've had no leaking issues whatsoever. I was expecting gurgling to be a problem, as that's a known issue of top-only airflow tanks, but that hasn't been the case either.
I've been using the Halo JAG6 tank for a week now, and the coil head is still going strong. I've noticed no change in flavor or vapor production, and after opening the tank to check it out for myself, it looks in pretty good shape. The gunk build-up on the heating element is minimal and the cotton still looks clean. I should mention that I have been using it with Buddha Dew juice, which is very clear, so that may have helped as well.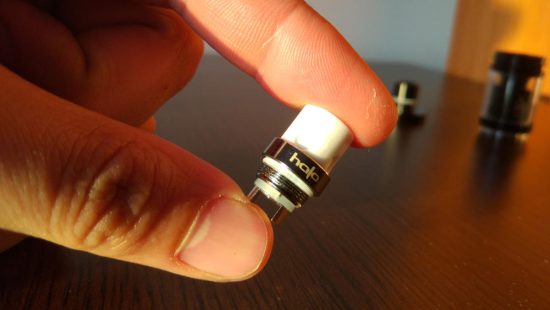 Conclusion
I was expecting a generic sub-ohm tank with sub-par performance, but the Halo JAG6 has surpassed all my expectations. It has all the features you would expect from a high-quality atomizer – leak-proof design, top-filling, three-piece chassis – and the performance is downright impressive. Vapor production is satisfactory, but its the intensity of the flavor that really blew me away. If you're looking for a tank that brings out the best out of your favorite e-liquid without compromising on vapor, you should certainly consider the JAG6. And best of all, it costs just $29.99, so you don't have to break the bank to try it.