SMOK Novo Review
SMOK Novo Pod System
Get a discounted price on the SMOK Novo Pod System from a reputable seller.
Vape pod systems have become so popular these days that virtually every major company in the industry has at least one in its product lineup. Well, SMOK now has three of them. After the Badge and the pen-style Infinix, the Chinese manufacturer recently released the Novo pod, a compact and slick device that fits comfortably in the smallest of pockets, has decent battery life and can be used for both mouth-to-lung and direct lung vaping. Let's check it out:
A Look at the Contents
The SMOK Novo comes in a tiny black cardboard box with a picture of the pod system on the front, and a short description of it as well as a list of kit contents, and the usual warnings, on the back. Company information and the authenticity scratch-and-check sticker are on the sides.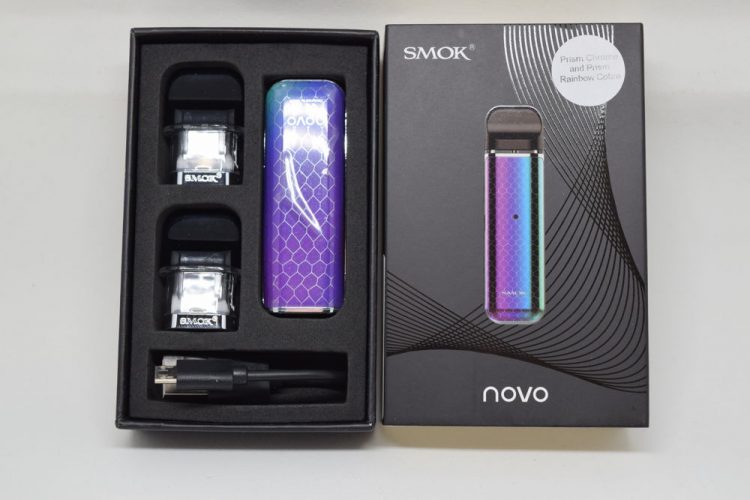 Inside the box, we have the Novo battery, two refillable pods, a very short micro-USB cable and a flimsy user manual. The fact that SMOK includes two refillable pods in this kit is a big pro, and a huge market advantage over the competition. Although two pods should be the industry norm, most companies still offer only one of them, so SMOK definitely deserves some praise for challenging the status quo.
Design and Build Quality
The SMOK Novo is one of the smallest, most compact pod systems I have ever used. Measuring only 88.3mm x 24.3mm x 14.3mm, the Novo is basically the same size and shape as a classic cigarette lighter, which means it even fits snugly in your small jeans pocket. It's marketed as ultra portable, and that description actually fits perfectly.
The Novo comes in a variety of vibrant colors, from pink to baby blue, and is made primarily of metal (not sure what type) and plastic. For this review, I received the rainbow version, which just like all the others, features a snakeskin pattern on both sides. Apart from a tiny battery life indicator, a micro-USB port and some branding, there's really nothing worth mentioning about the design. There's no screen, no buttons, as this is a draw-activated device, just a slick battery that connects to the refillable pods at the top.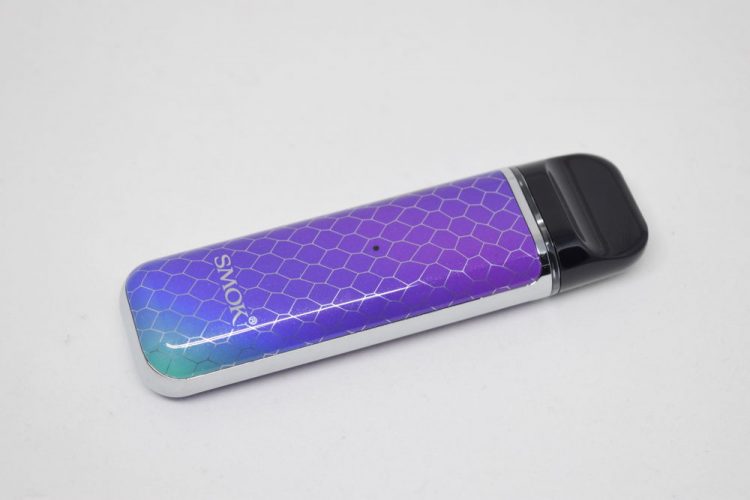 The pods hold 2ml of e-liquid and feature a 1.2Ω coil. The mouthpiece is one of the nicest ones I've seen on a pod system. It has a narrow tip that both fits very comfortably in the mouth and doesn't make you look funny when you draw either. The only issue I have with it is that it is made of opaque black plastic, and that makes it hard to check the e-liquid level inside.
Other pod systems, like the Mowell Shake or the Wismec Motiv 2 have slightly tinted pods that allow you to see exactly how much juice is left, especially if you tilt the device sideways. The opaque mouthpiece of the Novo pods and the fact that they slide into the battery almost completely, leaving only a slither of the clear tank exposed, makes it impossible to tell how much liquid you have left without removing the pod to check. That's not a deal breaker for me, but SMOK's designers could have definitely done a better job.
The Novo doesn't have magnetic pods. Instead, they are press fit onto the battery. You won't hear any clicks when you insert the pods, so try to make sure you push them in all the way. To refill the pods, simply pull out the rubber cap on the side of the tank to reveal the fill port. It's not the largest filling hole I've ever seen, but it's decent. At least it fits my small droppers and most unicorn bottle needle tips, so I have nothing to complain.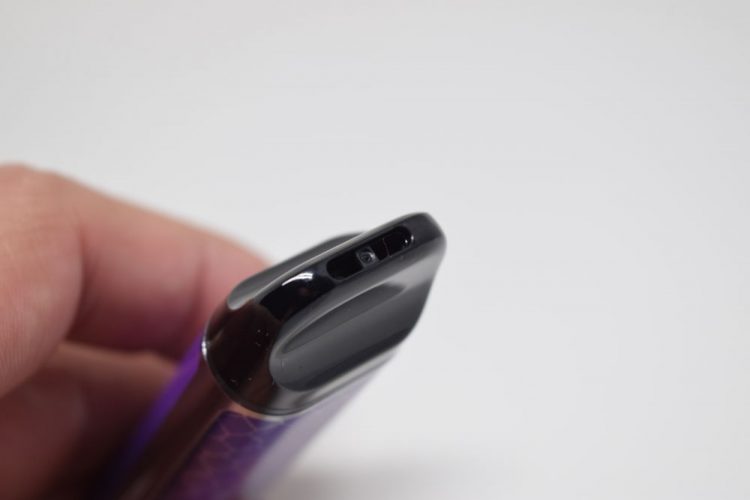 One small con I noticed about these pods is that they don't have a protective membrane covering the air hole on the bottom. I think all of the pod systems I've reviewed in the past have that, so I'm not exactly sure why SMOK decided not to add one, but you can literally see the coil and the cotton inside the pod if you look through that bottom air hole. That doesn't mean that juice is going to leak right out (at least it hasn't in my experience), but you do get some condensation on the battery.
That membrane that retracts whenever you draw on the mouthpiece and then seals the pod when you stop prevents both leaking and condensation, so SMOK may want to consider adding it to its pods.
All things considered, I think SMOK did a terrific job designing the Novo pod systems. Is it perfect? No, but the pros definitely outweigh the cons. This thing is truly ultra portable, it's comfortable to vape on and it comes with two pods.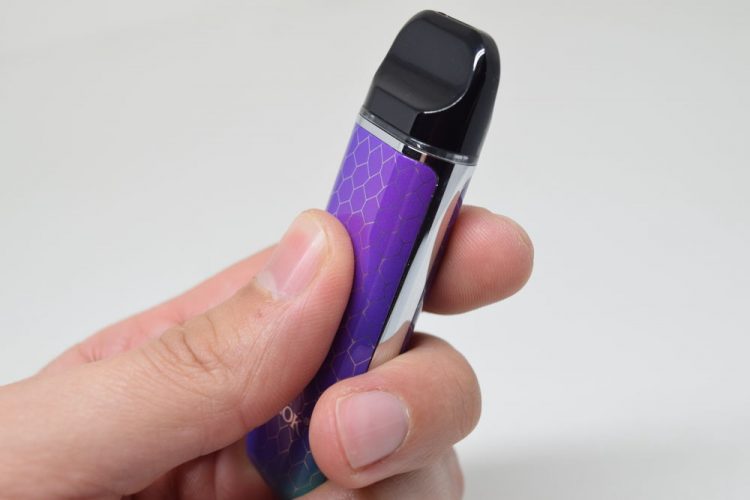 Battery Life and Performance
SMOK claims that the Novo pod system has a 450mAh battery, which is hard to believe if you consider how small it is, so I am assuming that the true battery capacity is a bit lower than that, maybe around 400mAh, or even 350mAh. Even so it's still in the average range for this type device, so I'm not going to complain about the battery life, instead I do want to point out that false advertising is definitely not ok.
To charge the Novo, simply connect it to a power source with a micro USB cable. I usually recommend using the one supplied by the manufacturer, but I am going to make an exception in this case, because it is so ridiculously short that you simply cannot use the device as a passthrough. And if you can't vape on it while it's charging, why implement vape-while-charging technology in the first place?
That's right, you can vape on the Novo while it is charging, just not with the cable included in the box. I personally use another USB cable from one of my other pod systems, just to be safe.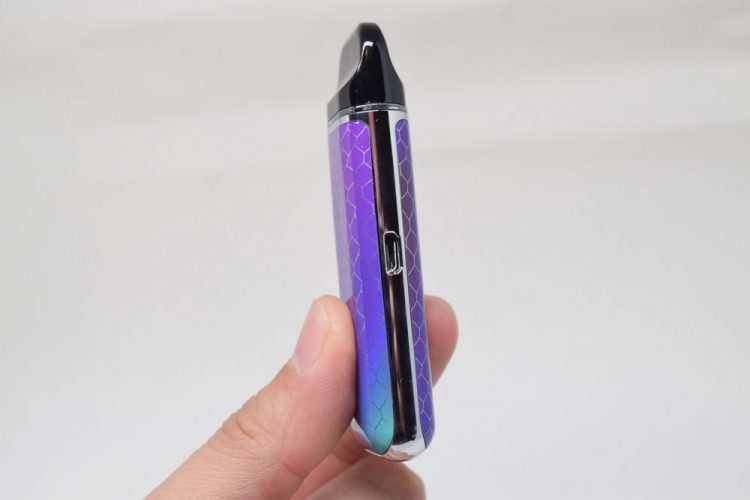 The Novo features a tiny LED light that lights up blue every time you vape. When it's time to recharge, that LED will start to blink and the battery will no longer activate. After you connect it to a power source, the LED will light up red while the device is charging, and will turn off when it is completely recharged. Like most other pod systems, the Novo takes about an hour to fully charge after its battery has been depleted.
Now, performance wise, I have mixed feelings about the SMOK Novo. On one hand, I love that when it's fully charged it hits considerably harder that most vape pods I've used, delivering hotter vapor and a lot more of it. According to the official specs, the Novo puts out between 10W and 16W of power, depending on how charged the battery is.
But there are a lot of things I personally don't like about how the Novo works. First of all, there is the whole mouth-to-lung and direct lung vaping compatibility. Essentially, what that means is that the draw on this thing is both airy enough to allow direct lung hits, and tight enough to be suitable for mouth to lung, if that makes sense. It's a middle of the road kind of device, and I don't like it.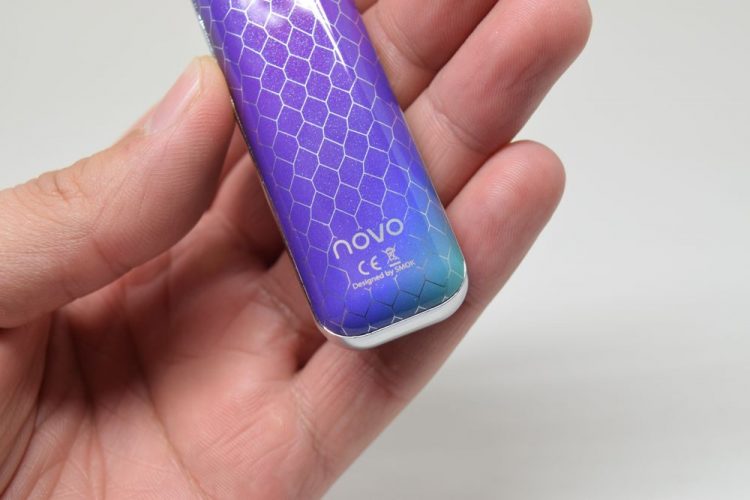 If you want to make a direct lung pod system, that's great, but don't try hitting two birds with one stone, because it usually doesn't work out very well. The first time I used the Novo, I could barely get it to activate the battery, because the long MTL-style draw didn't work. You really need to put your lungs into it, so to speak, in order to fire this think up, or at least take a couple of primer puffs to heat up the coil. That's if you want to follow them up with a MTL draw.
As for direct lung vaping, that's not the best either, because the draw, while airy, doesn't feel airy enough for that style of vaping. It does put out an impressive amount of vapor for a pod system, I will give it that. Bottom line, the draw is all over the place, so if you're looking for a tight, cigarette-like draw, you're not going to find it with this device.
Another big gripe I have with this device is the flavor. I have been using it consistently for over a week, and I've only just gotten rid of the atrocious taste I got when I first started using it. The best way I can describe it is as a plastic, medicine-like taste that seems to overpower my discrete tobacco juice. It tastes just like how that styrofoam holder that e-cigarettes usually come in smells. Ever take a whiff of the box your vapes come in? That's how this thing tasted to me for a long time, and the mouthpiece actually reeked of it.
SMOK devices have always been known more for their vapor production capabilities than for the flavor they put out, but the Novo is probably the worst one I've ever tried. If I had used it with a more flavorful e-liquid I probably wouldn't have mind it that much, but I would rather the vapor be tasteless than taste disgusting.
Conclusion
The SMOK Novo is already being praised as one of the best pod systems around, and in some respects I would agree with that. Sadly, as far as the vaping experience goes, I found myself liking the Novo a lot less than I thought I would. Between the awkward draw and the terrible taste I got from it for about a week, there just wasn't a lot I liked about using it. There was the warm, dense vapor, I guess, but it wasn't enough to compensate for all the negatives.
It's unfortunate that the Novo didn't perform as well as I had hoped, because it really has a lot going for it, like the design and the fact that it comes with two pods.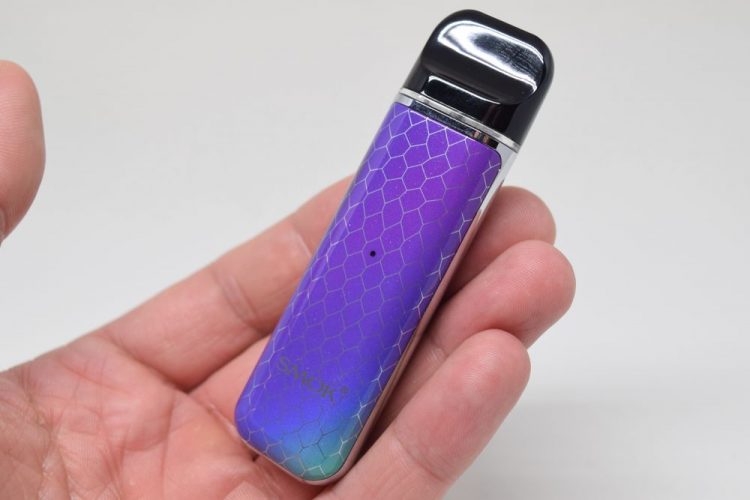 The SMOK Novo was sent to me for the purpose of this review by Vapesourcing.
SMOK Novo Pod System
Get a discounted price on the SMOK Novo Pod System from a reputable seller.