Innokin iTaste MVP 2.0 Review
It's safe to say Innokin hit the jackpot with its original iTaste MVP box mod. It had advanced features like variable voltage, long battery life and most importantly, it was easy to use even by the most inexperienced of vapers. The MVP proved a best-seller, but it wasn't long until the Chinese manufacturer decided it could do better and released an upgraded version of its compact mod, called the iTaste MVP 2.0. Released in 2013, the new and improved box mod may be considered outdated by some members of the vaping community, but it's still one of the most popular mods on the market. Let's take a look at what makes it so special:
A Look at the Contents
While most electronic cigarettes and vaporizers come in standard flip-top cardboard boxes, the iTaste MVP 2.o comes in a small transparent plastic case. Apart from the square mod, the kit includes an updated version of Innokin's iClear 30 clearomizer, a four-way charging cable, a stainless steel beauty ring that makes 510-style atomizers sit flush on the vaporizer and a user manual.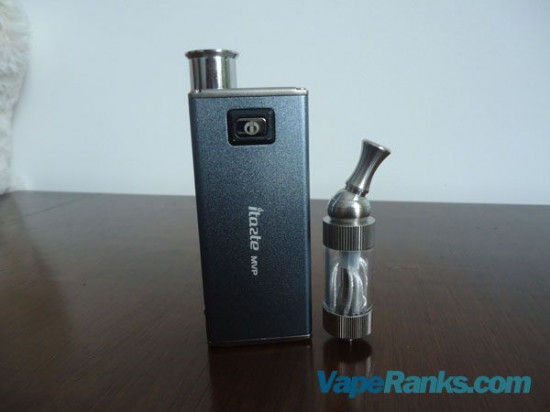 At first glance, the MVP 2.0 looks identical to the original, but on closer inspection you'll notice some minor changes. At 107mm tall, 41mm wide, and 22mm deep, the newer version is a bit shorter than the iTaste MVP 1.o, but all in all, the dimensions are very similar. It sports the same rectangular battery activation button sitting flush on a plastic frame that houses three different color LED battery life indicators, as well as the original's two-button LED display for the puff counter and voltage settings.
So far, the new MVP sounds like a clone of the original with a "2.0" slapped on it for no obvious reason. But since a respectable company like Innokin would never stoop that low, here's what they changed: whereas the original iTaste MVP was just a variable voltage mod, the 2.0 version also has variable wattage functionality. They also added an ohm reader for checking the resistance of atomizers.
However, these new features have taken their toll on the user-friendliness that made the original Innokin iTaste MVP so popular. The two metal buttons built into the side LED display of the MVP 2.0 are now a bit cumbersome to use. Before, they were just labeled "+" and "-",  making it obvious to tell that they were used for lowering or increasing the voltage output, but now they are just "P" and "U", which for the average vaper may be a little confusing. Those are the the symbols for wattage and voltage, in case you're wondering.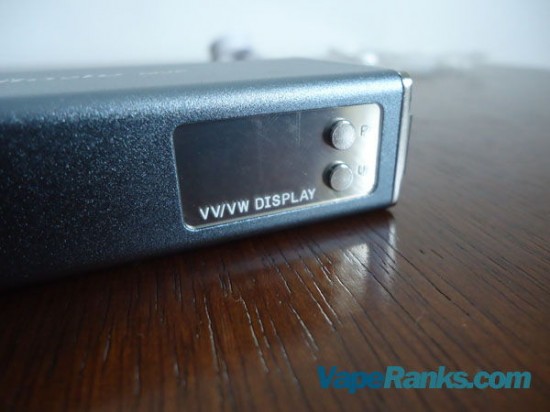 Another small problem is that since that there is just one button assigned for each function, the voltage and wattage can only be adjusted upwards. If you press one too many times, you're forced to press the button up to the limit and start over from the lowest setting. It's definitely not a deal breaker, but it's, in my opinion, unnecessarily complicated, especially since the "+" and "-" buttons worked so well.
Battery Life and Overall Performance
The large rectangle shape of the iTaste MVP might not appeal to everyone, but it does have its advantages, the most notable of which is a large-capacity battery. At 2600 mAh, it's bound to keep the average vaper puffing happily for at least two days. The plastic frame around the activation button houses three LEDs that light up green, orange and red with every press, so you can keep the battery level in check.
Even if you're not a heavy vaper, you can still make great use of the MVP's monster-of-a-battery. The bottom of the vaporizer houses two ports. The small, micro USB port is for charging the device, while the regular USB port is for charging other gadgets using the iTaste MVP as a power source. Let's say you're expecting an important call but you're cellphone is dangerously low on battery. All you have to do is connect it to the MVP 2.0 via the four-way charging cable and you're good to go. A fully charged 2600 mAh battery is more than enough to get you out of a sticky situation like this, so it's definitely a noteworthy feature.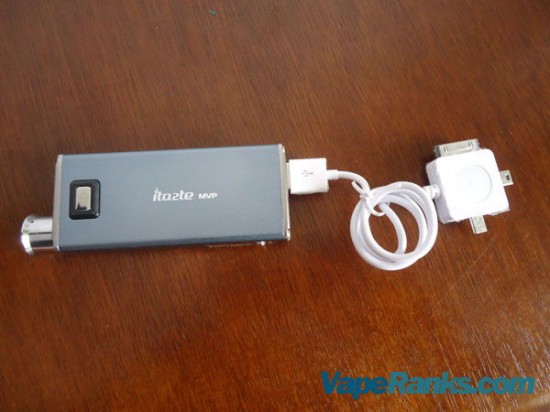 The four-way charging cable features mini-USB, micro-USB (for Android devices), and Apple connectors, but the latter only works with devices older than the iPhone 5. However, for newer Apple gadgets, you can use their own USB charging cable instead.
Performance-wise, the MVP 2.0 is impressive, even when compared with newer vaporizers. Its 5 volt limit might not be enough for hardcore  mod enthusiasts, but for someone making the switch from cigalikes and even pen-style electronic cigarettes, it's a great choice. While the original was plagued with variable voltage issues, the 2.0 is insanely accurate, with output power levels hardly ever deviating from set values, and the firing button is among the sturdiest and most reliable I've ever used.
Vapor Production
Since we're talking about a variable voltage/wattage mod here, it goes without saying that it can produce considerably more vapor than any cigalike and standard eGo e-cig, provided you make the right settings. Vaping at 3.7 volts with a 2-ohm atomizer is not going to blow your mind, while cranking up the voltage to 5 volts with a low resistance atomizer is just going to leave a burnt taste in your mouth. You just have to do a bit of experimenting until you find your sweet spot.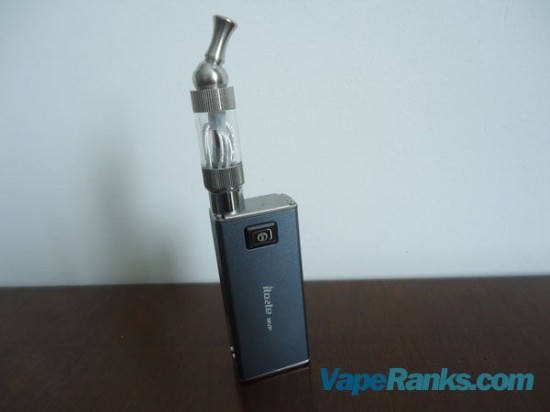 In the last few months, I've used the Innokin iTaste MVP 2.0 with a bunch of tanks and clearomizers, from the dual-coil iClear 30 it came with, to the simple Kanger EVOD BCC, Aerotank and Aspire Nautilus, with satisfying results. As long as you match the voltage/wattage to the resistance of the atomizer, you're guaranteed to enjoy a pleasant vaping experience, with thick plumes of vapor to boot. In my case, however, it was occasionally spoiled by leaking and gurgling problems caused by the design of the clearomizers.
While the limited voltage level of the iTaste MVP 2.0 may make it difficult to push some newer tanks and clearomizers to their limits, the device still supplies sufficient power for a satisfying vape.
Clearomizer
You could say I've developed a love/hate relationship with the Innokin iClear 30 clearomizer. It can hold up to 3 ml of e-liquid, the top dual-coil design provides a nice, warm mouthful of vapor, it's easy to refill and doesn't mute flavors quite as much as other clearomizers I've used in the past. All that, however, is shadowed by its constant leaking and gurgling.
When it comes to vaping, there is absolutely nothing I hate more than gurgling. I can handle dry hits every once in a while, I don't mind having to constantly clean and refill the tank, but gurgling is a pain. Unfortunately, this was a constant problem with the iClear 30 clearomizer. I would fill it up, vape just fine for a while, after which the juice would start leaking through the bottom of the atomizer, into the 510 connection. It would gurgle every time I'd draw on it and produce virtually no vapor.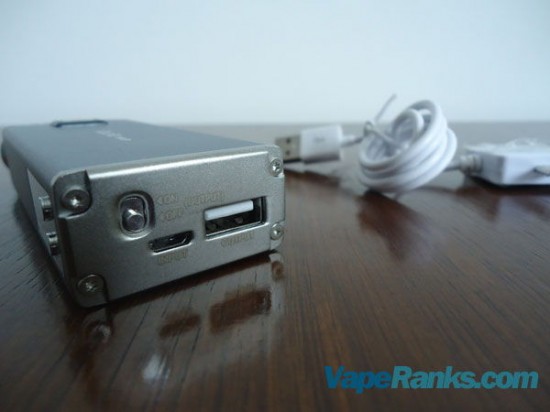 I don't know why this happened, but the only way to fix it was to unscrew it from the iTaste MVP, clean the e-liquid and blow through the bottom of the atomizer to clear whatever juice was in there. It would then work fine for a time, before the same thing happened all over again. Eventually I just gave up on it and switched to the Kanger Aerotank. Maybe I was just unlucky to get a defective unit.
Conclusion 
The Innokin iTaste MVP 2.0 is one of the sturdiest, most reliable regulated mods on the market today. Its rectangular shape can take a while getting used to, but the high-capacity battery and accurate output more than make up for it. The voltage/wattage adjustment buttons may also be a bit confusing at first, but once you learn which is which, operating the device will be a breeze. The iClear 30 clearomizer is the Ahile's heel of this otherwise outstanding vaporizer, but considering it's got both a 510 and standard eGo connections, you can use it with virtually any tank or cartridge.