iJoy Avenger Tank Review
You don't need to be a genius to figure out that iJoy is trying to catch a ride on "The Avengers" hype train with its new Avenger sub-ohm tank. Heck, even the font used on the packaging is obviously inspired by the popular Marvel franchise, but at the end of the day what really matters is if there is anything more to this tank than its name. Well, it does come with an interesting-looking mesh coil, and iJoy has come out with some great tanks in the past, so the iJoy Avenger definitely looks promising. Let's check it out:
A Look at the Contents
The iJoy Avenger comes in the company's classic tank packaging – a clear plastic case with a colorful cardboard wrapper featuring a cutout in the middle. On the back of the wrapper we have some technical specifications, a list of kit contents, and company information. Even though the color of the tank in the case is clearly visible to that cutout in the wrapper, you can also find the color stated on the side of the box.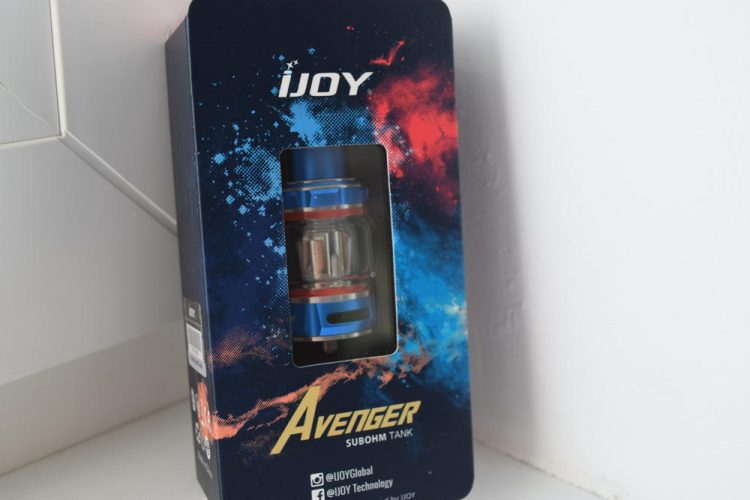 Inside the plastic case, we have the Avenger tank, a spare coil-head, a classic glass section (the bubble glass comes pre-installed) and a bag of accessories. In that bag, we have some silicone o-rings, a vape band and a 510 drip tip adapter.
Design and Build Quality
The iJoy Avenger sub-ohm tank is made primarily of stainless steel and glass, measures 25mm in diameter and has an e-liquid capacity of 4.7ml (3.2ml with the smaller glass section). It comes in seven different colors, including stainless steel, white and champagne. The sample I received for this review was blue, which actually goes really well with the stainless steel bits.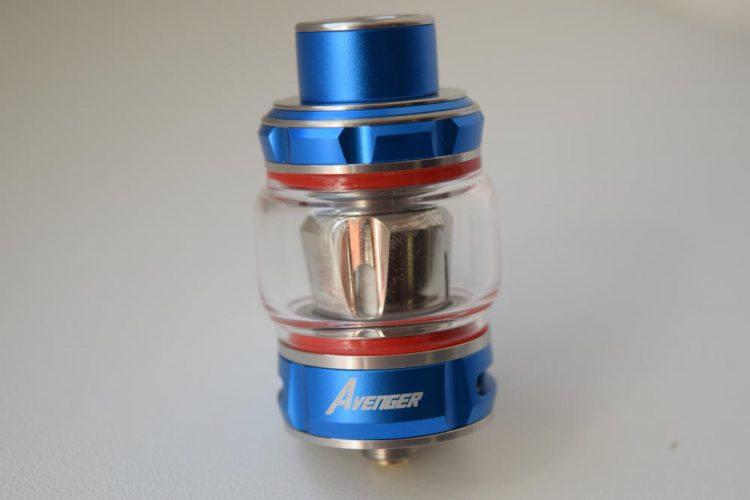 At the top, we have a stainless steel 810 drip tip that matches the color of the tank and features the iJoy logo. It sits snug on the tank's top cap thanks two a couple of small o-rings. I for one love the drip tip, which never gets hot even though it's metal, but you can replace it another 810 tip if you so desire.
The top cap features knurling to make it easier to unscrew when you're trying to access the Avenger's top filling system, which consists of two large kidney-shaped slots.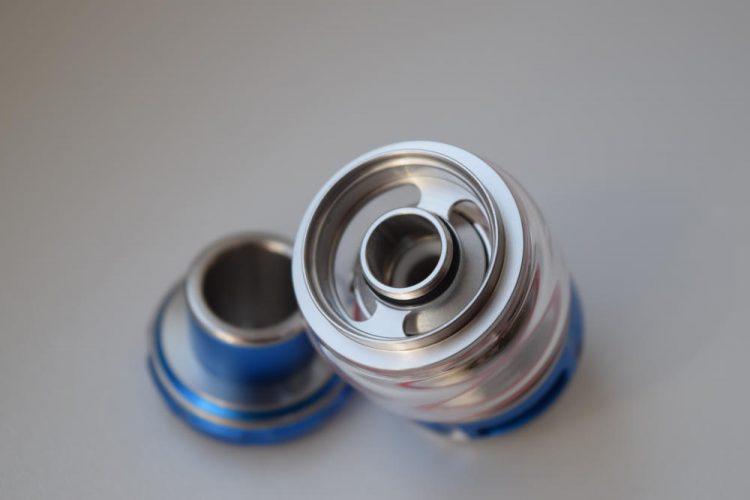 The base features two adjustable airflow slots with stoppers on each side, as well as the "Avenger" logo. On the bottom, we have a non-adjustable, gold-plated 510 pin that doesn't stick out from the connection too much, so if you were thinking about using this tank with a hybrid mod, definitely think again.
The iJoy Avenger tank comes with two massive coil-heads featuring an elongated base that makes them look like bullets. One of them is a mesh coil, and the other one is a regular vertical coil, although I couldn't tell you the material it's made of because iJoy doesn't mention it anyway. But if you're interested in other coil types, the iJoy websites lists at least 7 other available coil-heads, as well as an RBA (rebuildable base).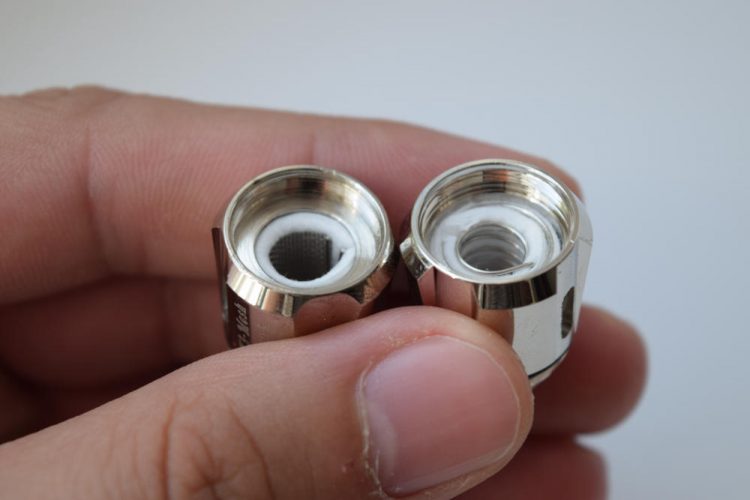 To be perfectly honest, for a tank called the "Avenger", this atomizer doesn't really strike me as impressive-looking. It's not a bad looking tank, but it just doesn't stand out in any particular way. That said, the machining and the paint job are top notch, the threads are smooth and the bullet-like design of the coil-heads is pretty cool. Now let's see how it vapes.
How It Vapes
For me, the main draw of the iJoy Avenger was that X3 Mesh Coil. Following my experience with the FreeMax Mesh Pro coils, I was really curious to see how iJoy's mesh coils compared. Mesh is really big right now, and for good reason, it really does bring out the flavor in e-liquid in a way that regular coil-heads never could, and whoever has the best mesh coils has a clear advantage.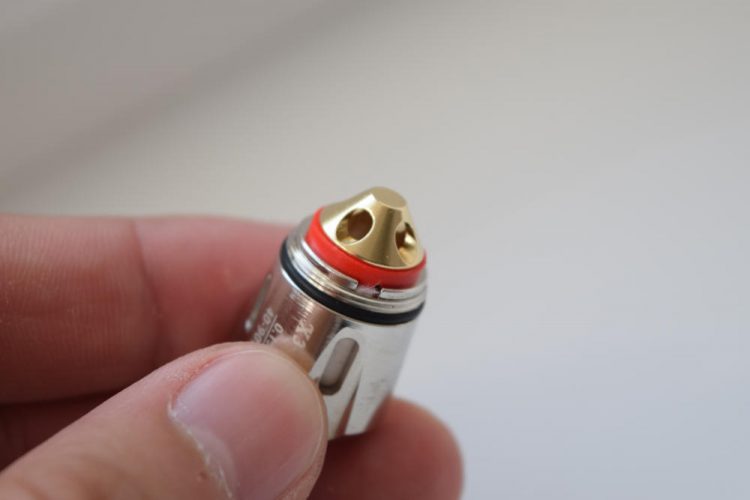 Comparing t iJoy's X3 Mesh coil with Freemax's triple mesh coil-head just wouldn't be fair, because this is a single mesh coil. But if I were to compare it to Freemax's version of the single mesh coil, I would say that they are about the same. And by that I mean that they are better than regular wire coils, but nowhere near as good as double or triple mesh coils.Unfortunately, iJoy currently has only single mesh coils available, so in that regard it's trailing behind Freemax.
Still, if you're curious about mesh, and mesh coils for sub-ohm tanks in particular, the iJoy Avenger is a good choice. But if you really want to feel amazing flavor, get the Freemax Mesh Pro or even the older Freemax Fireluke, and pop either the double or the triple mesh coil on there. It will blow you away.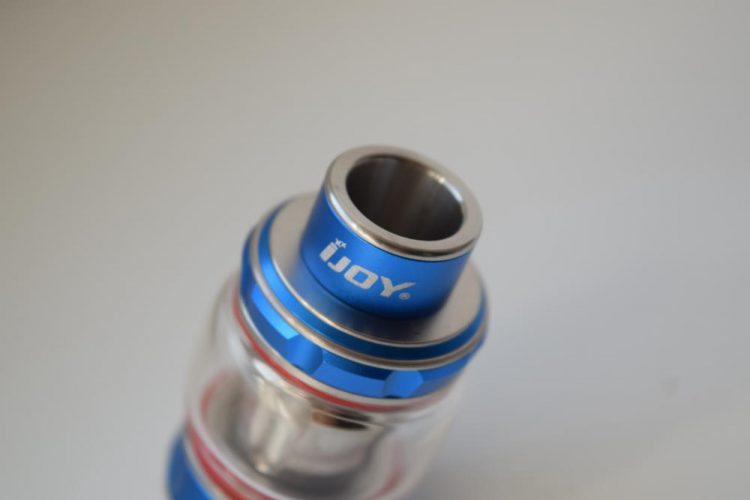 The other coil-head included in the Avenger kit is the X3 C1S, I'm pretty sure it's made of stainless steel, but don't take my word for it. It has the same beefy shell as the mesh coil head, but actually features a large wire coil. In terms of performance, I would say it's decent, but nothing to write home about. With a high enough power output it can really chug the vapor, and the flavors is not bad either, but the mesh coil is really the star of this kit.
Interestingly, the wicking of these new iJoy coil heads is a combination of wood pulp and organic cotton. I don't know if that's been done before, but I can't say I noticed a big difference between this type of wicking and regular cotton. The flavor is clean, I get no funky taste vaping them, and that's all I care about.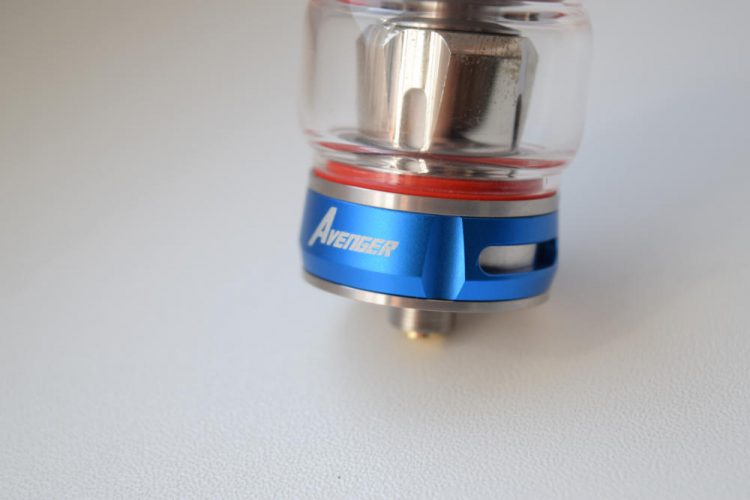 Conclusion
The iJoy Avenger sub-ohm tank has been out for about six months now, but it remains fairly popular. That may be because the Chinese manufacturer has been supporting it with new coil types and even an RBA, but it's also due to the quality of the device. This is a solid tank with really nice machining and an elegant look to it. The Avenger name may draw in some vapers as well.
If you're in the market for a 25mm sub-ohm tank that comes with a mesh coil, the iJoy Avenger is a great choice. I wouldn't call it the best in its class, but it's definitely a good buy.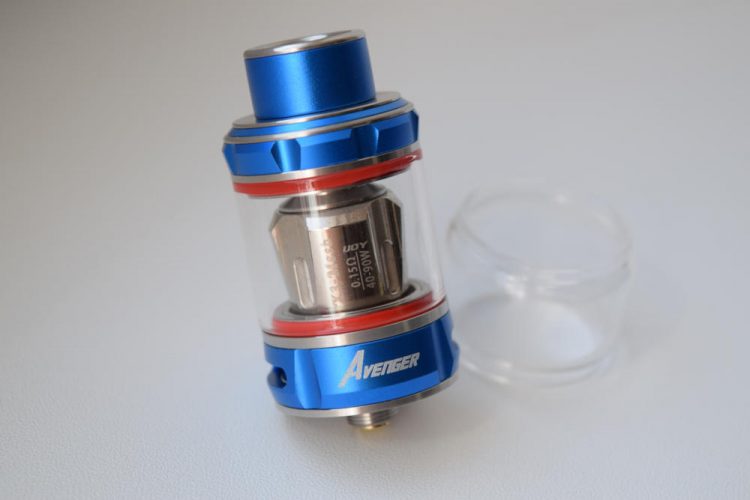 The iJoy Avenger sub-ohm tank was sent to me for the purpose of this review by BuyBest. They currently have it in stock for just $24.35.