NCR Nicotine Reinforcer RDA Review
The NCR Nicotine Reinforcer RDA is one of the most innovative atomizers I've ever seen, but it's also a perfect example of why innovation isn't necessarily a good thing. This is basically a coil-less RDA which replaces the usual metallic heating element with one made of aluminum nitride (AIN), a ceramic material with very high thermal conductivity. The company claims that each AIN "waffer" (small plate) is good for around 600,000 heating cycles, so you don't have to worry about replacing coils anymore. But what I'm most curious about is whether this aluminum nitride is suitable for vaping.
I've been trying to find the NCR website and find out more about the Nicotine Reinforcer and its innovative technology, but I've had no luck so far. I know nothing about this company or the research they've done on aluminum nitrade, so I'm reluctant to vape on this RDA, to be honest with you. And I can't recommend you vape on it either, not until we get some sort of confirmation that it is actually safe. There is a reason kanthal has been the most popular coil material for the so long. It has certain properties that make it ideal for vaping, which I for one don't think is the case with aluminum nitride, a ceramic material commonly used in the manufacturing of circuit boards and heat-sinks, among others.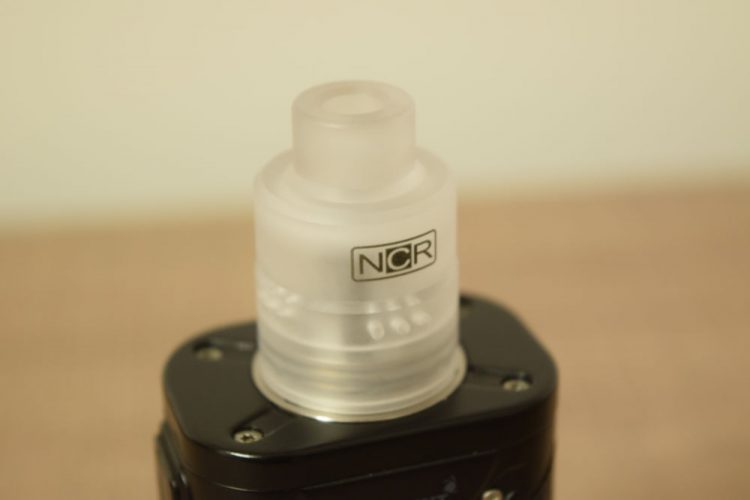 So, no, this is not a true review. I have NOT vaped on this thing and I don't intend to. I will give you my thoughts on the design and build quality, but as for my hands-on experience with the the NCR Nicotine Reinforcer, you'll just have to wait until aluminum nitride makes the official list of vaping-friendly materials.
A Look at the Contents
The NCR Nicotine Reinforcer comes in an unimpressive little box made of very flimsy cardboard. Inside, you'll find the innovative RDA itself jammed in a big piece of Syrofoam, a small bag of accessories (spare o-rings, spare screws, Allen key and a couple of stainless steel clamps for fastening the cotton strip to the ceramic waffer, and a thermal insulation gasket that protects the mod if the atty gets too hot), and a small user manual.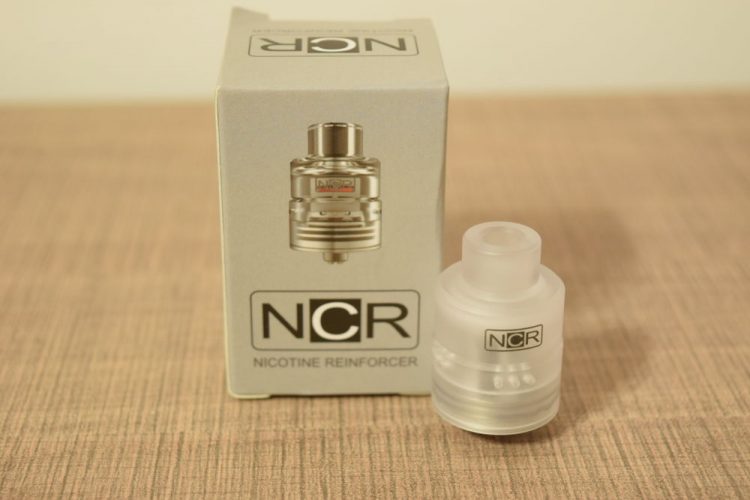 This is basically your standard RDA kit, but the packaging itself is inferior to what most brands today use, and that really makes a poor first impression.
Design and Build Quality
The NCR Nicotine Reinforcer measures 24 mm in diameter and is 40 mm tall from the base to the top of the drip tip.
While most RDAs today are made primarily of stainless steel, that is not the case with the Nicotine Reinforcer. Instead, NCR have gone with a stainless steel base and build deck and a barrel made entirely of translucent polycarbonate (PC). They call it "foodgrade PC" in the user manual, but I don't know how well suited it is for vaping. E-liquid flavorings contain a variety of chemicals, and we just don't know how polycarbonate reacts to all of them, so why not go for safer options like good old stainless steel or glass? Oh, I know, this stuff's probably cheaper. It definitely feels A LOT cheaper, that much I can tell you.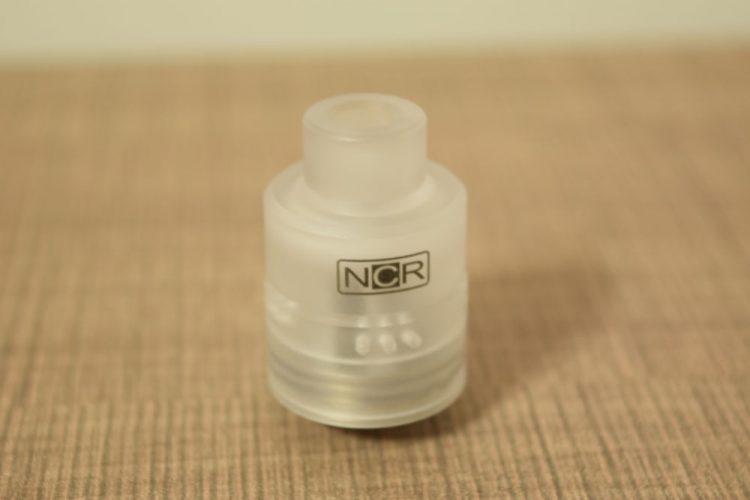 What I found particularly odd about the design of the Nicotine Reinforcer was that the drip tip is non-removable – the whole barrel is cast as a single piece – and that the airflow holes – a grand total of 12 – around the barrel are not adjustable. Because we don't really have a top cap, just a big polycarbonate barrel, there's no way to open or close the airflow. So if you want a tighter draw, well, tough luck.
As for the dripping itself, since this is a one-piece barrel, you have to either remove the barrel every time you add juice, or you can just drip through the drip tip, as the manual suggests.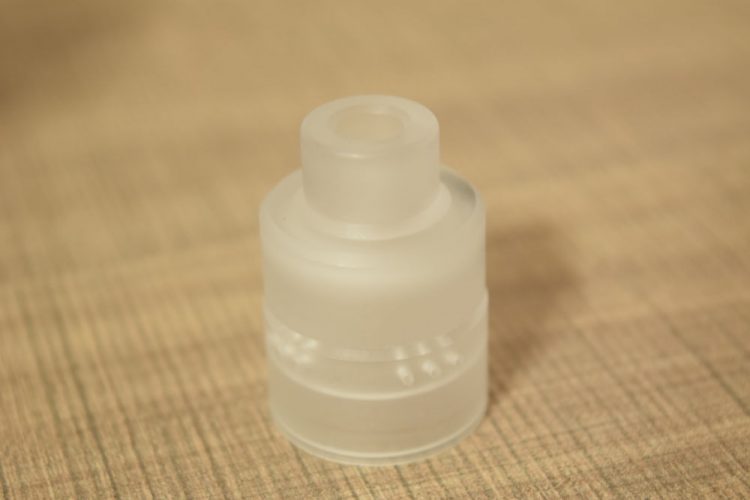 However, the most innovative aspect of the NCR Nicotine Reinforcer is definitely on the inside. Removing the polycarbonate barrel for the first time, you will see a sort of cage around the aluminum nitride waffer/plate/whatever you want to call it. Technically, you can just take it off and the atomizer will work just fine, but it helps keep the cotton wick in place, once you wrap it around the heating element. You would remove this cage, put a strip of cotton over the waffer and then place the cage back over it to keep the wick close to the waffer during vaping. The cotton wouldn't fall of completely even without the cage, because you have those tiny stainless steel clamps that fasten it in place over the waffer, but it helps keep the cotton close to it on both sides as well.
The cage is definitely an interesting idea, but what I hate about it is that it's made of aluminum. Again, the manual refers to it as "foodgrade aluminum", but why couldn't NCR just use stainless steel? How expensive would that have been? There's a reason aluminum is rarely used in atomizer, let alone so close to the heating element. It's not safe, but I guess NCR didn't get the memo.
Now for the most interesting part of this RDA, the "self-cleaning" waffer that replaces your usual coils. It's basically a small aluminum nitride plate fastened to the positive and negative posts of the base with two small hex screws. At first sight, it looks like just a simple ceramic plate, but if you put a strong light behind it, you can see that there is a metallic heating element encased in in. It doesn't really matter what's it's made of, really, since it doesn't come into contact with the cotton wick.
Getting the NCR Nicotine Reinforcer ready for vaping is a relatively simple affair. The waffer comes preinstalled, so you don't have to worry about mounting it in place. You just remove the aluminum cage, place a strip of common over the waffer, fasten it with one of the two included clamps, put the cage back on, add some juice, and you're ready to vape.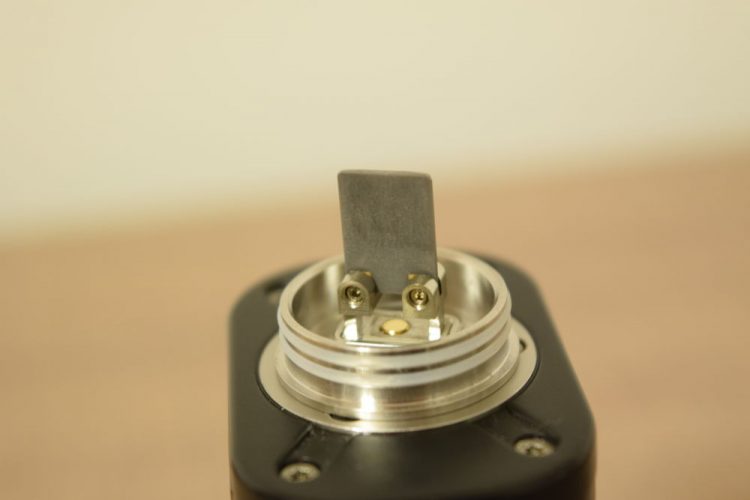 Of course, that leaves us with the question "do you really want to vape on aluminum nitride?" That's a big fat "NO" for me, and I really don't think anyone should be vaping on this material until we know more about it. Remember that you are inhaling the vapor and whatever is in it straight into your lungs, so if this thing leaks something into the vapor, it could spell bad news for you. Do you really want to risk that? I know I don't.
Oh, I almost forgot about the "self-cleaning" properties of this aluminum nitride waffer. According to the manual, all you have to do is dry burn it at around 30W – 40W for a few seconds, or use some fine grade sand paper on it. Neither of those methods sound appropriate to me. I dry burn my coils only once before changing them, and I would never use sand paper on them. And that's kanthal or stainless steel we're talking about, not some obscure ceramic material that could degrade and release particles into the vapor. But NCR claims that the waffer is good for around 600,000 heat cycles, so if that sounds appealing, and you don't really care about vaping-friendly materials, this may be for you.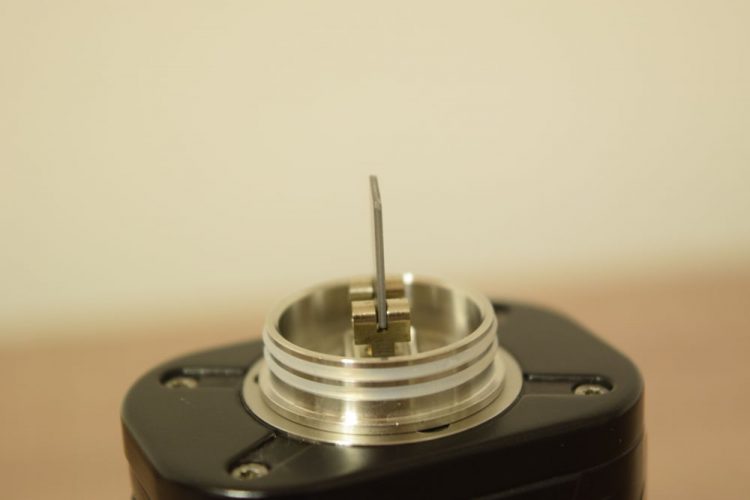 If you've been following vaping innovation for the last couple of years, you probably remember the world's first coil-less atomizer – the Altus Tank by Guo. It replaced the metallic coils with the same type of plate as the Nicotine Reinforcer,  so this really isn't all that innovative, honestly. That plate was also made of a highly conductive ceramic material, and had a tungsten heating element encased in it. You were not supposed to dry burn that one though, while NCR recommends you do, for cleaning purposes, so I guess they are using different materials.
Anyway, the Altus Tank was a flop. People were just not convinced that vaping on a piece of ceramic, especially over long periods of time, was safe, so it didn't sell very well. I have the feeling that the NCR Nicotine Reinforcer will share the same fate.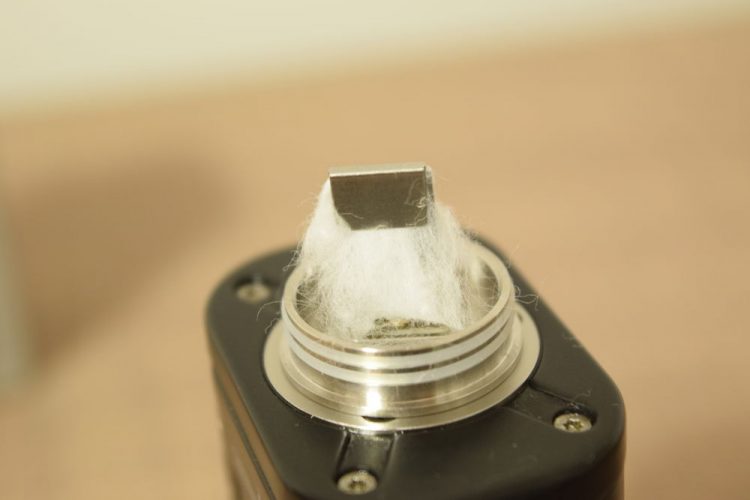 Conclusion
As I mentioned, I have not vaped on this thing yet, and I don't really plan too, not until we learn more about aluminum nitride. I just don't consider it safe at all at the moment. The company is as obscure as they get in this industry – I couldn't even find an English website on their products – an they are using some really dubious materials, like polycarbonate and aluminum.
But even if you take safety out of the equation, the NCR Nicotine Reinforcer still doesn't strike me as a high-quality device. The non-removable drip-tip and the non-adjustable airflow slots are big cons in my book, and with so many RDAs to choose from these days, there's really no point in spending your money on this.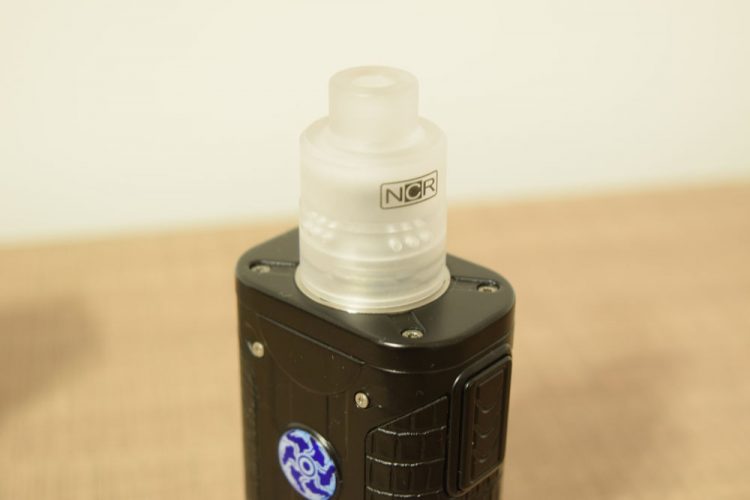 But, if you've read my presentation and are still interested in the NCR Nicotine Reinforcer, you can pick it up at Heaven Gifts, for $41. That's pretty expensive for an atomizer, but I guess innovation doesn't come cheap.
Cons
polycarbonate barrel
aluminum elements
non-removable drip tip
non-adjustable airflow
aluminum nitride heating element
cheap feel
expensive