Vapeman Steam Engine Review
I've always been a fan of the Steampunk genre, so when presented with the opportunity of reviewing the Vapeman Steam Engine mod, I knew I couldn't pass it up. In my opinion, this is the best-looking mass-produced steampunk-themed vaporizer money can buy. You can probably find some better custom mods out there, but as far as mass-produced devices go, nothing even come close to the Steam Engine. And it's powered by Evolv's tried-and-true DNA 75 chipset, which got me even more excited to try it.
A Look at the Contents
I knew the Vapeman Steam Engine was something special the moment I laid eyes on its impressive packaging. The mod comes in a large, rectangular cardboard box that's designed to look like one of those leather-stitched wooden boxes collectors use to store their most valuable possessions in. It has "Steam Engine" written in large Victorian-inspired font on the lid, with a steampunk mechanism of gears and sprockets in the background. I know a lot of people don't really pay attention to the presentation, but I for one appreciate it when manufacturers put in the effort to make the packaging as a appealing as the devices inside.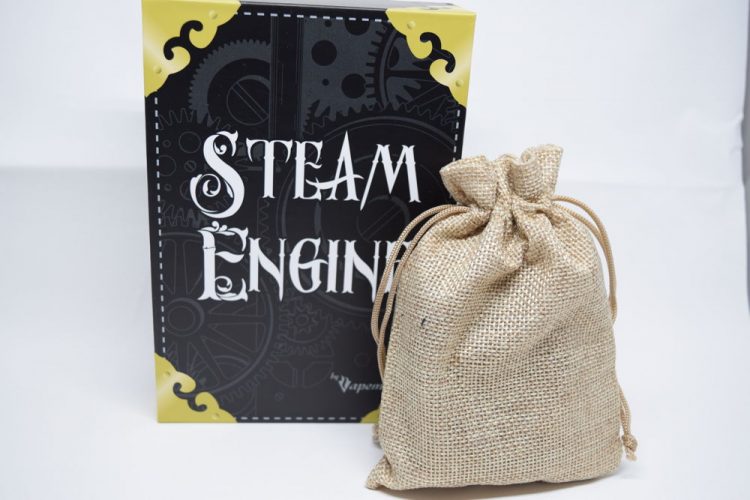 On the back of the box, we have a list of kit contents, some company information – the Vapeman Steam Engine is designed by a U.S. company called Meister, but it's made in China – and the color of the mod inside. The mod comes in three variants – Vintage Brown, Cork and Gray.
The attention to detail continues inside the box, as instead of just placing the mod in a Styrofoam holder, as most companies do, Vapeman decided to put in a small burlap sack, which fits the steampunk theme very well. You also get a mini-USB cable for charging and a user manual that explains everything you need to know about the Steam Engine before using it.
All in all, I was very impressed with the packaging of the Vapeman Steam Engine, and I can only hope that other manufacturers follow their example in the future.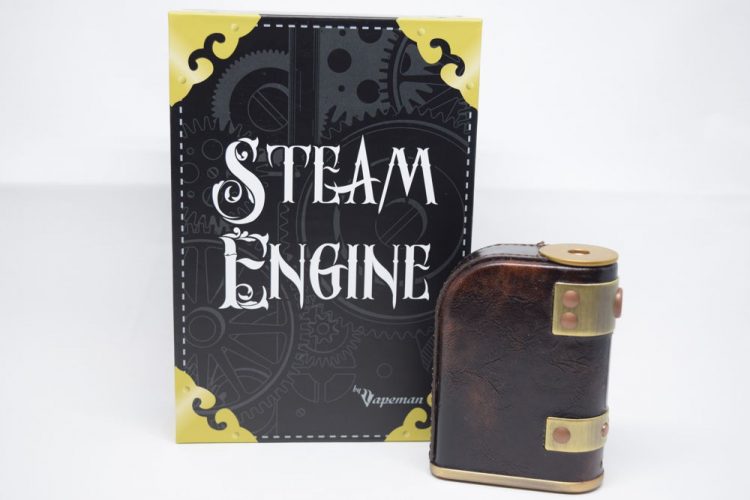 Design and Build Quality
The steampunk look of the Vapeman Steam Engine is undoubtedly its main draw. It's hard for me to put into words just how good this thing looks and feels in the hand, and photos just don't do it justice.
Apart from the brass base and large connection plate, the Steam Engine is covered in stitched leather. And no, I'm not talking about some realistic leather-like stickers, but actual stitched leather covering the entire body of the device. It also features two riveted brass plates and copper buttons which fit the steampunk theme perfectly, as well as a thick glass display cover which, to me is reminiscent of a ship's porthole.
The Vapeman Steam Engine measures 63 mm x 85 mm x 28 mm, which makes it one of the larger dual-battery box mods on the market. It also has some weight to it, due to the amount of metal used, but thanks to the rounded edges and corners, it feels surprisingly comfortable in the hand.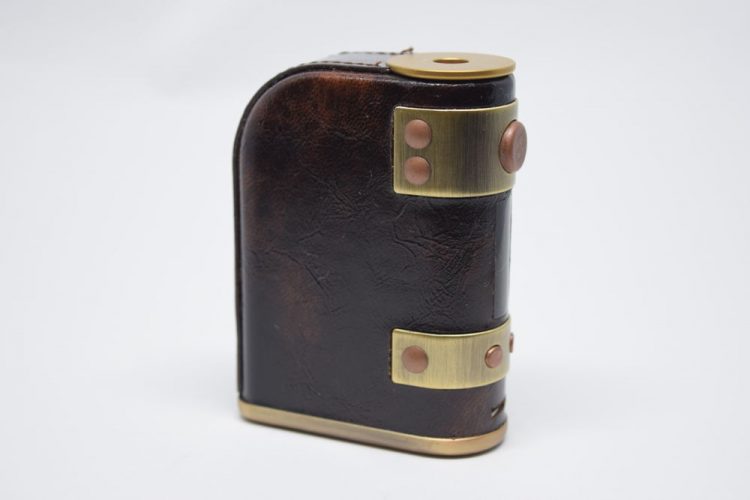 The 510 connection is surrounded by a 28 mm brass plate which fits any atomizer up to 28 mm in diameter without any overhang. The pin appears to be gold-plated and has quite a bit of travel to it, so any tank or RDA you pair the Steam Engine with should sit perfectly flush.
The copper buttons do rattle, especially when you shake the mod vigorously, but in this particular case I didn't really mind that one bit. If anything I thought the rattle just fit the whole steampunk theme perfectly. But even if you consider it a con, it's a minor one.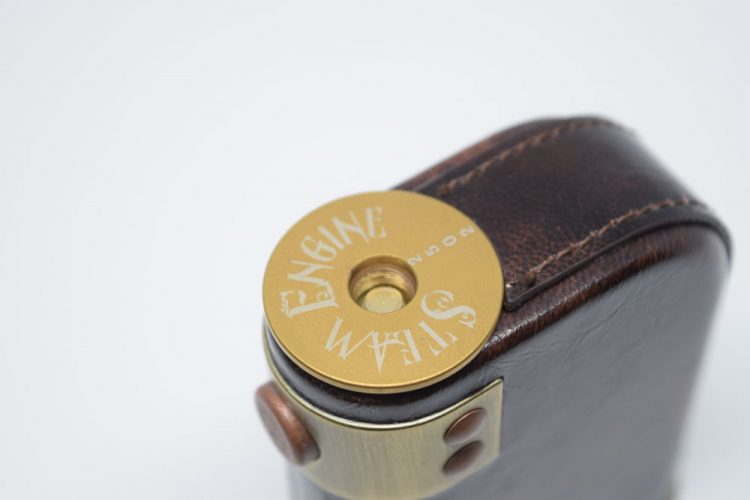 If you've ever used a DNA-powered mod before, the display of the Vapeman Steam Engine is going to look very familiar. And even if you haven't, it's so simple and intuitive that you'll figure it out in no time. You have  a battery indicator on the left, atomizer resistance, voltage and amperage next to it, and then the wattage. It's very basic compared to modern displays, like that of the Smoant Cylon or Wismec Ravage 230, but I guess this minimalism fits the steampunk theme better.
The only design feature that I really found uninspired was the battery door. It's basically a detachable brass plate that you have to press and slide over the batteries. It locks into place once you manage to slide it all the way, but actually doing that can be a challenge, as you have to apply quite a bit of pressure and make sure both sides of the plate are aligned with the mod.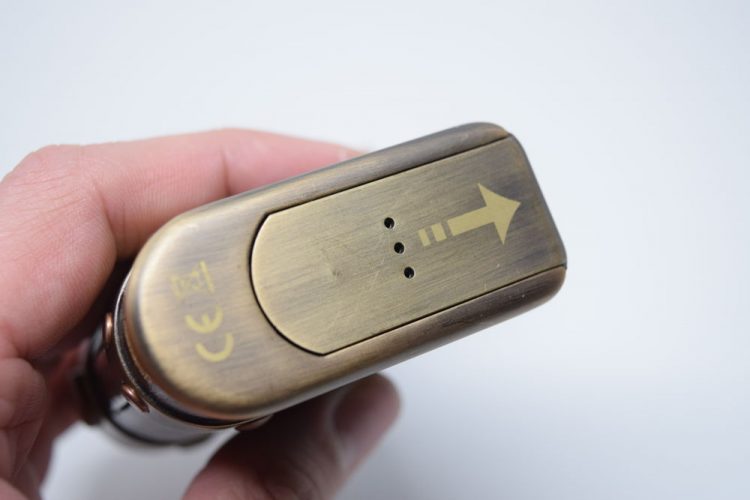 But the thing I hate more about this style of battery doors is the fact that they detach completely. And I'll tell you why I hate that. Right after taking the Vapeman Steam Engine out of its burlap sack to take a look at it, I tried sliding the battery door off and accidentally dropped it. That caused one of the tine battery connectors to pop out of its socket and I spent a good five minutes looking for it on the floor with the flashlight from my phone.
I was lucky enough to find it and put it back in its place, but this never would have happened if the battery door was hinged. I mean, hinges fit the steampunk theme perfectly, and I don't think it would have been very difficult to implement, so I don't know why Vapeman opted for this impractical door design instead.
Other than the battery door, I really don't have anything bad to say about the design and general look of the Steam Engine Mod. It is a steampunk masterpiece, and looking at it, it's hard to believe this is a mass-produced device with a decent price tag ($80 – $90).
Menu System and Navigation
I have to be completely honest and mention that my experience with DNA chipsets is somewhat limited. Evolv's boards are widely recognized as the most advanced and most accurate in the industry, but they are also very expensive, so most manufacturers just prefer to develop their own boards. So far, I've just not had the chance to test a lot of DNA-powered mods, so I don't have a lot of hands-on experience with them.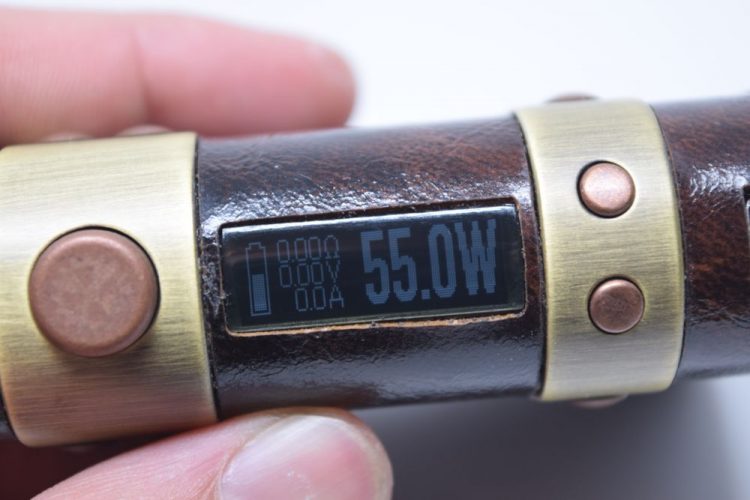 What I can tell you is that while the display may fool you into thinking that this is just a basic board, that is not the case at all. It's true that the on-board settings are somewhat limited, DNA 75 devices are compatible with Evolv's Escribe software, which lets you customize a lot more things than most other devices. From the welcome screen you see on the display when you turn on the device, to the information displayed on the screen and the various modes and preheats, everything can be tweaked in the Escribe software, for a truly custom vaping experience.
However, I am not a fan of this style of customization, simply because I find it way to complicated for the average vaper. I for one don't have the time or patience to plug my mod into a computer, download a software and then use it to change all these advanced settings, and I don't know a lot of vapers who use Escribe either. I guess it's a nice feature for techies, but it's not a big pro for the average vaper. I prefer to have as many options available on the mod, so I can tweak them whenever I fill like it, instead of having to use a Microsoft Windows machine.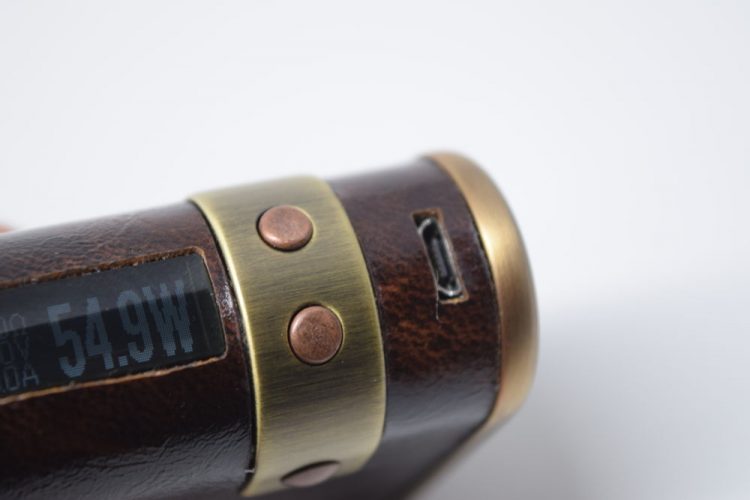 The DNA 75-powered Steam Engine does have a few presets you can choose from, but they may not match your prefered style of vaping. So , for example, if you want to set the preheat for a certain material and none of the pre-installed settings match it, your only option is to do it via Escribe. Why not at least have some of the classic "Soft", "Hard" or "Max" preheat options available by default, so I don't have to use Escribe unless I really want to make some very specific tweaks?
Maybe there are DNA 75 mods out there that come with more common presets, but the Vapeman Steam Engine isn't one of them. I for one couldn't find any suitable preheat options, so I just use it in standard mode, with no preheat at all.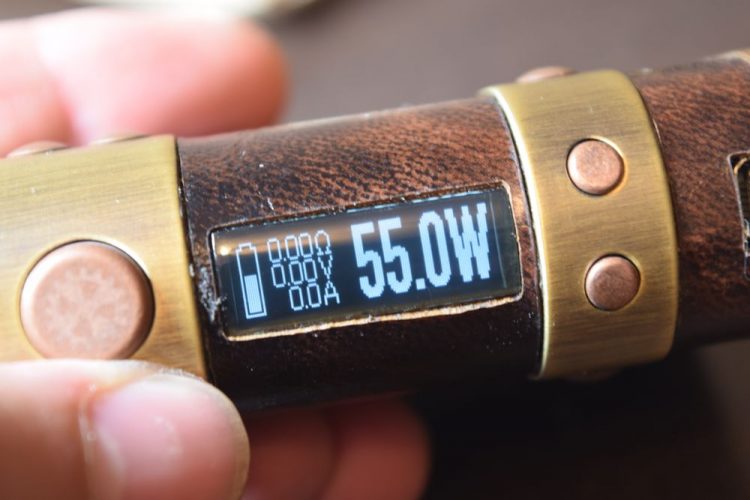 Also, getting used to the different button combinations may take a while, if this is your first DNA device, as they are very different from most of the other mods I've used in the past. Just to give you an example, in order to access the available presets. You have to first lock the two adjustment buttons by keeping them pressed for 2 seconds, then press the "down" button two times. But don't keep the two buttons pressed too long, or you'll just go into temperature control.
Maybe it's not as complicated as I think, but it's definitely different than what I'm used to. Subjective or not, I'm just not a fan of the way the DNA 75 navigation and menu are set up.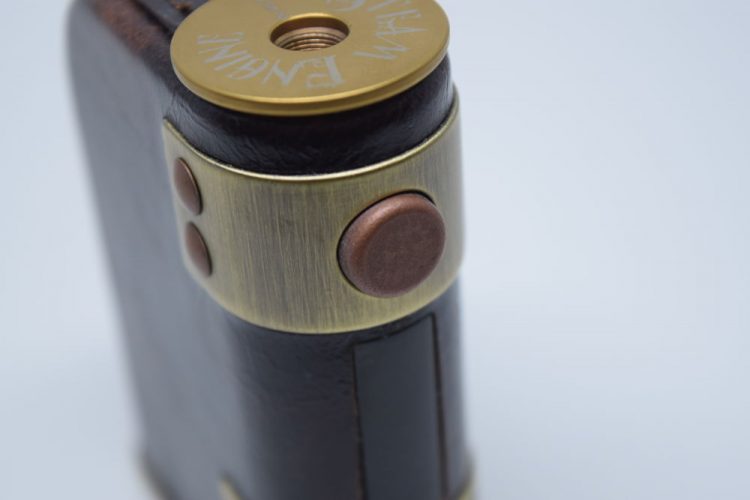 Battery Life and Overall Performance
The Vapeman Steam Engine is advertised as a dual-18650-battery mod, but what they don't mention in the manual or on the Vapeman website is that this thing can run with a single 18650 battery as well. You just get half the battery life, but other than that, it works perfectly.
Another thing that sets the Steam Engine apart from other dual-18650 mods is that the batteries run in parallel, not in series. The first time I looked at the battery door markings and saw two "-" signs, I thought the manufacturers made an error, but then the manual indicated that both batteries had to be inserted with the positive side down. You certainly don't see that too often on mods these days.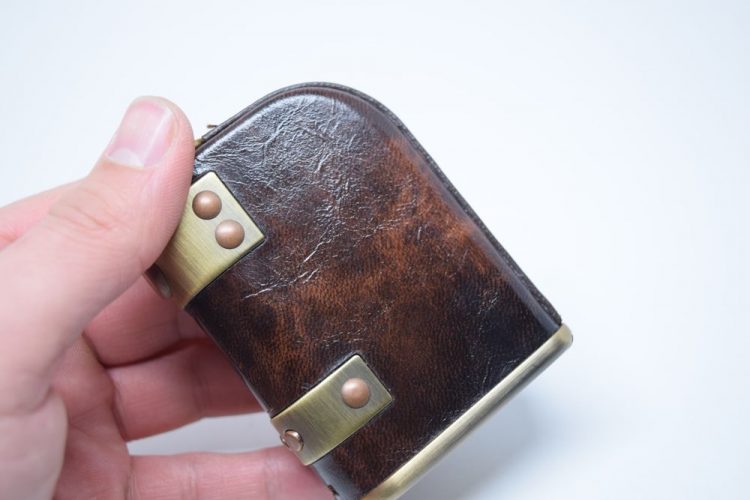 As far as battery life goes, it depends a lot on what capacity batteries you are using – I prefer the LG HG2 3,000 mAh ones – the power output set on the mod and how much you use it. One thing I will say though is that Evolv's DNA chipsets are famous for using the batteries very efficiently and increasing battery life. So, at least theoretically, you should be seeing slightly battery life using the same batteries with the Steam Engine than other mods powered by different boards.
In terms of actual performance, the Vapeman Steam Engine is, again, theoretically superior to mods powered by different chipsets. DNA boards are famous for their accuracy in both wattage and temperature control modes, and I can actually attest that the power output feels on point. I haven't used the temp. control feature, because I just don't regularly use it, plus having to go into Escribe to tweak the presets would have been a chore. However, I have yet to hear anything negative about the performance of a DNA device in temperature control.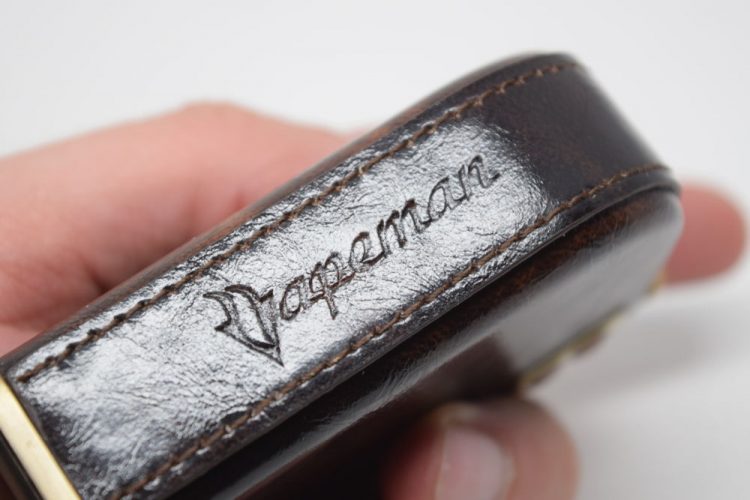 One thing I will say about the DNA 75 chipset powering the Vapeman Steam Engine is that it's not exactly the newest board on the market today. It's been around for a while now, and Evolv has come out with a newer generation, the DNA 75 C. I'm only mentioning this because this older version is missing one advanced feature I've really gotten used to in these last few months – fast charging. The Steam Engine only does 1A charging, which is a bit of a bummer, but I know that Evolv charges extra for this feature on its boards, and Vapeman apparently didn't feel it was worth it.
All in all, though the performance is definitely right up there with the best mods I've ever used, and certainly worthy of the DNA name.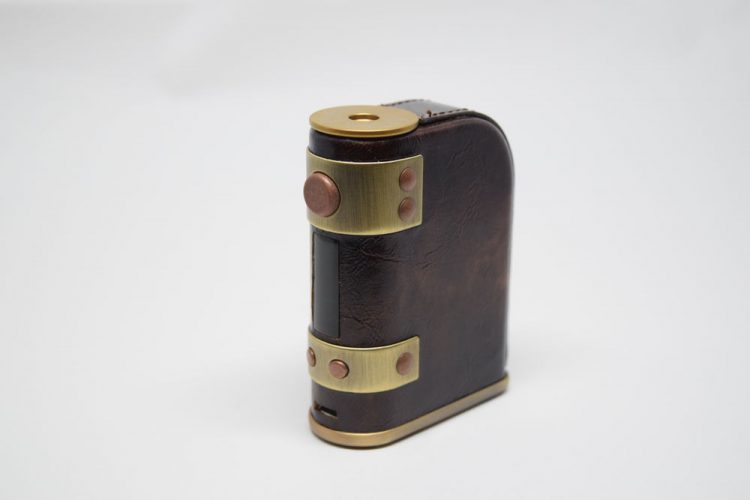 Just know that even though this is a dual 18650 battery mod, the maximum power output is only 75W. It's kind of strange, as most dual-battery devices have a maximum output of at least 160W, but, as its name suggests, the DNA 75 board only does 75W. That should be enough for most vapers, myself included, especially since the chip is so accurate, and you're getting true wattage, but if you're the kind of user who regularly vapes at over 100W, the Steam Engine may not be for you.
Conclusion
The Vapeman Steam Engine is not a perfect device. You could say that with a maximum power output of just 75W it is heavily under-powered for a dual-18650 mod, and you would be right. Design elements like the battery door could have been better implemented as well, and the sheer bulkiness of it may put a lot of people off. But one thing you cannot deny is that for a mass-produced steampunk-themed vaping device, it is downright gorgeous.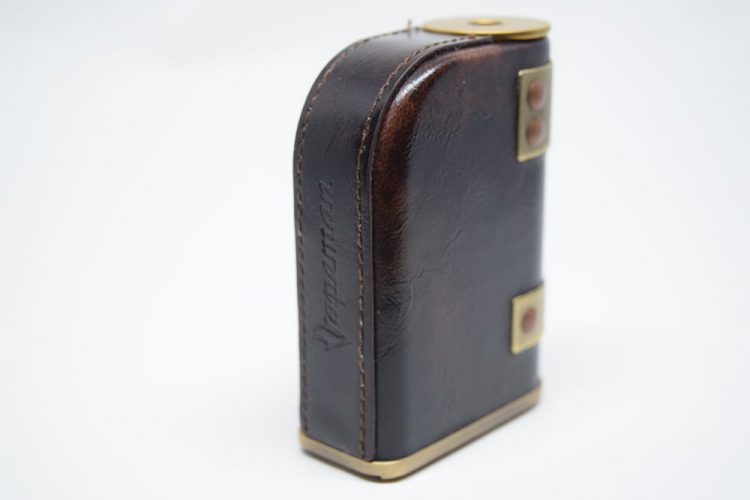 The quality of the stitched leather, the gorgeous, albeit rattly copper buttons, the riveted brass plates and the thick glass display cover, all come together perfectly to create an authentic steampunk vibe. And it's not just the look of it that's impressive, but also the feel. It has the high quality feel of a limited-edition or custom device, but the price tag of a mass produced one.
So yeah, if you're into the whole steampunk thing, if you're a fine mod collector, or if you just like nice things, and can live with its few shortcomings, you should definitely consider spending your money on the Vapeman Steam Engine.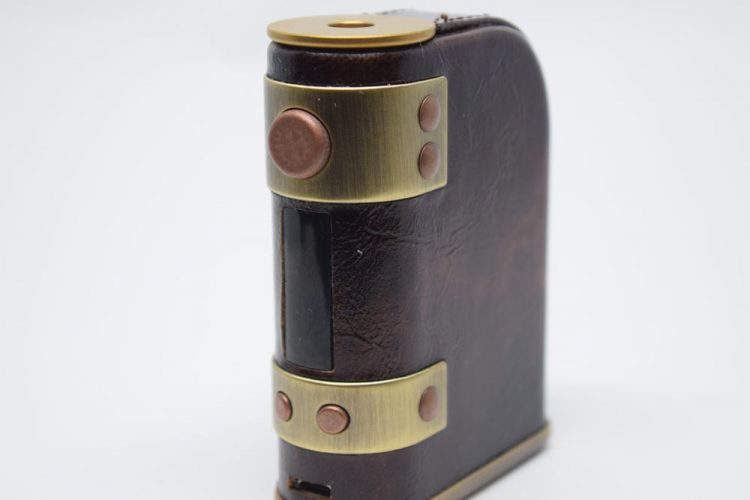 The Vapeman Steam Engine DNA75 was sent to me for the purpose of this review by the kind people at Ave40. They currently have the Steam Engine in stock for $89.99.
Pros
steampunk theme
inspired packaging
high quality look and feel
great performance
single and dual battery functionality
great 510 connection
Cons
bulky
outdated battery door system
75W power output limit
no fast charging
Escribe