SMOK R-Steam Mini Review
The SMOK R-Steam Mini is a compact 80W mod aimed at intermediate and advanced users looking for a small and light device for vaping on the go. This little guy runs on one 18650 high-drain battery and comes with advanced features, like temperature control for all currently supported materials and various vaping effects that allow you to customize your vaping experience. In this review, we'll be taking a close look at the SMOK R-Steam Mini to see if it really is the best single-battery device on the market right now.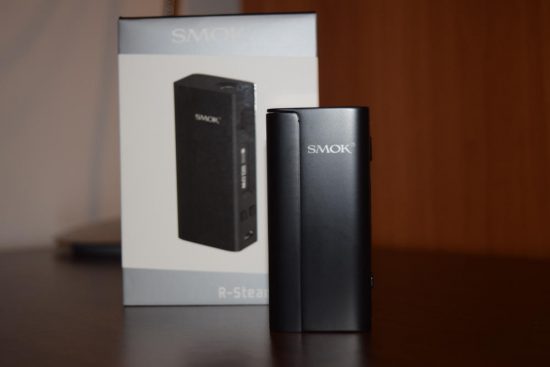 A Look at the Contents
The R-Steam Mini comes in the standard SMOK packaging – a large plastic-wrapped cardboard box in the Chinese manufacturer's grey and white color scheme – and contains one R-Steam Mini mod, a micro-USB charging/upgrade cable, a user manual and some informative leaflets. It's not the most generous kit, but it's pretty standard. If you're looking for a complete package, you can opt for the SMOK Nano One, which contains all of the items above, as well as a TFV4 Nano tank.
Even for a singe-battery mod, the SMOK R-Steam Mini is still one of the smallest and lightest devices I have ever used. It measures just 82 x 38 x 22 mm and weighs only 120 grams, without the battery. The slim, rectangular shape also feels very comfortable in the hand, especially to someone with tiny hands, like me. I have been using the R-Steam Mini for around three weeks now and it has become my go-to device for long outings. It fits great in the smallest of pockets and it's so light that you don't even feel it. Plus, I don't have to worry about attracting attention when vaping it in public, because my hand wraps around it completely, so as long as I'm using a tiny atomizer, people can't even see it.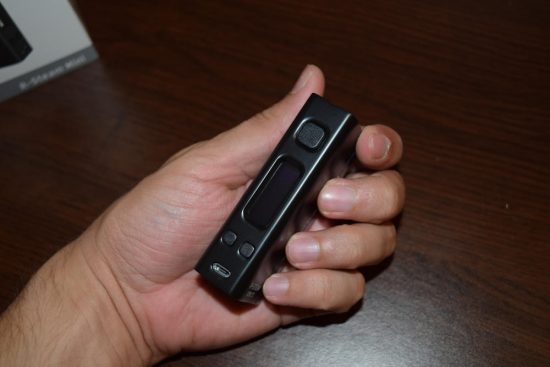 The SMOK R-Steam Mini is made of a high-quality zinc alloy and comes in a variety of colors. Mine has a matte black finish that I personally like very much, but you can also get it in red, white and stainless steel. On top of the device we have a spring-loaded 510 connection with a gold-plated contact pin. There is no raised ring around the connection to protect the paint against scratches, which means that, on one hand, every atomizer you screw on will sit flush on the device, but on the other hand, you will start to see some scratches if you screw them on too tightly. It's not a big deal, since all theses imperfections will be masked by whatever tank or RDA you're using, anyway.
On one of the narrow sides of the R-Steam Mini we have the power button, a nice OLED display, two wattage/temperature adjustment buttons and the micro-USB port. The buttons are clicky and responsive, they've been working ok so far, but they are made of a cheap plastic that doesn't really go well with the zinc alloy body of the mod, and they tend to rattle. It's not that annoying rattle of metal on metal, but you can definitely hear it if you shake the device. I only received one unit for this review, so I don't know if it's just a problem with mine, or if it's general issue.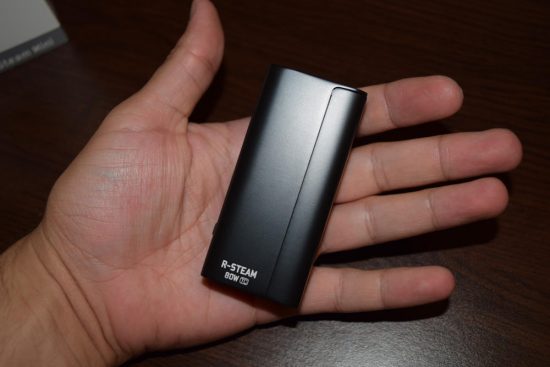 The display is one of the things I like most about the R-Steam Mini. It's impressively large fora device this size, and it's also much brighter than the ones SMOK has used in the past on mods like the X Cube 2 or the R200. To give you a better idea of what the display is like, I will just mention that it's identical to the one used on the superb SMOK OSUB Plus 80W, probably my all-time favorite SMOK vaporizer. The wattage/temperature setting takes up about two thirds of the display, while the other shows a battery life icon, as well as the atomizer resistance, real-time voltage and a puff counter.
SMOK was one of the first companies to introduce magnetic doors, and even though they've since moved on to other locking systems on newer devices like the Alien 220W and the H-Priv, they've decided to keep the magnetic battery cover on the R-Steam Mini. And they've actually done a very good job with it. The placement – on the narrow side opposite the display – and the fact that it uses no less than eight magnets means that the battery door never wobbles. The magnets are so strong that you need to quite a bit of strength to pull it off, so I really can't imagine it ever coming off.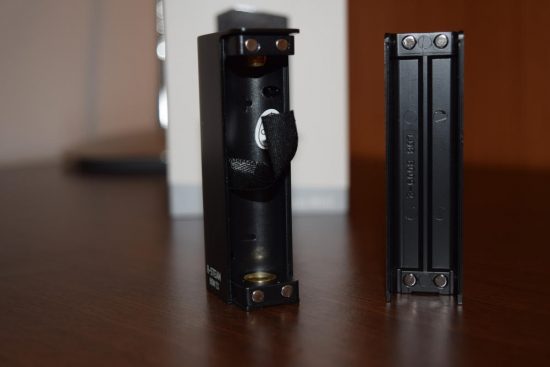 One thing I would have liked to see on the SMOK R-Steam Mini is some battery venting holes. I checked for them, but there aren't many, which is kind of strange, because all my other SMOK devices have venting systems. The chances of the battery overheating are very small, but it's better to be safe than sorry, I think.
Also, this is a slim, single-battery mod, so if you're thinking of using it with an atomizer larger than 22mm in diameter, You're going to see a bit of overhang on not just one, but three sides of the R-Steam Mini. It doesn't look pretty, believe me. But if you stick with smaller atomizers, like the TFV4 Nano or a Wotofo Serpent Mini, you're going to have a very nice-looking setup.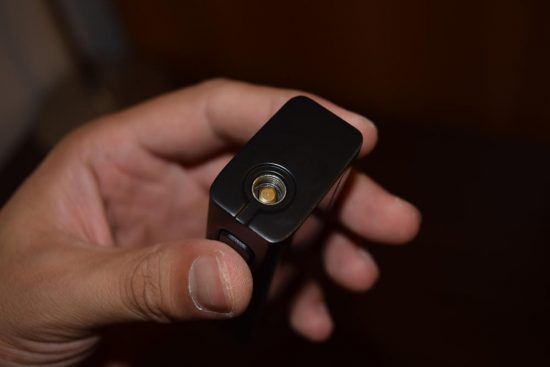 To access the menu of the R-Steam Mini, all you have to do is click the fire button three times in rapid succession. But I'm not going to into any more details, simply because it is identical to that of the OSUB Plus and pretty much any other SMOK mod to have come out in the last year or so. Just check any of my past reviews of SMOK mods and you'll learn all you need to know.
Battery Life
It's always going to be difficult to accurately predict the battery life of a variable wattage/temperature control device, especially if it's powered by external batteries, which, as well all know, have different milliamp-hour ratings. Not to mention that not everybody vapes the same. Some people take longer draws than others, or use their device more frequently than others, so we all get different, sometimes very different, battery life from such devices.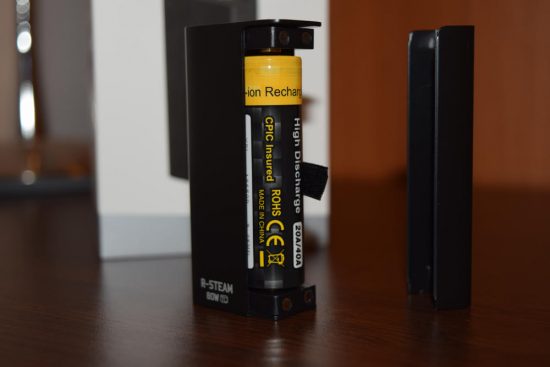 That said, I can give you an idea of what to expect when using the SMOK R-Steam Mini by telling you about my experience with it. As I mentioned before, I've been using this device for about three weeks, but I've only used exclusively for three days of that whole period, just to see how long the battery lasts. On the first day, I vaped it at 50W, and got about six hours of use out of it, which I though was pretty decent for a single 18650 battery mod. On the second day, I bumped the wattage to the maximum limit of 80W and the battery life dropped to about 4 hours, which was pretty much what I expected to get. Again, not bad for a one battery mod, but if you don't have a spare charged battery, it can be a big problem, especially when you're on the go. On the third and final day of testing, I used in temp. control mode, and got around six hours of use out of the battery. Please note that I used LG HG2 3000mAh batteries throughout the three days of testing.
Overall, I would only recommend the SMOK R-Steam Mini as a backup device. If you really want to make it your main setup, you need to have at least two 18650 batteries, as even at low wattage (30W – 50W) you-re probably not going to vape more than 8 hours on a single fully-charged battery.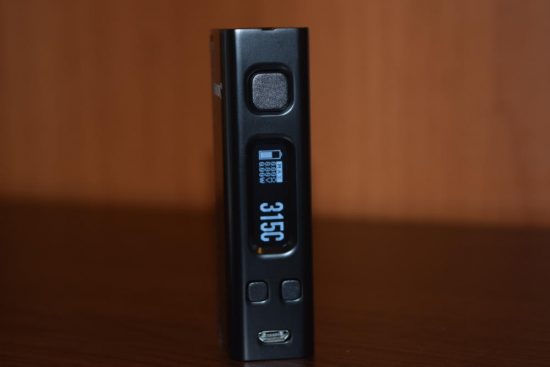 Performance
I mostly used the SMOK R-Steam Mini in wattage mode for most of the last three weeks, mainly because I'm not the biggest fan of temperature control, but also because I had some trouble getting it to work properly. For reasons i have not yet identified, this mod didn't like all my stainless steel coils. I first tested with a dual coil build on my Nixon RDA, and it kept jumping back into wattage mode after a couple of seconds. Than I switched to the Joyetech Cubis with a stainless steel coil-head, but it kept jumping out of temp. control, for some reason. Finally, I tried it with the TFV4 Micro, and it seemed to like these stainless steel coils better, because it stopped jumping out of temperature control. Although I don't know exactly why it was doing this before, but my best guess is that the chip in the R-Steam Mini might be a bit too sensitive when it comes to coil materials.
In power mode, the R-Steam Mini has been performing as well as can be expected. It has no annoying firing delay, the power output is very accurate, and I've experienced no misfires.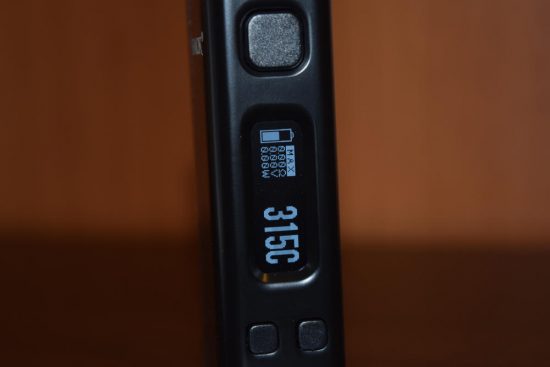 In temperature control mode, the SMOK R-Steam Mini supports resistances ranging from 0.06Ω all the way to 2Ω, while in power mode, it works from 0.1Ω to 3Ω. The temperature range is 200°F-600°F/100°C-315°C, and the power output range is 1W – 80W.
Conclusion
Apart from the strange issue I had with temperature control, I can't think of any other big con I found while using the R-Steam Mini. Sure those plastic buttons seem low quality, but it's not a big deal. All in all, I enjoyed using this device. It's great for vaping on the go, or when you need something stealthy, and it's packed full of advanced features. The only thing you need to worry about is battery life, but as long as you use it as a backup, or make sure to always carry around a spare battery, you should be ok. Plus, the $44.95 price tag is not too shabby for an advanced mod.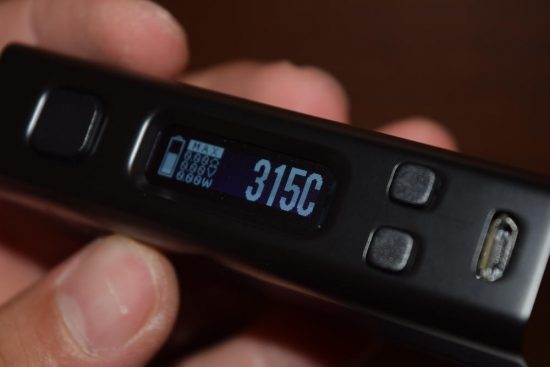 A big 'thank you' goes out to our partners at Vapor4Life for sending us the SMOK R-Steam for this review!