Vladdin Rio Disposable Pod Review
If you're a pod system user, chances are you have used or at least heard about Vladdin. The Chinese company has been around for a while, and it's one of the few manufacturers that concentrate exclusively on pod systems. Their Vladdin RE vape pod was a big hit when it came out a couple of years ago, and despite its well-known flaws, it's still one of my all-time restrictive MTL vaping devices.
Interestingly, while pod system manufacturers are moving on to advanced pod mods and replaceable coil-heads, Vladdin is going in the opposite direction; it just released a new disposable pod system called Vladdin Rio. Let's check it out:
A Look at the Contents
As with any disposable vaping device, the packaging isn't going to blow you away. The Vladdin Rio is sold in packs of three packaged individually in sealed plastic pouches that come in a small, flimsy cardboard box. the front of the box is colored according to the specific flavor of the e-liquid Rio pods inside come pre-filled with and feature a picture of the device on the front, and e-liquid ingredients, some warnings and manufacturer information on the back.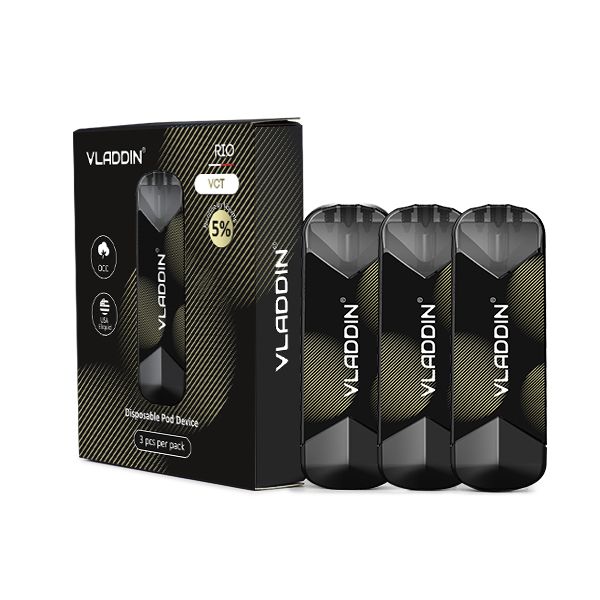 The pouches themselves are color-coded as well and feature most of the information on the back of the box they come in. This style of packaging reminds me of another disposable pod I reviewed a while back, the Digiflavor Liip. I actually liked that thing, but it wasn't a commercial success, and it's no longer listed on the Digiflavor website. Hopefully, the Rio fares better.
Design and Build Quality
Once you tear open a Vladdin Rio pod, you'll find the pod itself, as well as a small card featuring information about how to use the device. First, you need to pull out the silicone plug from inside the mouthpiece. It's there to ensure that the e-liquid doesn't leak out of the pod, and it actually requires quite a bit of strength to pull out, so don't be afraid to put some muscle into it.
On the other side of the card, you'll find information about the pod system's on/off switch. That's right, the Rio is a disposable pod with an on/off system. I haven't seen or even heard of such a thing on disposables before, but it does make some sense if you think about it. Draw-activated pod systems and electronic cigarettes can accidentally be activated by wind or other external factors, but with this switch you no longer have to worry about that. Just flip the switch at the bottom of the pod off, and put it in your pocket.
I'm not saying the Rio actually needs an on/off switch; we've seen plenty of refillable pod systems that didn't have one, but it's definitely an interesting feature, especially on a disposable device.
The first thing that surprised me about the Vladdin Rio was its size. This thing is not only shaped like a USB stick, it's about the same size as well, which makes it one of the most compact vape pods I have ever used. It's made entirely of plastic, so it's very lightweight as well. It's literally as light as a small USB stick.
Every Rio pod system features paper stickers in the colors of the flavor it contains, as well as the name of the flavor. The pods come in four different flavors – Blueberry, Ice Lychee, VCT and Ice Tobacco – but just one nicotine strength, 50mg (5% by volume). That's a lot of nicotine, especially since we are talking free-base, not nicotine salts.
The Rio holds 1.3ml of e-liquid, and obviously cannot be refilled. Once the juice is gone, all you can do is throw away the whole vape pod.
Battery Life and Performance
The Vladdin Rio allegedly features a built in 460mAh battery. I'm not saying that that is a false statement, but I personally am having trouble understanding how the manufacturer managed to squeeze such a large capacity battery into such a small pod system. For comparison, the Smoant Karat has a 370mAh battery, and the Suorin Vagon battery is rated at 430mAh. These are both much larger, refillable pod systems, and yet have lower battery capacity than the disposable Vladdin Rio…
The Rio battery cannot be recharged, so even if you have some juice left in the pod, if the battery dies, there is nothing you can do. Luckily, if the battery really is good for 300 puffs, as the manufacturer claims, you'll probably finish the e-liquid before the battery dies.
I for one have not been able to go through an entire Vladdin Rio pod simply because I could not handle the high nicotine level. 50mg nicotine is way to harsh for me, to be honest. I remember the Digiflavor Liip orange pods were pretty strong as well, and they only had 36mg of free-base nicotine. The Rio are even stronger and they deliver a very, very harsh throat hit, too harsh in my opinion.
Even a short draw sometimes makes me cough and reach for a glass of water to soothe my throat. Maybe there are people out there who actually enjoy this type of strong hit, but i am definitely not one of them. Frankly, I can't understand why Vladdin doesn't offer multiple strengths, as this would allow them to target more vapers. I feel 50mg nicotine is way too strong for the average vaper.
Vladdin claims that the e-liquid in disposable Rio pods is made in the USA, and as far as I can tell it's of decent quality. The flavor isn't going to knock your socks off like a premium juice would, but it tastes ok and doesn't leave any weird aftertaste in your mouth. I'm not a big tobacco fan anymore, so I can't say I loved the Ice Tobacco (menthol and tobacco), but the VCT (vanilla, tobacco and toasted almond) was actually very interesting, and the fruity Ice Lychee and the Blueberry were enjoyable. I could have probably gone through a few of them if not for the nicotine…
The Vladdin Rio is suitable for an airy mouth-to-long draw, so if you were hoping for a direct-lung vape, you are not going to get it from this little thing. The draw-activated switch is very sensitive, so much so that the faintest of draws will activate the battery and generate vapor. Luckily, there is that on/off switch, so you don't have ot worry about it being activated accidentally.
Conclusion
The Vladdin Rio is probably not the type of device most of us expected to see launched in at this point in time. With the industry moving towards advanced pod mods with interchangeable coil-heads, a disposable pod system was something I for one didn't expect from Vladdin. But maybe they're on to something, maybe they see something the other manufacturers don't. For what it is, the Rio is a decent device, with impressive specs and intriguing features (that on/off switch), but I hope Vladdin adds more nicotine level choices in the future, because for someone like me 50mg is almost unvapable.
The Vladdin Rio disposable pod system was sent to me directly by Vladdin, for the purpose of this review.