Most health associations and anti-tobacco experts in the US see vaping as a threat to public health, but in Iceland, it is regarded as a miracle that's slowly but surely rendering smoking obsolete.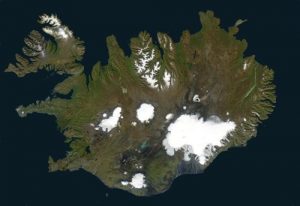 Guðmundur Karl Snæbjörnsson, a doctor from Iceland's National Institute of Health, recently sat down with reporters to discuss the effect that vaping has had on smoking smoking cessation in the the northern European country. He claims that, according to data from ATVR (Iceland's State Alcohol and Tobacco Company), in 2014, 35,000 Icelanders, or around %14 of the country's population, identified themselves as smokers, whereas that number had dropped to 22,000, or 9% of the population, by 2017. That is a reduction of 13,000 people, or 40%, over only three years.
Tobacco sales in Iceland have declined by 50% since 2008. At the same time, electronic cigarettes and snus (a form of smokeless tobacco) sales have been rapidly increasing over the past decade, and Snæbjörnsson is convinced that there is a causal relationship between the growing popularity of vaping and snus and the decline in smokers. Clearly proving so would be very tricky, but the Icelandic doctor believes that the data offers irrefutable proof.
"It's a miracle, this cannot be overlooked," Snæbjörnsson told reporters about the reduction in Icelandic smokers over the last three years. "Smoking has been plummeting like we've never seen before, and the biggest contributing factors have been mouth tobacco and vaping, which have clearly been wiping out smoking."
Data from Iceland's National Institute of Health shows that about 4% of adults in Iceland, or around 10,000 people, vape daily, and another 4% vape occasionally. That's around 20,000 vapers, up from 15,000 in 2016. But whereas in the US this growing number of vapers would be considered worrying, in Iceland, it is seen as a miracle for public health.
Interestingly, Iceland has no clear regulations regarding the contents, sale and distribution of vaping products. A bill that set limits to the nicotine strength and quantities of e-liquid, similar to those specified by the EU's Tobacco Product Directive, was introduced last year, but it was so strongly opposed by consumers and vape shop owners that it was eventually dismissed.
Photo: Akigka/Wikimedia Commons