A pilot scheme between April and October 2017 that allowed inmates at the Island of Man prison, in England, to purchase a weekly supply of vaping devices as an alternative to smuggled tobacco cigarettes and nicotine patches has proven a big success according to an official report, making the prison a "calmer and safer" place.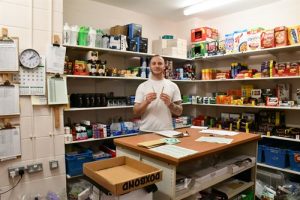 In 2008, the Island of Man prison became the first in Europe to introduce a ban on electronic cigarettes in order to improve inmates' health and reduce the harm caused my second-hand cigarette smoke. Tobacco cigarettes were replaced with prison-issued nicotine patches that didn't prove as effective as authorities had hoped. Resourceful inmates came up with ways of making their own cigarettes from tea bags,dried banana skins and various other items, soaked with nicotine from the patches. This resulted in both offenders and prison staff being exposed to second-hand smoke even though smoking had technically been banned.
Despite the unexpected challenges presented by the ban, the prison continued to enforce the policy, oftentimes disciplining offenders. However, last year, it was agreed that a more practical and more progressive approach was needed to solve this problem, and e-cigarettes seemed to fit the bill.
In March of last year, Home Affairs Minister Bill Malarkey approved the introduction of e-cigs on a trial basis, from April to October 2017. It was only six months, but apparently they made quite the impact both on the inmates and the prison staff.
According to a recently published report, during the six months of the e-cigarette program, there was a 42% drop in offender adjudications, a 58% drop in behavior warnings and cell power outages were down by 50%. If you're wondering what power outages have to do with anything, they mostly occurred when inmates used wires and flints to obtain light up from the electricity mains, which often resulted in short-circuits.
Also, 25% of new offenders requested help to quit smoking during the e-cigarette trial, compared with none before the program began. The state also saved around £8,500 a year on nicotine replacement therapies (nicotine patches) that weren't being used as intended anyway. Prisoners have to work to afford their weekly vaping supplies, so the state saves money.
"The e-cigarette pilot scheme at Jurby prison is a major success story for the Isle of Man," said Bob McColm, the prison Governor. "A problem has been solved. We have better behavior, a calmer, cleaner and safer environment. Impressive numbers of offenders have asked for help to stop smoking altogether – an unexpected bonus which will drive our future approach."
"The atmosphere within the prison is significantly better from both the health and attitude point of view," Bob Ringham, chairman of the Independent Monitoring Board, added. "On the health side the wings smell fresh, there is no lingering smell of smoke as you walk around and the potential for electrocution or fire is greatly reduced. To remove this now would be a major retrograde step and as a Board we hope that the controlled use of e-cigarettes will become part of the normal prison regime."
The report also included comments from prisoners on the e-cigarette trial period, most of which were positive.
"I used to smoke every day of the week and didn't think about quitting," 29-year-old Dave said. "Now I've quit because it (e-cigarettes) was too expensive. It was better for me, no doubt about it. I'm 29 now and I've been smoking since I was 13. It's a good environment to quit smoking, especially now that e-cigarettes have come in."
Following the success of the trial period, inmates at the Island of Man prison will continue to have access to a controlled supply of e-cigarettes for the foreseeable future.