Tobacco giant British American Tobacco (BAT) has announced that the Voke, its first ever venture into the field of nicotine inhalers, has just received a medical license from the UK's Medicines and Healthcare Products Regulatory Agency (MHRA). Industry analysts expect the cigarette-shaped inhaler to hit store and pharmacy shelves sometime in the first half of next year.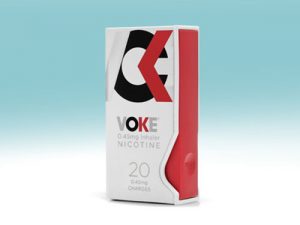 Is this not the most ironic thing you've ever heard? A company that has been undermining public health for decades by selling hazardous tobacco cigarettes, has just received medical approval for a product that can be prescribed by doctors to patients who want to quit smoking. In fact, this is the first time a product sold by Big Tobacco has been licensed by a reputable medical agency anywhere in the world.
Called Voke, the so-called revolutionary nicotine inhaler looks remarkably like an electronic cigarette, but the company was quick to point out that it is a completely different device. Using the Voke involves no heat, electronics or batteries. It contains a pressurized canister containing 20 refills of pharmaceutical-grade nicotine activated by a breath-controlled micro-valve. Unlike e-cigarettes, BAT's new inhaler delivers precise doses of nicotine with every puff. Although classified as a medical nicotine inhaler, the Voke was definitely inspired by electronic cigarettes. Apart from its cigalike shape, the case it comes in also looks like the portable charging case used by many e-cig companies.
Voke was designed to compete with existing electronic cigarettes as well as other nicotine inhalers, like Johnson&Johnson's Nicorette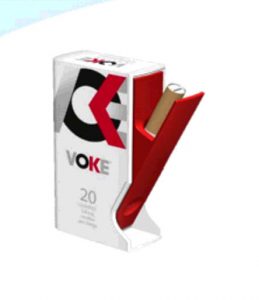 Inhalator, which currently does not imitate the shape of a cigarette. Kevin Bridgman, chief medical officer at Nicovenures, a subsidiary of British American Tobacco, said Voke should appeal to the many smokers who want to quit, but still have questions about the safety of electronic cigarettes. "The fact that it has been licensed by the medicines regulator provides the assurances around quality and safety that many smokers are seeking," he told Reuters. "I'm fairly confident that most e-cigarettes contain fewer toxins than conventional cigarettes, but the trouble is that without standards and without someone overseeing things then consumers can't be sure."
However, it's unclear if Voke will be accepted as an alternative by smokers, since it offers a completely different experience than tobacco cigarettes and e-cigarettes. While its creators claim the inhaler does reproduce some elements of smoking, like the throat hit, it doesn't produce any visible vapor or smoke.
Analysts believe the Voke will be available sometime in the first half of 2015, and while they don't see it as real competition to electronic cigarettes, the fact that it's the only e-cigarette-type device approved as a medicinal product could make it a game-changer. Essentially, it means BAT's product should escape any regulations bound to be imposed on electronic cigarettes in the next few years.