The results of two medical studies meant to shed some light on the chemical composition of vaporized e-liquid and the risks associated with second hand exposure, suggest electronic cigarette vapor is much less hazardous than cigarette smoke.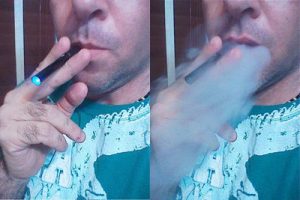 Co-authored by Maciej Goniewicz, a cancer researcher in the Department of Health Behavior at the Roswell Park Cancer Institute in Buffalo, New York, the two studies analyzed secondhand exposure to e-cigarette vapors in a laboratory. There is currently an ongoing public debate regarding the risks associated to the exposure of bystanders to e-cigarette vapor, and whether electronic cigarettes should be subject to the ban currently enforced on tobacco cigarettes in public places. Goniewicz and his team measured the levels of nicotine, carbon monoxide and 11 different volatile organic compounds in e-cigarette vapor and compared them to the levels in analogs.
For the first test, researchers used an electronic smoking machine to generate vapor in an enclosed laboratory space. Then they proceeded to measure the levels of nicotine, carbon monoxide and other dangerous substances in the chamber.
The second study included five people who regularly used both tobacco analogs and electronic cigarettes. Each of them entered the chamber and vaped their favorite brand of e-cigarette for two five minute intervals over the course of an hour. Researchers measured the levels of nicotine, carbon monoxide and other harmful gases and particles before ventilating the room and repeating the test with cigarette smoke.
During the first test, scientists measured levels of nicotine of 2.5 micrograms per cubic meter of air from e-cigarette vapor, while the second experiment generated slightly higher levels of 3.3 micorgrams. Nicotine levels for tobacco smoke,however, were 10 times higher, at almost 32 micrograms per cubic meter. "The exposure to nicotine is lower when compared to exposure from tobacco smoke. And we also know that nicotine is relatively safer when compared to other dangerous toxicants in tobacco smoke," Goniewicz told Reuters Health. Even more encouraging is the fact that electronic cigarettes did not generate detectable levels of carbon monoxide or any of the 11 volatile organic compounds, which included benzene, toluene, chlorobenzene, ethylbenzene, xylene, styrene, naphthalene, 1,2-dichlorobenzene, 1,3-dichlorobenzene, and 1,4-dichlorobenzene.
Basically, the two studies show that non-users are exposed to low levels of nicotine from e-cigarette vapor, but none of the other harmful substances found in tobacco smoke, which most experts agree are the real danger to human health. Still, that hasn't prevented many electronic cigarette opponents from making alarming claims and issuing warning about second-hand exposure to vapor. Stan Glanz, a well-known expert on the health effects of smoking, wrote on his blog that the new study "shows e-cig users exhale nicotine and fine particles into the air where bystanders are breathing" and that "e-cigarettes should not be allowed anywhere that cigarettes are not allowed." Another researcher from Brown University warns that "long-term consumption of nicotine by e-cigarette smoking is likely to increase the risk of developing atherosclerosis by stimulating invasion of vascular smooth muscle cells."
Professor Michael Siegel, one of the world's most knowledgeable e-cigarette supporters, has a very different opinion. Assuming that the estimates of Goniewicz's studies are accurate, he calculated that the amount of nicotine inhaled by a bystander after 8 straight hours of exposure to a full room of vapers in a bar is the equivalent of 0.008 tobacco cigarettes. "In order to inhale the equivalent amount of nicotine that would be inhaled by actively smoking one cigarette, a bystander would have to spend 12 days in a bar filled with e-cigarette vapor, at continuous exposure levels," Siegel writes on his website.
Let me clarify – no one is claiming electronic cigarettes are perfectly safe to use. Non-smokers should stay away from them, as there is no reason for them to inhale anything other than air into their lungs, but for those who smoked and currently use e-cigarettes as an alternative, they appear to be considerably less harmful. To use the results of studies like these to put electronic cigarettes in a bad light and call them just as dangerous as tobacco cigarettes for either users of non-users is simply preposterous, in my opinion.
Only three brands of electronic cigarette were used during the studies, and it's pretty safe to assume different models produce various levels of nicotine in the vapor. Also, real-life conditions may yield different results than this laboratory chamber, but just the fact that e-cigarette vapor contains no carbon monoxide and none of the 11 dangerous volatile compounds found in cigarette smoke is great news.
It's obvious further research is needed to properly asses the effects of electronic cigarettes on our health, but one thing is for sure – these studies seem to confirm that electronic cigarette vapor is considerably safer than tobacco smoke.