Electric Dew E-Liquid Review
Electric Dew is a London-based brand of premium e-liquid created by the same group of vaping enthusiasts and experienced mixologists that brought us Attitude Vape. Their current collection consists of five English-style fruit flavors that actually sound pretty delicious.
Electric Dew e-liquids only come in 15 ml bottles, which I found a bit strange, since most premium juice makers either go for 30 ml or at least give you the option to choose a larger capacity bottle. It's not a big deal if you're a casual vaper, but I for one managed to go through a whole bottle of Electric Dew in just a few hours, vaping it in my thirsty SMOK TF-RDTA. 15 ml bottles were the norm a few years back, but with more and more high power devices and thirsty tanks hitting the market recently, 30m ml and 100 ml are becoming much more common.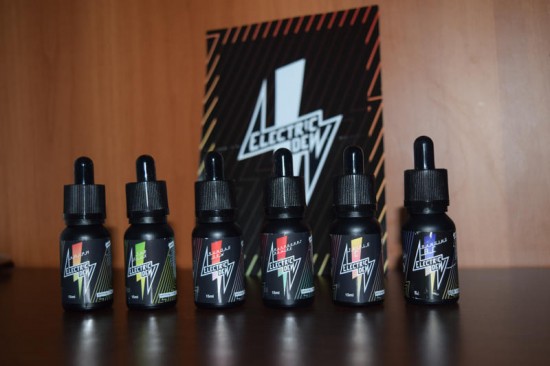 The packaging is ok, with each bottle featuring the Electric Dew logo in different color schemes, making it easier to identify all the flavors. They also have all the necessary warnings and info listed on the label, including batch number, use-by date, nicotine strength and ingredients, which is always nice to see. The only thing I didn't like about the bottles (apart from their insufficient capacity) was that they are matte black. I've mentioned this in some of my other e-liquid reviews, but I have to say it again – completely opaque bottles may look cool, but they make it harder to check how much juice there is left inside. For example, if I'm getting ready to go out and notice that my juice level is low, I'm going to take a spare bottle, but that only works with transparent bottles. Unfortunately for me, this matte bottle trend has become really popular lately.
On the company website, the people behind Electric Dew state that their e-liquid are made with vegetable glycerin, propylene glycol (50%VG/50%PG), natural flavorings and nicotine. More importantly, these juices contain none of the dangerous chemicals that most vapers are worried about, like diacetyl and acetonin.
In my review of Attitude Vape, I complained about the high PG content in the e-liquid (40%) which sometimes literally left a bad taste in my mouth. With that in mind, I really wasn't expecting too much from another collection with an even higher PG ratio, but this time I was pleasantly surprised. For some reason, I never got a nasty aftertaste from the propylene glycol, so I was able to enjoy these refreshing fruit flavors. I don't know what they did differently with Electric Dew, but I like it!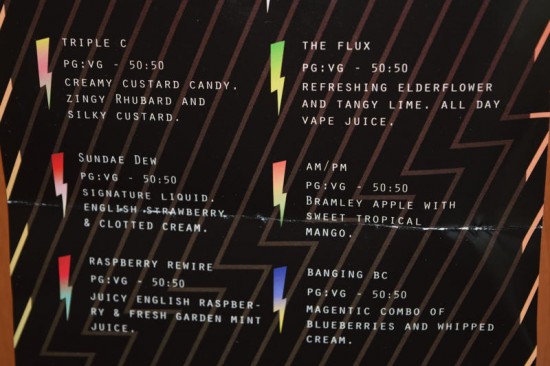 Let's have a look at the flavors:
AM/PM – This is a juicy combination of Bramley apple and mango, and it actually tastes just as good as it sounds. As the name suggests, this is one of those delicious vapes that you can enjoy anytime, morning till night, and still not get enough of. AM/PM was the first Electric Dew flavor I tried, and I managed to go through the whole bottle in a single day.
What really impressed me about this juice was how balanced the two flavors were. I honestly couldn't tell which one of them was the dominant flavor, that's how well they complemented each other. I'm a big fan of mango in anything from drinks to ice-cream, so I might be a bit subjective about this one, but it's definitely a great juice. If you're a fan of refreshing fruit mixes, this is one all-day vape that you really have to try. Definitely gets two thumbs up from me.
Triple C – the name stands for Creamy, Custard, Candy, but it's actually a sweet combination of custard and rhubarb. This is one of those typical English flavors you don't usually find outside of the UK, and that's a shame, because it's really interesting. I can't say I liked it as much as AM/PM, but I enjoyed vaping it nonetheless. The custard adds creaminess and sweetness to the vape, while the rhubarb gives it a tart, natural fruit flavor.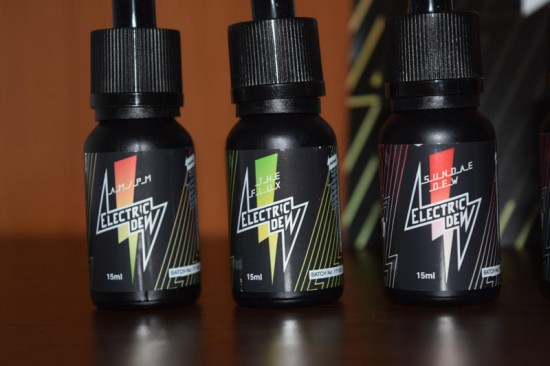 The custard is stronger on the inhale, but the rhubarb comes in strong on the exhale and lingers in your mouth for a while. Again, it's a very intriguing combination, maybe not my personal favorite of the six Electric Dew collection, but definitely worth a try.
The Flux – I usually don't enjoy citrus flavors like orange and lemon, but The Flux was without a doubt the best of all six Electric Dew flavors. An inspired combination of elderflower and lime, this concoction is simply to die for. Like AM/PM, it's one of those juices that you can vape all day long and not get bored with it. It's amazingly refreshing, just sweet enough to be enjoyable, and doesn't taste artificial at all. The Flux might just be the best lime e-juice I've ever tried!
One interesting thing I noticed about this juice was that it delivered a much stronger throat hit than all of the other flavors, even though they were all 3mg/ml nicotine. Maybe it was the zingy lime that amplified the sensation, I', not sure, but it definitely feels stronger when you inhale.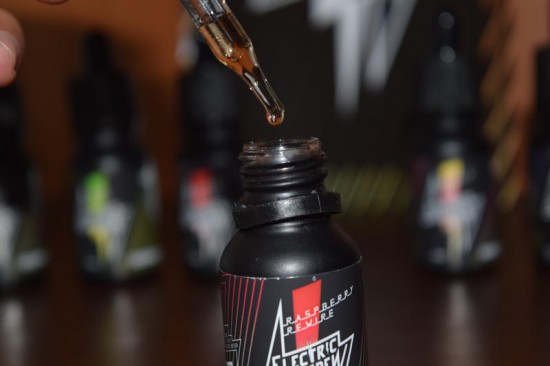 Raspberry Rewire – just think of this juice as a refreshing raspberry mojito. I didn't even know that was a thing, but apparently raspberry and mint go pretty well together. The sweet, rich raspberry is definitely the dominant flavor in this juice, especially on the inhale, but the mint leaves are a nice twist.
I'm not the biggest fan of minty vapes, but I still genuinely enjoyed this juice very much. That's probably because the mint isn't overpowering the raspberry at all. It's very mild, complementing the fruity aroma perfectly.
Sunday Dew – arguably the most popular flavor in the Electric Dew collection right now, Sunday Dew is a mix of English strawberry coulis and clotted cream. I'm not familiar with clotted cream at all, but to be honest, I didn't find this juice particularly creamy. I was impressed by the sweet, flavorful strawberry, though.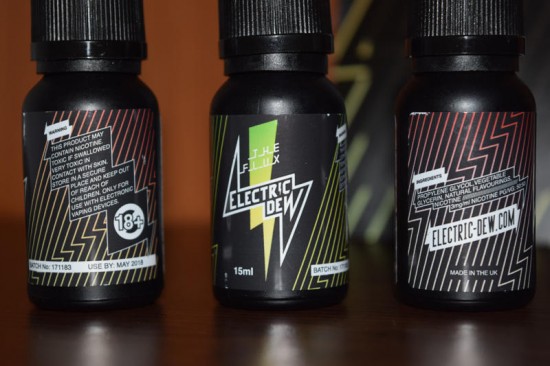 It didn't really taste like a strawberry sundae to me, but if you're a fan of sweet, syrupy strawberry, you're probably going to find this e-liquid irresistible.
Banging BC – talk about a must-try blueberry dessert juice. As a big blueberry fan, I have to say I was blown away by the amazing flavor of this blueberry and whipped cream combination. This is not your natural-tasting blueberry, but rather a sweetened dessert that leaves a velvet-smooth creamy aftertaste in your mouth.
Just like all the other five flavors in the Electric Dew collection, Banging BC is a fine example of what fruity vapes should be like. It's rich, balanced and has no artificial taste whatsoever.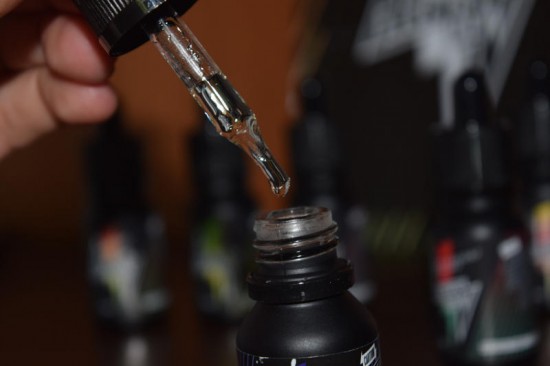 I must admit that I wasn't expecting to like the Electric Dew lineup so much, but that just goes to show that there's a lot of truth in the saying "don't knock it till you try it". I still think a heavy VG base would have been preferable to the 50%PG/50%VG ratio, especially with so many vapers allergic to propylene glycol, but I can't say the PG affects the taste of these e-liquids in a negative way.
At £6.99 per 15 ml bottle, Electric Dew e-liquid is actually a bit cheaper than most premium brands, so if you ever have a chance to try it, I wholeheartedly recommend you do so.