Attitude Vape E-Liquid Review
Attitude Vape is a UK-based premium e-liquid company that tries to capture the spirit of British culture with a very unique line of juices. It's not their flavors are so much different than those of US brands, they just taste totally different, or as they put it, "distinctly British".
The company was founded by a group of vaping enthusiasts and experienced mixologists who set out to create a new range of e-juices "that pays homage to the UK and it's burgeoning liquid scene". The five flavors they have launched so far are all inspired by and named after famous English historical figures and culture elements that best represent the spirit and attitudes they are trying to honor through their products. We have "Winston", "Punk", "Custard Tart, "Old Dog" and "The Mistress", all of which feature a cool sketch on the bottle, next to all the regular information and warnings.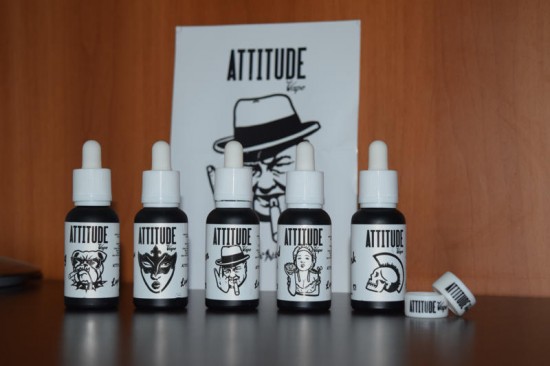 Attitude Vape juices come in glass dropper bottles and have child-proof caps. The batch number and expiry date are mentioned on the label, as are the ingredients and nicotine concentration. The liquid itself is hand blended from the finest ingredients in the company's ISO9001 high tech, pharma grade UK labs. The packaging is charming, and I especially liked the simple yet elegant black-and-white theme.
All five Attitude Vape flavors are 60VG/40PG, which is a bit too heavy on the PG for my taste. I've been vaping high VG e-liquids or a while now, and I've started to get a nasty aftertaste whenever I vape anything over 30 per cent propylene glycol. I've gotten that same taste from some of the Attitude Vape juices, but I will say that the PG does enhance the flavors.
Attitude Vape e-liquids only come in 30 ml bottles, five nicotine strengths, and are prices at £14.99. That's a very decent price for the UK juice market.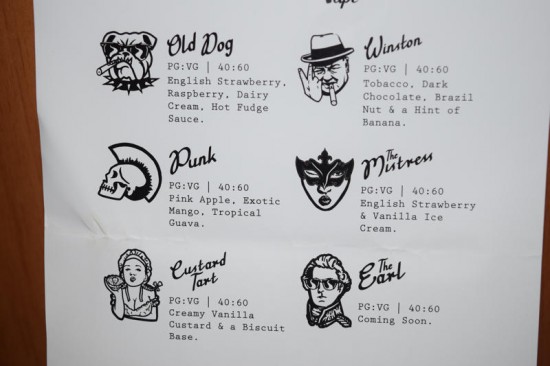 Now for the truly important part, let's see what premium English e-liquid tastes like:
Winston: Inspired by Winston Churchill, the iconic leader of the United Kingdom during World War II, Winston is a combination of tobacco, dark chocolate, brazil nut and banana. Even though I'm no longer a big fan of tobacco flavors, I will say that Winston is a very interesting combination. The bold tobacco notes dominate the vape both on the inhale and exhale, but the other flavors – chocolate and banana especially – do a good job of making it feel more mellow.
I don't see myself vaping Winston on a regular basis, as the strong taste of tobacco just doesn't appeal to me anymore, but I'm convinced that an ex-smoker looking for a realistic tobacco flavor would really appreciate this blend. It's not sweet at all, it doesn't taste artificial – except for that PG aftertaste I mentioned earlier – and the added flavors only complement the tobacco, making it a smoother.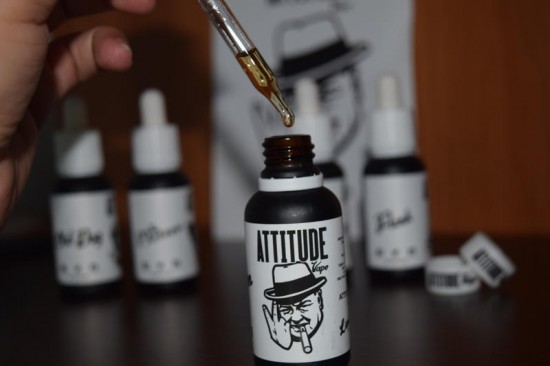 I can see why Attitude Vape went with Winston Churchill for this juice, after all he was a bold leader who didn't shy away from a quality Cuban cigar. I guess it makes sense in more way than one.
Punk: my personal favorite out of all Attitude Vape e-liquids, Punk is a delicious mix of tropical flavors like guava and mango, with a drop of juicy apple. It doesn't sound very "punk", but the guys at Attitude say that's the whole point. I don't get it, but who cares, the important thing is that this juice tastes amazing!
Mango is one of my favorite fruit flavors, so I was glad that it was also the strongest tasting note in Punk. The guava was also detectable by my not-so-sharp senses, but the apple was very hard to pick up. I didn't mind at all, though, as this juice is all about tropical flavors. If that's what you're into, you're going to love Punk.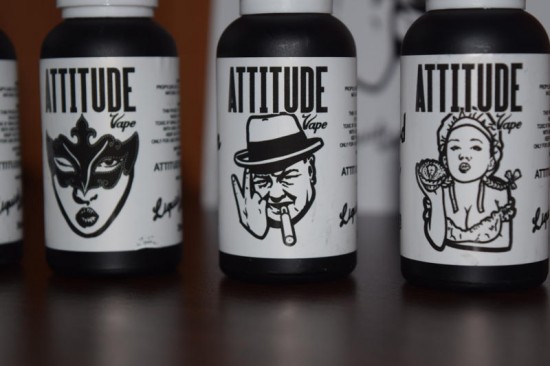 Custard Tart: I was sure this would be a great e-liquid, as I love dessert vapes and custard especially, but it left me disappointed. The PG aftertaste of Custard Tart was absolutely horrendous and it settled in my mouth almost immediately after exhaling. The actual taste of this juice wasn't anything to write about either – just a strong biscuit flavor with hints of vanilla, which I can't say I liked very much.
To be honest, I've never tried an actual custard tart before, but I can't imagine it tastes anything like this juice. It's not sweet enough, the vanilla is bland and the aftertaste is just horrible. It's different, I'll give it that, but with so many other custard vapes available from other brands, I just can't recommend trying Custard Tart.
Old Dog: another interesting combination that I hadn't tried before: raspberry, strawberry, dairy dollop cream and hot fudge sauce. I was really curious about how that last ingredient would go with the berries, but it turns out the fudge is very discrete, only adding a bit of sweetness to the mix.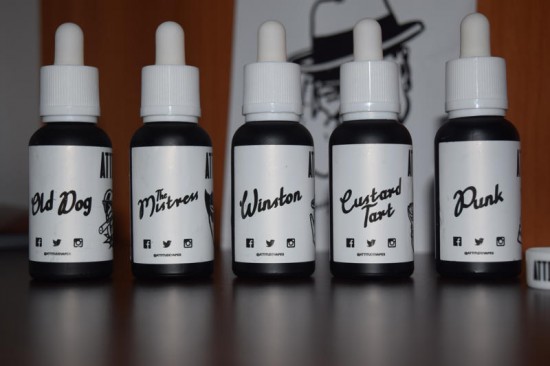 Nevertheless, Old Dog is a delectable, creamy fruit vape that's bound to appeal to anyone who enjoys berries and cream. Strawberry was the strongest flavor, with the raspberry coming in a close second, and the creamy dairy cream just goes perfectly with both of them making the vape silky smooth.
The Mistress: this is supposed to be a mix of strawberry and dairy vanilla ice cream that "will have you drooling for more". It sounds lovely, but as has been the case with other Attitude Vape juices, my senses couldn't pick up all the flavors. The Mistress is heavy on the strawberry, but very light on vanilla ice-cream, so much so that I found myself struggling to get a taste of it. I love strawberry, and this one is among the best I've tried, but if you're going to put vanilla ice-cream in the flavor description, make sure it's actually in the juice.
So if you want a refreshing strawberry vape, The Mistress most certainly won't disappoint, but if you're hoping to get a taste of vanilla ice-cream as well, you'll probably feel a bit disappointed.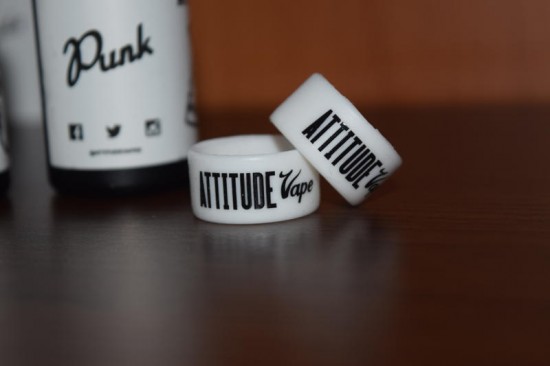 All in all, I have mixed feelings about the Attitude Vape line. One hand, the flavors are indeed different than the U.S. e-liquids I regularly vape, some of the combinations are pleasantly surprising, and you can feel that a lot of work has gone into both the e-liquid and the presentation. But I can't ignore the PG aftertaste of some of these e-liquids, or the sheer absence of some of the flavors mentioned in the description.
I would recommend you give Winston and Punk a try – especially if you're into tobacco or tropical vapes – Old Dog and the Mistress are ok too, but I can't say anything good about Custard Tart.