iJoy MAXO Zenith + RDTA 5S Kit Review
iJoy has recently put out an interesting kit featuring two of its most overlooked products of 2017, the MAXO Zenithm a triple-18650 variable voltage mod with a maximum power output of over 300W, and the RDTA 5S, its sixth generation RDTA and the successor of the original iJoy RDTA 5S. The atomizer was launched just last month, so it's only just finding its way to retailers' shelves, but the Zenith has been out since January, but hasn't really enjoyed the success of previous iJoy mods, It's not because it's bad device, quite the contrary, it's just that it's very different from what we're used to. It seems the Chinese company wants to give it another push, which is why they've paired it up with the new RDTA 5S.
A Look at the Contents
The new MAXO Zenith + RTDA 5S kit comes in a much larger package than what I'm used to. It's basically this large, tall rectangular box with a picture of the triple-battery mod paired up with the RDTA 5S, on the front, and a short description of the devices, a list of contents and some technical specs, on the back. Overall, the packaging is well done, which I personally have come to expect from iJoy over these last couple of years.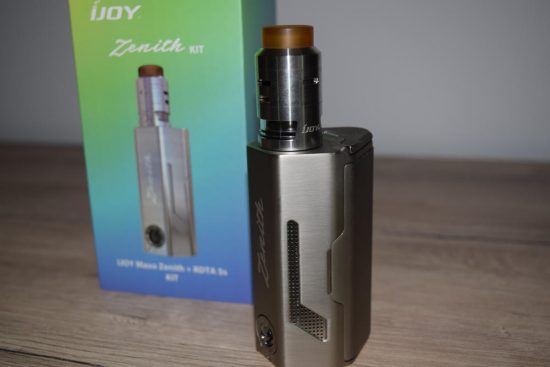 Inside the box, we have the MAXO Zenith mod and the RDTA 5S sitting in a large Styrofoam holder, and underneath that we have user manuals for both devices, as well as a bag of goodies for the tank (a couple of stapled coils, some o-rings, spare grub screws and organic cotton). I would have liked to see a spare glass tube as well, because, you know people drop things, and glass tanks tend to crack. You notice I didn't mention a micro-USB cable either. That's because the Zenith supports neither on-board battery charging nor firmware upgrades.
All in all, a pretty standard offering, nothing to write home about, but nothing to complain about either (maybe that spare glass tube).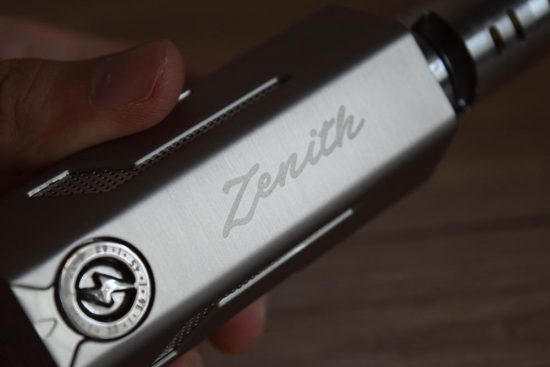 iJoy MAXO Zenith
Design and Build Quality
The iJoy MAXO Zenith looks like a cross between the original iJoy MAXO quadruple-battery mod and the popular Wismec RX200. It has that familiar triangular shape of most triple battery vaporizers, the same type of magnetic battery door as the RX200, and pretty much the dimensions you would expect (88mm x 50.5 mm x 40.7 mm), but that's pretty much where the similarities end, because the Zenith is a whole different beast.
The first thing you notice about the MAXO Zenith is that it lacks a display. It's not hidden, there just isn't one. There are no "+" and "-" buttons as well, and it takes you a few moments to realize that the fire button is actually placed on top of the mod, right next to the 510 connection. So how do you adjust the power on this device, you ask? Well, instead of those adjustment buttons and the display, you have a potentiometer that allows you to bump up the voltage from 2.7V all the way to 6.2V. That little lightning sign you see near the bottom of the mod is actually a little nob with voltage values etched all around the dial around it, and you have to turn it to set the voltage you want.
So how do you know what voltage you need for your specific atomizer resistance? Well, if you're not familiar with Ohm's law, and have never used an ohm calculator, you probably shouldn't be using this mod. In all seriousness, although the MAXO Zenith has a lot of protections built-in, it will still burn your coil-head or cotton wicking if you set the voltage too high, and don't do the math to figure out the wattage. And, because there's no way to check your atomizer resistance on this mod, you'll have to first check it on another advanced mod or an ohm reader, so you have some idea of how to set the voltage.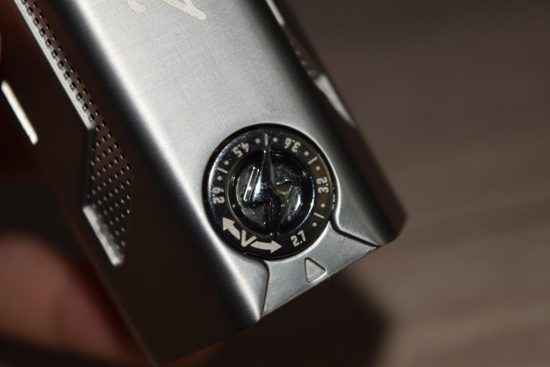 The massive fire button on top of the mod is one of my favorite design elements. I didn't think using my thumb to press it would feel natural, but it really does, and the button has this nice clickiness about it that makes pressing it a joy. You may need to slide your pinky finger under the device while you're using it, so not to feel like it's slipping out of your hand when pressing down on it with your thumb, but you can get a really good grip on it even without doing that, thanks to the flawless matte finish.
With no display to speak of, the only indicator you have on this mod is an LED light next to the power button. It lights up green whenever you press the fire button, if everything is in order, and turns red whenever it detects problems like a battery inserted the wrong way, if the PCB temperature reaches a certain level, or if the battery voltage drops below 9.3 volts. When the battery level reaches 10 volts, the green and red LED will light up at the same time, letting you know you need to recharge soon. If it detects a short-circuit, the mod will vibrate and beep to alert you about it.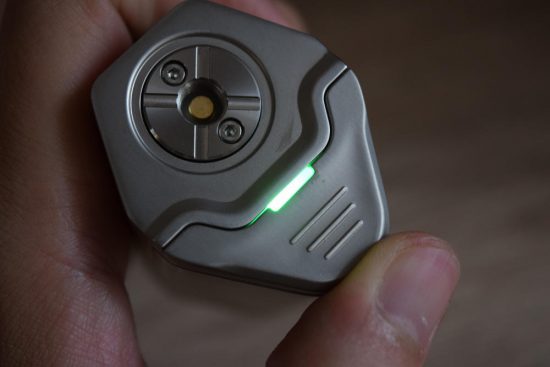 These features are all very nice, but they definitely don't make up for a display, in my opinion. For example, I tried inserting two fully-charged batteries and a low voltage one, and I didn't get any warning. I think the device reads the combined voltage of the batteries, draining the fully charged ones more. If you had separate battery indicators on the screen, like you do on the original MAXO, you would definitely notice something was off. With this one, you never really know how much battery life you have left, or if the batteries are actually charged evenly.
As far as design and build quality go, the iJoy MAXO Zenith really is a work of art. I have the stainless steel version and it is gorgeous! Everything, from the fire button to the venting grills on the mod, is metallic, the battery door works great and has these two pairs of strong magnets that keep in locked in place, and even the 510 connection with the two screws keeping it fixed to the mod looks very sturdy. If there's anything good to say about the lack of a display, is that it makes the mod itself look even better, with nothing to distract you from the beautiful design.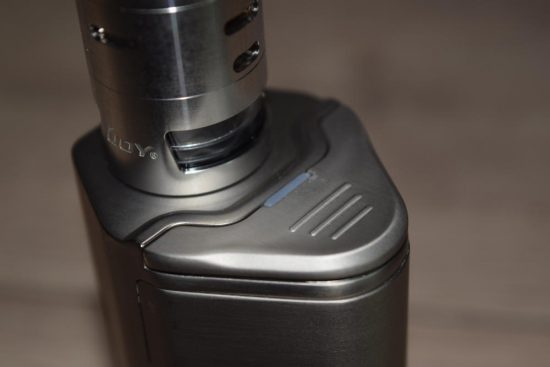 Performance
I've been using the iJoy MAXO for just over a week, and I'm starting to get used to it. It really takes me back to the old days when eGo Twist batteries were all the rage. I remember playing with the similar dial to find my sweet spot, and the iJoy MAXO Zenith works pretty much the same way. Even if you calculate your wattage, you still need to tweak the dial to find that perfect voltage level where the vapor production and flavor are just right. That said, I'm still not a big fan of this system. If it's meant to be a throwback to the early days of vaping, that's fine, but I really hope it doesn't become a trend. With access to such advanced technology these days, why not make full use of it? I've come to rely on things like battery and resistance indicators quite a bit, and using the Zenith just made me realize how much I miss such useful details.
In terms of actual performance, the iJoy MAXO Zenith is a beast, if you can deal with the voltage tweaking. I don't have the equipment and know-how to test its power output, but according to Daniel DJLsb Vapes, with the right resistance, this thing can put out 315W of power, which sounds insane. I don't know who would ever vape at that level, but if it sounds like something you might be interested in, this thing can actually output over 300W of power.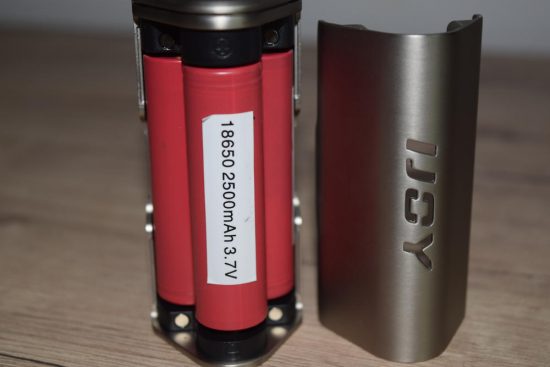 So as far as raw power goes, the Zenith is an impressive device, but it does have its drawbacks. One that is sure to put off a lot of people is the lack of temperature control. But, you know, this thing doesn't even have a display, what did you expect. I'm not a big fan of temp. control vaping, but I know many vapers love it, so this is definitely a pretty big con, and one that will definitely affect sales, as most of its competitors have this feature.
Then there's the lack of on-board battery charging, making a battery charger essential, and the lack of firmware upgrades.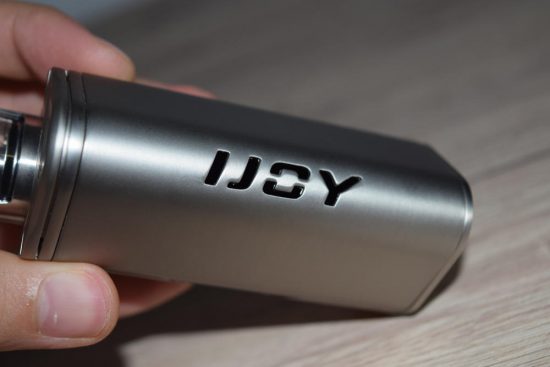 Overall, this is a great looking device that any respectable mod collector should want to own, but as far as vaping goes, it's not exactly the pinnacle of vaping technology. It lacks quite a few features many of us have gotten used to, and it's not the most user-friendly mod I've ever seen either. It requires you to check the atomizer resistance beforehand, and calculate the voltage required to get the desired wattage output. It's not rocket science, but with companies struggling to make things easier, the Zenith seems to be going in the opposite direction.
iJoy RDTA 5S
Design and Build Quality
I never had the chance to try the original iJoy RDTA 5, but I did review the Limitless RDTA Classic, which was very similar, and the first thing I noticed about the 5S was that it's actually considerably smaller than iJoy's previous atomizers. It measures 24 mm in diameter and 47 mm in length, compared to the 25 mm diameter and 58 mm length of the Limitless RDTA Classic. I'd have no problem with that it it didn't take a toll on e-liquid capacity, but it does. The RDTA 5S officially holds just 2.6 ml of juice – although I've been able to squeeze close to 3 ml into it – which really isn't very much for a dual-coil-coil only RDTA. So if you're planning on running the 5S with some low resistance exotic coils, know that you're going to be refilling it very often.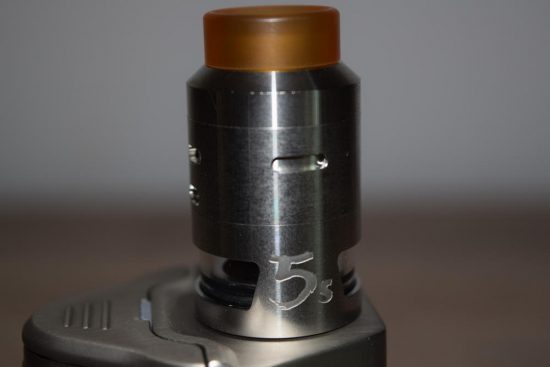 In terms of looks and design, the RDTA 5S is definitely a step forward for iJoy. They've replaced the wide bore 510 Delrin drip tip with a more modern Ultem 810 drip tip that is compatible with other Goon-style drip tips, they've implemented multiple airflow options, and designed the metal structure of the atomizer as a sleeve that goes around the small glass tube on the bottom, providing great protection in case of an accidental impact. I was too scared to actually test how well it deals with drops, because I only received one piece for this review, but it looks like the metal frame would protect the glass in most cases, unless you drop it on an irregular surface that would protrude past the protective cover.
The machining on this RDTA is virtually flawless as well. I've seen no scratches or other manufacturing defects, all the parts fit together perfectly, and best of all, they are held together by perfectly tensioned o-rings, so you don't need a screwdriver to take this thing apart, like the Limitless RDTA Classic, for example.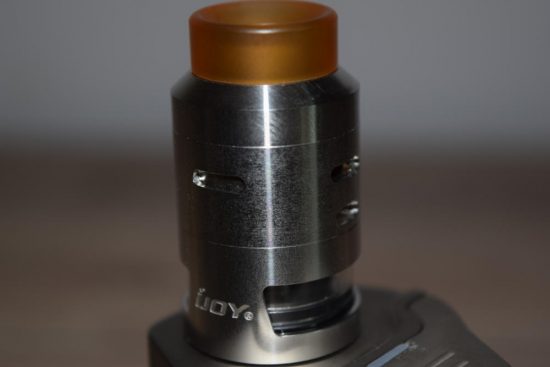 One of the most interesting features of the iJoy RDTA 5S are the multiple airflow options. You have both side and bottom airflow slots, and you can use them individually or both at the same time, depending on personal preference. To adjust the side airflow, all you have to do is rotate the top cap or drip tip holder, while the bottom airflow is adjustable by turning the metal barrel right above the base of the tank. I've personally been vaping the 5S with bottom airflow only, for improved flavor, but again, you can use it with only side airflow, or both. The slots are all medium size, but they still provide too much airflow for my liking, when they are all left wide open.
Unlike previous iJoy RDTAs, where you had to unscrew the connection pin to remove the glass tube of the tank, here you only have to press down on the build deck to pop it out, as it is only held in place by o-rings. The build deck is nothing we haven't seen before – a classic Velocity build deck with two airflow slots eight under the coils should be, and four wicking holes leading into the tank below. These are not the biggest wicking slots I've ever seen, so you have to be careful not to stuff them full of cotton, or you'll make it harder for the juice to reach the coils, especially if you're a chain vaper.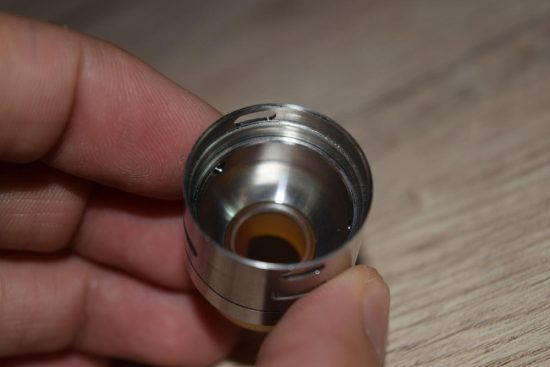 One thing I don't particularly like about the RDTA 5S is the fill port. It's located right in the center of the deck, and it consists of a small hole that opens up into two even smaller holes in the tank. Because of its location, right between the two Velocity posts, and it's small diameter, it makes filling the tank with a dropper or a large tip unicorn bottle impossible. You either need one of those needle-like tip bottles or an actual needle and syringe to get the juice into the tank, which is pretty frustrating. They could have definitely thought of something better, like a larger hole, or just different positioning.
I have mixed feeling about the iJoy RDTA 5S. On the one hand, I love how it looks, the multiple airflow options are definitely a plus, and not having to worry about the tank if I accidentally drop it is great. But then there's the frustrating fill port and the small e-liquid capacity, both of which are pretty serious issues.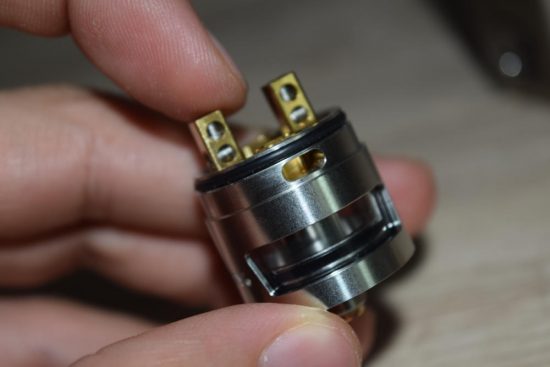 How It Vapes
The vaping experience you get with the RDTA 5S is largely dependent on well you set up the device. Mounting the coils is about as easy as it gets, thanks to the Velocity-style deck, and those two stapled coils included in the kit are actually above average, so you don't have to worry about building your own, at least not the first time you use the atomizer. But wicking it properly is essential. Because of how narrow those wicking holes on the base of the deck are, you need to make sure they are perfect.
Here's how I like to do it. First, I make sure that after passing the leads through the coils, they are both thinned out so that when positioned in the wicking slots they sit snug. You shouldn't jam the cotton in there, instead, make sure that it is loose enough for the juice to easily pass through. Also, because the tank is so short, I prefer to cut me leads right under the build deck, as this makes wicking much more efficient. Leaving them longer may seem like a good idea, but it doesn't actually help with the wicking, on the contrary. You can just tilt your mod whenever you feel like the cotton is getting a bit dry, and it will saturate much faster if your leads are short.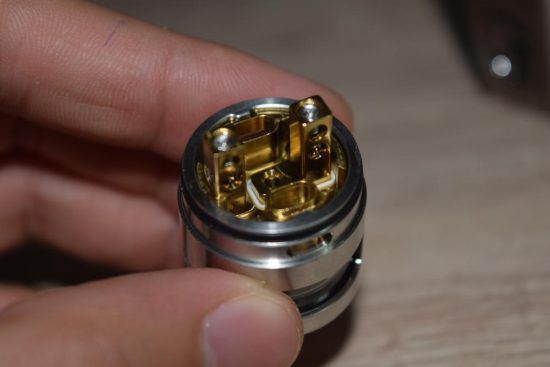 If you wick it right, the iJoy RDTA 5S will reward you with tasty vapor and lots of it. I have yet to get a dry hit off of this thing, and I have been chain vaping it a few times. It wicks very efficiently, and thanks to the bottom airflow and the domed roof of the top cap, the flavor is amazing. Vapor production varies on your particular build and the power output of the mod, but the 5S is definitely capable of putting out serious clouds.
I've had no major problems with this RDTA while using it. It doesn't leak – but that depends on how well you wick it – the o-rings keep the parts together really well, and the performance is downright impressive. The only thing I can complain about is the limited e-liquid capacity. Just under 3 ml of juice is not going to last you very long in dual coil mode, regardless of what type of build you're using, so you'll find yourself having to refill the tank frequently. But, if you prefer a smaller, less conspicuous atomizer, I guess that's something you can live with.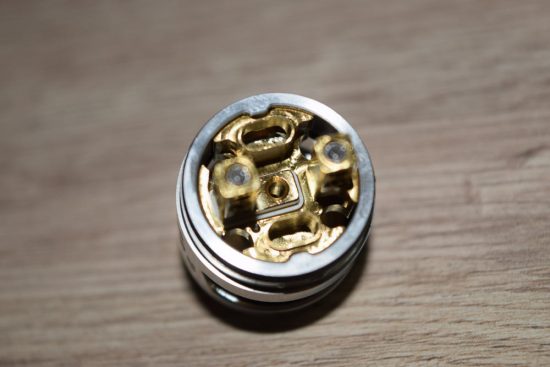 Conclusion
One thing I can say about the iJoy MAXO Zenith + iJoy RDTA 5S kit is that it is certainly an interesting package. The mod is very different than most advanced vaporizers on the market today, but not necessarily in a good way. There's no way to read the resistance or check the battery life, and you have to calculate the wattage output instead of having it displayed on a screen. There is also no on-board charging, firmware upgrade option or temp. control option. The Zenith is basically a bare-bone device, but one that looks and feels great and has a lot of power under the hood. It's not exactly my cup of tea, but it may appeal to some users.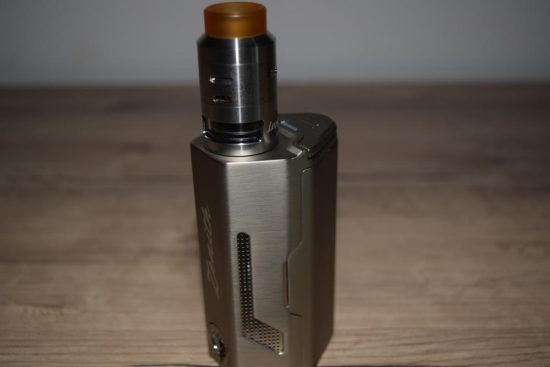 The iJoys RDTA 5S may not be the perfect atomizers, but it is certainly a worthy addition to the Chinese manufacturer's RDTA family. I don't like the fill port at all, and the e-liquid capacity of the tank could be better, but in terms of design, build quality and performance, the 5S is definitely worthy of praise.