Fa-Q E-Liquid Review
Fa-Q is a premium e-liquid line from Apollo E-Cigs, one of the oldest and most respected brands in the industry. These juices are Max VG, with a vegetable glycerin content of between 70% and 82%, depending on the flavor, and no added propylene glycol (PG).
Apollo's e-liquid division has come a long way in the last couple of years, releasing a wide range of juices, from the basic tobacco, fruits and dessert flavors, to the more complex Signature Series, and two Max VG lines, Fa-Q and Lindbergh e-liquid, which we recently reviewed. They're obviously trying to cater to all categories of vapers, from newbies to veterans, and they are doing a great job. Regardless of flavor preference and vaporizer setup, you're bound to find something you like.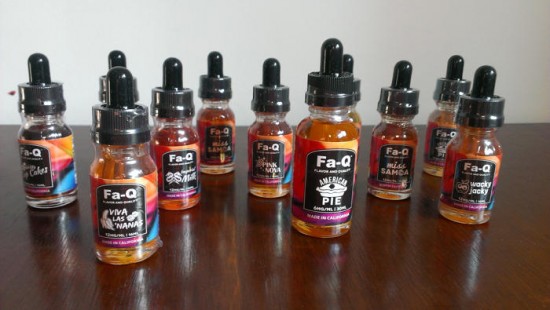 If you're willing to look past the risqué name – which, by the way, is just an acronym for Flavor and Quality – you will find that Fa-Q features some of the most delicious fruit and dessert combinations available on the market. Just remember this is a Max VG line, with a high vegetable glycerin content, designed for use in RDA's (rebuildable dripping atomizers. They don't vape well at all in regular cartomizers and clearomizers, and, from my personal experience, not even in some advanced tanks systems like the Kanger Aerotank. But the high viscosity also has a plus side – massive vapor production, even at lower voltage/wattage.
The Fa-Q e-liquid line consists of 11 unique flavors, and the guys at Apollo E-Cigs were kind enough to send us samples of all of them for the purpose of this review. Let's have a look:
American Pie – the description on the Fa-Q Vapes website nails this flavor perfectly: delicious apple pie, with a pinch of cinnamon, just like grandma used to make. And I'm not talking just about the creamy fruit filling, they somehow managed to reproduce the yeasty taste of the flaky crust as well. Apple pie may be a relatively simple dessert, but this is one very complex juice. Two thumbs up for the Fa-Q mixologists, American Pie is definitely one of my new favorite dessert vapes.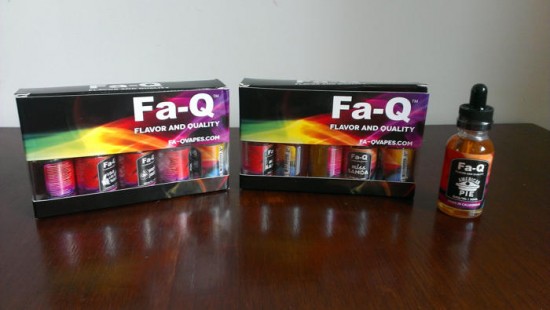 Guava Lava – this is quite possibly the best sweet-and-sour juice I've ever tried. I was expecting just a strong tropical guava flavor, but was blown away by the crazy mix of lemon grass and (what I think is) cotton candy. There's definitely some refreshing guava in this bottle too, but it's not as strong as I thought it would be. I've been vaping Guava Lava for a whole week now and I just can't get enough of it. No wonder it's the talk of the town in many vaping circles and of the Fa-Q top sellers.
Viva Las 'Nanas – like vaping your favorite breakfast. For me at least, there's nothing better than waking up to peanut butter and banana sandwiches and that exactly what Fa-Q Viva Las 'Nanas tastes like. It's so spot on that if it actually quenched my morning appetite I would just take a couple of hits and skip breakfast altogether. Peanut butter is definitely the dominant taste when you inhale, but the banana aftertaste is unmistakable. A must try for peanut butter and banana fans.
Miss Samoa – there she is, Miss Samoa, and she is stunning, believe me. This was actually the first Fa-Q flavor I tried and for some reason I just could never get over it. The taste of crunchy caramel and chocolate cookies with a hint of coconut one me over instantly and despite all these other great flavors in the Fa-Q line it managed to remain my favorite. One thing I would like to note is that I found this e-liquid to be significantly thicker than the others, so much so that I was struggling to draw on my Kanger Aerotank Mega. I eventually switched to a Plum Veil RDA and that improved my vaping experience by quite a bit.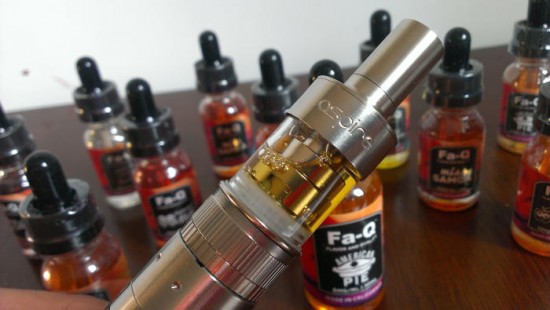 Imperial Milk – This is supposed to be a combination of dragon fruit and cream. I've never actually tried dragon fruit before, so I don't know what it tastes like, but it's gotta be a lot like raspberry, because that's what my senses picked up. I'm usually a big fan of berry vapes, but for some reason this creamy raspberry didn't impress me. The cream, I think, mutes the raspberry a little bit and doesn't really adds much to the juice flavor-wise.
Green Party – another sweet-and-sour fruity juice, somewhat similar to Gava Lava, but not quite as good, in my opinion. This is supposed to be a mix of juicy green apple and kiwi, but the apple flavor is really strong, almost completely muting the kiwi. You'get a hint of citrus as you inhale, but the apple aftertaste is overpowering. Not a bad e-liquid by an means, especially if you like the crisp taste of green apple, but I personally would have preferred more kiwi.
Funky Monkey – A cocktail of banana, kiwi and strawberry that's sure to appeal to any fan of fruity vapes. It's sweet, but not overly so and the flavors blend perfectly to deliver a refreshing vape.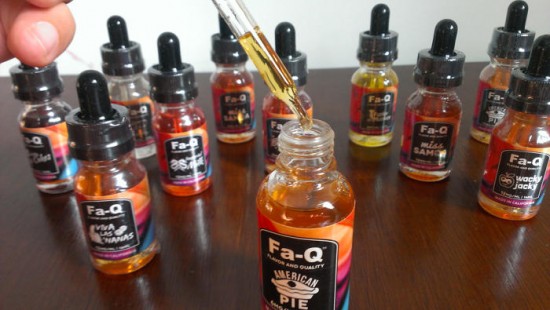 Pink Nova – one of the most intriguing juices I have ever tried. I was a bit confused about this e-liquid after reading the description on the Fa-Q website, which mentioned taffy and tart strawberry, when all I could taste was bitter-sweet almonds. In liquid form, Pink Nova smells just Disaronno amaretto liqueur, and although the vapor has a milder flavor to it, there's no doubt this is amaretto, and a very tasty one at that.
Fauxstess Cup Cakes – the name pretty much says it all. The guys at Fa-Q Vapes have somehow taken the cream-filled chocolate cupcakes we all know and love and made them into e-liquid. But the taste is so spot on that if you close you're eyes and take a hit, you can almost feel the creamy cupcake in your mouth. Definitely a must-try for chocoholics.
Wacky Jacky – don't let the wacky apple drawing in the bottle fool you, there's more to this juice than meets the eye. This blend of apple, cinnamon and cereal actually tastes like Christmas. No matter how hot and sunny it is outside, one toot of this will have you thinking about the most festive time of the year. Not an all day vape for me, but definitely one of the most special juices I've ever vaped.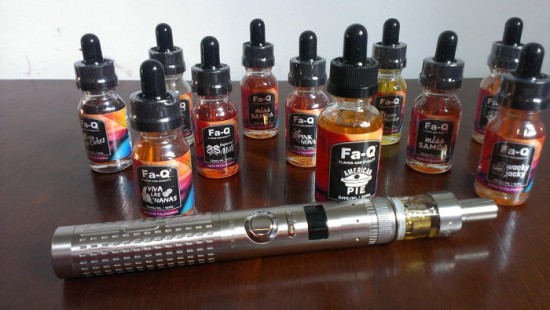 Red Dawn – this one remains a complete mystery to me. There's mint in it, and a mix of tropical fruits, but I couldn't tell you what they are if my life depended on it. I'll let you figure this one out yourself.
Fa-Q has some really interesting flavors to offer, but just remember to use appropriate gear. These juices really shine at higher wattages (20W+) in RDA's. I tried some of them in tanks, like the Aspire Nautilus and Kanger AeroTank and they just didn't vape well at all. The thickness of the juice made the draw much tighter than usual and the atomizers clogged up after just a couple of refills. The only one that worked decently was the Aspire Atlantis with sub-ohm coils, but the downside was the replaceable attys gunked up like crazy, altering the taste of the e-liquid. RDA's are uundoubtedly your best option.
Fa-Q  liquids come in 16 ml ($12.99), 30 ml ($21.99) and 120 ml ($72.99) bottles, and four nicotine strengths – 0, 3, 6 ans 12 mg/ml. I got the 6 mg/ml nicotine and although the throat hit was pretty week in the tanks, the RDA's were a whole different story. Because the juice evaporates at a much higher rate at high voltages/wattages, the throat hit was sometimes a little too much to bear.