Lindbergh E-Liquid Review
Lindbergh is a premium high-VG e-liquid range designed for use with rebuildable drip atomizers and advanced tanks.
First, let's talk a bit about the branding. If you look at the bottles and know a bit about American aviation history, you've probably already realized that everything from the 'Lindbergh' name to the vintage-style labels and the names chosen for the flavors is a tribute to famous American airplane pilot Charles 'Lucky Lindy' Lindbergh, the first person to ever fly non-stop from New York to Paris.
Along with the Fa-Q line, Lindbergh is part of Apollo E-cig's Max VG range – premium e-liquids with a vegetable glycerin base that are designed to be vaped primarily in RDAs (rebuildable dripping atomizers). They also work with high-quality tanks, like the Aspire Nautilus or Kanger Aerotank, and even some cheaper clearomizers, but they are designed and tested for dripping. Due to their increased viscosity, these e-liquids may not wick well in some clearomizers, like the CE4.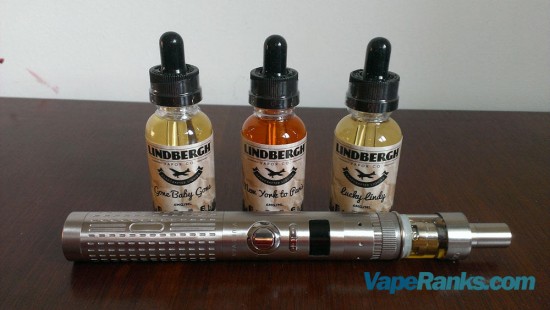 It's important to note that while Apollo chemists don't add any propylene glycol to Lindbergh e-liquids, some of the flavorings they use do contain traces of PG, so this is not what you would call a 100% VG line. The percentage of vegetable glycerin varies between 70% and 82%, depending on the flavor.
As you can expect from an established brand like Apollo E-cigs, the Lindbergh e-liquid line contains only the highest quality ingredients – USP VG, 99.7% pure lab-grade nicotine and food-safe flavorings – and is handcrafted by degreed chemists in the company's advanced clean-room facility in Northern California.
The juices come in only three nicotine strengths – 0, 3, 6 mg/ml – which may seem weak to the average vaper, but if you've ever dripped at high voltage/wattage before, you probably already know 6 mg/ml nicotine is about all your throat can handle.
Wanting to see firsthand the difference between RDA and tank performance, I tested the Lindbergh e-liquids in my Vulcan and Hobo dripping atomizers and Aspire Atlantis and Kanger AeroTank Mega tanks, with the variable wattage Apollo VTube mod.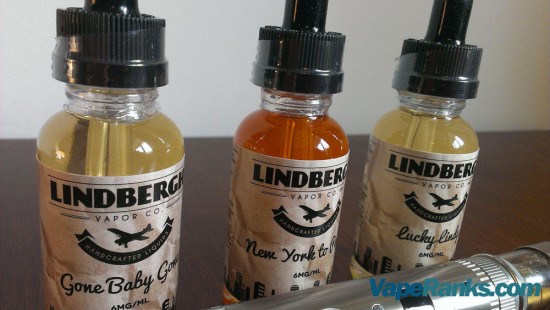 Let's have a look at the Lindbergh flavors:
Lucky Lindy – Apollo chemists describe this as a "sweet and juicy grape, much like the popular chewy Japanese candy." I have never tried the candy they are referring to, but I can say this is by far the most amazing grape flavor I have ever vaped. There's really no other grape e-liquid I can even compare Lucky Lindy with. All the others I've tried so far tasted had an obvious artificial taste, much like that of grape soda, but this wonderful Lindbergh concoction actually tastes a lot like juicy white grapes.
Lucky Lindy tasted amazing both in my RDAs and my tanks. Vapor production was also top-notch in both, though slightly better with the RDA. Overall, I'd give this a 10/10 along with a must-try recommendation for anyone looking for a truly excellent grape flavor.
New York to Paris – a fruity cocktail of peach, coconut and lychee with a creamy undertone that's bound to appeal to fans of fruit flavors. The coconut and peach are really strong in this one, but my taste buds couldn't detect the lychee. It's an interesting take on fruity vapes, but I am not a big fan of coconut juices, so I can't really say it's one of my favorites. Taste is very subjective, so you should really give it a try and decide for yourself.
Like Lucky Lindy, New York to Paris worked very well both in an RDA and a tank, although in the latter's case, the 6 mg/ml nicotine strength was a bit too much to handle while dripping. I would definitely suggest giving 3ml/mg a try first.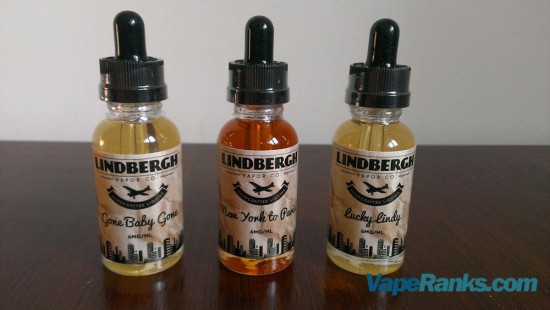 Gone Baby Gone – while the other two flavor names were clear references to Charles Lindbergh and his exploits, this was a bit of a mystery. I am not American, so I didn't know much about the famous aviator's personal life. After doing some reading, I am inclined to believe the name of this flavor hints at the tragic kidnapping and murder of Lindbergh's baby son, in 1932.
Gone Baby Gone is a delightful mix of sweet blueberry, cream and yogurt. I'm a HUGE fan of forest fruits, and this is one of the best blueberry juices I have ever vaped. Yogurt as a vape flavor might sound a little strange, but it's really just a hint of yogurt that really compliments the sweet blueberry.
This juice tasted oddly familiar to me, and I soon realized it's almost identical to the Bloogberry from Bloog E-Cigarettes, which I also reviewed a while back.
Gone Baby Gone has become my new favorite all-day vape. The Vulcan RDA I'm currently using really makes this flavor shine, but it tastes great in a tank as well.
One thing I would like to add before rapping up this review is that with the exception  of New York to Pairs, all Lindbergh e-liquids are almost perfectly clear and I've noticed there is considerably less gunk buildup on the atomizer coil compared to other VG blends, even after long periods of vaping.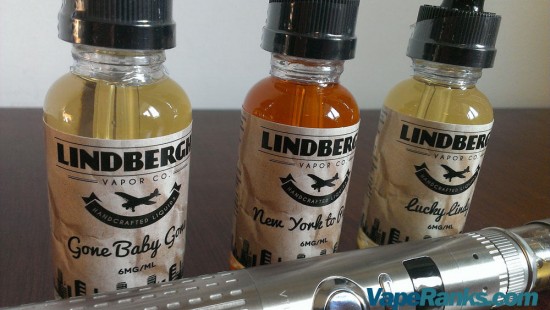 Apollo's chemists really hit the ball out of the park with this Max VG line. I found Lucky Lindy and Gone Baby Gone particularly tasty, but fans of coconut flavors should really give New York to Paris a chance as well. Great premium e-liquid line overall, with a competitive price to boot.