GeekVape Pre-Made Coil Kit Review
When it comes to fancy coils like Claptons or stapled coils, it's just not worth the effort to build them yourself. It's time consuming, labor-intensive and most time utterly frustrating. Luckily, these days you can find all kinds of cheap, well-made coils that you just have to mount on an atomizer and vape away. One of the many companies offering complex pre-made coils is Geekvape, the Chinese company that made a name for itself in the atomizer market. Today we'll be taking a look at two of their pre-made coil kits, the Fused Clapton 2 in 1, and the Framed Staple Coil 2 in 1.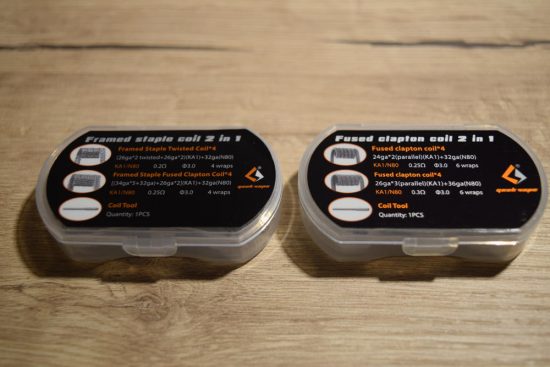 I'll go right out and say that these are the first two fancy pre-made coil kits that I have ever used. Most RDAs and tanks these days come with at least a couple of pre-made coils, so technically I have used pre-made coils before, but I never actually bought them separately. I just bought whatever type of wire I wanted to try and wrapped the coils myself, but after my experience with these GeekVape coils, I think my coiling days are behind me. While my coils ended up ok in the end, I could never get them as clean and as tight as these guys make them, and they're just so damn cheap that the price difference really isn't worth the effort and time to cut the wire, wrap it and then try to get the wraps as tight as possible.
GeekVape have been making pre-made coils for a while now, but they've recently launched a couple of special kits containing 8 pieces of two types of wire. The Fused Clapton 2 in 1 kit comes with four 24ga*2+32ga Kanthal A1/N80 (six wraps, 0.25Ω) coils and four 26ga*3+36ga Kanthal A1/N80 (six wraps, 0.3Ω), while the Framed Staple Coil 2 in 1 kit includes four (26ga*2+26ga*2)+32ga Kanthal A1/N80 (four wraps, 0.20Ω) and four (34ga*5+32ga)+26ga*2ga (four wraps, 0.25Ω). All four coil types have an inner diameter of 3 millimeters. That may seem like a lot technical data to take in, but if that's the case, then you should probably not use these types of coils just yet. Just to clarify a little bit, 'ga' (gauge) is the thickness of the wire, and the '*x' is the number of core wires used.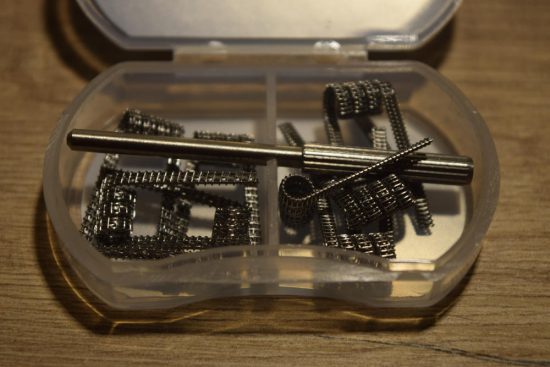 Both kits come in small plastic boxes with a separator in the middle for the two different coil types included and feature a handy tool to make mounting the coils to your atomizer deck easier.
To be honest, all four coil types look pretty darn impressive. The workmanship is impeccable, everything is nice and clean, the wraps are tight, and just the intricacy of the build is unbelievable. I found myself staring at the Framed Staple Fused Clapton coil and wondering if I could ever makes something like that myself. The answer is definitely "heck no!". That thing has five core wires, some of which are flattened and beautifully braided, and the whole package is stapled tight. It's a work of art really.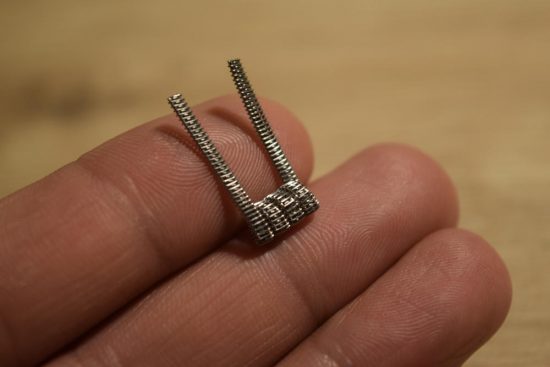 As you can tell by the wire gauges, each kit contains two different coil sizes. They're all pretty large, but some are beefier than others. So if this would be your first experience with fancy coils, I suggest making sure that your tank or RDA is large enough to accommodate them. The wire is on the thick side as well, sou you'll want to check if the post holes are large enough to accommodate them, especially if they have to overlap in there. The deck would have to be large enough so that the coils don't touch the metal cover of the tank or RDA, to avoid shorts.
Also note that the resistance specified for each coil type is per piece. So if you plan on running these bad boys in dual-coil mode, you'd have to split the resistance to get an idea what you'll end up with. For example, my dual Framed Staple Fused Clapton coil build is 0.10Ω, while the dual 26ga Fused Clapton coil build is 0.18Ω. These are really low, so I really wouldn't recommend running them on a mechanical mod unless you know what you're doing. And even with a regulated mod, you want to be using quality high-drain batteries to be on the safe side.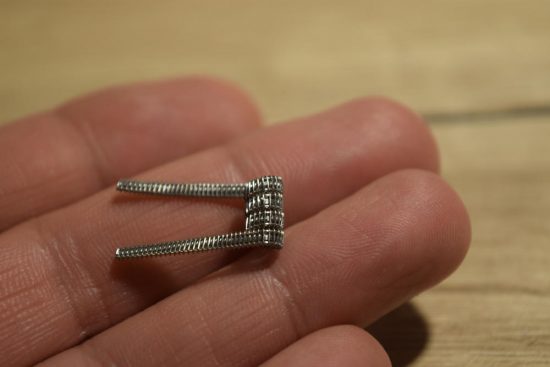 The low resistance also means that you'll need a high power device – like 80W output, at least – if you plan on running them in dual coil mode. I myself am using the SMOK G-Priv 220W mod and the Limitless LMC 200W Box Mod, my two favorite vaporizers right now. I recommend setting up the coils in a quality RDA, but if you prefer tanks, make sure that they wick very well, because when these coils get hot, they soak up juice like crazy.
I've been using all four coil types alternatively for about two weeks now, and they've been holding up pretty well. It all depends on what kind of juice you're using, really. For example, I've been vaping very sweet Fried Cream Cakes juice with the Framed Staple Fused Clapton coils, and they need to be cleaned every couple of days, while the Fused Claptons have had it pretty easy with Limitless Punch Box – Tropical Punch e-liquid. That stuff is both delicious and easy on the coils, so I haven't had to clean them yet.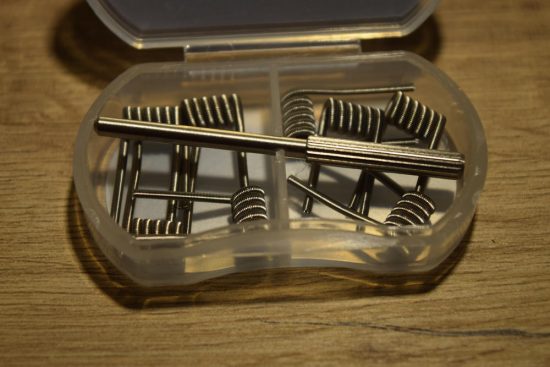 If I were to choose between the two kits, I would probably go for the Fused Claptons, over the Framed Stapled coils. The latter are definitely more visually impressive, but I feel the Claptons are just the practical choice. They are both very good, though, and ultimately it's a matter of personal choice.
The GeekVape pre-made coil kits are a great choice for pretty much anyone. Whether you just can't build them yourself, or if you'd like to spend your time doing something more fun, they're definitely worth it. The Fused Clapton 2 in 1 kit costs $8 on Heaven Gifts, while the Framed Staple Coil 2 in 1 kit is even cheaper at $6.80. That's around $1 per coil or less.