Augvape Druga RTA Review
The Druga brand has been one of Augvape's best selling lines ever since the original Druga RDA came out years ago. Since then, we've had the stylish Druga Foxy mod, the Druga Narada Pro and the Druga 2 RDA, just to name a few of the most popular entries. Now, the line finally gets an RTA as well, a single coil atomizer with an emphasis on flavor. Let's check it out and see if it lives up to the Druga name:
Druga RTA Packaging and Presentation
The new Druga RTA comes in a rather underwhelming package, which is a shame, as these days presentation matters more than ever. Anyway, Augvape's single coil RTA comes in a small cardboard box with a small Druga logo and "RTA" printed in very large, colorful font, on the front of the box. On the back, we have a list of contents, some social media plugs and a scratch-and-check authenticity sticker.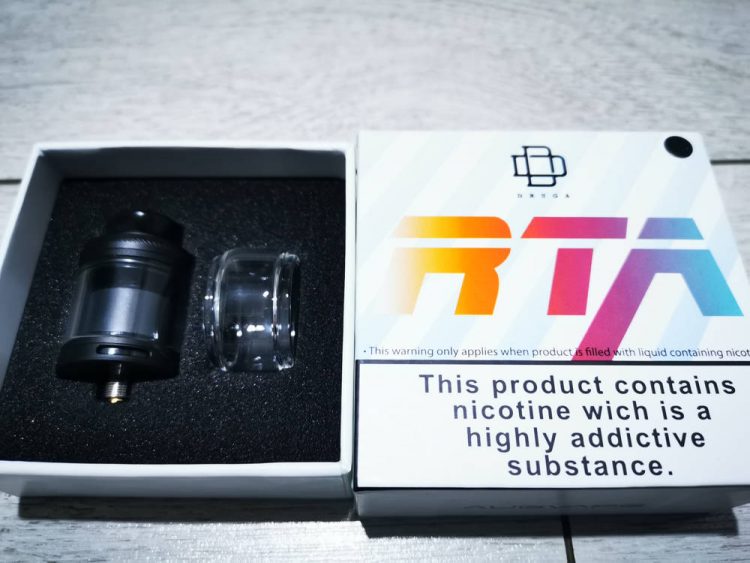 Don't get me wrong, I have nothing against minimalistic packaging design, but I think Augvape could have done a much better job on this one, as the packaging really isn't very appealing, which can affect sales, especially in brick-and-mortar locations, where consumers shop with their eyes most of the time.
Inside the box, we have the Druga single-coil RTA, a spare bubble glass, a bag of accessories (spare o-rings and Philips head screws), a flimsy user manual, and a warranty card. It's basically your classic atomizer kit, although I would have liked to see at least one pre-made coil as well. Nothing fancy, just something to throw onto the build-deck and test the atomizer with. Sadly, Augvape decided not to include any coils, which is strange, as I just reviewed the Intake MTL RTA a few days ago, and that came with two premade coils.
Druga RTA Design and Build Quality
The Druga single-coil RTA is a 24mm atomizer made primarily of stainless steel and glass, which comes in just three colors: stainless steel, gunmetal and black. It's a low profile design with a very narrow base and very short chimney, which should emphasize flavor.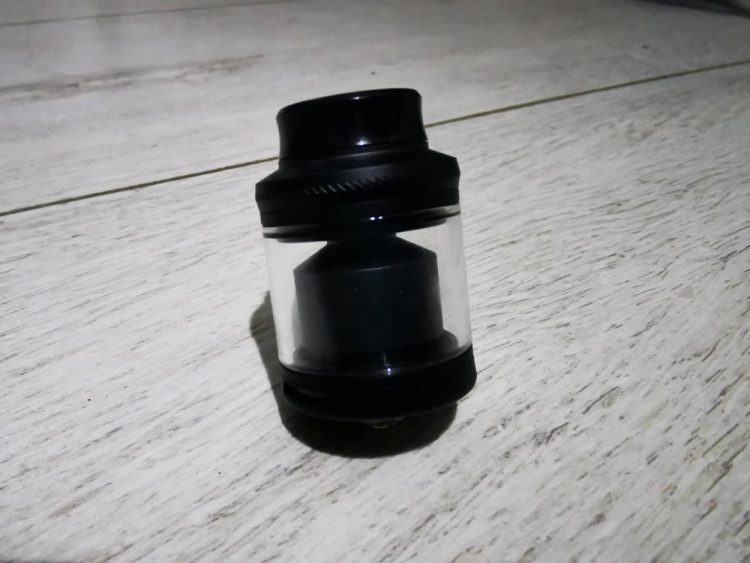 Starting from the top, we have a removable 810 Delrin drip tip which connects to a much narrower chimney, so just keep that in mind if you're looking for a super loose draw. The top cap is very narrow, but features very stylish and helpful knurling on the edge, which really helps when unscrewing and tightening it. To unscrew, you just turn the top cap about half a turn counter-clockwise. This gives you access to the fill port, which consists of two medium-sized slots, which should accommodate most juice bottle tips and droppers.
As I mentioned, the chimney of the Druga RTA is very short, with the metallic cover of the atomization chamber taking up most of the space inside the tank itself. It's a relatively small metallic barrel, but this is a very small atomizer, so it only leaves enough space for 2.4ml of e-liquid with the straight glass, and 3.5ml with the barrel glass. It's not the greatest e-liquid capacity, even for a single-coil RTA.
The base of the new Druga RTA is as slim as that of top-airflow atomizers, only this actually as very discrete airflow intake slots built-in. It's a very elegant design, but I do think people with large hands and fingers will struggle with the airflow control ring, as grabbing it without actually grabbing the tank itself as well may be a challenge.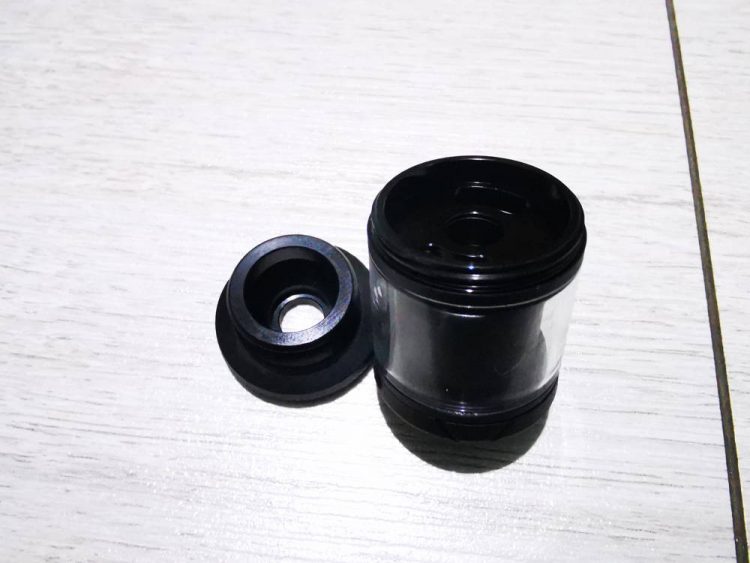 Also the AFC ring is too easily detachable, in my opinion. It has just one o-ring on the bottom, so if you accidentally pull on it when you're turning, it will come off. It's not a deal breaker, but maybe use a beefier o-ring next time.
The Druga RTA is a small elegant atomizer, but its exterior doesn't really impress in any way. The build-deck, however, is one of the nicest and most ingenious I've seen in a while. It's not overly complicated, but it is complex. Although this is a single-coil deck, you actually have four usable posts. Also, you have both bottom and side airflow, which explains the emphasis on flavor in Augvape's marketing.
As with most single coil RTAs these days, the coil has to have the leads facing opposite ways, and because you have four usable posts, you can actually install it any way you like, with the coil itself facing upwards or downwards. The post slots are fairly large, so you can get away with pretty much ay wire diameter. All you have to do is partially unscrew the Philips head screws, place the coil leads inside and tighten the screws.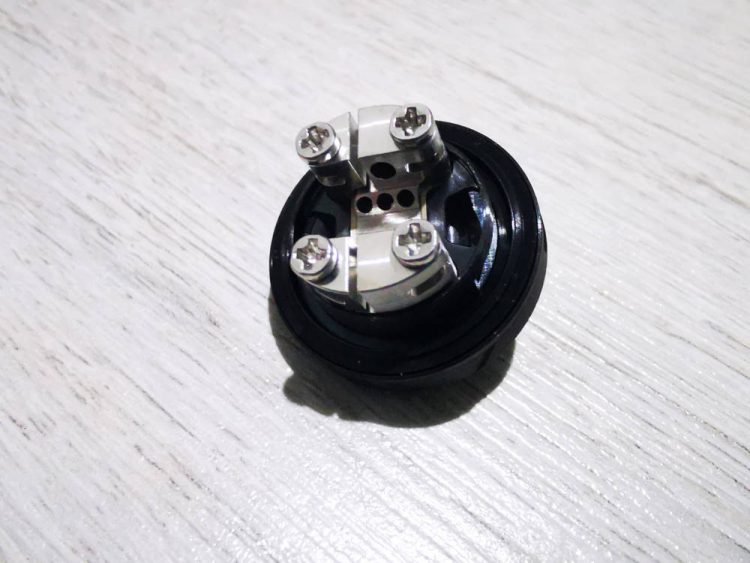 Once the coil is in place, make sure its aligned properly. You want it to be centered, as the bottom air holes are positioned at an angle, but also at the right height, right at the level of those side air holes on the inside of the posts. It's really not that hard to do, but you do want the coil positioned correctly for the best flavor.
Wicking is super easy on the Druga RTA. Just make sure the cotton leads barely go into the two large holes on the sides of the build deck, and maybe think out the cotton, as too much fluff will make it harder for the juice to reach the coil. You don't want to stuff the holes with cotton, but you do want to make sure the cotton prevents the e-liquid from flooding the atomization chamber.
How Does the Druga RTA Vape?
To be honest, the Druga RTA doesn't look like anything special, but when it comes to performance, it's easily one of the best single-coil RTAs I've ever tried. I've been using it with an N80 fused-clapton coil from GeekVape and I couldn't be more impressed with it. Not only does it put out tones of vapor for such a stubby rebuildable atomizer, but the flavor is nothing short of exceptional.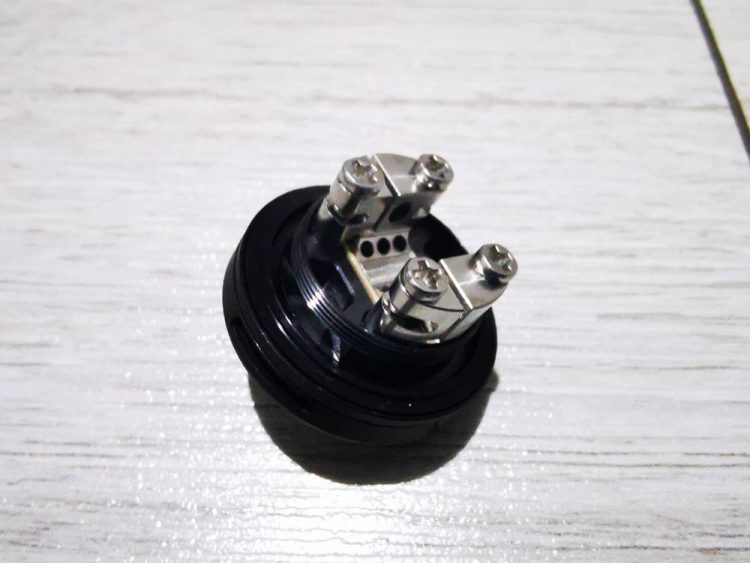 I don't know if it's the bottom and side airflow combination, the short chimney, or a combination of both, but the flavor is phenomenal on the Druga RTA. The fact that you also get a super warm vape, because the vapor has to travel a shorter distance to your mouth, is the cherry on the cake.
Augvape and Mike Vapeshouse have done a super job on this project, and I'm pretty sure that the Druga RTA will go down in history as one of the best budget single-coil RTAs ever made. It's really that good, and the fact that it's so small and elegant will undoubtedly appeal to a lot of people.
If there was anything to complain about, it would have to be the e-liquid capacity. 2.4ml is kind of underwhelming, even for a single-coil atomizer, and the bubble glass doesn't look that elegant, in my opinion, but I guess it's a compromise worth making, to maintain the stylish look and the exceptional performance of this device.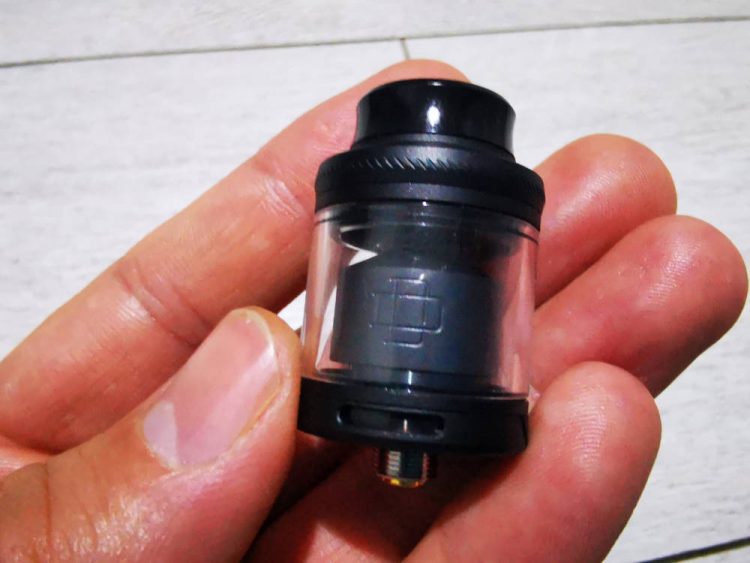 Conclusion
The Druga RTA needs better packaging, because it would be a shame for people to ignore it based on that. This is one of the slickest and best-performing single-coil RTAs I've ever had the privilege of testing, and I wholeheartedly recommend it to anyone looking for something that looks nice and also delivers great flavor. This little thing is the real deal, and as long as you can get past the low e-liquid capacity, I guarantee you won't be disappointed.
The Druga single-coil RTA was sent to me directly by Augvape, for the purpose of this review.
Pros
sleek design
complex build deck design
easy to use
amazing flavor