For many years now, the GeekVape Aegis line has gone virtually uncontested, establishing itself as the only real choice for waterproof, dustproof and shockproof vaping devices. Well, that's about to change with the launch of the FORZ TX80 Kit from Vaporesso, a true competitor for the recently launched Aegis Max, as well as older products in the Aegis line. Here's what you can expect from the FORZ TX80 kit"
Contents
Taking on an established brand like the Aegis is no mean feat, but one way to do it is to offer consumers something that the competition hasn't. While there ae plenty of durable Aegis mods and Aegis pod systems to choose from, atomizers are a whole other matter. I don't know of any Aegis tanks to go with the the durable mods, and that's where the new Vaporesso Forz Tank 25 comes in.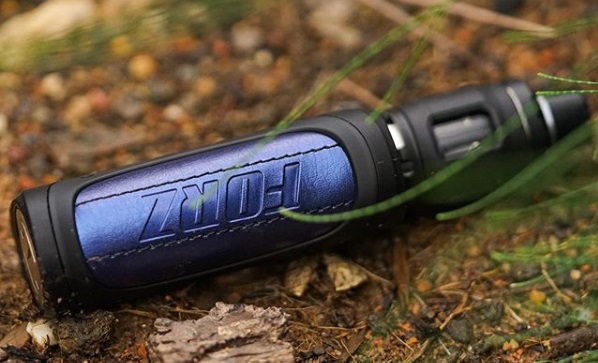 Apart from the FORZ TX80 vape mod, expect to find a durable 25mm tank that looks just as durable as the mod. The new FORZ Tank is apparently made of stainless steel but wrapped in fiberglass plastics and soft rubber for shock protection. It looks bulkier than regular sub-ohm tanks, but that's a compromise some vapers may be willing to make.
The kit also comes with a USB-C cable for charging and firmware upgrades, user manuals for both the mod and the tank, a decorative FORZ badge, two new GTR coil-heads, spare glass tube for the tank, as well as all the other accessories you'd expect to find in a kit like this.
FORZ TX80 Design
Vaporesso's new durable mod features a slick design that looks very similar to that of the original Aegis 100W and the new Aegis Max mods. The general shape is inspired by those mods, the stitched leather handle is very similar as well (only here it also features the embossed FORZ logo), and it even has the same metallic battery cap as the Aegis 100W.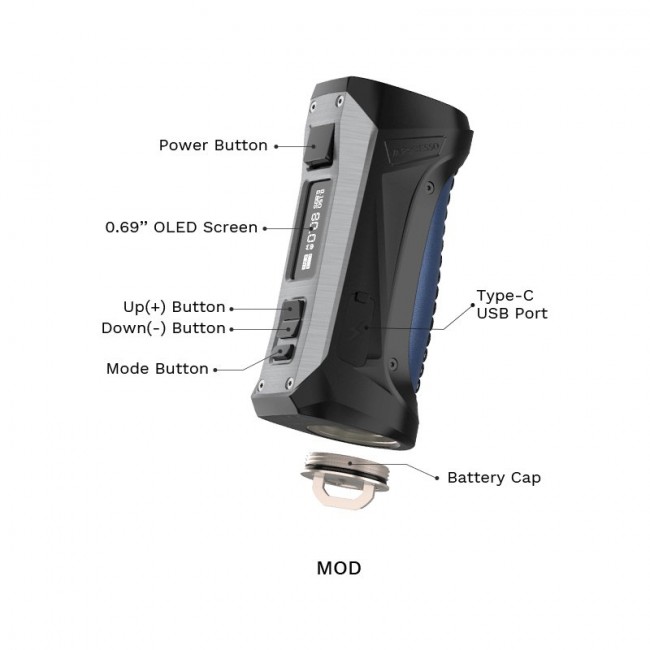 The FORZ TX80 vape mod has a durable zinc alloy body but also featured rubber coating for better insulation and shock absorption. Just like Aegis mods, it also features visible reinforced screws both on the top and on the command panel, which emphasize its durability.
One important difference between the new FORZ TX80 and GeekVape's Aegis mods is the addition of a fourth button located just under the + and – buttons, near the button. This is called a 'mode button' and I assume it's meant to make navigation easier.
FORZ TX80 Specs
Waterproof, Dustproof, Shockproof
Dimensions: 84.6mm*41.7mm*30.1mm
Power output: 5W-80W
Battery capacity : 1× 18650 battery
Display: 0.69in OLED screen
Charging: 2A USB-C
The new Vaporesso FORZ TX80 vape mod measures 84.6mm x 30mm x 41.7mm and comes in five different colors, including 'leather brown' and 'imperial red'.
According to the official Vaporesso website, the FORZ TX80 is powered by a AXON 2.0 chipset, the same chip used in the company's Gen Nano and Gen S vape mods. It's unclear whether the many features of the two aforementioned mods will be available on the FORZ TX80, but it will have a new mode called F9t) mode. which apparently "changes the voltages output and heating rate within a certain time" in order to bring the best flavor out of any e-liquid. That's all marketing at this point, though, and we'll have to see if and how it actually works.
The FORZ TX80 mod is powered by one 18650 battery (not included in the kit) and has a maximum power output of 80W, which is the norm for single 18650 battery vape mods. The 2A USB-C charging is a clear pro.
Forz Tank 25
Capacity: 4.5ml (standard) / 2ml (TPD)
GTR coil compatible
Top Fill
Adjustable bottom airflow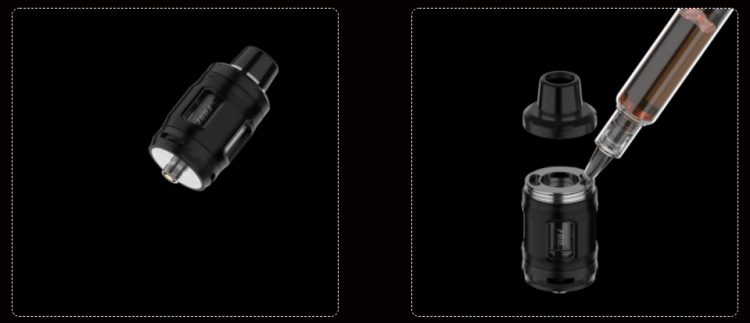 The dimensions of Vaporesso's new durable tank have not been made public yet, but its name hints at a 25mm diameter. It can hold up to 4.5ml of e-liquid and features a classic top filling system.
The new FORZ Tank 25 works with a new line of Plug and Play (PnP) coil-heads named GTR coil-heads. The kit includes an 0.4Ω mesh coil-head and an 0.15Ω mesh coil-head, but you can expect a lot more options to choose from in the near future.
The new GTR line of coil-heads introduces a new, leak-proof  architecture, better airflow and "anti-bacteria organic cotton" wicking. If it's anything like the company's GTX line, the new GTR family is bound to become very popular with vapers.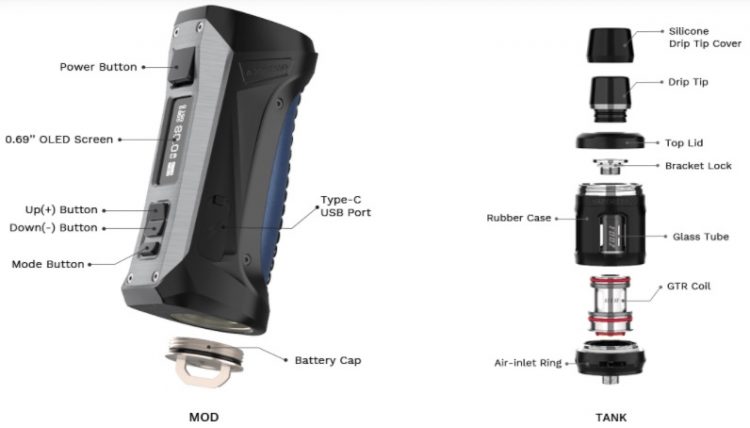 But the thing that really sets it apart from other sub-ohm tanks is the rugged exterior, which is supposed to absorb shock and provide better insulation.
Conclusion
The new Vaporesso FORZ TX80 Kit is definitely a big bet from the Chinese manufacturer, as it is going up against one of the most popular lines of vape mods ever. Competition is always a good thing, and I for one am glad to finally see a true competitor for the Aegis.