NEwhere Elite 1.0 Review
NEwhere is a an American brand best known for its wide range of disposable e-cigarettes and e-hookah pens. In fact, the Elite 1.0 is currently their only available starter kit, but the company claims it can deliver "the best vaping experience on the market". That may have been true a couple of years ago, when eGo style electronic cigarettes dominated the market, but these days, with so many variable voltage/wattage mods and advanced tank system and RDAs available, units like the NEwhere Elite can only offer so much. Still, for fresh ex-smokers or casual vapers who don't like fiddling with their e-cigs too much, it can be the ideal choice.
A Look at the Contents
The Elite 1.0 starter kit comes in a small platic case, which is a nice breath of fresh air, considering most other brands still package their products in branded magnet-top cardboard boxes. The case comes with a stylish plastic holder that holds the pen-style e-cig firmly in place, while the included accessories are neatly tucked under the NEwhere branded paper packaging. The starter kit includes a mini eGo battery, a wickless ceramic coil tank, a USB charger and a wall adapter. It's not the most complete package we've ever reviewed here on Vape Ranks, but at a price of $29.99. it's actually a pretty decent offer. One thing I wish they had included though, is the e-liquid, which, unfortunately, has to be purchased separately.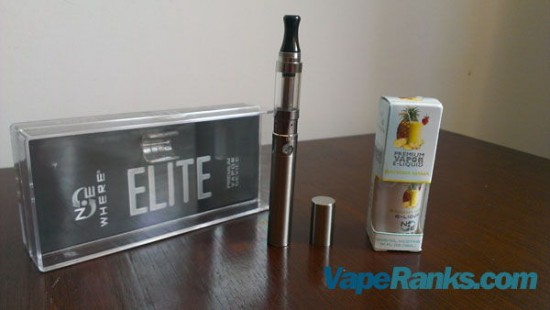 Looking at the NEwhere Elite electronic cigarette, you can tell the company values presentation. The company logo is etched both on the disposable tank and the tip of the battery, which, by the way, lights up white when activated, but also includes a useful accessory I've never actually seen before – a screw-on metal cap for the tank mouthpiece. Hygiene-wise it's a very practical solution for when you have to store your e-cigarette in a purse or your pocket, to make sure the mouthpiece doesn't get dirty.
Battery Life and Overall Performance
You can't really expect a lot from a tiny 650 mAh battery, especially if you're the kind of vaper who rarely lets go of his e-cig, but casual vapers who only take a few puffs an hour can expect the NEwhere Elite to last them a whole day. It's really a shame that the company chose to include only one battery in their starter kit, since if it needs recharging during the day, you're really left with no option other than wait for it to fully charge.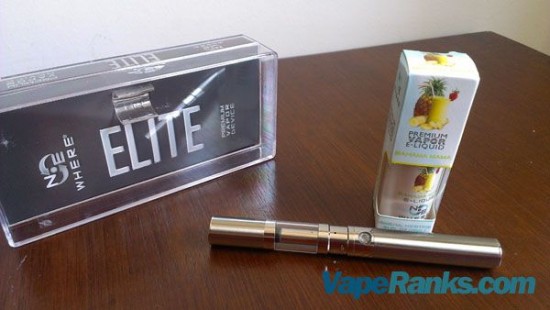 Performance-wise, the Elite is pretty good for its size. It works really well with the included bottom-coil tank, but the battery featured both an eGo style and 510 connection, meaning you can use it with virtually any type of atomizer on the market. You can experiment with cartomizers, clearomizers and even small tanks to find what works best for you.
Vapor Production
I found the vapor production of the NEwhere Elite 1.0 quite decent for its size. The battery is regulated at the standard 3.7 volts and the tank coil has a resistance of 2.1 ohms, so you really can't expect this e-cigarette to produce the same amounts of vapor as a VV/VW mod paired with an RDA. Not to mention that the NEwhere nicotine-containing e-liquid is 70% propylene glycol, which is known to produce less vapor than vegetable glycerine. However, you have to keep in mind that the Elite was designed with newbie e-cigarette users in mind, and they are bound to find its vapor production satisfactory.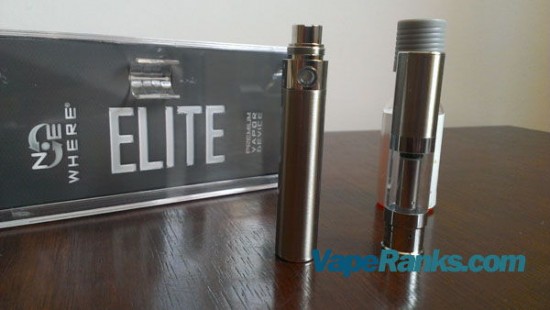 Another thing worth mentioning is that the draw on the NEwhere Elite e-cig is very tight, similar to that of a real tobacco cigarette, which I'm guessing was intentional, in order to make fresh ex-smokers feel more comfortable using it.
E-Liquids, Flavors and Clearomizers
As I mentioned above, NEwhere nicotine-containing e-liquid is 70% PG and 30% VG, while non-nicotine is 50% PG and 50% VG. I personally opted for the nicotine option, and was impressed with the clean flavor of the juice. The standard kit doesn't include e-liquid, but the guys at NEwhere let me choose one of their many flavors, for the purpose of this review. I went with Bahama Mama, and couldn't be happier with my choice. The cocktail of tropical fruits mixed with a few drops of rum was a joy to my taste buds.
I didn't have high expectation for this juice, since the packaging reads "made in China", but it was surprisingly enjoyable. I later read on the NEwhere website that the PG in their e-liquid comes from the US and the VG from Malaysia. Anyway, at least as far as this brand is concerned I wouldn't let prejudice about Chinese products get in the way of experiencing some really interesting flavors.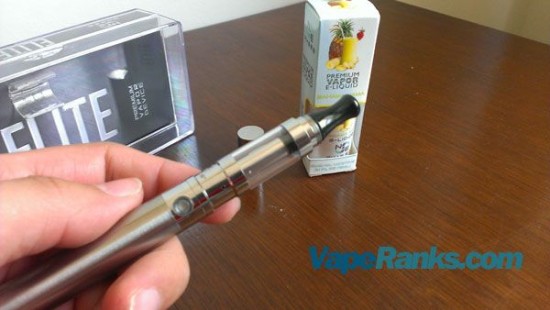 The wickless ceramic coil tank that comes with the Elite has been working great for me for over two weeks now, but I'm not a big fan of it. Despite its flawless performance so far, this thing is a disposable, meaning the coil head cannot be changed after it burns. You just have to buy a new one, and they don't come cheap. A new tank will set you back $7.99. That might not seem like much, but you could buy four BCC heads for the same price.
Conclusion
The NEwhere Elite may not be the most advanced e-cigarette I've ever used, but it's definitely an interesting choice for anyone looking to give vaping a try. It's got a nice quality build, above average performance for its size and most importantly, it's super easy to use. I would have liked this starter kit even more if it came with a second battery and a small bottle of e-liquid, but even so, the Elite 1.0 is worth checking out for someone just getting their feet wet in the world of electronic cigarettes.