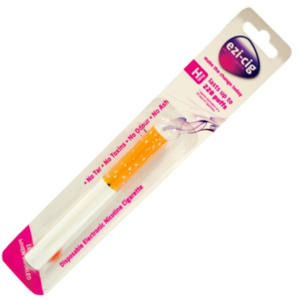 Electronic cigarettes are already advertised as a cheaper alternative to smoking, but the new Ezi-cig is really pushing the envelope. Launched in Britain by Discount UK, the disposable e-cigarette costs just £1 ($1.53), making it the cheapest electronic cigarette in the world, by far.
If you're looking for the cheapest e-cigarette money can buy, look no further than the new Ezi-cig. The disposable version is priced at £1, comes in high (12mg) or medium (8mg) nicotine doses and last up to 220 puffs, the equivalent of a pack of analogs. Luckily, there is also a rechargeable version of the Ezi-cig which retails for the mind-blowing price of £4.99 ($7.6). In comparison, most other economy starter kits in the UK sell for around £20 ($30). The Ezi-cig was launched in Britain last week, by Leeds-based company Discount UK, and it's currently available in 70 stores nationwide. Ezi-cig stocks are limited, and consumer demand is expected to be huge, considering its unbeatable price, so for the time being each customer will only be able to buy 12 disposable e-cigarettes.
"Quitting smoking can be a difficult and often expensive undertaking. Hopefully, this product will make it easier for millions to make a change and move one step closer to kicking the habit for good," Chris Edwards Junior, trading director at Discount UK Home Stores, said. The Ezi-cig will also go on sale in over 40 Poundworld shops in September. Unfortunately, not much is known about the Eci-gig right now, and there deosn't seem to be any reviews of the product so far, but even if this thing proves to be mediocre compared to the bigger and more expensive brands, it could be a game changer. A lot of smokers find e-cigarettes tempting, but are put off by the high initial cost of a starter kit.
I was tempted to think this is one of those cheap no-name electronic cigarettes that give vaping a bad name but Chris Edwards Junior says it's actually developed by Discount UK: "We've been working on this product for over two years, and after much research and development, we are so excited to bring it to the market for the incredible price of £1". Sadly, the Ezi-cig is only available in the United Kingdom.