British American Tobacco (BAT), the largest cigarette company in Europe, launched its own electronic cigarette earlier this week. Called the Vype, the disposable e-cig is currently only available in the United Kingdom, via a dedicated website, but the company plans to introduce it in retail outlets by September and rapidly expand its presence in the e-cigarette market around the world.
BAT first revealed its intention of entering the e-cigarette market back in April, when chairman Richard Burrows announced Nicoventures, a subsidiary of British American Tobacco, was preparing to launch its first e-cig in the UK. On Monday, the cigarette maker confirmed Vype would be available to buy online starting Tuesday. "The e-cigarette is currently available in a disposable format, with plans to supplement the product range with a rechargeable version," a BAT spokesman said. "The development of inhaled nicotine products, which includes e-cigarettes, is a natural extension of British American Tobacco's approach to tobacco harm reduction which has been evolving over a number of years."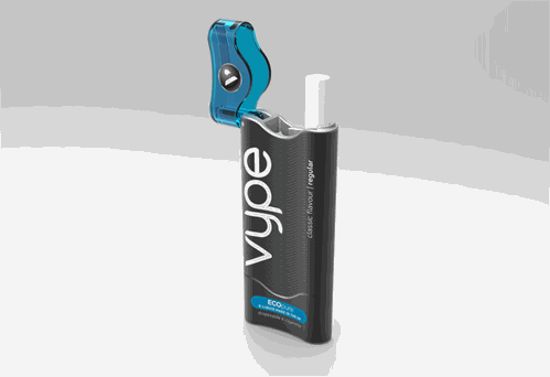 Developed by CN Creative, Vype delivers approximately 130 puffs, according to BAT's laboratory testing, and uses ECOpure e-liquid, made with pharmaceutical grade nicotine according to current Good Manufacturing Practice (GMP) standards. It's available in Regular, Bold and Menthol flavors and priced at £6.99. Like R.J. Reynolds' recently launched VUSE electronic Cigarette, the Vype comes in an futuristic-design package that looks much more appealing than what most other electronic cigarette companies use.
The Vype electronic cigarette was designed to look and feel like a real tobacco cigarette. It's exactly the size of a cigarette, it's very lightweight, the LED tip lights up red when the device is in use and the filter is soft and squishy like that of an analog. The available e-liquid strengths also set the Vype apart from most other electronic cigarettes. The Bold is 45mg/ml nicotine and the Regular is 30mg/ml nicotine.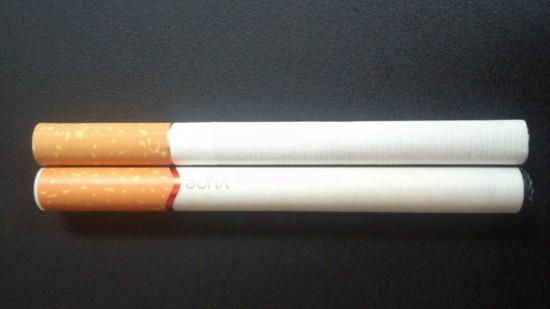 Photo: Shane MacGuill/Twitter
According to an early review I've spotted on YouTube, the Vype performs pretty well for its size, producing clouds of thick vapor that linger in the air, but the size of the battery seems to a problem. The reviewer claims the disposable died after just 10 minutes of use, which doesn't really reflect BAT's claims. After taking it apart, he found the battery used for the Vype has a capacity of 0.3 watt-hours, which is the equivalent of 80 mAh. This is NOT official information, though.
Although the Vype e-cigarette was launched on the UK market, it's also available on Intellicig USA, for $9.99 if you would like to try it yourself.
Sources: The Independent, The Grocer