A recent study presented at the American Heart Association's International Stroke Conference in Houston, last month, suggests that e-cigarette users are at an even greater risk of stroke that cigarette smokers.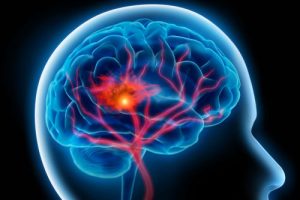 According to a press release published by the American Heart Association "Mice exposed to e-cigarette vapor for 10 days or 30 days had worse stroke outcome and neurological deficits, than those exposed to tobacco smoke." Furthermore, researchers from Texas Tech University led by Ali Ehsan Sifat also found that e-cigarette exposure decreased glucose uptake in the brain (glucose fuels brain activity), and that exposure to both vapor and tobacco smoke for 30 days decreased Thrombomodulin (a chemical vital for blood clotting) which increased the risk of brain haemorrhage.
Sifat and his team said that more research is needed to confirm their findings, adding that according to their preliminary study, "electronic-cigarette vaping is not safer than tobacco smoking, and may pose a similar, if not higher risk for stroke severity."
Alright, that does it, I'm done with this vaping thing! I mean if e-cigarettes pose a greater risk than tobacco cigarettes, what's the point? I'm just going to try quitting altogether, and if that doesn't work, I'm going back to smoking. Strokes are scary, so if smoking cigarettes means I'm less likely to suffer one, I'm definitely going analog again. Vaping's been fun, but the risk is just too high!
I'm just kidding, of course, but I'm willing to bet that's what a lot of casual e-cig users are thinking after reading the shocking findings of this study. It's been picked up and promoted by some of the largest news outlets on the internet, so, yes, anti-vaping warriors are having a field day with this dubious research.
You're probably wondering about the "dubious" part, right? Well, here's the weird thing about this ominous study – it hasn't been published or peer reviewed. It was presented at the American Heart Association's International Stroke Conference, in February, but that's pretty much all we know about it. The above information was featured in a press release published by the American Heart Association, but that's pretty much all we have right now, the study itself isn't available.
We have no idea about the methodology used in the study, the substances responsible for increasing the risk of stroke, or even the title of the study. It's all a complete mystery, but its conclusions are all over the internet and some people are freaking out.
Dr Michael Siegel also points out that even if everything about this mysterious study checks out, "to extrapolate from this single pre-clinical, animal study to population-based human health effects, as I pointed out, is ludicrous."
"There are, of course, significant physiological, neuroanatomical and metabolic differences between humans and small rodents, which are the most widely used experimental animals in preclinical stroke research. For example, small rodents usually require higher drug doses on a mg/kg body weight basis for a similar effect than larger mammals. Thus, effective doses derived from preclinical stroke studies in small rodents cannot simply be transferred to the situation in humans, even if adjusted for body weight," researchers Stefan Braeuninger and Christoph Kleinschnitz said in a different study on stroke.
Dr Siegel tried contacting the American Heart Association, asking for "an immediate retraction, correction, and apology" for the grave error for promoting these unsubstantiated claims on its website, but has not received an answer in over a week, and the press release is still accessible on the AHA site.
"What am I to think? Can I continue to give the American Heart Association the benefit of the doubt and assume that this was just some sort of mistake or oversight? Hardly, when they failed to correct it after being notified of the error," Siegel wrote on his blog. "At this point, I have little choice but to consider this as a deliberate attempt to mislead and deceive the American public into believing that vaping is just as hazardous, or even more hazardous than smoking."