Bloog E-cigarette Review
If you're an ex-smoker browsing through e-cigarette review sites in search of your first e-cig, names like "Bloog" of "MaxxFusion" are probably new to you. That's because unlike other brands, Bloog doesn't offer very lucrative sales commissions, so the vast majority of "honest" electronic cigarette reviewers out there have chosen not to waste their time with it. However, in the vaping community, the Bloog brand is one of the most respected, both for its advanced products and its efficient customer service, and since I managed to get my hands on one of the awesome MaxxFusion Aurora Deluxe Starter Kit, I decided to do my own review and see if Bloog is as great as most seasoned vapers say it is.
A Look at the Contents
I can't say I was overly impressed the first time I laid eyes on the Bloog MaxxFusion starter kit. It comes in the same generic magnet-top box that most brands use for packaging, but I wasn't going to let such an unimportant detail curb my enthusiasm. Inside this bland box I found two 78 mm KR808D MaxxFusion batteries, one manual and one automatic, a pack of five cartomizers, a USB charger, a wall adapter and two velvet battery pouches. Definitely not the most complete e-cigarette starter kit I've ever reviewed, but the Bloog Deluxe package has everything you need to start a smoke-free life. Plus, you can also go for a more expensive option, like the Ultimate Kit, which comes with loads of useful accessories like a car charger, USB pass-thru battery and a PCC.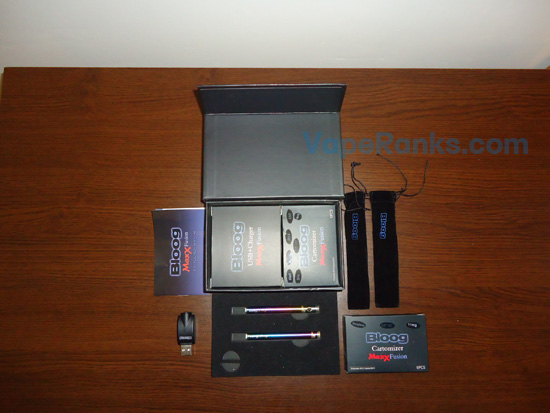 I was lucky enough to get Bloog's anodized signature Aurora batteries. This limited edition series comes in a rainbow color and features a simulated crystal tip that lights up blue when activated. It's one of the flashiest devices I've ever used, but if you don't mind attracting some attention while vaping, you might actually like it. They're certainly very different from most batteries available today, and I've always been a sucker for bling. The MaxxFusion Aurora Deluxe Starer Kit is priced at $65.99, which is pretty reasonable, but if you don't feel like spending that much on your first e-cigarette kit, there's always the $49.99 Standard Deluxe Kit, which includes pretty much the same stuff, the only difference being the look of the batteries.
Battery Life and Overall Performance
I'm a big fan of the KR808 battery, I personally prefer it to the 510 and other mini e-cigarette models, and Bloog's version is definitely the best I've ever tried. The 78 mm battery has a mAh rating of 320, compared to the 180 mAh of the venerable 510, giving you almost twice the battery life. It's also 40 mAh more than other KR808 batteries of this size. The biggest weakness of analog-style e-cigarettes has always been the short battery life, but the MaxxFusion is a real game-changer. In the few weeks I've used the Bloog I got an average of 4 hours for each of the two batteries, which is considerably longer than any other similar-size e-cigs available on the market. I've never been a heavy vaper, I rarely chain vape, but even if you use your electronic cigarette non-stop, you're still going to get a much better performance out of the Bloog than any other cigarette-like vaporizer.
But the long battery life for its size is not the only thing that makes the MaxxFusion battery special. It has a brand new design that makes the switch literally 10 times faster than any other switch, according to the manufacturer, as well as a sensitive and restrictive decibal and frequency range, making it less likely to activate from loud noises. Another thing I've noticed about the Bloog MaxxFusion automatic batteries is they are sealed, which means there is little danger of them getting damaged from e-liquid leaking from the cartomizers.  But the thing that impressed me the most about the automatic was that it didn't require a primer puff to heat the the atomizer, something most other brands actually recommend. With the Bloog, you get a very satisfying amount of vapor from the first draw.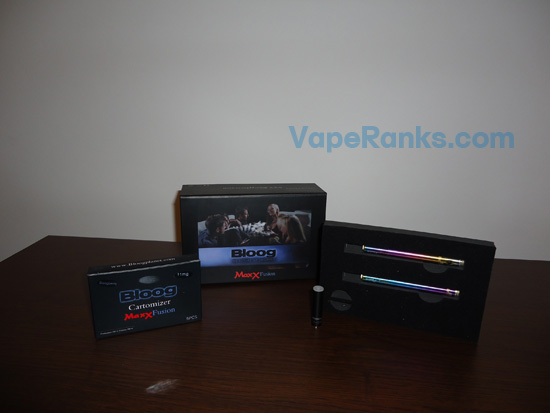 Overall, I found the MaxxFusion battery very impressive.
Vapor Production
With such great batteries, it would have been a real shame if vapor production wasn't on par. And wouldn't you know it, the first time I used the Bloog MaxxFusion, I hardly got any vapor out of it. You couldn't imagine my disappointment, after all the great things I had read about this e-cigarette I was hardly getting anything out of mine, regardless of how hard I tried. But instead of labeling the Bloog as junk, I started looking for causes of the low vapor volume. Everyone was so pleased with these things, and I had seen respected reviewers like Grimm Green blowing plumes of thick vapor with their MaxxFusion e-cigs, so why was mine performing so poorly? It turned out is was the cartomizers I got. A lot of the e-liquid had leaked, and the ruber caps were practically filled with it, leaving the cartos almost empty. So I got in touch with this really nice guy at Bloog, called Xavier, and explained my problem. With no questions asked he sent me a fresh batch of cartomizers, which finally did the batteries justice. I'm not trying to bore you with my story, I just want to you to understand this kind of issues do occur sometimes, so if you think your device isn't working as it should, just contact customer service and they'll be more than happy to replace any faulty products.
Now on to the real vapor production capabilities of the Bloog MaxxFusion. This little e-cigarette is a real vapor monster. After my initial experience I was blown away by the amount of "smoke" coming out of my mouth on the first draw. The rumors were true after all, the Bloog does deliver thick plumes that can easily be compared with those produced by some of the best mods available. A slick cigarette-like vaporizer than can hold its own against a Provari or a Silver Bullet, now that's something to be impressed about.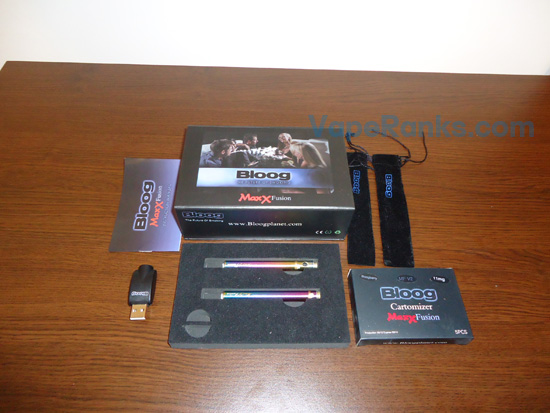 One thing worth noting is that the batteries don't produce the same amount of vapor with any kind of KR808 cartomizers. As Bloog claims, and many users have noticed, although the batteries are compatible with other cartomizers, it's their own specially designed cartos that push the MaxxFusion to the limit.
E-Liquid, Flavors and Cartomizers
A great set of batteries and spectacular vapor production are usually enough to convince me that an electronic cigarette is worth buying, but in the case of the Bloog MaxxFusion, it was also the excellent cartomizers and flavors that won me over. Let's start with the thing that Bloog is most famous for – its cartomizers. Normally, when you go through all the e-liquid, you start to get a burnt taste, which lets you know it's time to refill or replace your cartomizer, but believe it or not, Bloog cartomizers don't burn. Many vaping aficionados have taken them apart after using them multiple times and reported that there's no sign of burns on the filler material, which counts a whole lot if you plan on refilling them. Unlike other brands,  Bloog actually encourages clients to use the cartos multiple times, instead of advising they buy new ones once they're depleted. They are specially designed to allow users to easily remove the end caps or drip directly through the large air hole. It's safe to say the cartomizers play a big role in the overall performance of the Bloog MaxxFusion, and even if you don't plan on buying a starter kit, I invite you to try their blank cartos and experience their quality for yourself.
Bloog's "Liquid Fusion" range numbers 16 different flavors, including six tobaccos, classics like vanilla, chocolate or coffee, fruity flavors like watermelon and grape and a few interesting combinations (e.g. Watermelon Mint). The great thing about Bloog is they have a special sampler pack for tobacco flavors, so I had a chance to test five of them. If you're looking for a robust taste reminiscent of your smoking days, then the RED is perfect, but the discreet sweetness of the RY4 and the peanut butter hints of the 555 also made quite an impression on me. I'm a big fan of tobaccos, and Bloog's are some of the best I've ever had, but my favorite Liquid Fusion flavor is without a doubt the Bloogberry. As the name implies, it tastes like blueberry, and it's simply mouthwatering. I was intrigued by the name, and I've always been a fan of berries, but I never expected this e-liquid to have such a strong delicious taste. All in all, a varied selection of flavors and excellent taste, so two thumbs up on this one, as well.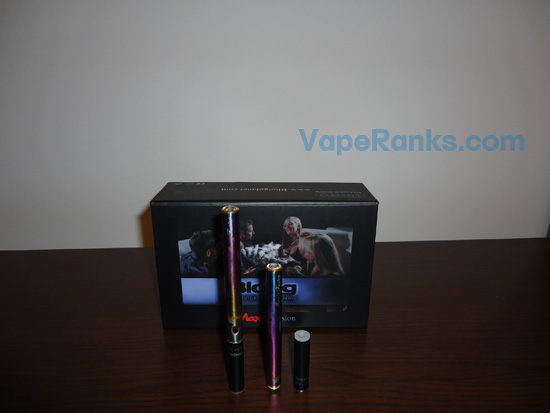 If you're looking for a decent throat hit, you should go for at least 16 mg nicotine strength, and if you're looking for a horse kick in the back of the throat, check out the 36 mg e-juice. Anything lower than 16 mg will taste great, but you won't be feeling much of a hit.
In conclusion
I'm not exaggerating in the slightest when I say the Bloog MaxxFusion electronic cigarette has rocked my world in these last few weeks. If more ex-smokers would start their journey in the world of vaper with one of these things, instead of over-advertised junk, I think we would be definitely be seeing far fewer relapses. It's simple to use, it has that analog look, the flavors are great and battery life isn't a big issue; in a nutshell, it's the perfect e-cigarette to start vaping. Obviously, I highly recommend you give the Bloog a try.
The Good
impressive battery life
great vapor production
superior cartomizers
varied and tasty flavors
The Bad
unimpressive presentation
3-month warranty
Bloog 10% Off
If you would like to give Bloog E-Cigarettes a try, you can use the code below for a 10% discount. Clicking on the code will automatically save it to your clipboard and you'll be taken straight to the Bloog website. At checkout, be sure to paste the code in the "Discount Code" section.
Battery Life and Performance