Smokeless Image Volt Review
I like to think of Smokeless Image as one of the best kept secrets of the vaping world, which is a shame because they offer a much better electronic cigarette than other more popular brands out there, at a very reasonable price. But while most casual vapers are oblivious of its existence, the Smokeless Image Volt has garnered a lot of positive reviews within the vaping community during the last few years, and it's been on my to-try list for a while. I finally took the plunge and bought myself one of their starter kits just to see if it lived up to its reputation.  All I can say is "money well spent".
A Look at the Contents
My experience with the Smokeless Image Volt didn't really start off as well as I expected. Presentation is definitely not the company's strong point, as all their different kits come in exactly the same box, with the extra accessories just thrown in there. I opted for the Standard Starter Kit, which contained two e-cigarette batteries (automatic and manual), five tobacco-flavored cartomizers, a USB charger and a wall adapter. Nothing too impressive, but enough to get anyone started with e-cigarettes, and at $22.95, it's one of the most affordable kits on the market. Smokeless Image has a variety of packages to choose from, with the more expensive ones including cool stuff like a USB passthrough and a slick portable charging case. I was  interested in the quality of the e-cigs, but those are really nice to have around if you can afford them.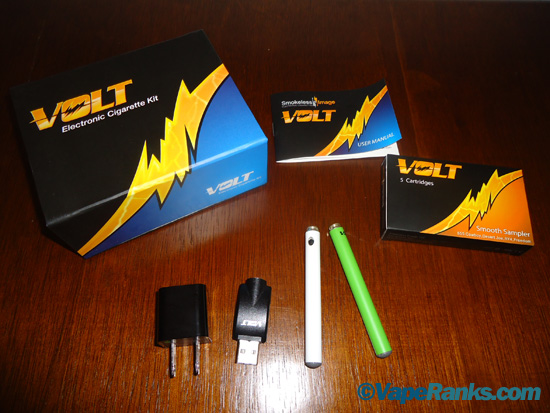 One thing that I particularly liked about Smokeless Image while ordering their products online was the wide variety of customization options available. I'm not just talking about the possibility to choose between different size batteries, manual or automatic, but also about the number of battery colors, and the colors of the LED tips. Sure, it doesn't affect the performance of the devices, but it's definitely a nice touch. One thing I noticed after opening the starter kit was big resemblance between the Smokeless Image batteries and cartomizers to those from Bloog E-Cigarettes, another favorite brand of mine. After doing a bit of research online, I learned they were pretty much identical, down to the internal structure of the cartomizers. If you've read my Bloog review, you already know that's a good thing. They both have such excellent quality products.
Overall, what the Volt lacks in matter of presentation it more than makes up for in build and pricing.
Battery Life and Overall Performance
Just like virtually every e-cigarette company out there, Smokeless Image offers KR808D batteries for its electronic cigarette. The more popular 510 batteries have their own advantages, but there's no beating the KRs in terms of comfort and convenience. Just screw on a cartomizer and you're ready to vape. The Volt is one of the best KR808 devices I've ever used. The 78 mm batteries I opted for are 320 mAh offering a longer battery life than most other e-cigarettes of the same size. I got about 4 hours of heavy use out of the automatic battery, and around 3 hours from the manual, which was pretty impressive considering we're talking about a cigarette size vaporizer. The short battery life has been the biggest shortcoming of cigalike e-cigs ever since they first hit the market, but the Smokeless Image Volt is a game changer in that respect.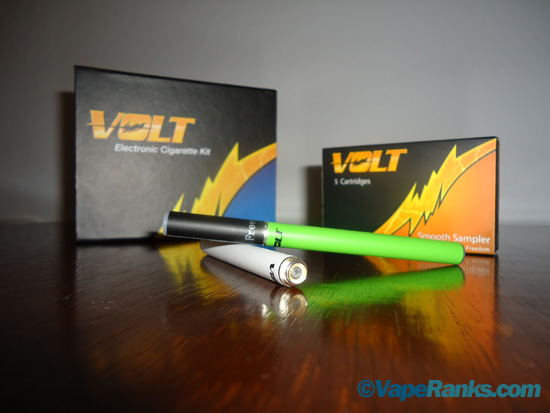 Performance-wise the Smokeless Image Volt is just as impressive. The automatic battery switch was extremely sensitive, promptly activating the device at just the right draw intensity, and the manual performed flawlessly throughout the testing period, although I did happen to drop it on the pavement a couple of times. Just like the ones from Bloog, Volt automatic batteries are sealed, which minimizes the danger of e-liquid leaking from the cartomizers and frying the circuitry.
Vapor Production
Mini electronic cigarettes are not exactly known for their great vapor production, but there are a few brands out there which can hold their own against bigger vaporizers like the eGO, and Smokeless Image Volt is one of them. I was simply blown away by the amount of vapor this little thing produced after even the shortest draw. While other popular brands, like V2 Cigs or South Beach Smoke have 4.2 volt batteries, the Smokeless Image Volt is regulated at the usual 3.7 volts, but that really seems to be more than enough. To be honest, the low-resistance cartomizers also take a lot of the credit, as the Volt doesn't produce the same thick plumes of vapor with just any cartridges. These new generation cartomizers are exactly the same as the ones on the Bloog e-cigarettes, and they really do make all the difference.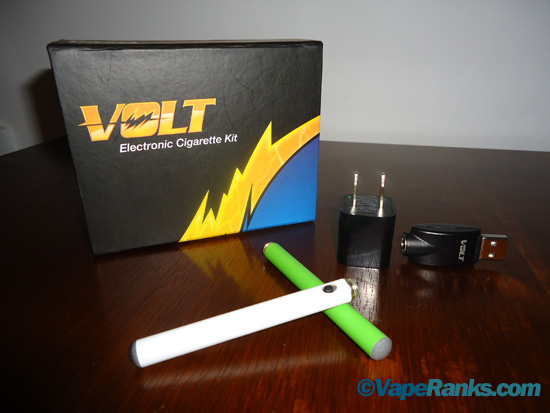 I couldn't be more pleased with the Volt's vapor production capabilities, but the one thing that really could be improved is the throat hit. I ordered prefilled cartomizers with 18 mg nicotine e-liquid, and although the throat hit was there, it wasn't quite as strong as the juices I usually vape. It might be enough for ex-smokers of ultra-light and light cigarettes, but it was a bit too weak for me.
E-Liquid, Flavors and Cartomizers
As I mentioned before, Smokeless Image cartomizers are a lot different than what most other brands sell. Not only do they produce a lot of vapor, but they're also known for being less prone to burning. When low on e-liquid, the wick and inner filling of most other cartomizers get burned, which renders them useless, because the burnt taste never goes away. That doesn't happen with Volt cartridges. Of course, if you use them too much, they will eventually suffer the same fate, but as they run out of juice, you just get a bland taste, which lets you know it's time to refill before it's too late. Unlike other brands, who glue the plastic caps on to their cartomizers, practically forcing you to throw them away once they're empty, Smokeless Image encourages vapers to reuse its cartos by using easy to remove rubber caps and selling blank cartomizers and bottles of its e-liquid.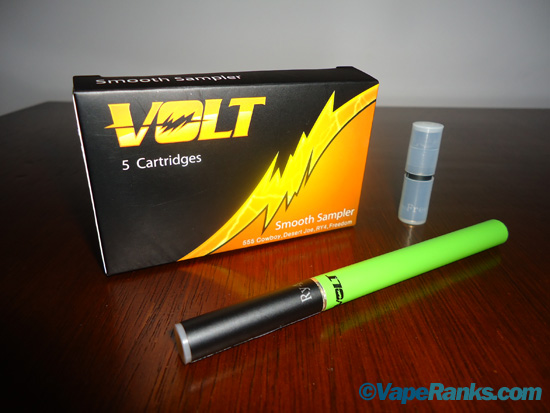 The liquid is a mix of propylene glycol and vegetable glycerin (90%/10%), which seems to be a really nice combination, as the PG really enhances the flavor while the VG improves vapor production. As for the flavors, I've only ordered the Smooth Tobacco sampler pack, which contains a variety of flavors, like the popular RY4 and 555. They're a lot better than most of the tobacco flavors I've tried in the past, and that's saying a lot considering we're talking about Chinese-made e-liquid, not gourmet stuff. Like with most brands, some taste better than others, but like I always say, flavors are very subjective and you just have to try them for yourself.
Conclusion
Smokeless Image might not have the flashy packaging of other big brands, but in terms of quality, performance and pricing, the Volt is a step ahead of the competition. It's got great battery life for its size, delivers amazing vapor every time, and some of the flavors are really tasty. Combine that with its low price and the company's reputation for great customer support and you've got the perfect e-cigarette for beginners. If you're looking for an affordable cigarette-like e-cig that actually works well, you can't go wrong with the Smokeless Image Volt.
Pros
great battery life
impressive vapor production
flavor variety
new-generation cartomizers
sealed automatic batteries
competitive pricing
Cons
bland packaging
weak throat hit
Battery Life and Performance