Bombshell E-Liquid Review
Vape Craft has been making budget e-liquids for some time now, but last year they decided to try something new – premium e-juice with a budget price tag. The idea was simple – take five classic recipes, refine them to perfection, come up with a unique branding idea and keep the price as affordable as possible. Sound good? Well, then you'll probably love their Bombshell e-liquid line.
With around 8,000 different e-liquids currently available on the market, companies really have to think outside the box to get a leg up on the competition, and branding/packaging is the most effective way to do it. There was a time when making good juice was all it took to find success in the e-liquid industry, but nowadays, with so many different e-liquid brands to choose from, it's just not enough anymore. You really have to draw people's attention, so they can try your products and brag to their vaper friends about how tasty they are. You can have the best e-liquid flavors imaginable, if they don't stand out at all, there's a big chance no one will even give them a try.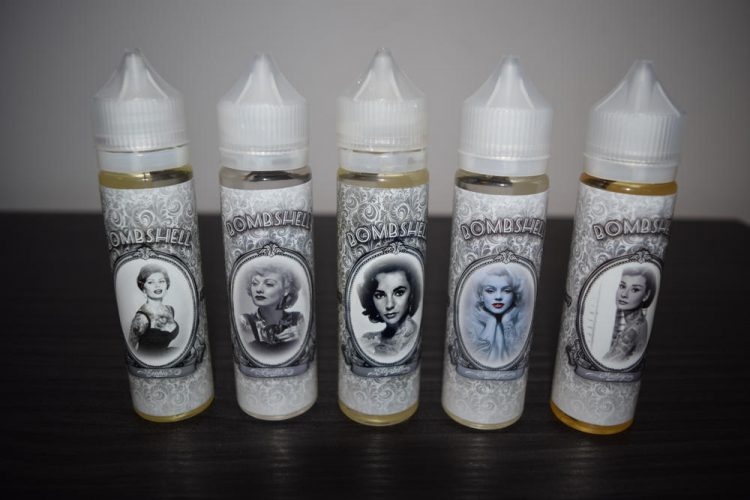 Slim chance of that happening with Vape Craft.'s Bombshell e-liquid though, as the packaging is sure to grab a lot of attention. Whereas, most companies rely on vibrant colors cartoony designs and delicious-sounding names to attract customers, Vape Craft took a completely different approach with its first premium line of e-liquid. It named each of the five Bombshell flavors after a legendary Hollywood bombshell, the likes of Marilyn Monroe or Elizabeth Taylor, even putting their faces on the bottles, to make sure everyone notices them. It makes sense if you think about it. Who could possibly remain indifferent to a picture of Marilyn on a bottle of e-liquid. At the very least, you do a double take.
Bombshell e-liquids come in your standard 60 ml unicorn bottles – for some reason, this is the only quantity available right now –  but the labels really are among the most elegant I've ever seen. Apart from the black and white photos of five classy ladies, they feature a retro gray design on a white background, and the Bombshell logo. Ingredients, warnings and company information are on the back of the bottles, where they don't interfere with the eye-catching design. It's really well thought out and very different from the packaging of most other e-liquids.
Bombshell e-juice comes in 0, 3, 5 and 12 mg nicotine. For this review, I received all five flavors in 0 nicotine, so I won't be able to talk about throat hit, if that's something you're interested in.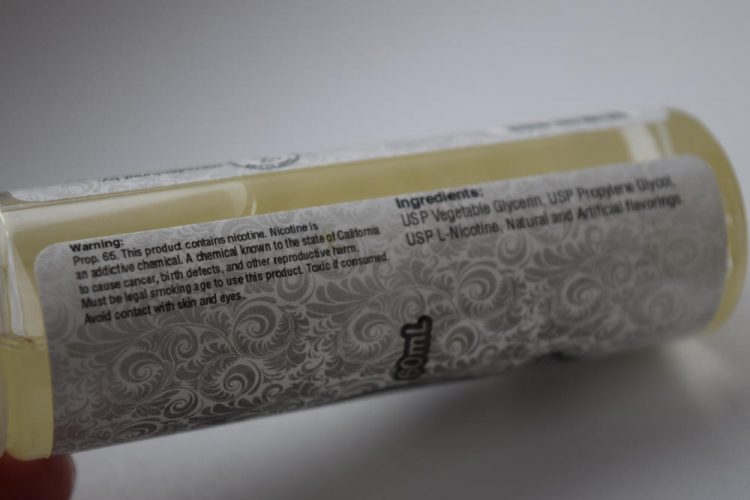 With all that being said, let's check out the five Bombshells:
Marilyn – "Marilyn is the perfect balance of a fresh strawberry and the sweetness of marshmallow fluff that so many of us love."
This is not exactly the world's most complex or most original e-liquid flavor. Even if you've never actually tried the strawberries and marshmallow combination, you've probably vaped something very similar, like strawberries and milk, strawberries and cream, or strawberry ice-cream. It's basically your classic sweet, creamy strawberry vape.
Having tried so many creamy strawberry e-juices over the years, I can't say that I was blown away by Marilyn, but I will admit that the mixologists at Vape Craft did a really good job balancing out the flavors and the sweetness. The strawberry has a really fresh and natural taste, and the marshmallow adds a nice leather of creaminess, especially on the exhale. This juice is just sweet enough to appeal to both dessert and fruity e-liquid fans.
So, yeah, not the most original flavor combination, but the execution is top notch.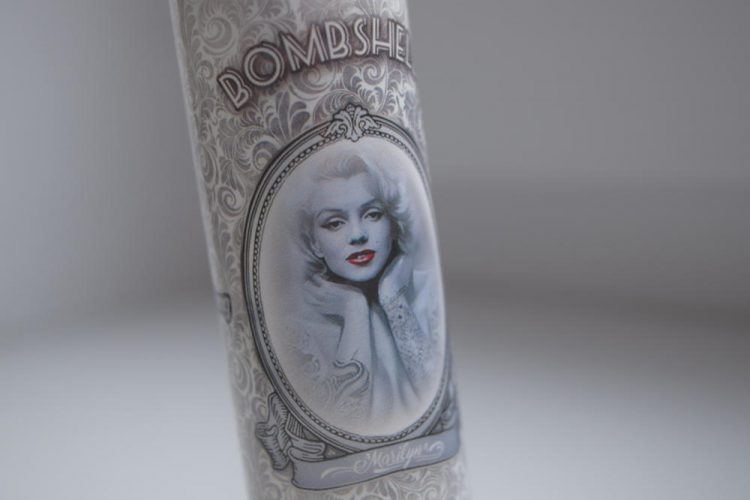 Elizabeth – "When vaping this flavour only one thing comes to mind: the best cinnamon roll you have ever tasted coming straight out of the oven from a bakery."
I'm a huge fan of decadent dessert vapes, and sweet bakery products are among my favorites, so I was really excited to give Elizabeth a try. According to the description on the Vape Craft website, it is supposed to be a cream cheese frosted cinnamon roll, which sounds delicious flavor but also pretty difficult to achieve as an e-liquid flavor. Surprisingly, Elizabeth tastes just as good as that description sounds.
I don't how they did it, but Vape Craft have managed to create one of the best, if not the best cinnamon roll flavor I've ever vaped. The problem with this complex flavor has always been the cinnamon. In most other cinnamon roll e-juices, the spice either overpowered all the other notes, or was faint to the point where you could hardly taste it, but in this one, it's just right. But there's a lot more to Elizabeth. It's got a strong doughy taste on the inhale, which I really like, and you can definitely taste the sweet cream cheese frosting in the background as well.
Elizabeth isn't as sweet as I thought it would be, but it still works as a dessert vape and works great with that morning cup of coffee.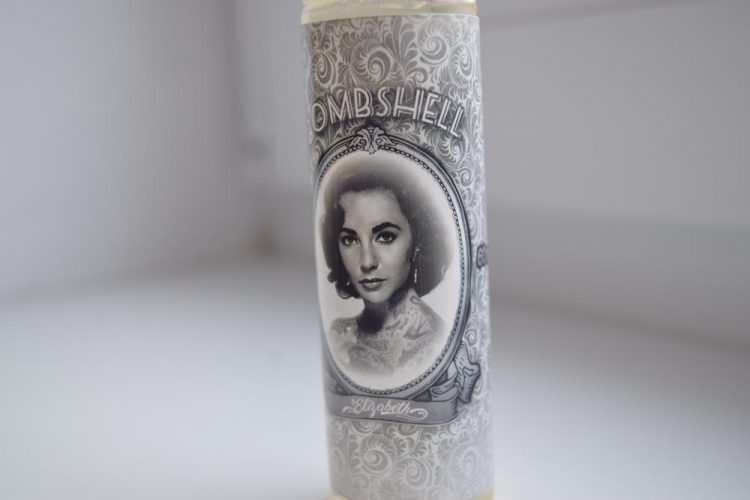 Audrey – "Audrey is a mouth watering blend of a freshly baked lemon bar with just a pinch of powdered sugar sprinkled on top of each individual square."
While checking out all the flavors in the Bombshell line, Audrey was definitely the one I was most curious about. I've been vaping a lot of lemon desserts lately, like lemon tart and lemon pie, so I was curious about this lemon bar vape Craft had, well, crafted.
To be perfectly honest, I personally wouldn't describe the taste of Audrey as a lemon bar, but rather as a lemon bar filling. It has a nice sweet lemon cream taste to it, but I didn't get so much as a hint of doughiness after vaping a whole bottle of it. Does that make it a bad e-juice? Certainly not, as I said, Audrey was the first bottle I finished and I loved every drop of it, but I just wanted to point out that you should expect a lemon cream taste, not a lemon bar.
Audrey was considerably sweeter than the other two Bombshell juices I've tried so far, but that sweetness is balanced out by the tart lemon, so you should definitely give it a try, even if you're not a
fan of sweet vapes.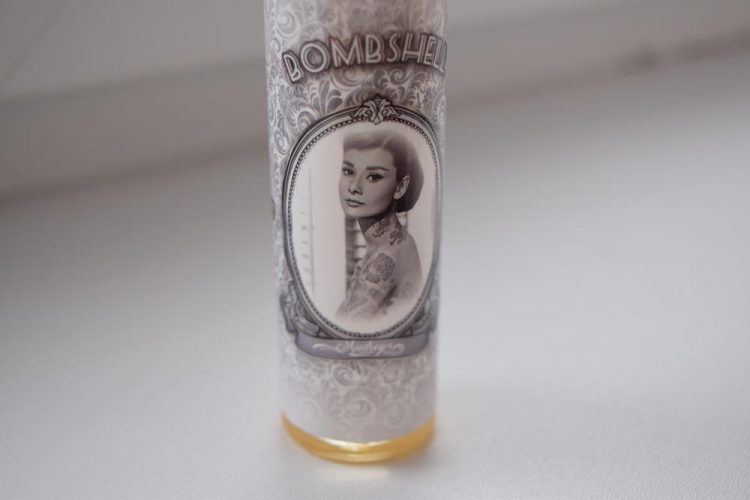 Lucille – "The bombshell line has something for everyone and a great deal of people love pineapple and coconut. So we created Lucielle, because everyone loves Lucy..or something like that. The pineapple in this vape compliments the coconut beautifully."
Just in case that official description isn't explicit enough, this is supposed to by a combination of creamy coconut and juicy pineapple. Sounds really good, especially if you like alcohol-free pina colada, but I for one wasn't too impressed with Lucille.
To be fair, I am not really into coconut vapes, so maybe I'm subjective, but Lucille just didn't taste right to me. I have no idea what kind of cocnut flavor they're using in this e-liquid, but it tastes funny to me, in a stale kind of way. Plus it's really overpowering the pineapple, which might not be such a bad thing actually, since it tastes more perfumey than juicy to me.
As I mentioned, I am not a big fan of coconut-based e-juices, so please, give it a try for yourself. Maybe you'll like it, but I don't.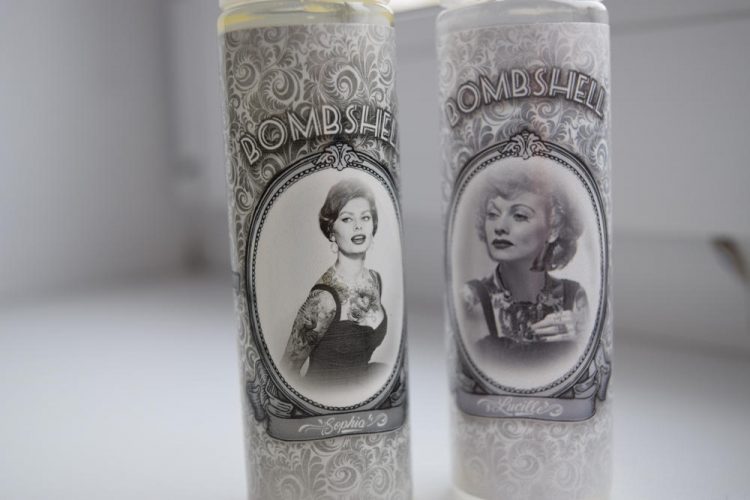 Sofia – "Coming from the Bombshell eliquid line comes Sophia which is a refreshing raspberry lemonade Italian ice."
Last, but certainly not least, we have Sofia, a refreshing mix of flavorful raspberry lemonade and cool Italian ice. This is definitely a flavor best savoured on a hot summer day, when you need something to cool off. On the inhale, you get a strong lemonade taste, and just when your senses begin to taste the sweet raspberry, the fruity flavor is all but drowned out by the cooling ice effect.
This is definitely a very interesting combination, but I do wish the raspberry notes were a bit stronger. You hardly get to taste it in between the lemonade and the Italian ice, and sometimes I was left wondering why they bothered adding raspberry in the first place. It's still great as a refreshing summer vape though, just don't expect a strong raspberry flavor.
So that is the Bombshell e-liquid line from Vape Craft. All in all a surprisingly nice line-up of premium e-liquids. I liked some flavors more than others, but overall, I think the whole line is very good, especially considering the affordable price. One thing that I didn't mention while discussing the flavors, but I feel is worth pointing out is how easy all five flavors are on the coils. I don't know what sweeteners Vape Craft uses for this line, but it doesn't produce nearly as much gunk on the coils and cotton as other similarly sweet e-liquids do. That's a big plus in my book.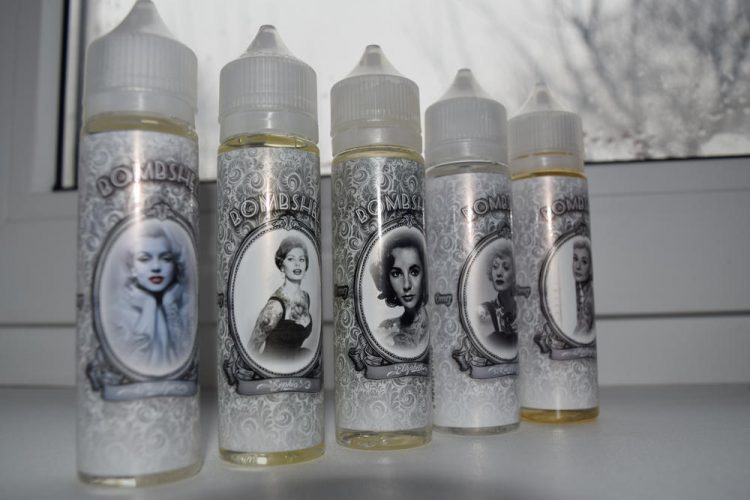 The Bombshell e-liquid line was sent to me directly by Vape Craft, for the purpose of this review.