BP Mods Bushido V3 RDA Review
Designed by BP Mods and manufactured by Dovpo, the new Bushido V3 RDA is one of the sexiest-looking drippers on the market right now. To be fair, there isn't that much competition in this sector, due to pod systems and pod mods dominating the industry, but still there is no denying that the Bushido V3 is a very attractive device. Luckily, there's more to it than aesthetics, and in this review we'll go over everything that makes it special.
Bushido V3 RDA Specifications
Height: 33 mm
Diameter: 22 mm
Material: stainless steel
Drip Tip: 510
Single coil
Bushido V3 RDA Packaging and Presentation
The new Bushido V3 comes in a square cardboard box featuring the BP Mods logo on the front and a list of package contents, an authenticity sticker, a small picture of the atomizer in the color it comes in, and manufacturer contact information, on the back.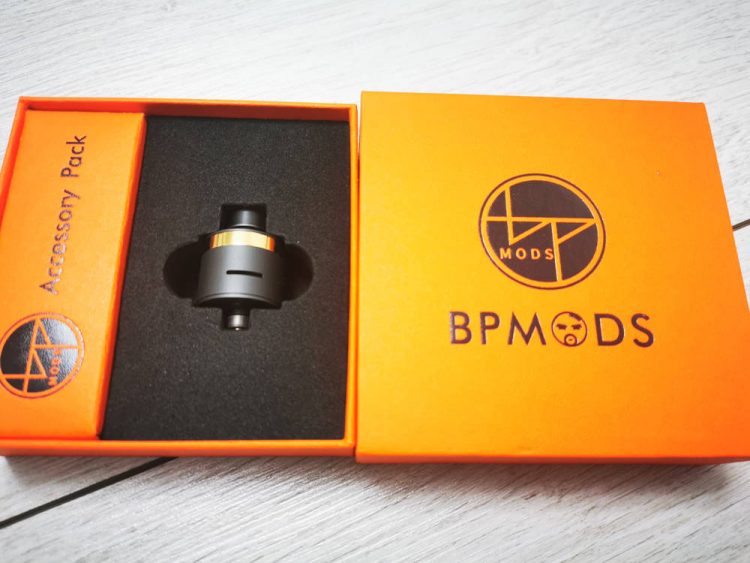 Inside the box, we have the BP Mods Bushido V3 sitting comfortably in a Styrofoam holder, a box of accessories, as well as two informative cards, one featuring an exploded view of the rebuildable atomizer, and another with all the types of coils and mod types it works best with, and those you should think twice about pairing it with.
The accessories box includes a small bag full of spare o-rings, build-deck screws and two pre-made coils, and another bag with an Allen key, peak insulator and a hollow 510 pin.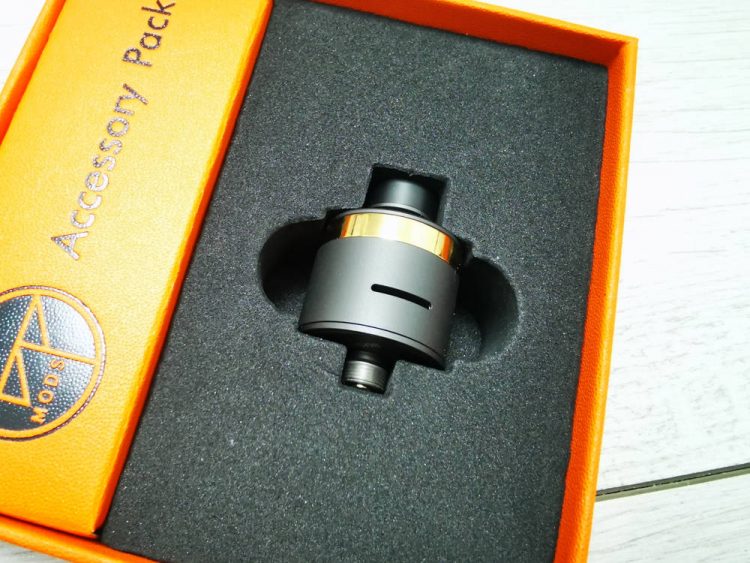 Bushido V3 RDA Design and Build Quality
As I mentioned in the opening paragraph, the third iteration of the Bushido RDA looks very nice. It's just a clean design, nothing groundbreaking, nothing too funky, just a very straightforward, eye-catching atomizer. That's how I feel about it anyway, taste is subjective after all.
Starting from the top, we have a removable 510 drip tip that matches the color of the RDA. Then we have one of the elements that separates the Bushido V3 from most other drippers, the top cap. This is one of those hinged flip caps that you can just flip up to drip without having to remove the whole barrel. It even has an arrow indicator to show you where it lifts off, soo all you have to do is apply a bit of pressure on the side of the drip tip and it will come off.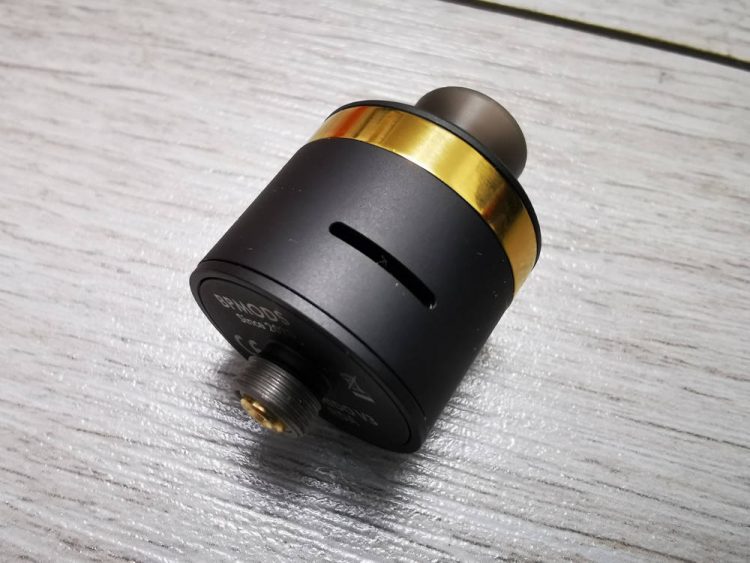 Do you really need a flip top cap? Not really. The few people that use RDAs these days are using them for squonking, because it's so much more convenient, but even if you wanted to drip, you could just take off the whole barrel and do it, not to mention that the top cap unscrews as well. That's three ways that you can reach the build deck.
Right under the top cap is a decorative gold ring that goes all the way around the atomizer. I don't really like gold, but in this case it actually goes very well with the gunmetal color, even better than it did with the Innokin Coolfire Z50.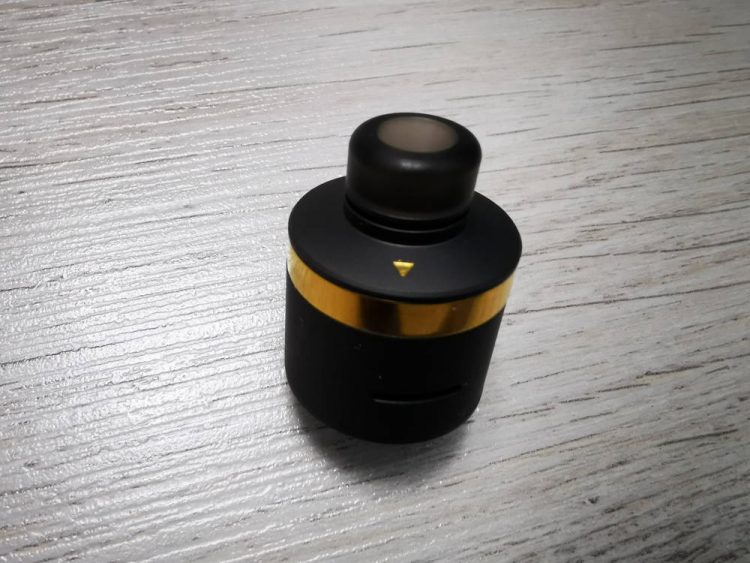 Bushido V3 RDA Airflow
Apart from the two slanted airflow slots, the barrel of the Bushido V3 RDA is very clean. One thing that catches your attention from the very beginning is how low those two airflow slots are positioned on the barrel, which indicates a risk of leaks, but it's actually a lot more to those slots that meets the eye.
Dovpo and BP Mods refer to the airflow system as an offset 'V' design. The air goes in through those low-positioned slots, goes down even further, and then shoots up toward the coil. It's a clever design that actually works quite well, so you don't have to worry about leaking, unless you tend to over-squonk or drip way more than you should.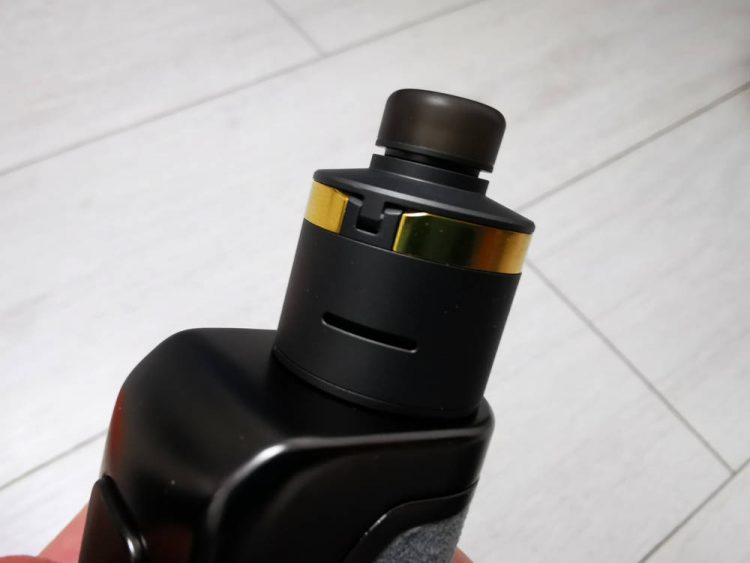 On the bottom, we have some discrete branding, as well as a gold-plated 510 pin.
The inside of the barrel doesn't really have any features worth mentioning apart from the rounded dome and two notches on the wall, which align with the base. The build deck, on the other hand, is a whole different story.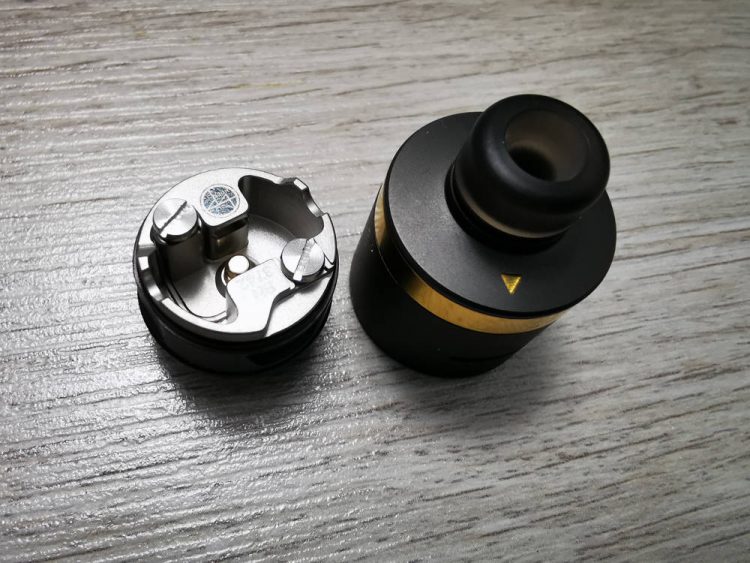 Bushido V3 RDA Build Deck
The BP Mods Bushido V3 is a 22mm RDA, but its unusually deep juice well would put much bigger RDAs to shame. The thing is that it has to be deep, to offset the position of those airflow slots. Making it any shallower would have meant dealing with an imminent risk of leaking every time you squonked/dripped. This way, it can hold a decent amount of juice without that threat of leaking.
Another interesting thing about the Bushido V3 is the design of the build deck, with two large flat-head screws positionally diagonally across from each other. It's not the easiest deck to build on, even though it's a single coil deck, especially if you're trying to use a beefier coil.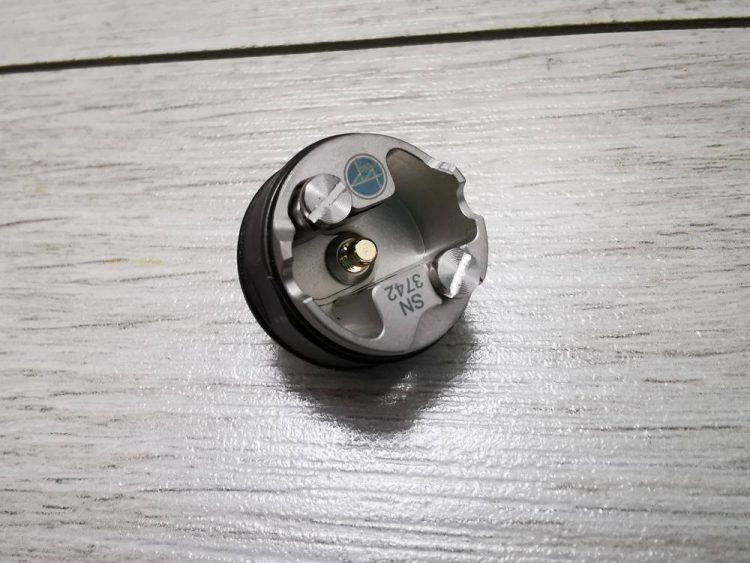 As indicated on the included card, smaller coils work much better on this RDA than big ones do. This is a 22mm atomizer, so there isn't that much space to work with, but the real challenge isn't getting a coil to fit in between those airflow slots, it's aligning the leads. If you have thick wire, that's going to be very tricky, so keep that in mind.
Besides, big coils with very low resistance are probably going to run too hot for such a small RDA. I like warm vapor as much as the next guy, but there is definitely such a thing as too hot.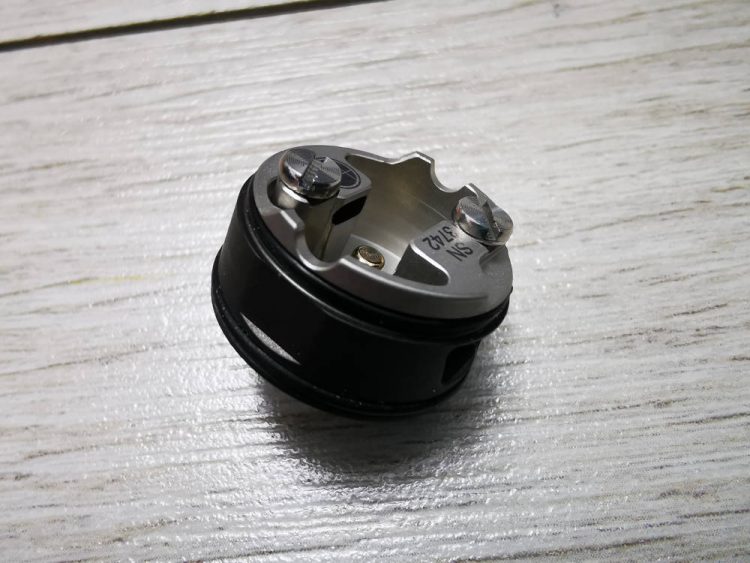 On the bright side, I like the cutouts into the edge of the atomizer base, which make it easy to just set you coiling rod right where it needs to be, so you can tighten down the coil leads and then making sure it is positioned correctly. One thing you have to watch out for is the unusually tall protruding 510 pin. You don't want your coil touching it, so make sure it sits comfortably above it.
Don't worry if the coil doesn't seem align with the airflow slots, the air is going upwards anyway, so it will hit the bottom and part of the side of the coil, so you won't be losing out on flavor.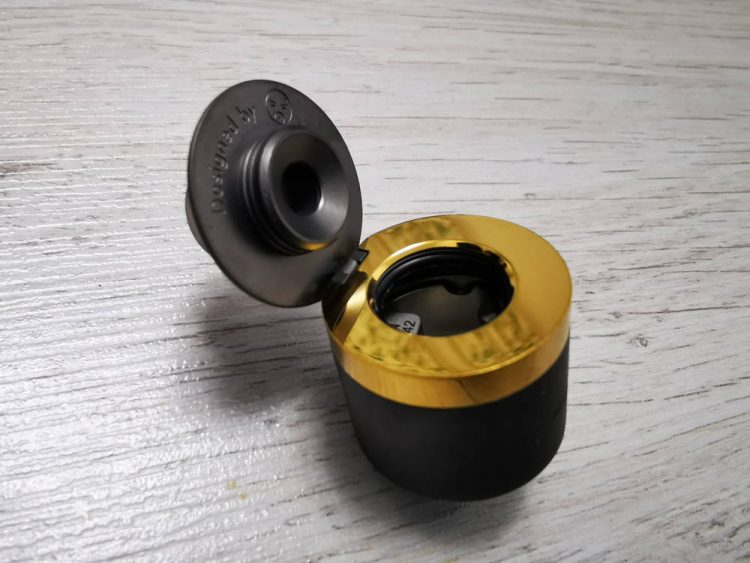 Wicking is pretty straightforward, all you need to do is make sure the cotton leads reach all the way down into the deep juice well, and I recommend thinning them out for the best results.
Bushido V3 RDA Performance
Even though installing a coil on the Bushido V3 can be a bit of a hassle, especially if you're going with a beefier build, it's worth it! This little guy works great both as a mouth-to-lung RDA – which are extremely rare these days – and as a restricted direct lung dripper.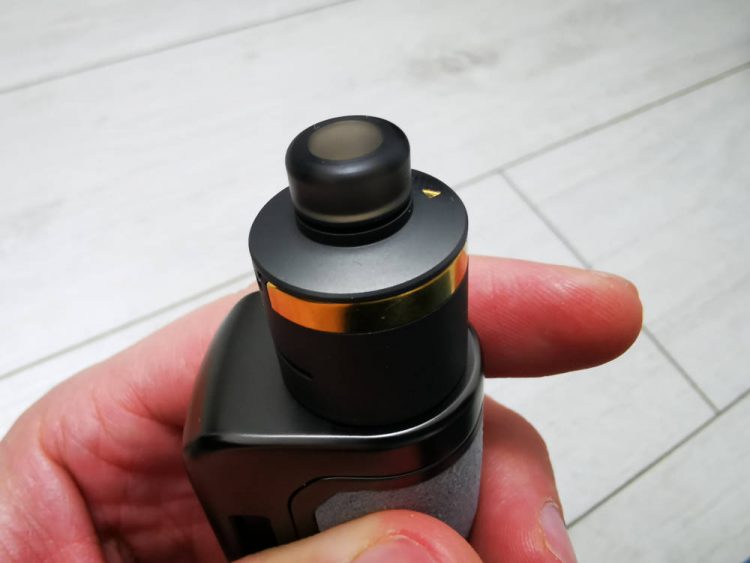 I've been using it with a squonk mod, as I expect the majority of users will, with one of the two included coils and the airflow about three quarters closed, and I have been enjoying every minute of it. The draw is smooth, vapor production is above average and the flavor is to die for!
The only thing I would complain about if I were a picky vaper (which I'm not) is the whistling sound it makes. I wouldn't call it annoying, but it's definitely audible, so keep that in mind. I don't think there is anything that can be done about it though, as it has to do with the design of the air channels.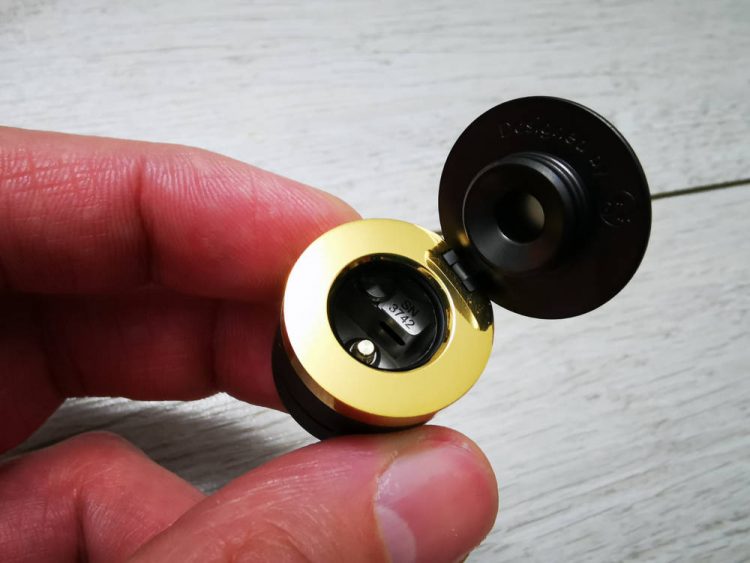 Conclusion
If you're looking for a stylish, versatile 22mm RDA that works great both with a squonker and as a dripper with a classic vape mod, look no further than the Bushido V3 by BP Mods. I'm a big fan of its simple but eye-catching design, but it was the performance that really blew me away. The flavor you get from it is right up there with the best I've ever had, which is saying something, and I've experienced no leaking issues so far, although that can definitely occur if you squeeze or drip too much liquid into it.
The Bushido V3 isn't perfect, in fact I can't say I'm a big fan of its build deck, but as a whole it is definitely one of the nicest 22mm RDAs on the market.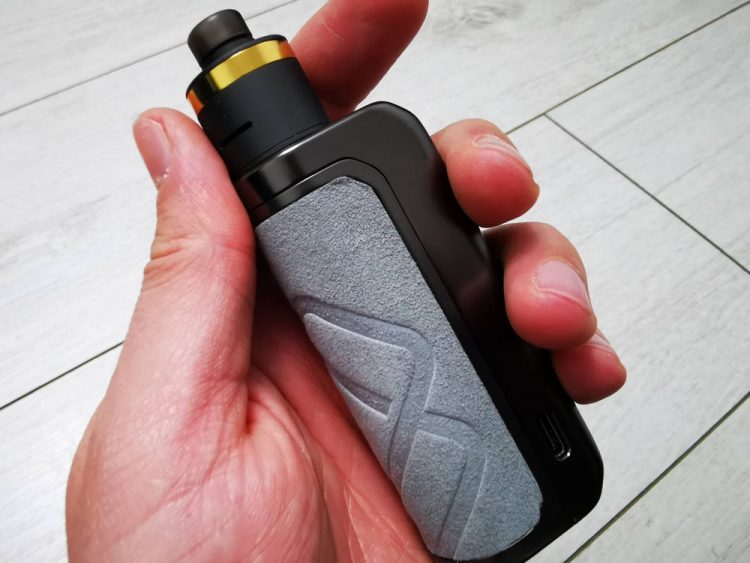 The BP Mods Bushido V3 was sent to me by Heaven Gifts, for the purpose of this review. They currently have it in stock for $39.99.
Pros
eye-catching, elegant design
great for MTL
flip cap
innovative airflow system
deep juice well