Cafe Racer E-Liquid Review
Cafe Racer is a new craft e-liquid company hailing from Encinitas, California. They have only a couple of flavors available right now, but they are among the most intriguing vapes I've ever tried so I figured that makes them worthy of a short review.
Interestingly enough, the founder of Cafe Racer originally worked at a small start-up called Ploom. You know, the one that created the hugely popular Ploom vaporizer which pretty much revolutionized the industry in terms of design and simplicity and most recently the Pax Juul, a "revolutionary" electronic cigarette. Inspired by the vision that vaping could help millions of smokers ditch their dirty habit, he decided to start his own line of premium hand-crafted e-liquid. And that's how Cafe Racer came to be.
If you know a little something about motorcycles, the name Cafe Racer surely sounds familiar. Cafe racers are lightweight, high-powered powered motorcycles designed for speed and handling rather than comfort. They originated in post World War II England, when riders unsatisfied with the power of production motorcycles started customizing their rides for maximum performance.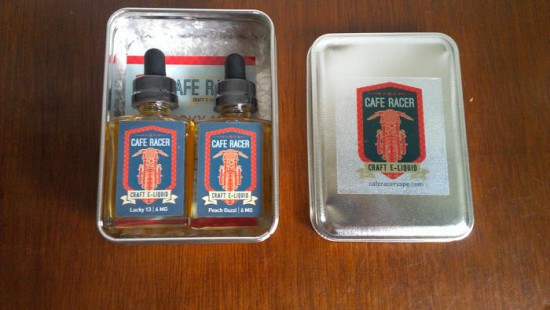 The name wasn't chosen randomly, as Cafe Racer E-Liquid explains on their website: "The personal vaporizer / electronic cigarette industry has a lot of parallels to Cafe Racer culture. The initial electronic cigarettes lacked the performance that people wanted. People started hacking these designs and creating their own mods and early open tank vapes. On the E-Liquid side, people also quickly realized that the initial tobacco and menthol flavors available were ok but there was a whole world of flavor to be explored to create the kinds of flavors that people would really enjoy."
Cafe Racer may be a small company compared to other big names in the e-liquid industry, but they make it a priority to abide by the highest quality standards. Their products are hand-crafted in a GMP and ISO certified laboratory in California and every batch is date and batch coded for strict quality control. Cafe Racer e-liquids are made with USP/food grade ingredients and pharmaceutical grade nicotine, and are diacetyl free.
Cafe Racer e-liquids come in distinctively square-shaped solid glass bottles featuring the company's motorcycle logo on the front, and detailed information – ingredients, warnings and company info – on the back. These are dropper bottles that make refilling your clearomizer, tank or RDA a breeze. They are 70/30 VG-PG ratio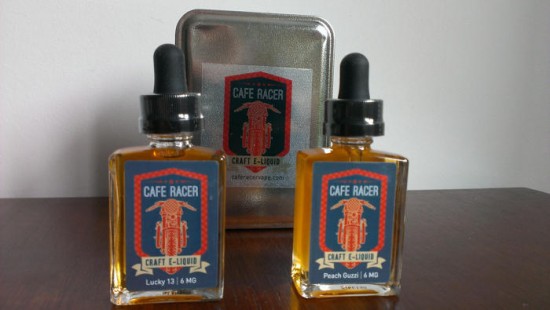 Now that we know a bit about Cafe Racer, lets' take a look at their first two flavors, Lucky 13 and Peach Guzzy:
Lucky 13: A mix of creamy vanilla, toasted almonds and caramel topped off with a hint off tobacco that's bound to appeal to fans of dessert vapes. Allow me to clarify that Lucky 13 can hardly be classified as a tobacco vape, as the tobacco, if there really is any in this juice, is very hard to detect (at least for my senses). Lucky 13 is a very complex vape. Apart from the tobacco, I could definitely taste all the other flavors mentioned in the description but they all blended so well together that they created a whole new flavor, one unlike anything else I had ever tasted before. Think nutty caramelized vanilla, if you will, and yes, it tastes as good as it sounds.
I hardly ever consider deserts as all day vapes, but Lucky 13 is definitely one of the few that actually fits the bill. Yes it's on the sweet side, but the taste is so amazing I actually went through a 30 ml bottle in about five days. Two thumbs up!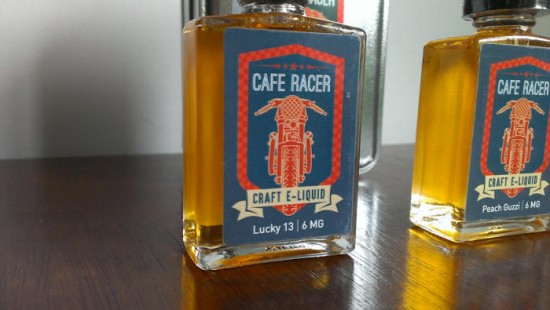 Peach Guzzi: Cafe Racer describes this flavor as "a rich blend of Crisp Peach and sweet Blueberries drizzled in a Vanilla Custard with Green Tea undertones." Normally, I advise readers to take these official description with a grain of salt, because most often than not, these complex juices have overpowering notes that all but mute some of the other flavors. However, that is not the case here. Yes, the peach and blackberries are the strongest flavors of Peach Guzzi, but there is no denying the creamy vanilla custard background nor the unmistakable green tea aftertaste.
I'm a big fan of fruity vapes, and an even bigger fan of berries, so you could say I'm a little subjective about Peach Guzzi, but it was actually the green tea that really made this juice shine.
I vaped Lucky 13 in my Aspire Atlantis tank with an 0.5Ω coil on the Apollo VTUBE V4, at about 30 watts. The flavor in this set up was awesome, and I suspect it's even better in any decent RDA. Vapor production was above average, but the throat hit was weaker than I expected for 6 mg/ml nicotine strength. Again, I'm pretty sure you should feel a much stronger hit if you vape this in an RDA.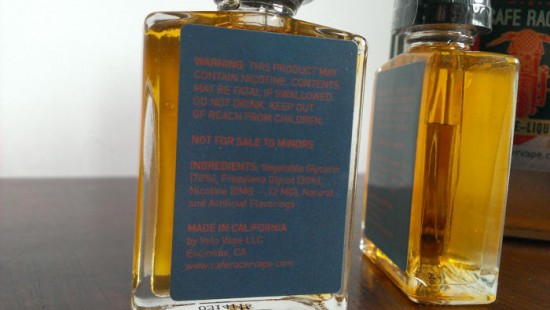 For the Peach Guzzi I used a slightly outdated setup – Kanger AeroTank Mega with 1.5Ω coil on my trusty ol' SMOK BEC Pro at around 4 volts. The flavor was surprisingly satisfying, as was the vapor production. Throat his not so much, though, but that was to be expected considering the hardware. I did drip the last 5 ml of Peach Guzzi in my Tugboat RDA as well, just to check how it performs, and that made all the difference.
Cafe Racer only sells these two flavors right now, but I expect new and even better ones will be available soon. I for one am keeping a close eye on this craft e-liquid company and I suggest you do the same.
UPDATE (March 2016)
Just half a year ago, when I did my original review of Cafe Racer e-liquid, they were just a small craft juice maker struggling to make a name for themselves in a very competitive market. But it seems a lot can happen in a very short time, and the growth of Cafe Racer is proof of that. Their blends are now carried by around 100 shops across the US, as well as distributors in Europe, China and Indonesia. Their very first flavor, Lucky 13, won the Best in Show for the Tobacco & Cigarettes category at the Houston Vape Summit, in October. I loved that juice, so well deserved.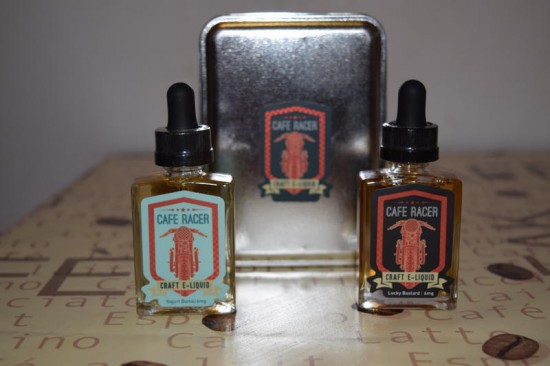 But most importantly, Cafe Racer has launched two new flavors – Lucky Bastard and Yogurt Bomb – which they have asked me to review. Based on my original experience with Cafe Racer, I had a feeling their new creations might be worth a try, and they were kind enough to send me some samples. Let's see if they live up to the company's reputation:
Lucky Bastard: described as a blend of creamy vanilla, toasted almond, caramel and smooth tobacco, this juice is Cafe Racer's take on a classic e-liquid flavor, the RY4. I used to vape that stuff a lot 4-5 years ago, before premium e-liquids became a thing, and I can definitely say this is reminiscent of the buttery tobacco flavor, only a lot better. I say that because I actually tried some RY4 recently and found that I didn't like it nearly as much as I used to.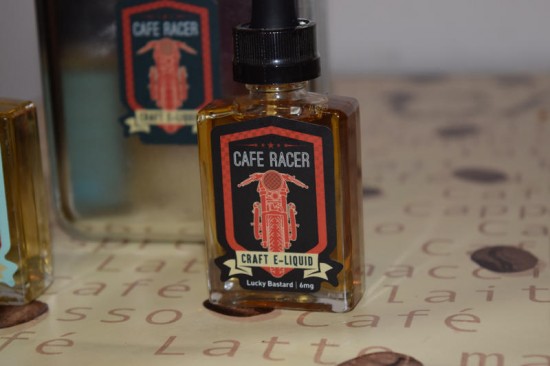 One of the things I appreciated most about Lucky Bastard was the accuracy of the flavor profile. Simply taking a whiff of the juice bottle didn't reveal very much about its flavor, but actually vaping it was a whole different experience (obviously).  The sweetness of the caramel and the aromatic vanilla are delight to the senses on the inhale, while the exhale is dominated by the bold, almost harsh tobacco and toasted almonds. I'm rarely able to taste all the flavors listed by companies in the description of their complex vapes, but Lucky Bastard really does taste as advertised.
Lucky Bastard tastes very similar to Lucky 13, but whereas Cafe Racer's award-winning flavor is a sweet,mild vape, this one is a lot bolder. Cafe Racer had told me that they doubled the tobacco content on their new flavor, but the strong tobacco still took me by surprise. It might have been the 6mg/ml nicotine strength of the e-liquid, but the first draw on my Nixon RDA hit me like a punch in the chest. The lung hit was so unusually strong it almost felt like smoking, only a lot better tasting. I definitely recommend going for the 3mg/ml strength, especially if you plan on vaping it in an RDA.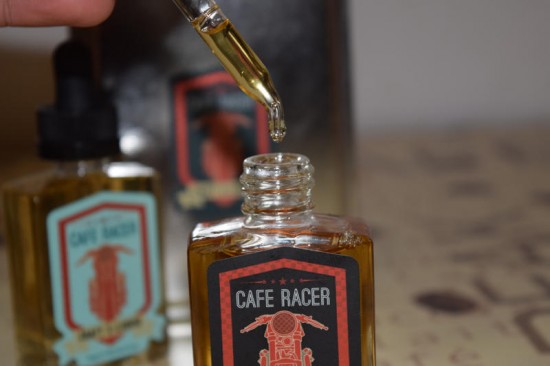 I liked this juice, it's bold, it's flavorful and it's definitely a worthy addition to the Cafe Racer lineup. But, to be honest, I still prefer Lucky 13, simply because it's milder. There was a time when I would have given anything for a realistic tobacco flavor, but I have since moved on to tastier things, and the stronger tobacco flavor just doesn't appeal to me. For tobacco flavor vapers, though, Lucky Bastard is a must try.
Yogurt Bomb: this blend is described by Cafe Racer as "delicious creamy Yogurt infused with Mango, Guava and a dash of Tangerine", but after having tried yogurt-based juices like The Schwartz, I can say they could have done a much better job with this one. Don't get me wrong, I think Yogurt Bomb is a delicious, refreshing vape, but the yogurt I was expecting just wasn't there.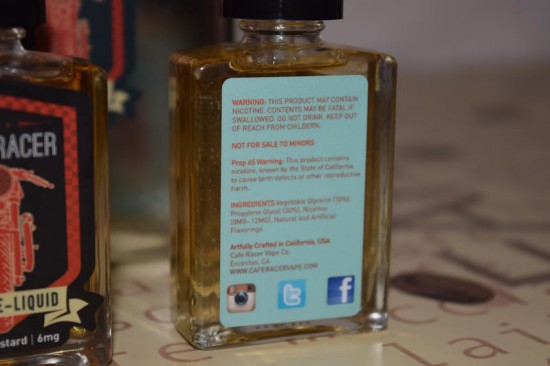 The fruity combination in the company's official description is spot on, though, with the mango and guava being the most dominant flavors and the tangerine giving it a slight citrus taste. I personally love this kind of tropical cocktails, but I do wish Cafe Racer hadn't been so stingy with the sweeteners. Yogurt Bomb is supposed to be a perfect blend of sweet and tart, but in my opinion the big emphasis is on the tartness. Even vaping at 65 watts – which, according to the guys at Cafe Racer is the recommended wattage to bring out the sweetness in this juice – I still felt a bit too tart for my taste. But then again, I do have a bit of a sweet tooth, so if you're into clean unsweetened fruity vapes, you will probably like this juice.
So as long as you're not expecting Yogurt Bomb to actually taste a lot like tropical-fruit flavored yogurt, but more as a cocktail of tropical fruits, I'd say go for it. If not, go for Peach Guzzi, it's a safer bet in my opinion.