Digiflavor Ubox Review
The Digiflavor Ubox is an entry level vaping kit that consists of a small and lightweight mod and a basic sub-ohm tank. Featuring a single button and no complicated settings menu, the Ubox is perfect for beginners looking for decent vapor production, but also experienced users interested in something and small and reliable for vaping on the go.
A Look at the Contents
The Ubox starter kit comes in the usual Digiflavor packaging, a red-and-white cardboard box with a picture of the device on the front, and a list of contents and company information on the back. The kit itself is pretty basic, containing only the assembled Ubox mod and tank, a USB charging cable, a spare coil-head, a bag of spare o-rings for the tank and a flimsy user manual. That's really everything you need to start vaping, except for some e-liquid, which is all you can ask from this type of device, especially at such a low price.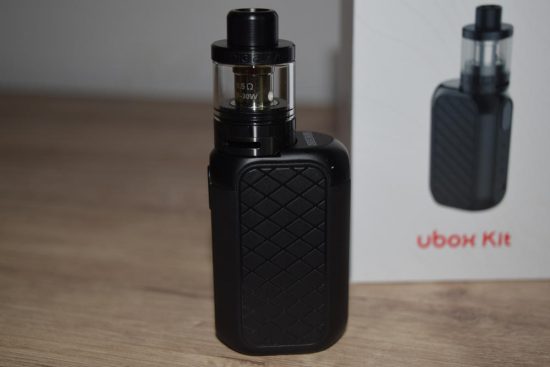 Design and Build Quality
The Ubox mod is definitely not the most visually-attractive vaporizer ever created, but looks were never meant to be its strong point. Instead, Digiflavor focused more on things like simplicity and ease of use, and in those departments, this little guy really shines.
Still the Digiflavor is a slick little box mod with rounded edges and corners as well as textured sides, for improved grip and a better feel in the hand. It measures only 38.5 x 24 x 60 mm, and is so light that I initially thought it was made of plastic. That would have definitely been a con, but it turns out that this device is made of zinc alloy, with a plastic-like finish. It almost feels like a toy in your hand, and it's easy to forget about it when you put it in your pocket.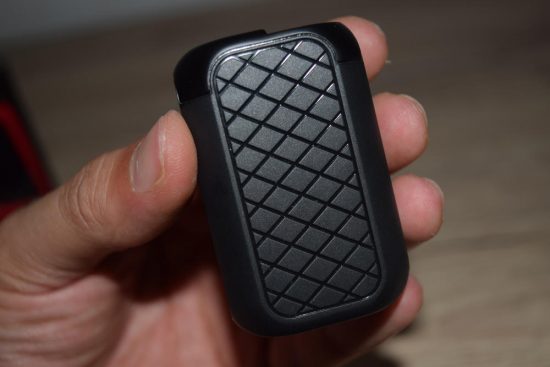 There aren't too many design elements to talk about. The Ubox has just one button, which you use to activate the battery, and to turn the device on and off, by pressing it 5 times, quickly. Under the button are three small LED indicators, all of which light up blue. They act primarily as battery indicators, but also let you know when certain errors occur.
In stand-by mode, the number of LEDs that light up indicate the battery level. When all three of them are on, the battery voltage is over 3.8V, two blue lights mean that it is between 3.6V – 3.8V, and one light indicates that the voltage is low, 3.4V – 3.6V. When the bottom LED light starts blinking by itself, you need to recharge the Ubox.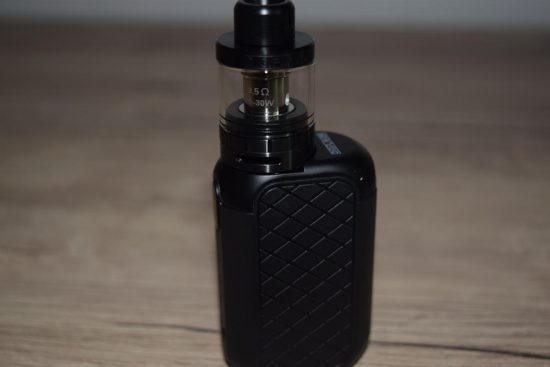 When the top LED light starts blinking, the device has gotten too hot and won't fire until it cools off. A blinking middle LED indicates that you've reached the cutoff limit, and the device will not draw power from the battery any longer, and the blinking bottom LED tells you that the battery voltage is extremely low and you have to recharge it. If you see all three lights blinking at the same time, your atomizer is shorted, so the Ubox will not fire, to prevent accidents.
The thing I found confusing was that the LEDs also lit up progressively, from the bottom to the top, every time I pressed the fire button, and it was kind of distracting. Knowing that blinking lights indicate problems, I was always keeping an eye on them when drawing, to make sure that everything was in order. It's not a huge issue, but I think Digiflavor should have just scraped the jumping lights feature altogether.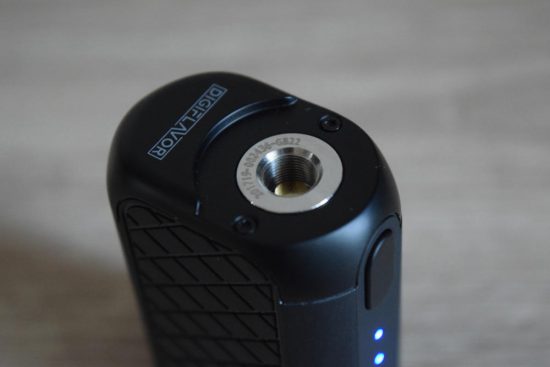 The Ubox mod has a classic spring-loaded 510 connection, but one thing to keep in mind is that the top of the mod is cut out around the connection, so you'll only be able to fit 22mm-diameter atomizers on it. Most people will likely use it with just the included U Tank, so that shouldn't be a big issue.
The pocket-friendly mod also features a micro-USB charging port under the LED indicators, which can only be used for charging, as the Ubox does not support firmware upgrades. On the bottom, it has six battery venting holes, which prevent the built-in battery from getting too hot, even when chain vaping.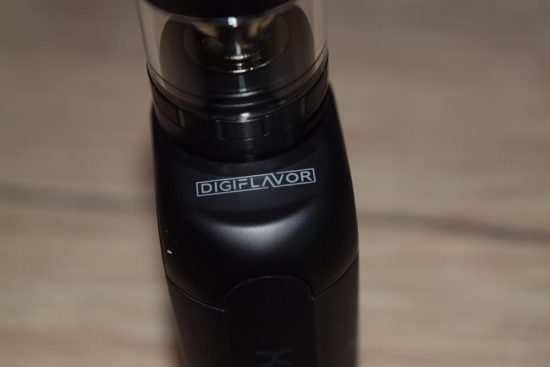 Overall, the Digiflavor Ubox is not the most impressive-looking device I've ever used, but it definitely has a functional design, and despite its cheap plastic-like appearance, it's actually pretty sturdy.
The Tank
The U Tank included in the Digiflavor Ubox kit is your basic sub-ohm tank. It has a simple top-filling system – you just screw off the top cap and fill it up with juice – adjustable bottom airflow slots, and a simple Delrin drip tip. The coils are nothing to write home about either, but they actually perform really well, and that's all you can ask from this type of device. Both the pre-installed coil, and the spare one are rated at 0.5Ω, which match perfectly with the 28W power output of the mod.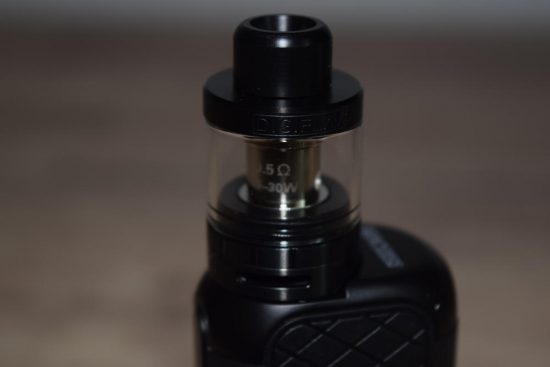 The tank has an e-liquid capacity of 2ml, which may not seem like a lot, but for a relatively low power device like the Ubox, it's pretty decent. I for one, only fill it up a couple of times a day, three times at most.
How It Vapes
While neither the Ubox mod nor the U Tank seem particularly impressive devices, they actually make a great team. I wasn't really expecting too much out of this combo, but it turned out to be one of the best entry-level kits I have ever tested.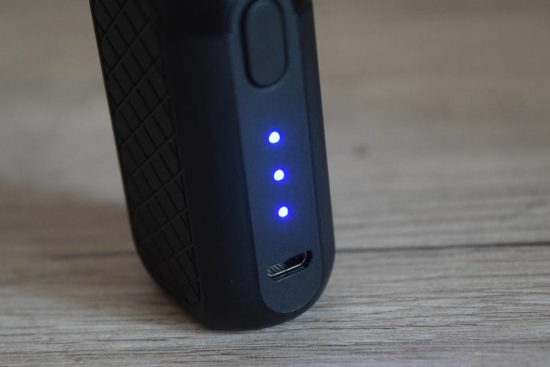 The wattage output of the Ubox caps out at 28W, but that's more than enough to get the best out of those 0.5Ω sub-ohm coils. The vapor production is some of the best I've seen from such a basic device, rivaling that of the popular Joyetech eGo AIO. That's one of my all-time favorite starter kits, but it's a closed system, whereas the Digiflavor Ubox works with basically any 22mm tank, so that's definitely a plus. It also has slightly better battery capacity, 1,700 mAh, compared to the 1,500 mAh of the AIO, and the airflow system is a lot better as well, allowing you to use it either in mouth-to-lung mode or for restrictive direct lung hits.
Flavor is decent as well, definitely above average for a basic sub-ohm tank, but the vapor production is what really makes the U tank stand out. If you're just coming up from tobacco cigarettes, or other entry-level vaporizers, like cigalikes, the thick warm clouds will probably leave you amazed.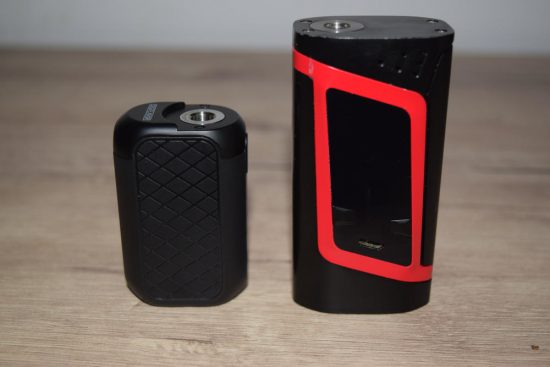 I've been using the Ubox for a week now, and I've experienced no serious issues. The mod works as well as can be expected, although it does have a noticeable delay, at least when compared to the latest advanced mods, like the Smoant Charon, for example. The tank hasn't leaked one bit, it doesn't have any spit-back issues, and unless you overdo it when chain vaping, the chances of getting dry hits are minimal.
Conclusion
The Digiflavor Ubox is like the little engine that could. It might not look like much, but its performance will surprise you. I definitely recommend it as a great entry-level device, but it will also satisfy advanced vapers looking for a cheap and lightweight backup setup for vaping on the go.