iJoy MAXO Review
Chinese company iJoy is on fire these day. Not only are they releasing new products virtually every month now, but they are also number one when it comes to innovation. After launching the world's first dual-26650 regulated mod – the iJoy/Limitless Lux – they have recently released the first quad-18650 device, the massive iJoy MAXO. Promising a maximum power output of 315W and double the battery life of a dual-18650 battery mod, the MAXO is probably the most eagerly anticipated vaping device of 2016, but we've seen plenty of other promising products fall flat upon release, despite looking great on paper. In this review, we're going to take a close look at the new iJoy MAXO and see if it's really as good as it sounds.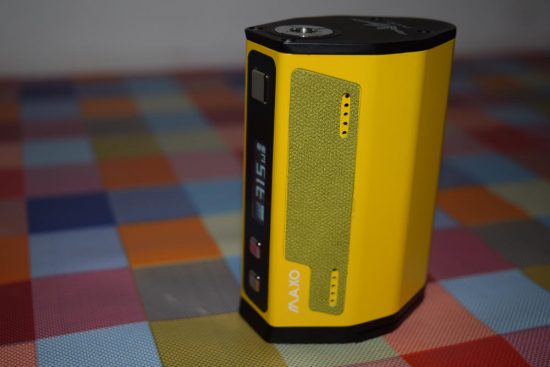 A Look at the Package
For such a groundbreaking device, the MAXO comes in a very unimpressive looking package – a big black box with just the iJoy logo and the MAXO name on the front and some company information on the back. There's literally nothing else, no photo of the actual mod, no technical details, not even an over-the-top description of its capabilities. If you were to pick this up in a brick&mortar shop and you knew nothing about it, you'd probably just end up ignoring it. If you're the type of person who appreciates ultra-minimalism, you might actually appreciate this packaging, but I for one think iJoy could have done much better, especially for a device that is literally the first of its kind.
The contents of the kit are pretty standard – you get the MAXO quad-battery mod, a USB charging/upgrade cable and a user manual. The only thing that stands out is a bag of stickers that you can use to personalize the look of the mod. There are five different pairs that come in different colors and textures, from leather to carbon fiber, and they actually add to the overall look of the device. The only thing I don't like about them is that they are just simple stickers, so when you decide to replace them, you basically have to throw the old pair in the trash. It's not a big deal, as I'm pretty sure you'll be able to buy cheap spares separately, but I think using some kind of magnetic system would have been a much better choice. With magnets being so popular in the vaping industry these days, I don't think it would have been so hard to implement here.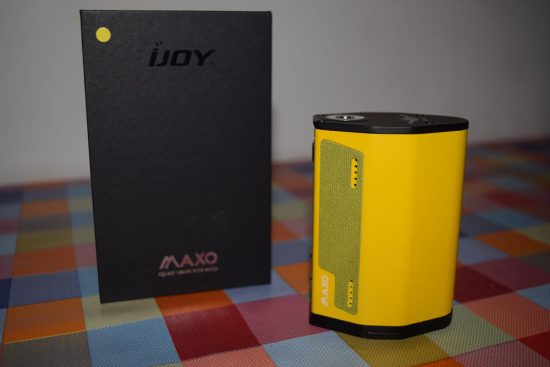 The Design
The iJoy MAXO has a squashed hexagon shape, similar to that of the very popular Wismec RX200, only it's a bit bulkier, to accommodate the extra 18650 battery. The Chinese company describes the design of this mod as ergonomic, and I guess it is, but only if you have big enough hands. This thing is 64mm wide and 41mm thick, and I have tiny hands, so it's not exactly a match made in heaven. Luckily I have long fingers so I can wrap my palm around it completely for better grip, but it still feels like I'm grabbing a small brick. I can't really count this as a con though, since this is a quad-battery mod, and I actually expected it to be even bigger than it is.
As you may have already guessed, the MAXO isn't the lightest vaporizer you can buy, either. Out of the box, it weighs a decent 227 grams, but that weight almost doubles to 380 grams after you insert the four batteries. That's close to a pound, so it's not exactly the best option in terms of portability. I for one have been carrying it in my jacket pocket for the last two weeks, but only because I was using it exclusively, to test the battery life. It feels very heavy though and draws a lot of unwanted attention when using it in public.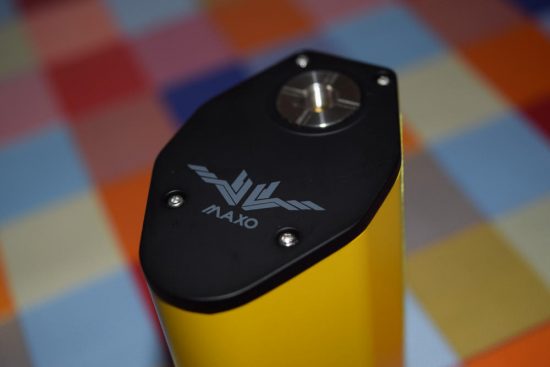 Again, the size and weight of the iJoy MAXO can't really be considered cons. This is a 4-battery device, it's not meant to be small and comfortable, so as long as you can accept that as a compromise for long battery life and extreme power output, you're not going to be disappointed. Plus, it's the first such device on the market, so I have nothing to compare it with.
The buttons and the display are located on one of the small sides of the iJoy MAXO. The buttons – a large fire button and two smaller wattage/temperature adjustment buttons – are metallic and square in shape. They're nice and clicky, but most importantly, they make no annoying rattling noise, even if you shake the mod.
The MAXO has a classic rectangular OLED display that's bright enough to be visible in any lighting. It shows the wattage/temperature in large font, as well as the resistance of the atomizer, real-time voltage, and the battery life of each battery/battery set. It comes with a protective plastic foil, which I recommend you keep for as long as it lasts, to avoid scratching.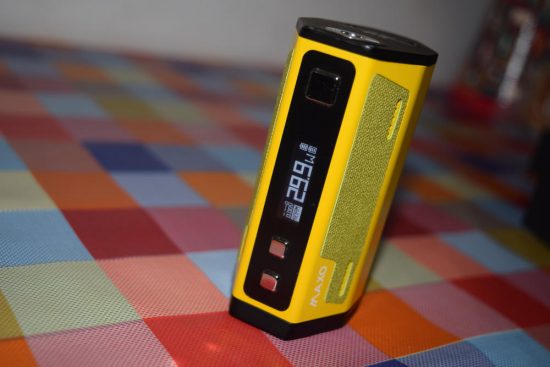 The hinged battery door on the bottom of the device, is similar to that of other recently released devices, like the SMOK Alien 200W, for example. When taking the MAXO out of the box for the first time, you'll notice that the door is very wobbly, but that's nothing to worry about, as this is a pressure-activated battery door that fastens firmly into place after you insert the batteries. Locking the door in place is done by pressing it down over the batteries and then pushing it inwards. However, closing the door with four batteries inside requires a bit of force, so don't be afraid to push it down as hard as you can, you're not going to break anything.
Another thing I like about the battery door and battery compartments is that they make it very clear how you should insert the batteries, even though the MAXO does have reverse battery protection. You have clear marking on both the inside and the outside of the battery door, as well as on each of the battery slots, so you'd pretty much have to be blind to put them in incorrectly.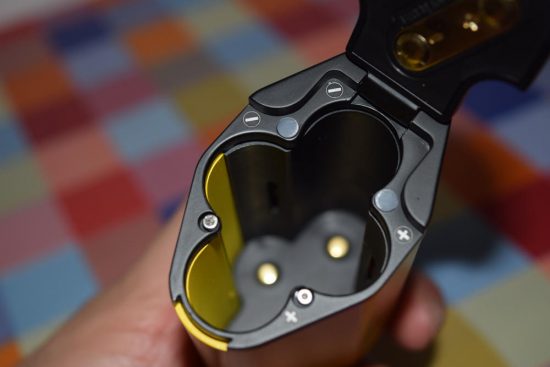 On top of the device you have a spring-loaded five ten with gold-plated pin. This connection is probably the thing I liked least about the iJoy MAXO. Don't get me wrong, it works perfectly, but I just have a problem with its placement and its design. With so much space to work with, I just can't understand why iJoy decided to position the connection so close to the edge. 25mm atomizers fit just fine, and you could probably fit a 26mm one as well – if you can find one – but anything over that will overhang. We already have 28mm RDAs and tanks, and they're probably going to be even bigger soon, so why not plan ahead? A bit of overhang is not a deal-breaker, obviously, but why not prevent it by moving the connection a bit more towards the center of that large hexagonal deck?
Another gripe I have with the connection of the MAXO is that it is slightly raised. I understand that they wanted to prevent scratching that matte black finish, but anything you put on this thing will leave a gap. It's not the biggest, but also not the smallest gap I've seen, but it can be annoying if you really care about atomizer sitting flush. They are flush, actually,only on the connection ring, not on the mod.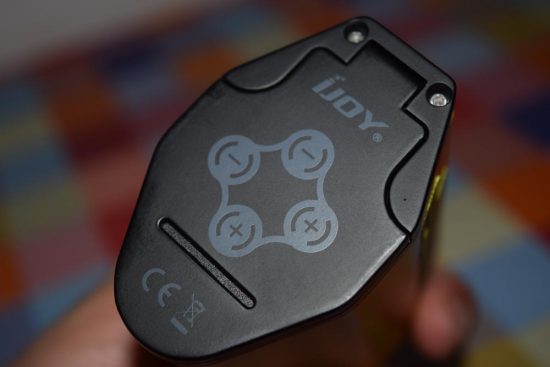 We already talked about the stickers on the sides of the iJoy MAXO, so I'm not going to get into that again. Other design features worth mentioning are the four battery venting slots – two on each side – and the micro-USB port that can only be used for future firmware upgrades.
The Menu
As I mentioned, the iJoy MAXO uses the same Iwepal chip as the iJoy Limitless/Lux, so the menu is pretty much identical. That's a good thing, because this is probably the most simplest menu I've ever had the pleasure to fiddle with on an advanced mod. You can access it by pressing the power button three times in rapid succession. Once in the menu, you can use the "up" and "down" buttons to scroll through the options. You can select from three types of materials for temperature control mode (stainless steel, Ni200 and titanium), put it in wattage mode, flip the orientation of the display and personalize your vaping experience.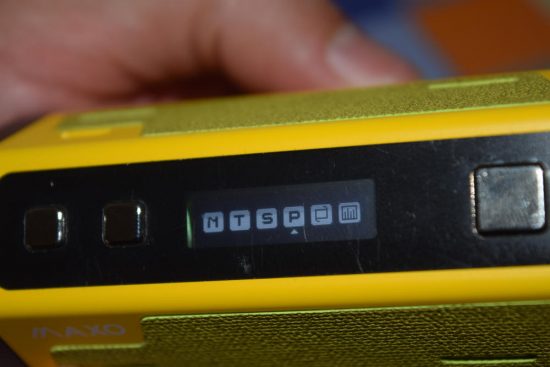 That last option is the only one that actually has a submenu. You can select from "Soft", "Normal", "Hard" and "User". The first one tells the mod to fire at 20% less power than its actual setting for the first 0.5 seconds of the draw, while "Hard" tells it to fire at 30% more power for the same duration. The "User" option allows you to set the wattage for the initial 3 seconds of the draw, in 0.5 second increments.
There are no filler options in the iJoy MAXO menu, and no ultra-advanced ones like TCR, but how many of us actually mess with TCR anyway? This is a damn good menu if you only care about the basic stuff, you know the things that actually impact the vaping experience.
I'd also like to mention the fact that adjusting the wattage in temperature control and switching from Celsius to Fahrenheit can be a bit confusing at first. To change the wattage, you have to press the "up" button once and the "W" icon will start blinking. You can then scroll to the desired value using both the "up" and "down" buttons. and lock it in by pressing the power button. Adjusting the temperature is the same, only you start by pressing the "down" button.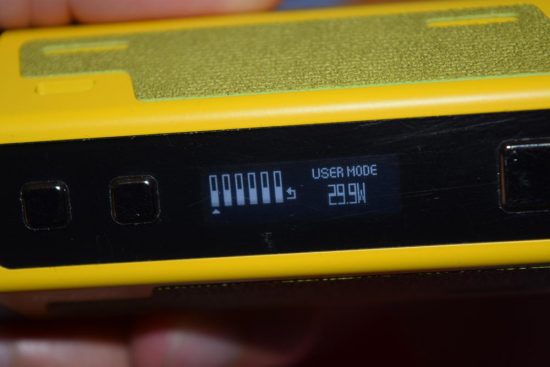 Most mods switch from Fahrenheit to Celsius when you scroll to the lowest or highest limit in temp. control. The iJoy MAXO is kind of the same, only it doesn't switch automatically when you scroll to these limits. Instead, you have to press the "up" or "down" button again for it to change to a different degree system.
Battery Life
Estimating battery life on a variable wattage device that runs on removable batteries is tricky, because everyone uses different builds, different capacity batteries and vapes at different wattage levels. All I can really say about the iJoy MAXO is that it will give you double the battery life that you get on a dual-18650 mod. So if you're using the same build and batteries, and vape at the same wattage on say the SMOK H-Priv, you get twice the battery life with the iJoy MAXO, when using it in quad-battery mode.
That's one thing that I forgot to mention in the description – the MAXO can be used with either four or two batteries. Just make sure to place them in the same slot set (+ and -). I guess it's nice to know you can use this mod in dual-battery mode as well if, for some reason, you only have two charged batteries, but otherwise I don't see why you'd want to do it. The main draw of the MAXO is the extended battery life you get from four batteries, and I for one only use it in quad mode.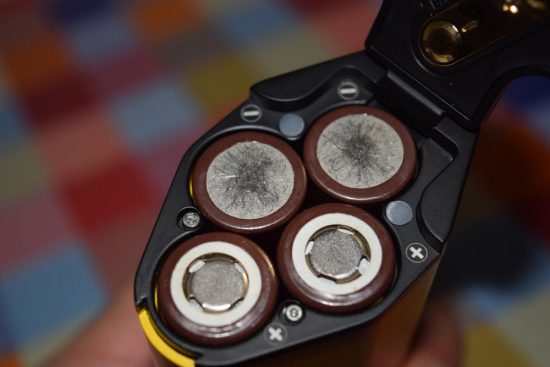 Although this really isn't very relevant, for reasons I mentioned in the above paragraph, in the couple of weeks leading up to this review, I've gotten an average battery life of three days from the MAXO, using it almost exclusively (I'd say about 90% of the time), at 80W (either in power mode or temperature control). That's double what I usually get from my dual-18650 mods, which is pretty much what I expected.
Obviously, if you plan on using it at a higher wattage, say 150W, or even the mind-blowing maximum power output of 315W, you're going to get considerably less vaping time, but it's still going to be double what you would get with a two-battery vaporizer.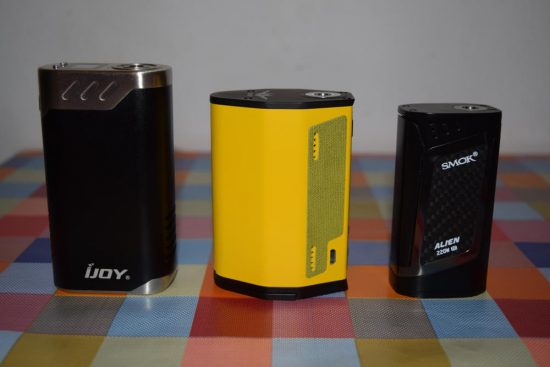 Performance
Leading up to the release of this beast of a mod, I noticed everyone posting on vaping forums about it was wondering if it could really do 315W. Unfortunately, I won't be able to answer that question, and, to be honest, I don't see why anyone would be curious about that. Who's going to vape at that insanely high wattage anyway? But, I guess if any mod is capable of reaching that power output, it would have to be the iJoy MAXO. Maybe it's not going to be 315W, but 300W definitely seems plausible.
Personally, I have only used the MAXO at a top wattage of 150W, and that was only to test one of the coils of the iJoy Tornado 150. Most of the time, though, I vaped it at around 80W, both in power mode and temperature control. Interestingly, the MAXO doesn't go over 80W in temp control, which I found to be a little strange, for such a powerful device. It was certainly enough for my builds, but I'm thinking that some people might need a bit more than that for some insane builds.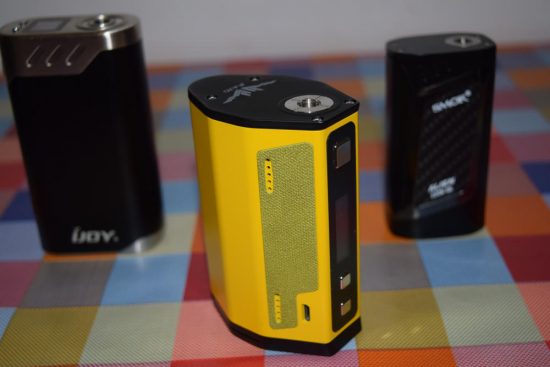 As always, I mainly used the iJoy MAXO in power mode, and I was very satisfied with its performance. There is virtually no delay when pressing the power button and I experienced no misfires in the two weeks I have been using it for.
I'm not a big fan of temp. control in general, but I did do the dry cotton test to see if the MAXO would temp. protect, and it passed with flying colors. There were some brown marks on the cotton when testing at higher temperatures and wattage, but that's to be expected, with any device. I also vaped in temperature control for a few hours, using a couple of stainless steel coils on the Tornado 150 RBA, and the iJoy MAXO performed surprisingly well. One of the things I don't like about temp. control is that it feels a bit week, at least on some mods, but that was definitely not the case with the MAXO. If anything, it sometimes felt a bit overpowered, so I had to crank down the wattage.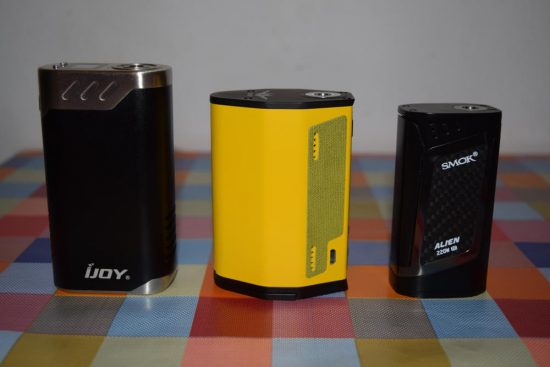 The iJoy MAXO comes with a series of built-in protections, and I tested some of them to see if they'd actually save me in the case of a malfunction. The short-circuit protection works just fine, as do the reverse polarity protection and low battery voltage protection. I wasn't able to test the overheating protection, and, hopefully, I'll never have to deal with that problem.
Conclusion
The iJoy MAXO is not for everybody. If you hate bulky, heavy devices that are cumbersome to carry around, and don't care that much about extreme battery life and insane power output, you're probably not going to be too impressed with it.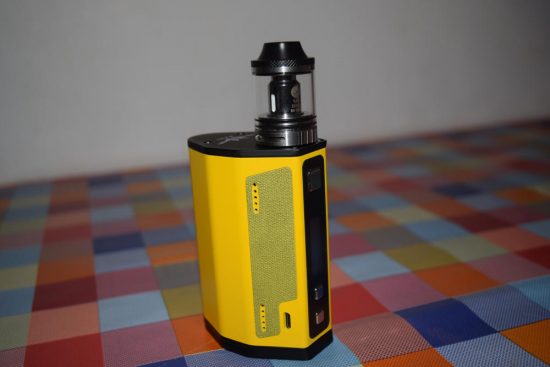 However, if you hate having to recharge or swap batteries every day as much as I do, the iJoy MAXO is definitely something you'll want to consider. I don't even care about the 315W power output, as even the 220W limit of modern dual-18650 devices seems like overkill to me, but the insane battery life you get out of this thing is awesome. So unless you're constantly on the go, in which case you want something a little more portable, this big boy will allow you to vape for at least a couple of days without having to worry about battery life.
At the end of the day it's just a matter of what matters most to you, battery life and performance, or comfort and portability. If you prefer the first, the iJoy MAXO is a great option, especially at an average price of $80.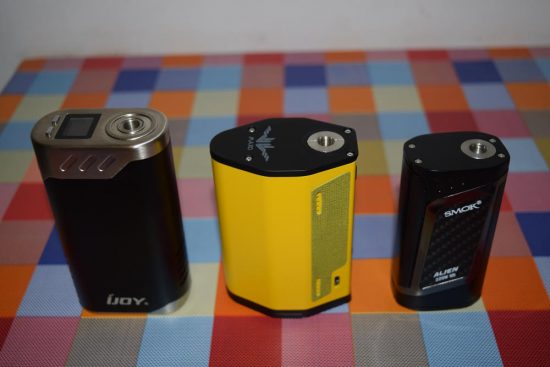 A big 'thank you' to our partners at Heaven Gifts for sending us the iJoy MAXO free of charge, for the purpose of this review!