Sugar Pie Vapes E-Liquid Review
Sugar Pie Vapes is a UK-based e-liquid company offering a range of delicious flavors inspired by New York bakery treats. With flavors ranging from sweet apple pie, to various glazed and filled donuts, and even maple nut brittle, their lineup is aimed at fans of decadent dessert vapes. Let's see if these mouth-watering flavors are as good as they sound:
Presentation
Sugar Pie Vapes e-liquids are available in two types of bottles – 50ml short-fill unicorn bottles (0mg/ml nicotine), and TPD compliant 10ml bottles in three different nicotine strengths (3,6 and 12mg/ml). As I personally hate those tiny 10ml bottles that are empty before you can even tell if you actually like an e-liquid or not, I opted for the short-fill version and added my own nicotine.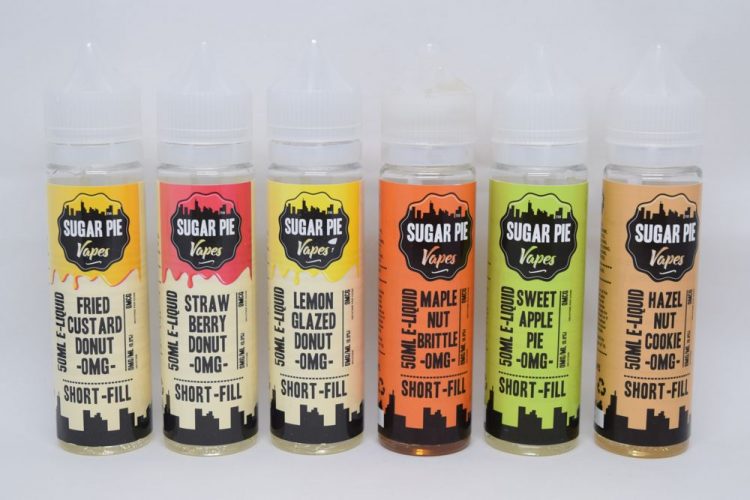 Both bottle variants features virtually the same packaging and labelling. Each bottle comes in a colorful cardboard box matching the flavor of the juice and featuring all the mandatory information and warnings. You have your ingredients, the nicotine strength, flavor profile, batch number and best-before date, company information. The packaging is clearly well thought-out, which is something I for one have come to expect from UK e-juice companies.
As for the design, it's not too shabby either. The labels and boxes all come in appealing colors, features a skyline at the bottom reminiscent of New York as well as the Sugar Pie Vapes logo, which is actually the shape of a pie.
I should point out that all short-fill e-liquids are 70VG/30PG, while the 10ml bottles comes in both 70VG/30PG and 50VG/50PG, depending on the nicotine concentration. So I only got to try the former, which is fine, since I don't really vape mouth-to-lung anyway.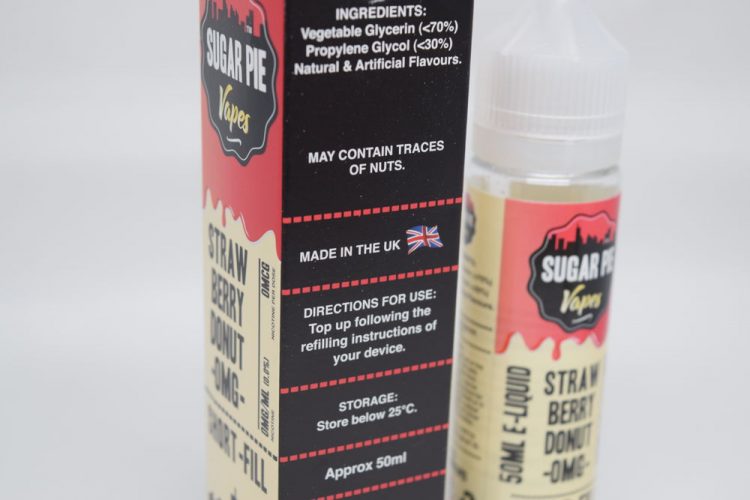 Now that we've gone through the introduction, let's check out the delicious-sounding Sugar Pie Vapes flavors:
Flavors
Sweet Apple Pie – Interestingly, this is the only pie flavor in the current Sugar Pie Vapes e-liquid line. According to the official description, this juice is supposed to taste like "a sweet bakery flavour with tart apples, juicy raisins and a sprinkle of warming cinnamon and topped with a scoop of fresh vanilla ice cream". That sounds mighty delicious, indeed and it also sets the bar really high for this juice.
Sweet Apple Pie is a good apple pie flavor, but don't expect it to taste like your grandma's apple pie. You get the apple and cinnamon filling both on the inhale and the exhale, but I wish the pie crust notes were a bit stronger. You are left with a dough-like aftertaste that blends with the filling, but it's not as strong as I would have liked it to be. That vanilla ice-cream didn't make its presence felt at all, or maybe my taste buds just aren't sensitive enough, either way nothing to report on the ice-cream.
All in all, a nice flavor that does a good job of recreating the taste of a classic dessert in vapor form.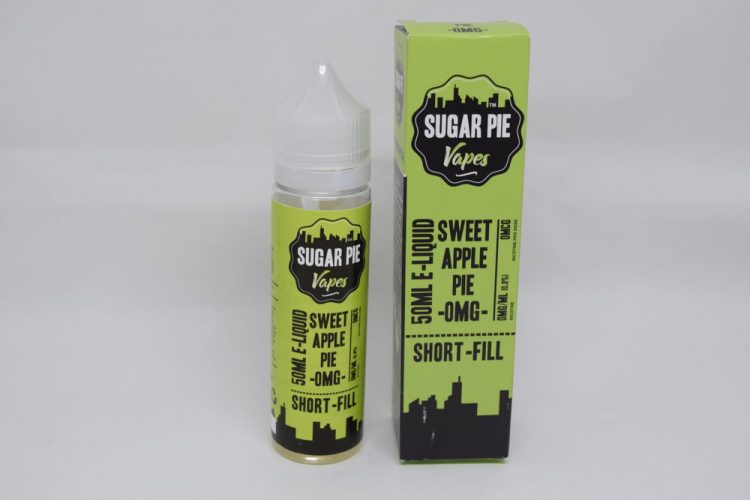 Lemon Glazed Donut – There may be just one pie in this e-liquid line, but we have several donuts. First up is the Lemon Glazed Donut, which is meant to taste like "a freshly made, fluffy warm donut, lovingly drizzed with a sweet and tangy citrus glaze". Sounds pretty good, right?
This is one of my favorite flavors in the Sugar Pie Vapes line, but, to me, it tastes more like a lemon pastry than a donut. As someone who has been trying to find a god donut flavor for DIY juice for a long time, I can tell you that recreating a realistic donut flavor is quite a challenge, so I can't fault the Sugar Pie Vapes mixologists too much. This is still a flavorful lemon dessert e-juice, but it just doesn't  taste like a lemon glazed donut to me.
So if you're into lemon glazed pastry, give Lemon Glazed Donut a try.
Hazelnut Cookie – The guys at Sugar Pie Vapes describe this flavor as "gooey marshmallow and delicious hazelnut pieces loaded into a freshly baked cookie so good you won't want to put it down". They can write a mouth-watering flavor description, I'll definitely give them that.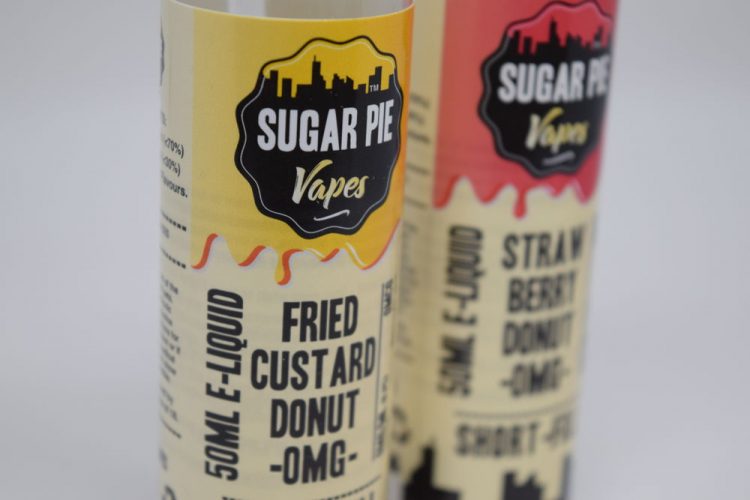 I'm not that good with words, so I'll just say that this is a very realistic-tasting hazelnut cookie e-liquid. I don't know about that gooey marshmallow, but this juice has a very strong hazelnut flavor and the doughy goodness of the cookie is very clear in the background. There may some secondary notes in there that my senses didn't detect, but hazelnut and cookie are the two dominant ones, as they should be.
While this juice is well-balanced, that hazelnut can make you feel a bit nauseous if you vape it for too long, so Hazelnut Cookie is definitely not an all day vape.
Strawberry Donut – As the name suggests, this juice "combines sweet and sticky strawberry jam with a freshly made donuts". At least that's what it's supposed to taste like according to the description on the Sugar Pie Vapes website.
I didn't get much donut out vaping this e-juice. It could be that the strawberry jam is overpowering all other flavors, or maybe there is very little donut flavor in it. Either way, this tastes more like plain strawberry jam to me, which is not necessarily a bad thing, because it's actually a very nice flavor. However, if you're expecting a fluffy donut, you may be disappointed.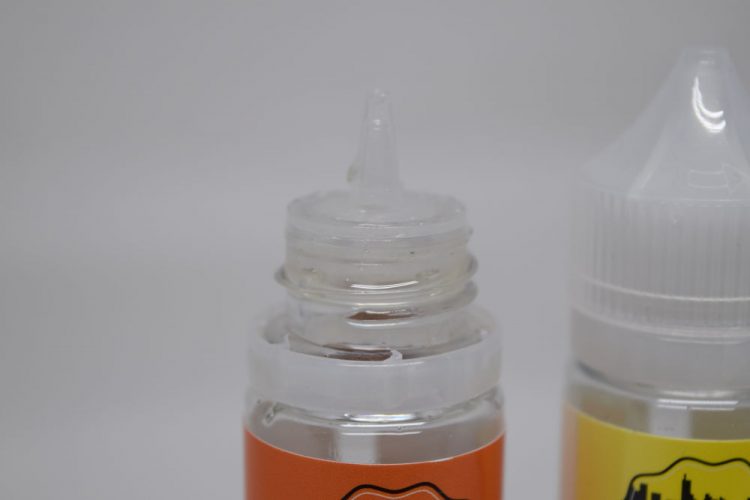 Strawberry Donut is not a bad e-liquid by any means, but it's also not the most accurate strawberry donut e-juice ever created
Fried Custard Donut – This is your classic freshly fried donut filed with creamy vanilla custard, and a hint of strawberry.
Like the other two donut flavors in the Sugar Pie Vapes line, Fried Custard Donut tastes a lot like its filling, and almost nothing like a donut. Yes, the custard is sweet and creamy, and you can even taste that hint of strawberry mentioned in the description, but the donut is very discrete. I get a hint of it on the exhale, but for a juice that's supposed to taste like a donut, it's just not enough, in my opinion.
I'd be lying if I said I didn't enjoy vaping Fried Custard Donut. As I said, it's a good vanilla custard and the hint of strawberry makes it more interesting, but it definitely needs a bit more donut.
Maple Nut Brittle – I usually leave the best for last when reviewing e-liquids, and this time is no different. Out of all the six flavors I received for this review, this is definitely my favorite.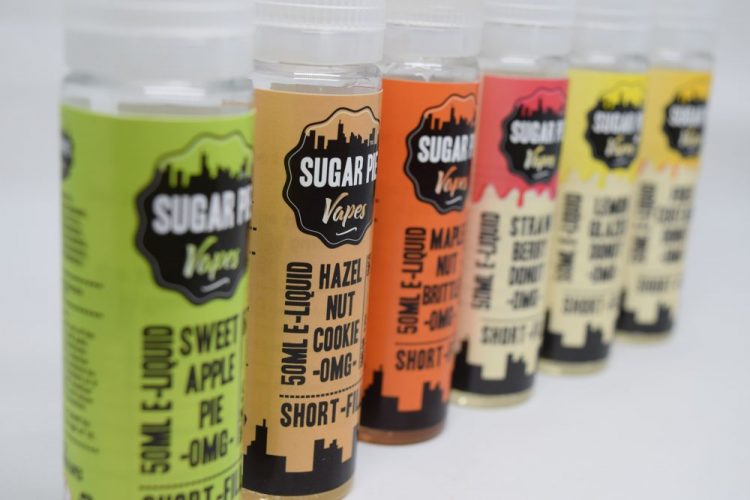 This is a simple yet delicious e-juice. It's basically a traditional peanut brittle with a hint of sweet, spicy maple syrup. If you're looking for something to vape with your morning coffee, Maple Nut Brittle is perfect. I've been vaping it for over a week now and I can't imagine starting my day without it.
Like Hazelnut Cookie, this is a rich, sweet flavor that is best vaped in moderation, so I definitely wouldn't call it an all day vape.
There are a couple of other flavors in the Sugar Pie Vapes line that I didn't get to try, but these six were more than enough to get an idea of the quality of the entire range. Considering that these are all budget e-liquids, I would say they are definitely worth a try. Sure, some of them don't live up to their official description, but they are still very enjoyable, and if you can't afford to vape tens of millilitres of premium e-juice every day, they are a great alternative.
All Sugar Pie Vapes e-liquids were sent to me for the purpose of this review by TABlites. They are currently selling the 50ml short-fill bottles for £14.99, but you can find some of them even cheaper, as they are often on sale.