Teardrip E-Liquid Review
Teardrip Juice Co. is an artisan e-liquid company based in Orange County, California that specializes in delicious fruit-based dessert vapes. Teardrip premium e-juice hit the market last summer and has been getting rave reviews ever since, so I just had to give it a try.
Teardrip may be a small, relatively unknown e-liquid maker compared to other big players in the industry, but they surprised the hell out of me from the moment I laid eyes on one of their juice bottles. Normally, I don't put much emphasis on labeling and packaging, but Teardrip really deserve some praise for their minimalist yet eye-catching design and responsible attitude toward safety.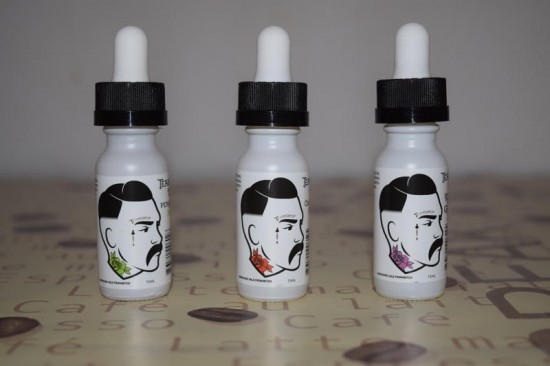 The three Teardrip juice flavors come in opaque white bottles with child-safe dropper cap bottles. The label is dominated by the company icon, a mean looking duded sporting a mustache, hard part haircut, a floral tattoo on his neck and a juice dropper on his cheek. Apparently, they even gave him a name – Chuey. This is probably the coolest, most original juice company logo I've ever seen, so kudos to Teardrip on a very inspired choice.
But what really left me impressed was the amount of useful information listed on the back and bottom of the juice bottles. You have you usual nicotine warnings (do not drink, keep out of reach of children, etc) and the number of the US Poison Control Center in case of accidents, a detailed list of ingredients, nicotine strength and the VG/PG ratio, company info and address, and on the bottom you have the batch number and use-by date. What more can you ask for? If every juice company would be this responsible, I could actually see self-regulation of the industry as a viable alternative to the FDA's drastic rules.
Teardrip juice comes in 15 ml or 30 ml bottles – priced at $12 and $22, respectively – and in 0, 1.5, 3, 6 and 12 mg.ml nicotine strengths. All flavors are 70VG/30PG blends. And now for the Teardrip flavors: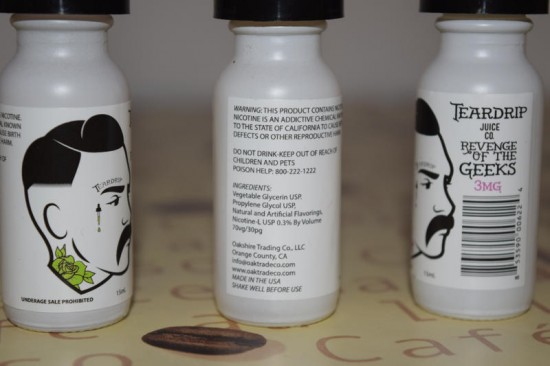 Revenge of the Geeks: this has to be one of the most confusing juices I have ever vaped. I did not go over the flavor profile description on the Teardrip website before trying it, and that very first mouthful of vapor simply overwhelmed my senses with a variety of flavors. It was definitely fruity, but sweet and tart at the same time. I got a clear taste of citrus – orange or lemon, or both – but other than that I couldn't really put my finger on the rest of the fruits. Sometimes I got a hint of strawberry, other times I could swear I could taste a candy grape flavor, but most of the time it was just a sweet-and-tart fruit punch flavor.
After reading the official description, I learned that Revenge of the Geeks was inspired by SweeTarts, a type of sweet and sour fruit-flavored candies that are apparently quite popular in the US. I've never actually tried them, so I can't say if they actually nailed the flavor, but it matched my initial impression of the juice, at least to some degree.
If you're a fan of SweeTarts, sweet-and-tart flavors or fruity vapes in general, you should definitely give Revenge of the Geeks a try, but I for one can't say I was too impressed with it. It's a complex multi-layered juice, but it's a bit too confusing for my taste.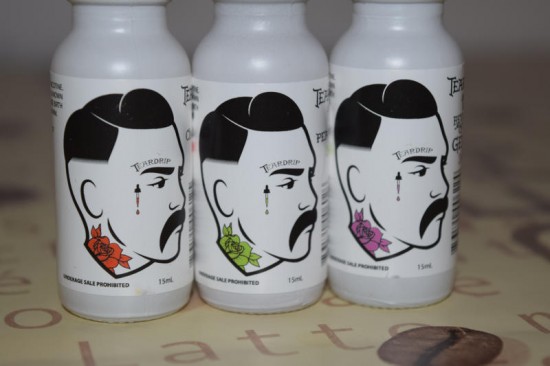 Cinnapps: from that very first mouthful of delicious vapor, I knew there was something familiar about this flavor but I couldn't put my finger on it. It actually took me a whole day of vaping Cinnaps to realize just how much it tasted like one of my favorite dessert vapes – Bear Claw by DRPN. It's not identical, but it's really, really close, and if you've read my review of DRPN juice, you know how much I liked it.
Teardrip describes Cinnapps as an "orchard fresh red apple parfait with a cinnamon sprinkle", and even though I didn't get a fresh apple taste out of it, but more of a sweet apple filling, I was pleased that they only used pinch of cinnamon that only complimented this fruity goodness instead of overpowering it.
Apple parfait isn't a very popular dessert in my neck of the woods, in fact I think I've only tried one once when I was just a kid, so I don't really know if Cinnapps is an accurate flavor, but if there's anything I would compare it with, it's definitely a yummy apple pastry.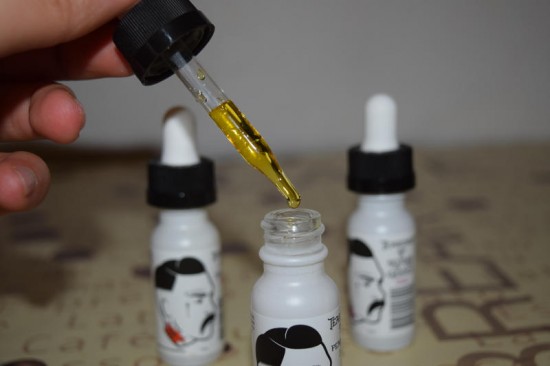 Peardrip: this is the flavor that basically convinced me to give Teardrip juice a shot. "Sugar torched pear with a caramel drizzle", can you think of anything more delicious? And the best part is that this e-liquid actually tastes as good as it sounds. I actually didn't know pear works so well with caramel, but I guess we learn something new every day, and Pearamel was one heck of a revelation.
The pear taste in this juice isn't that crisp, juicy flavor of a freshly picked fruit, but more of a creamy butter, but that may be the effect of the delicious caramel, anyway the pint is I would be much more inclined to call this a dessert vape rather than a fruity one. And since I have a massive sweet tooth, I couldn't be happier about that.
I really feel compelled to give Teardrip props both for the original ides of a pear-caramel combination, and for the masterful execution, because this juice is simply delicious. If you're in the market for a new dessert flavor, I highly recommend you give Pearamel a shot.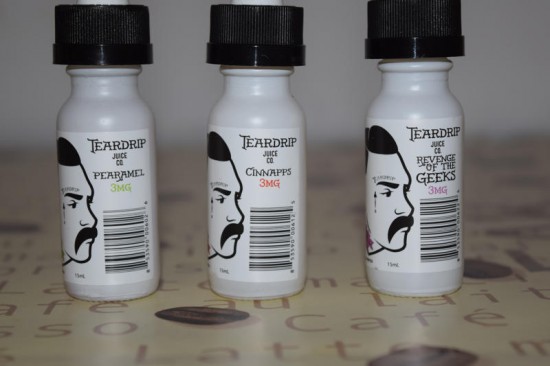 The only thing I regret is missing the chance to try the new Teardrip Cremlon, a creme brulee with a hint of Meyer lemon zest. They launched it soon after I ordered their first three flavors, but if these are any indication, it's worth a try. I plan on picking it up first chance I get, along with the company's new line – Mistress by Teardrip.