T-Juice E-Liquid Review
T-Juice is one of the oldest and most successful e-liquid brands in Europe. Although it has become virtually synonymous with its most popular flavor, Red Astaire, T-Juice currently offers a total of 36 different e-liquids and concentrates, from tobacco, to desserts and fruity vapes. It would have taken me forever to go through all of them, so for this review I picked a few flavors I found interesting just to get a general idea about the quality of T-Juice e-liquid. Here we go:
Presentation
T-Juice is a UK-based company so it (still) has to abide by EU laws, which means it can only sell nicotine-containing juice in child-proof bottles of up to 10ml. If you like to mix your own juice, you can also get nicotine-free versions of their e-liquid in 30ml bottles. For this review, I opted for the 3mg/ml nicotine strength, hence the tiny bottles.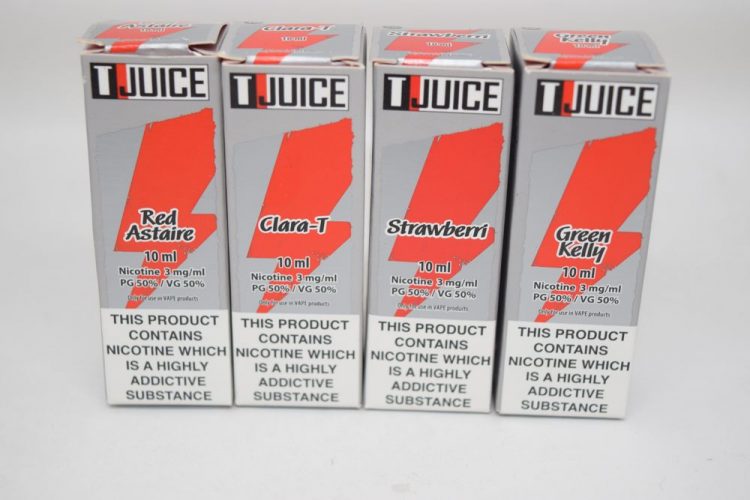 Every bottle of T-Juice e-liquid comes packaged separately in a cardboard box featuring the company's logo, the name of the flavor, nicotine strength, a list of ingredients, PG/VG ratio, all the mandatory warnings, batch number and best-by date. The same information also shows up on the bottle, so you can find it even after throwing away the box it comes in.
All T-Juice e-liquids are 50PG/50VG, so they are suitable for both mouth-to-lung and direct-lung vaping, although they may be too fluid for certain tanks and cause leaks, so keep that in mind.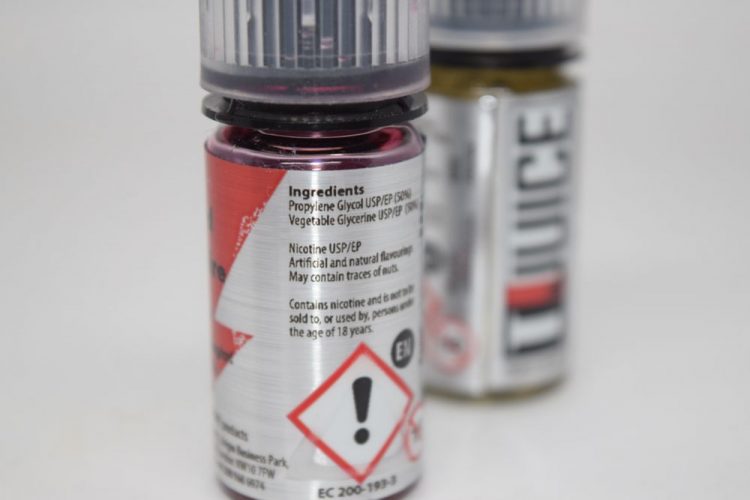 Flavors
Red Astaire – According to the T-Juice website, this unique flavor "blends lush red berries and black grape with punchy notes of sweet eucalyptus, subtle aniseed and a finish of menthol".
Red Astaire is by far the most popular T-Juice flavor, and one of the most vaped e-liquids in Europe, so I was really curious to know what all the hype was about. I had noticed its iconic logo in vape shops before, and had seen people sing its praises in multiple Facebook vape groups, but I had never actually tried it myself. The aniseed was what kept me away, to be honest, as virtually all the aniseed containing juices I have tried before turned out to be too spicy for me. But maybe this one would be different…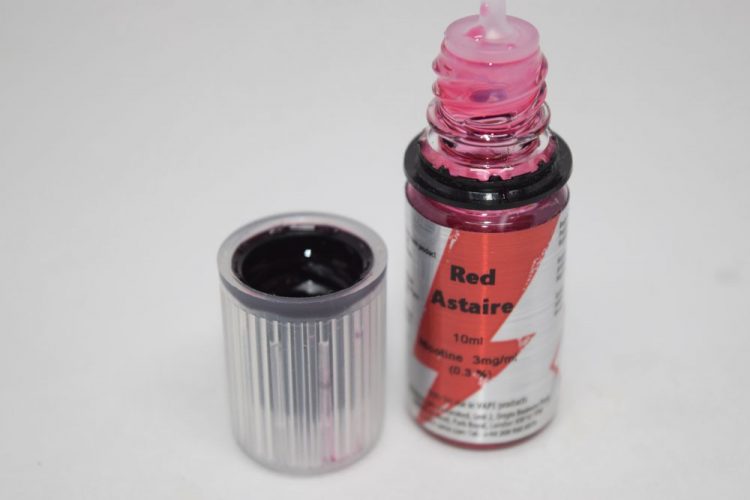 Reading the official flavor profile of Red Astaire, I imagined it would taste like those fruit-flavored cough sweets my mother would make me suck on when I was a kid, Halls I think they were called. They were pretty good, but not really my candy of choice. For once, my intuition didn't betray me, and the first draw of Red Astaire took me back to my childhood days. It tastes just like a fruity cough sweet, and I found that the eucalyptus and menthol it contains actually clears your nose, just like a real cough candy, so I guess that's an added bonus?
I'm still not a fan of aniseed, but it's really subtle in Red Astaire, so I wouldn't describe this vape as spicy. It's more of a cool, minty vape with a berry aftertaste, so if that sounds appealing, definitely give it a try.
Starwberri – For this flavor, T-Juice have "taken a punnet full of strawberries, added a hint of cream and finished with a subtle tang of raspberry for a fabulously fruity all day vape."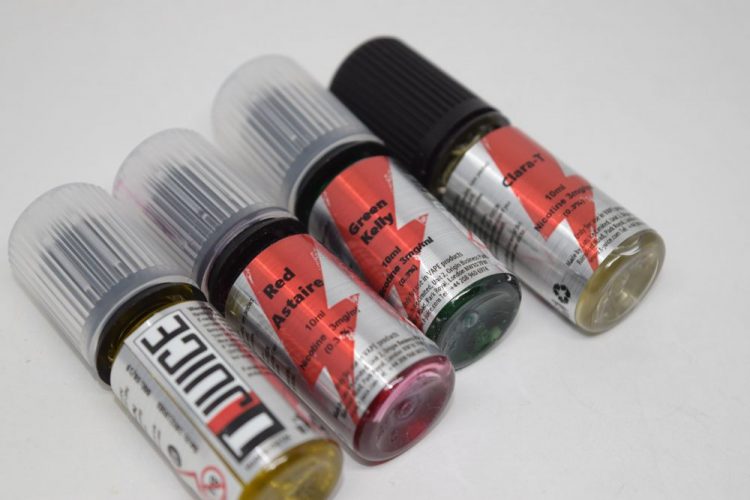 While Red Astaire comes across as a complex flavor that somehow manages to balance several tricky notes, Strawberri is pretty straightforward. You get a sweet, ripe strawberry with a hint of cream for a smooth, velvety aftertaste. There's some raspberry in there, as well, but it's really subtle, so it doesn't really impact the taste of Strawberri.
I you love strawberry juices and are looking for a simple yet flavorful all day vape, Strawberri works just fine.
Clara-T – T-Juice describes this flavor as a different take on Red Astaire, with "a more subtle lick of aniseed and an extra burst of freshness".
As its name suggests, Clara-T is a cleaner, less complicated version of Red Astaire. By taking away most of the aniseed and making up for it with an extra drop of menthol, you're left with a cleaner berry taste and a stronger "freeze effect". While I've heard people say that it's basically the same as Red Astaire, I strongly disagree. Even though they contain pretty much the same flavorings, by tweaking the proportions, T-Juice has come up with a completely different e-liquid.
Personally, I prefer Clara-T to Red Astaire, but I am biased because of my adversity to aniseed as an e-liquid ingredient. If you like a bit of spiciness in your vape, I would definitely recommend Red Astaire, but if you prefer the simplicity of berries and menthol, Clara-T is the better flavor. It's also more suitable as an all-day vape, in my opinion.
Green Kelly – "A fresh summer lemonade, mixed with ripe raspberries and a juicy citrus twist"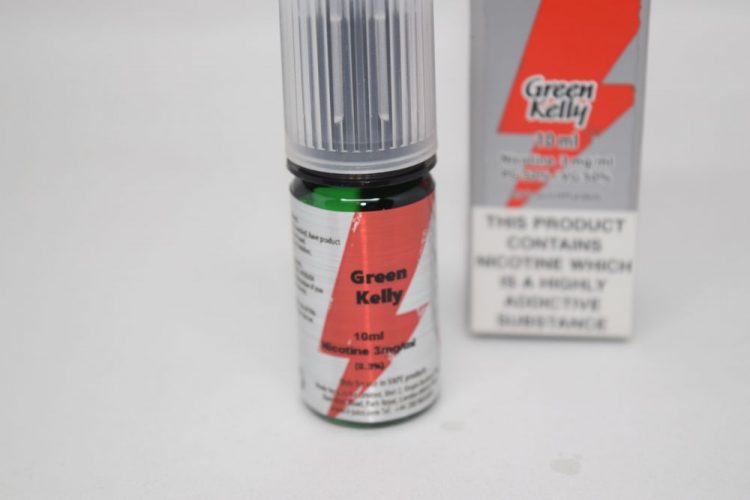 Reading the official description, I was trying to figure out why this juice is green… Anyway, I'd say that the T-Juice description is spot on. Green Kelly is a very flavorful combination of lemon, lime, raspberries and a drop of menthol for a subtle ice-effect. If you're into citrus vapes, you're going to love it, particularly on a hot summer day.
The only thing holding this juice back, in my opinion is the high PG content. While the flavor is very strong both on the inhale and the exhale, Green Kelly leaves a funky aftertaste in my mouth that I remember from back in the day when high propylene glycol juices were the norm. If this was available in a max VG version, I'd pick it up in a second. For some reason, I only picked up this PG aftertaste when vaping Green Kelly, and to a lesser extent with Strawberri. I figure it was because the high menthol and aniseed masked it on the other two flavors.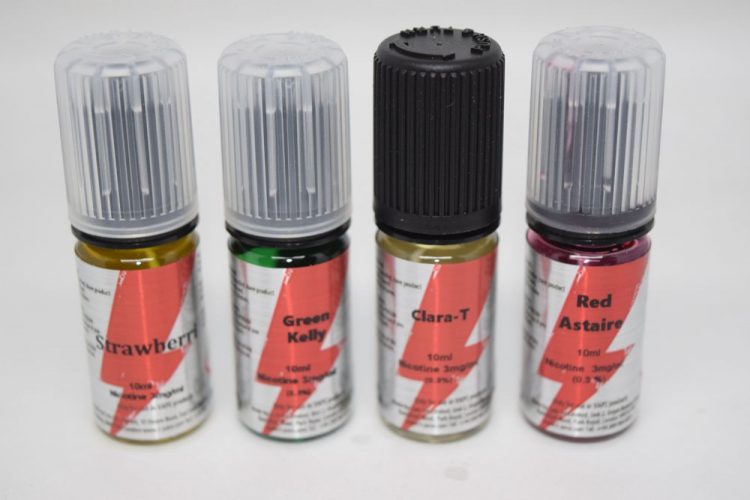 Conclusion
These four flavors make up a tiny fraction of the T-Juice lineup, but they were enough for me to get an idea about the brand as a whole. While I wasn't blown away by Red Astaire, I respect the boldness of combining so many tricky flavors into what is ultimately an interesting vape. Clara-T is better in my opinion, but that's just because I'm not a fan of aniseed. Strawberri and Green Kelly are two very tasty fruit vapes that I think could be even better as Max VG or at least 70VG/30PG. I give T-Juice 3.5 stars overall.