Medusa Juice E-Liquid Review
Medusa Juice is a premium e-liquid company based in Norfolk, United Kingdom. Since they have over 70 different flavors to choose from, it was virtually impossible for me to review their whole line, as I usually do, so I decided on a handful of them, just to get an idea of the quality they offer.
Most Medusa Juice e-liquids are a 70/30 propylene glycol-vegetable glycerin blend, which makes them compatible with any kind of vaping setup, from basic clearomizers to tanks and rebuildable atomizers. The heavy PG mix also makes the flavor stand out more and ensures a strong throat hit even in low-nicotine juices. On the downside, the high amount of PG could cause some trouble for vapers allergic to it, but that's probably why Medusa juice also offers a small line of 95% VG flavors.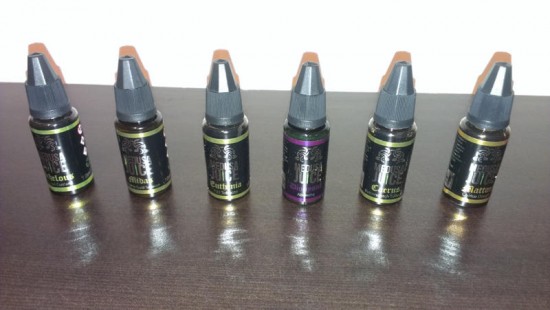 Customers have a choice between 10 ml plastic bottle and 30 ml bottles glass bottles. I received my samples in the plastic containers, but from what I can tell, the glass bottles are much more impressive. Not only do they have a more quality feel tot them, but they also come with a dropper cap that makes refilling a breeze, as well as a cool black vape band that you can use to accessorize your tank.
The plastic bottles are your plain, run-of-the-mill needle bottles. Like the larger glass bottles they feature the Medusa Juice logo and flavor name on the front, while on the back you have the typical nicotine and age restriction warnings, a list of ingredients, nicotine strength, batch number and expiration date. The main drawback of these plastic containers is that the needle is so thin that it actually requires quite a bit of strength to squeeze a few drops of juice through it. This only gets worse when there's only a bit of e-liquid left in the bottle. Hopefully, Medusa Juice will find a better option soon.
Now on to the flavors: Medusa Juice has no less than 11 tobacco juices available, and having been searching for the ultimate tobacco vape ever since I started using e-cigarettes, I couldn't help but try a few of them to see if they're any good.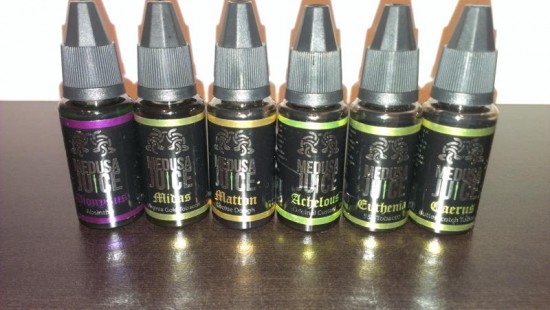 Euthenya 555 Tobacco – This one really took me back to my early vaping days, when 555 and RY4 were some of the best tobacco flavors available. I remember the 555 from Bloog blew me away with its mild tobacco flavor strong nuttiness, but I hadn't vaped the once popular flavor in a while before this Medusa Juice version. It was just as I remembered. A smokey tobacco with a bold peanut aftertaste, and no artificial aftertaste whatsoever. With the gourmet tobacco juices and Naturally Extracted Tobacco e-liquids all the rage these days, 555 is not as popular as it one was, but for anyone looking for a nutty tobacco, it's still one of the best options.
Caerrus Butterscotch Tobacco – I've tried my share of unique flavor combinations since I started vaping, but Caerrus  was my first butterscotch and tobacco blend. I'm a big fan of sweet tobaccos, but for some reason, Caerrus didn't really do it for me. It was just too sweet, so much so that the oungent tobacco was reduced to a barely-there undertone. It works great as a dessert flavor, if that's what you're looking for, but it's definitely not my kind of tobacco.
Hypnos Smooth Virginia – By far the most authentic tobacco flavor of all the Medusa Juice flavors I tried. No addedd sweetness or artificial taste, just the mild taste of gold Virginia tobacco. Don't get the wrong idea though, this won't taste like your favorite brand of tobacco cigarettes. There's no combustion in e-cigs, so the best you can hope for is an accurate taste of Virginia tobacco, cured, but not burned.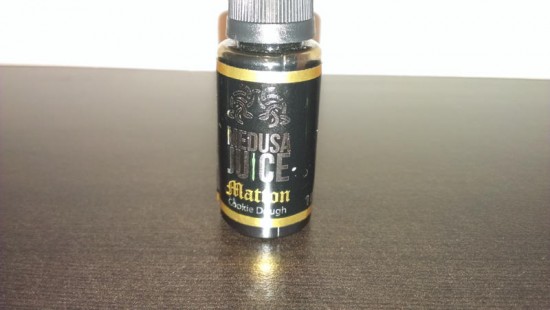 From the vast number of Medusa Juice dessert flavors, I opted for two of my favorite sweets – custard and cookie dough.
Achelous Original Custard – One of the sweetest dessert flavors I have ever tried, second only to the Liquideo Think Freud. I have a sweet tooth, though, so for me this was a true dessert vape. The smell alone made my mouth water, but the taste actually exceeded my expectations – Achelous actually tastes like creamy home-made vanilla custard (no pie, though). Its sweetness probably makes this juice a great alternative for actual desserts if you're watching your weight, but it also makes it a poor choice for an all-day vape.
Matton Cookie Dough – Another great dessert vape, one that actually feels "like you are licking the spoon from a freshly made batch" of chocolate chip cookie dough, just like the description on the Medusa Juice website mentions. And yes, you can actually taste the chocolate! I would go as far as to put Matton on par with gourmet cookie flavors, like Miss Samoa from Fa-Q Vapes, only this one's actually twice as cheap.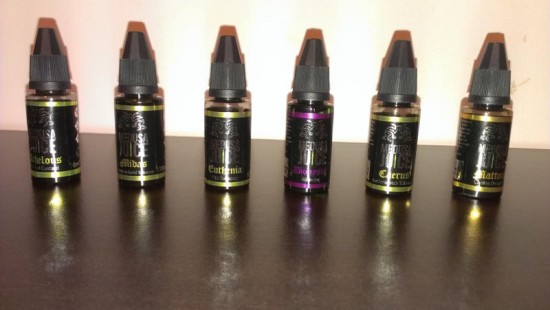 Finally, from the Medusa Juice drinks range, I went for the Absinthe, a spirit I have yet to try. So yeah, I was in for a surprise.
Dionysus Absinthe – The smell of this crazy concoction is so strong it could probably clear a stuffy nose. Anise is definitely the strongest note in this juice, but I also detected some herbs as well, although I couldn't tell you what they were. The Medusa Juice recipe for Dionysus Absinthe is apparently a secret, but they do list anise and wormwood as two of the ingredients, juts so you can get an idea of what it tastes like. It wasn't my cup of tea, to be honest, the anise was way too strong for my liking, but this is just a personal opinion. But if you like the drink, I suggest you give it a try.
I was pretty pleased with the Medusa Juice e-liquids I tried. Some were better than others, obviously, but ultimately that's a matter of taste. What is important is that overall, the juice was of good quality, especially for the relatively low price the company charges. You can get a 10 ml bottle for £2.49 ($3.77) and a 30 ml bottle for £7.49 ($11.33). That's a lot cheaper than most premium juice costs these days, so if you get the chance, be sure to give these guys a try.