VaporFi Pulse Review
VaporFi Pulse
Get a special price on the VaporFi Pulse and other VaporFi products by clicking the 'reveal coupon' button. You will be taken straight to the company website and the discount will be applied automatically
VaporFi (formerly Vapor Zone) is a relatively new e-cigarette brand that targets both mainstream and advanced vapers. Their products range from easy-to-use ego-style vaporizers to complex mods packed full of cool features like variable voltage, ohm meter or rebuildable atomizers.
For years cigarette-like e-cigs have been dominating the market, but recently, analysts started reporting about a shift towards more advance vaporizers with an improved battery life. International Vapor Group, parent company of established brands like South Beach Smoke and EverSmoke, took notice of this trend and decided the niche was worth investing in. That's basically how VaporFi, a company that caters to the needs of vapers looking for something better than a classic cigalike, came to be.
This new brand started out as 'Vapor Zone', but quickly changed its name to VaporFi, for some reason. However, its products remained exactly the same. I received the Pulse vaporizer to test and write about a few months ago, and although it has taken me longer than expected to compete the review, I'm finally able to share my thoughts with you.
A Look at the Contents
The VaporFi Pulse comes in a standard magnet-top box and includes two 750 mAh batteries, two premium clearomizer tanks, a USB charging cable, a wall adapter, a circular charging station, and a user manual. Except for the circular charger, the starter kit seems pretty standard, only there is something important missing – the e-liquid. For some reason, that has to be purchased separately, so if you buy just the standard kit and don't have your own e-liquid, you can't really use it. That's pretty strange, considering the whole point of buying a starter kit is to get everything you need to start vaping immediately.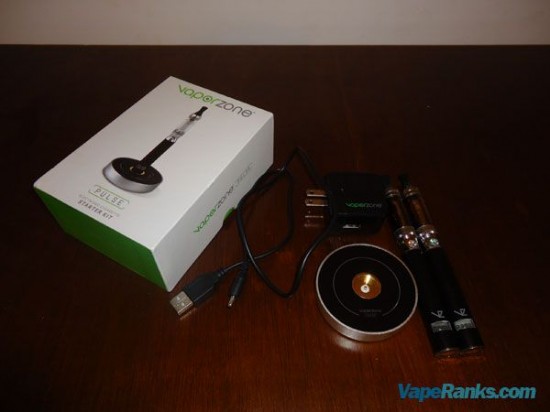 E-liquid issue aside, the VaporFi Pulse offers one of the most intriguing packages available on the market today. While most other companies sell rebranded products that only differ slightly in appearance, the VaporFi actually is unique. From the elaborate designs on the battery and the proprietary design of the clearomizer tanks to the circular charger, everything is one of a kind. After testing so many similar products, the VaporFi Pulse was a much-needed breath of fresh air and genuinely fun to play with.
Battery Life and Overall Performance
Pulse batteries not only look good with their embossed design and glittering diamond-like activation button, but also come packed full of useful features. The built-in LCD screen displays basic yet useful information like the number of puffs taken and remaining battery life. The puff counter goes from 0 to 999 and can be reset at any time by holding down the activation button for 15 seconds. The battery life indicator is the most useful of the two, in my opinion, as it eliminates a long-time e-cigarette battery problem – not knowing when they're going to die on you. This way, when you see there is only one of three lines displayed by the indicator, you can just place it on the charging station for a few minutes before you head out. Simple, but very useful indeed.
The size of VaporFi Pulse batteries suggests they have a capacity of around 900 – 1000 mAh (milliamper-hour), but in reality they have a rating of only 650 mAh. What's really strange is that the VaporFi website describes the batteries both as 650 mAh and 750 mAh, depending on what page you visit, which is really quite confusing. It's probably just an unintentional error, but just to set the record straight, Pulse batteries are 650 mAh. Their rating could be higher, but even at 650 mAh, VaporFi batteries last a good 6-7 hours if used intensively and around 12 hours in the hands of a casual vaper.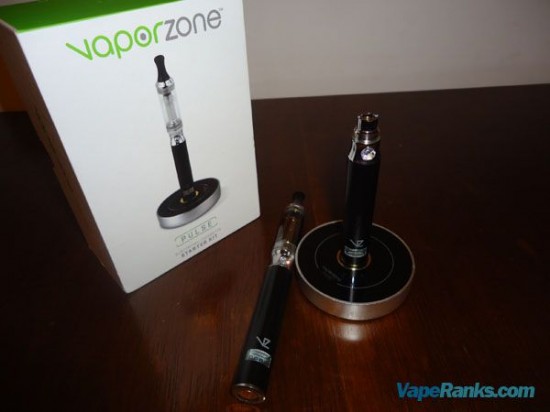 Overall, I was pleased with the battery life and performance of the Pulse, even though I don't fully agree with the battery-clearomizer configuration chosen by the company. But we'll get into that later.
Vapor Production
I really expected the VaporFi Pulse to shine in terms of vapor production. The sheer size of the vaporizer simply screams 'huge clouds of vapor', but sadly, it did not meet my high expectation. That's not to say that the Pulse doesn't outshine any cigarette-size e-cig on the market, and even some larger setups, it just wasn't as good as I wanted it to be. The vapor was there, and I'm sure most new vapers and casual users would find it satisfying, but I just expected more.
I have a couple of theories of why the VaporFi isn't the efficient smoke machine I hoped it would be. The first has to do with the design of the premium clearomizer. It's an impressive thing to look at, long, bulky, with a capacity of 2.5 milliliters of e-liquid (that's more than an intermediate user vapes in a day). However, it also has one of the tightest airflow ducts I've ever seen on a tank. This makes for a very tight draw, of which I am not a fan, and drastically limits the amount of vapor that reaches your mouth. Having tested the Pulse batteries with EVOD clearomizers, for comparison purposes, I can confirm that the tight air duct definitely limits the amount of vapor the Pulse can produce.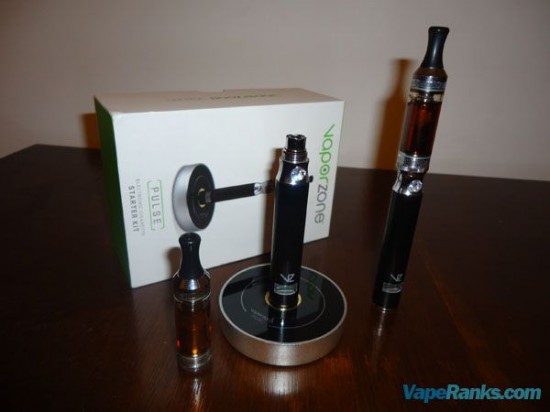 The second theory regards the clearomizer-battery configuration I mentioned above. According to the company's website, VaporFi Pulse batteries operate at 3.7 volts, awhile the clearomizer resistance varies between 2.6 ohms and 3.2 ohms. That's borderline high-resistance. If you're unfamiliar with terms like 'low-resistance' and 'high-resistance' atomizers, this probably doesn't mean very much. To put it simply, the battery just doesn't deliver enough power to heat the atomizer enough, hence the mediocre vapor production.
I can't say I was disappointed by the VaporFi Pulse in terms of vapor production. It preforms reasonably well, it's just that I think it could have been even better.
E-Liquids, Flavors and Clearomizers
Since there is no e-liquid included in the Pulse starter kit, I shouldn't be able to talk about it in this section of the review. However, the guys at VaporFi were kind enough to send me two bottles of juice. Which brings me to the thing I liked most about VaporFi – the unmatched flavor diversity.
Not only do they offer over 100 different flavors to choose from, ranging from tobacco, to fruits and desserts, but they also give customers the option to create their own custom blends, by mixing two or three of their standard flavors. That means there are close to 30,000 different combinations to try, which is pretty damn impressive.
I opted for one of their top mixes, the ChocoNana (chocolate and banana) and a simple fruity flavor, pomegranate. The chocolate and banana wasn't as sweet as I expected, as the chocolate was more of a cocoa flavor, but in combination with banana it proved rather delicious. The pomegranate, on the other hand, tasted tropical, but I didn't really get a clear pomegranate flavor. It's kind of a difficult taste to replicate, I guess, and the e-liquid did have a fruitiness to it, so I wasn't too disappointed.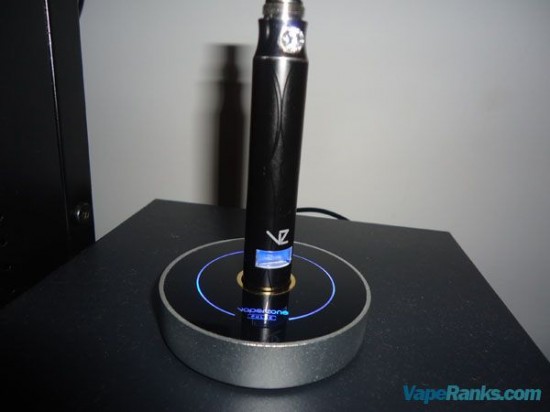 We already covered the clearomizer tank and its weaknesses, and since we don't have a 'charging' section in our review, I'm just going to bring up the circular charger included in the VaporFi Pulse starter kit. Unlike the classic USB chargers usually sold by e-cig companies, this one doesn't screw on to the battery. It's just a circular plate with a small hole in the middle where the battery needs to be placed connector side up. You then connect the charging cable to the charger and plug it into a USB port or a wall outlet, and the battery will start charging. The plate will glow red while the battery is charging, and blue when it's done.
Although it looks really neat and makes for a cool night-lamp, the circular charger is not very practical. You really can't carry it around in your pocket in case you need to charge the battery on the go, takes up more space than it needs to and the vertically placed battery makes it prone to accidents, especially if you place it on your desk.
Conclusion
VaporFi has done a great job setting its products apart from just about everything else available on the market today. Both the basic components and accessories of the Pulse electronic cigarettes are unique in terms of looks and sometimes in functionality, but that doesn't necessarily make them better. The clearomizer tanks could use some improvement and a lower resistance to improve vapor production, and the inclusion of free e-liquid would be a great plus. The VaporFi Pulse is not a bad electronic cigarette, especially for new and intermediate vapers, it just could be a lot better.
The Good
stylish look
quality batteries
puff counter and battery life indicators
huge selection of e-liquid flavors
quality USA-made e-liquids
The Bad
e-liquids must be purchased separately
mediocre vapor production
VaporFi Pulse
Get a special price on the VaporFi Pulse and other VaporFi products by clicking the 'reveal coupon' button. You will be taken straight to the company website and the discount will be applied automatically