Eversmoke E-Cigarette Review
You probably didn't know this, but Eversmoke is the sister company of the popular South Beach Smoke, one of the biggest electronic cigarette brands in the world. After doing a review of South Beach Smoke, I was contacted about testing the Eversmoke, and since I'm always eager to try out new toys, I said why not. Want to know what sets these two e-cigarettes apart? Not much, so in this review I'm just going to highlight the few things that make Eversmoke different. For an in-depth analysis of the e-cigarette I suggest you read/watch my South Beach Smoke review.
A Look at the Contents
Starting with the packaging, there aren't a lot of differences between SBS and Eversmoke. They both come in the same small magnetic box, just with different logos and graphics, and the contents are very similar as well. The starter kit contains two lithium-ion batteries, a 5-pack of cartomizers, a USB charger, and a wall adapter. One important difference is the cheapest Eversmoke package actually includes a USB charger, unlike the entry-level South Beach Smoke. Other than that the two brands are pretty much the same.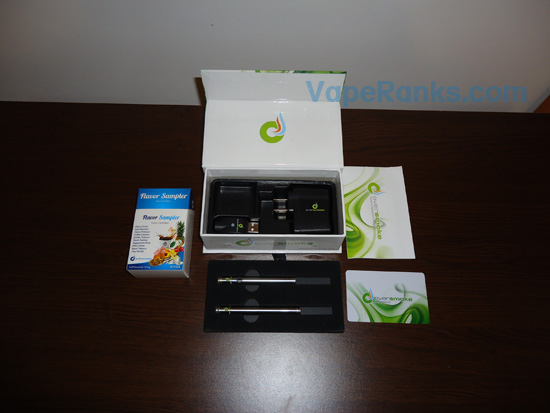 Battery Life and Overall Performance
Eversmoke uses the same 4.2-volt batteries as South Beach Smoke, which is definitely a good thing. They performed well throughout the testing period and I personally haven't had any kind of problems with either the automatic or the manual. The only notable difference I could find between these sister brands in the battery department is that Eversmoke offers the option of a manual battery, whereas South Beach Smoke offers various size automatic batteries. Also, Evermoke has the choice of a metallic finish to SBS' black and white.
Vapor Production
Considering we're talking about virtually the same electronic cigarette sold by South Beach Smoke, the vapor production is just as impressive. Although they don't bear the SuperMAXX™ name, Eversmoke batteries are obviously the same model KR808D-2 as South Beach Smoke's, and as far as I could tell they have the same cartomizers and e-liquid, so they perform just as good. That's great news for vapers looking for an electronic cigarette that delivers clouds of vapor with every puff.
E-Liquid, Flavors and Cartomizers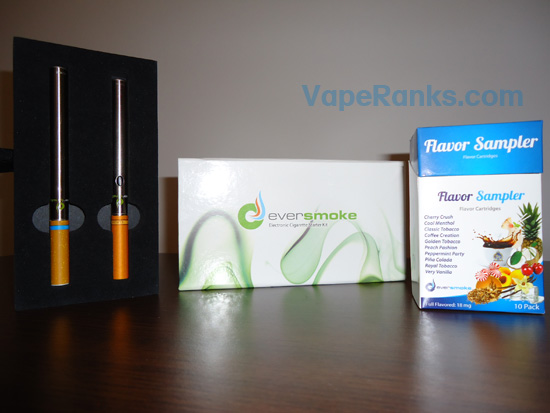 Eversmoke flavors may have different names, but they just pretty much the same as the ones offered by South Beach. Some even sound the same: Classic Tobacco/Tobacco Classic, Golden Tobacco/Tobacco Gold, and even when they don't it's clear they are the same, if only judging by the same identical flavor line-up. I've never been a fan of South Beach Smoke flavors, so unfortunately I can't say too many nice things about Eversmoke's choice of e-liquid either.
In conclusion
If you ask me, the Eversmoke e-cigarette is just a rebranded South Beach Smoke, with very few differences,  most note-worthy being the option of a manual battery and the inclusion of a USB charger for Eversmoke's cheapest starter kit. They both share the same qualities and faults, so if you've ever tried SBS and liked it, you're probably going to be a fan of the Eversmoke as well, but if you're looking for a better alternative, this isn't it.
Because of the aforementioned differences, I'm going to place Eversmoke above South Beach in my e-cigarette rankings, but overall, these two are pretty much the same thing.
EverSmoke 10% Off
If you're looking to get an EverSmoke electronic cigarette, feel free to use our 10% discount. Just click on the button below and you'll be taken straight to the official EverSmoke website. The discount is automatically applied at checkout.
Battery Life and Performance