South Beach Smoke Review
South Beach Smoke 10% Off
If you're interested in a South Beach Smoke e-cigarette, you can get a better price with our 10% discount. A simple click on the button below will take you the company's official site, and the discount will be automatically applied at checkout
If you're reading this, than you've probably already heard about South Beach Smoke. It's one of the hottest electronic cigarette brands right now, and that's practically the main reason I decided to do a review of their product. With new names popping up in the business virtually every day, building a name for yourself is pretty tough, but South Beach Smoke has somehow managed to become one of the most popular e-cigarette companies in the world. But advertising and great marketing in general can be deceiving, and it's time to see if SBS e-cigs live up to their reputation.
A Look at the Contents
For this review I used the South Beach Smoke Deluxe Starter Kit, the most basic package they have on offer. It comes with two lithium-ion  batteries (manual or automatic),   a wall charger, and 5-pack of cartomizers. Definitely not the most impressive starer kit I've ever tested, especially since it doesn't even come with a USB charger. You have to either buy it separately or get a more expensive kit. This being he 21st century and all, I can't understand why the USB charger isn't included in their basic package, since that's what's most vapers actually use to recharge batteries. The wall charger I got was also very different than the standard one most other brands use. It comes with a short cord, making the whole accessory longer than it needs to be. The weird thing is the photo of the Deluxe Kit on the South Beach Smoke website actually shows a USB charger and a normal wall adapter…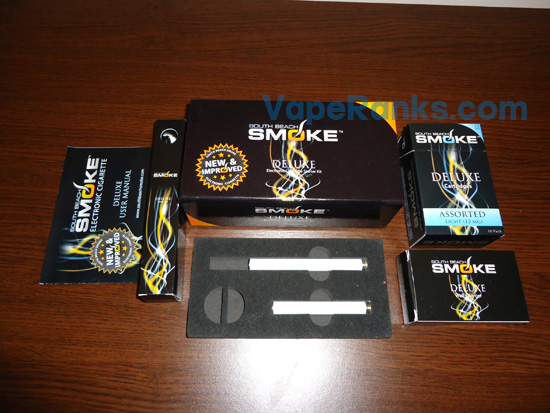 The kit comes in a small magnet-top box, branded with the South Beach Smoke logo. I like that it's smaller than other starter kits I've used, makes it easier to carry, but it's definitely not enough to make me get over its austere content.
Battery Life and Overall Performance
South Beach Smoke and I didn't exactly start off on the right foot, but I was hoping the batteries would change my initial opinion. The SuperMAXX™ name sounded intriguing, and I was curious if there was more than branding behind it. SBS uses one of the most advanced e-cigarette models, the KR808D, and that right there is a big plus. But that's not all; while most KR808Ds are regulated at 3.7 volts, South Beach Smoke upped the power of its devices to 4.2 volts, which, depending on the resistance of the cartomizers, makes vapor hotter and requires less draw to produce an equivalent volume of vapor. 3.7 volts is my sweet spot, but I have to admit using these "supercharged" SuperMAXX™ batteries was a welcomed change of pace. You have to be careful what kind of cartomizers you use them with, though. I tried some Green Smoke cartos and got a burnt taste after only a couple of puffs.
The reason I only tried them with Green Smoke cartomizers is very simple – the batteries have the same KR808D-2 threading. What that means is they are not compatible with the much more popular KR808D-1 accessories most e-cigarette suppliers sell. If you plan on being faithful to the few brands that actually use this threading, it's not going to affect you at all, but this just strikes me as a gimmick some companies use to make sure customers keep buying their cartomizers, exclusively. Otherwise, the battery life was pretty satisfying – I got about 200 – 250  puffs out of the standard battery, and about 350 puffs out of the extra-capacity battery – the switch was responsive throughout the entire testing period, and the recessed crystal tip is a pretty nice touch.
Vapor Production
I expected a great vapor production from the 4.2-volt SuperMAXX™ batteries, and they didn't disappoint. Practically every KR808D battery I've tried so far did very well in this department, and the South Beach Smoke was no exception. The kit I used for this review came with two automatic batteries, so I didn't get a chance to test the manuals, but the ones we got produced great vapor. Like most automatic e-cigarettes, they perform best after a primer puff, but even without one, the volume and density of the vapor are very satisfying. The user manual and the company's official site don't seem to include a list of e-liquid ingredients, but judging by the high vapor production, they might be using a mix of propylene glycol and vegetable glycerine.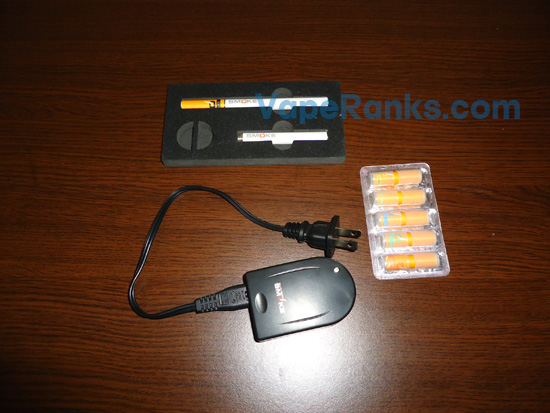 I really have nothing bad to say about South Beach Smoke's regarding vapor volume. It constantly produced white clouds, even when the batteries were nearly depleted, I got a nice throat hit from the 12 mg nicotine e-liquid, so obviously two thumbs up on this one.
E-Liquid, Flavors and Cartomizers
Another reason why I was looking for the ingredients in South Beach Smoke's e-liquid is because I thought their flavors tasted funny. Now, I've tried dozens of different juices during my journey in the world of vapor. Obviously, some I liked more than others, but so far I've never tasted anything quite like the stuff SBS uses for its electronic cigarettes. And no, unfortunately I don't mean that in a good way. The first flavor I tried was the tobacco, and I didn't like it one bit. It had this weird musty taste that reminded me a lot of the taste I got in mouth when my mom forced me to swallow pills as a child. But this wasn't the first time I had a bad first impression when trying new juice, so I continued vaping the stuff and hoping my taste buds would finally accept it. Sadly, after days of using the e-cigarette, I still got that medicinal taste.
Worse still is the fact that all other South Beach Smoke flavors had the same strange base taste, some more potent than others. The Tobacco Gold, for example, was actually pretty nice, with a strong tobacco taste that actually made the medicinal aftertaste bearable. I know e-liquid contains various chemicals, but I don't expect it to taste like it too. I even went online and searched for user reviews and their impressions on the e-liquid, but while some very few shared my opinion, most though South Beach Smoke flavors are great. That just goes to show you flavors are a matter of personal preference, and you should always try stuff for yourself.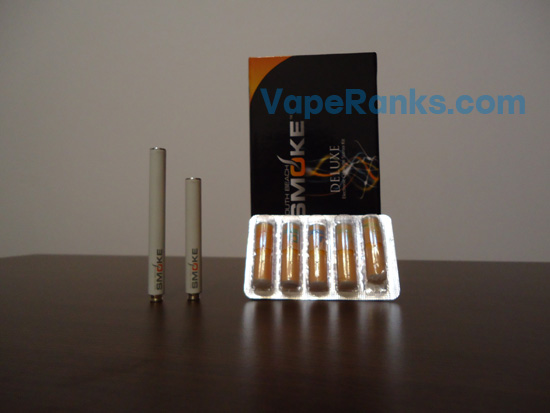 South Beach Smoke has 10 different flavors you can try, including three types of tobacco, menthol and peppermint.
In conclusion
I have mixed feelings regarding the South Beach Smoke electronic cigarette, and if you've read through this review, I think you can understand why. I think their SuperMAXX™ batteries are great, I loved the awesome vapor production and the throat hit, but I couldn't help but feel let down by the shady taste of the e-liquid (which I recommend they change) and the poor contents of the Deluxe Kit, especially the lack of a USB charger. South Beach Smoke may be one of the most popular e-cigarette brands of the moment, but I can think of a number of less known e-cigarettes that would put them to shame.
Battery Life and Performance
South Beach Smoke 10% Off
If you're interested in a South Beach Smoke e-cigarette, you can get a better price with our 10% discount. A simple click on the button below will take you the company's official site, and the discount will be automatically applied at checkout