A new study conducted by Rutgers School of Public Health and the Schroeder Institute found that, within the last year, people who managed to quit smoking tobacco are four times more likely to be e-cigarette users than current smokers.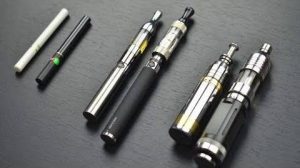 The research lead by Cristine Delnevo, researcher at the School of Public Health, is base on the 2014 National Health Interview Survey (NHIS) of 36,697 U.S. adults aged 18 and over who were questioned about daily e-cigarette use. Researchers looked at e-cigarette use among adults who are current daily cigarette smokers, recent quitters who kicked the habit within the last year, former smokers who quit two to three years ago, former smokers who quit over four our more years ago and never smokers.
They found that daily e-cigarette use was more common among adults over age 25 than among 18-to-24-year-olds and that e-cigarette experimentation was "extremely low" among never smokers and former smokers who had managed to quit four years ago or more. Delnevo and her team said that this may indicate that electronic cigarettes do not appeal to nonsmokers and generally do not cause ex-smokers to start using tobacco cigarettes again. This in line with a series of other studies and surveys that found electronic cigarettes are not a gateway to smoking for nonsmokers and youths.
Data analysis also revealed that approximately half of daily cigarette smokers have tried electronic cigarettes, but that the highest prevalence of daily e-cigarette use was among current smokers and former smokers who quit within the past year. When comparing these two categories, researchers found that around 13% of recent quitters are likely to use e-cigarettes daily vs. 3.5 percent of current smokers.
"This is in line with other recent evidence that regular, daily e-cigarette use may help some smokers quit cigarettes," said Cristine Delnevo, adding that "improved and standardized measures of e-cigarette use are needed to understand how these products are being used as well as the progression from experimentation to regular use and the influence of e-cigarette uptake on tobacco use trajectories"
David Abrams, executive director of Schroeder Institute, the research arm of Truth Initiative, a national public health group, said that "the findings suggest that e-cigarettes could be used to displace much more toxic cigarettes among smokers and generate an impressive public health benefit in terms of lives saved," noting that "it is important to be clear, however, that e-cigarettes deliver nicotine, an addictive stimulant. They are not appropriate products for children and youth."
"I think the takeaway here is that cigarette smokers, as we know, want to quit smoking cigarettes, and they are looking for different strategies and ways to help them quit. And there is certainly approved pharmaceutical therapy and counseling, etc, but for some cigarette smokers, it seems like this product may have certain appeal to move them away from combustible cigarettes," Delnevo concluded.
The result were obviously welcomed by pro e-cigarette groups, like the American Vaping Association. Its, president, Gregory Conley said that "this study adds to the already large body of evidence showing that vapor products are effective at helping smokers quit. With products like the nicotine gum and patch having pitiful twelve-month failure rates of 93-97 percent, it's clear that anti-smoking groups should be welcoming the release of more innovative smoke-free products."
Conley was however somewhat disappointed that the study didn't also analyze what flavors surveyed vapers were using to help them stay off tobacco cigarettes. "With attacks on flavors coming daily from prohibitionists, it's more important than ever that genuine public health researchers begin collecting data about their use among adult consumers," he told the Daily Caller News Foundation.