According to a recently released study by the Harvard School of Public Health, on the use of electronic cigarettes in the European Union, over 30 million Europeans have tried e-cigarettes at least once. Another one, published in the same journal (Tobacco Control), found that the number of electronic cigarettes and e-liquids available online has soared in the past few years. The findings in both works speak loads about the staggering growth of a product considered by analysts to still be in its infancy.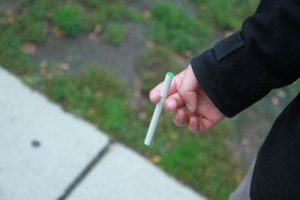 Invented by Hon Lik, little over a decade ago, the electronic cigarette has quickly become one of the most popular products of the 21st century, and is regarded by many financial analysts as one of the top eight most disruptive themes of the future. According to the findings of a study by the Harvard School of Public Health (HSPH), around 30 million people have tried e-cigarettes in the European Union alone.
That may not seem like a huge number, especially when compared to the 125 million smokers in the EU, which make up around 25% of the 500 million citizens of the Union, but one has to keep in mind that e-cigs have only been around for a few years. Keeping things in perspective, it's fair to say electronic cigarettes have come a long way in a very short time.
HSPH researchers coordinated by senior research scientist Constantine Varvadas analyzed data from a EU survey known as Eurobarometer 2012, which involved 26,500 adults from 27 countries, and tried to determine Europeans' attitude towards tobacco. One of the key findings of this recent study was that around 30 million people had tried electronic cigarettes. They also found that one in five current smokers (20.3%), one in 20 ex-smokers (4.4%), and only one in 100 (1.1%) of those who have never smoked had tried e-cigs at least once. It's worth noting that these figures are based on data from 2012, before the boom of electronic cigarettes.
Among smokers, e-cigarette use was more likely among 15-24 year-olds in comparison with older smokers, and among heavier smokers (6-10 or more tobacco cigarettes a day) compared to light smokers. The study also evidenced that smokers may be experimenting with electronic cigarettes as a way to quit smoking, as people who tried to quit in the past year were twice as likely to have ever used e-cigarettes as smokers who had not tried to quit.
Constantine Varvadas said that this new HSPH study emphasizes the need for further scientific research into the effects of electronic cigarettes on human health – "These new findings show that millions—including many young people and smokers trying to quit—are trying e-cigarettes, which underscores the importance of assessing their potential harm or benefits."
A second study, conducted by Dr Shu-Hong Zhu and his colleagues at the University of California, San Diego, found that "the number of e-cigarette brands sold on the Internet is large and the variety of flavors staggering." Around 10 new brands and more than 240 new flavors appeared online each month during their study. Researchers analyzed English language e-cigarette websites between May to August 2012 and again between December 2013 to January 2014. Of the 288 e-cigarette brands identified during the first search, 37 had disappeared by the second one. The second one, however, identified 215 new e-cig brands. By January 2014, they had identified 460 different e-cigarette brands, and over 7,800 e-liquid flavors.
Apart from the obvious high number of electronic cigarettes sold online, researchers also noticed a change in the marketing tactics used by vendors. They have apparently shifted from advertising them as cigarette substitutes to styling them as nicotine delivery systems offering consumer choice in models and flavors.
Sources: Harvard School of Public Health, Health Day
Photo: Joseph Morris