A renowned Spanish chemistry professor recently stated that according to recent experiments, walking down a busy street in Madrid exposes people to more toxic compounds than using an electronic cigarette.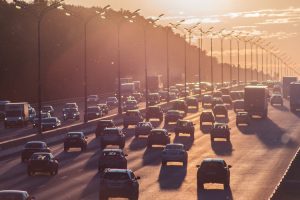 Ángel González Ureña, an emeritus Professor of Chemistry and former director of the Department of Lasers and Molecular Beams at the Multidisciplinary Institute of Complutense University, in Spain, recently drew the attention of national media after claiming that simply walking down a busy street in the Spanish capital is more harmful for the respiratory system than using an electronic cigarette.
"We have carried out some experiments here in Madrid, analyzing the gases caused by traffic on a normal street, and comparing them with the vapor of an electronic cigarette, and I can tell you that, for many chemicals, if you walk down any street you are exposed to more toxins than if you use an electronic cigarette. That's for sure," Ureña said.
The Spanish professor's claims are backed by those of other esteemed scientists, like Peter Harper, oncology specialist at Guy's, King's and St. Thomas hospitals in London, and current advisor to the French Government on its cancer strategy. He has also said that "air pollution causes more respiratory problems than the inhalation of e-cigarette vapor".
Ángel González Ureña also compared electronic cigarettes with tobacco cigarettes, saying that the former had around 90% fewer toxins and harmful chemical compounds, which has famously been confirmed by researchers from King's College London and Queen Mary University of London, who found vaping to be 95% safer than smoking.
"The damage reduction compared to smoking is not a theory but an experimental fact based on chemical analysis using highly sensitive and high-resolution analytical techniques," Professor Ureña said, adding that this reduction occurs because the chemical process is different, "due to the absence of combustion" and because of the "much lower temperature" that e-liquid is exposed to.
Speaking during an online conference on electronic cigarettes called "Questions and Answers About Electronic Cigarettes: Experts Take the Floor", Ángel González Ureña also questioned the notion of "passive vapor", at least when it refers to the risk of nicotine inhalation, due to its "low content in the expelled aerosol".
Dr. Peter Harper, who also took part in the online conference, also claimed that vaping products pose less risk to human health, compared to smoking tobacco cigarettes. He also urged public authorities to consider the science when drafting and imposing vaping regulations, calling it the "only way forward".
Photo: Alexander Popov/Unsplash