VooPoo MAAT Tank Review
VooPoo has always been known as a vape mod developer, primarily because of the insanely popular VooPoo Drag, one of the best vaping devices ever created. But while mods remain the Chinese manufacturer's main focus, it has also branched out into atomizer territory, with products like the UForce and Uforce 2 getting mixed reviews from the vaping community. The new MAAT subohm tank may just be the big break VooPoo needed to establish itself as a serious player in the atomizer development sector. Let's check it out and see why it has gotten so many people excited:
A Look at the Contents
The MAAT (Middle Adjustable Airflow Tank) comes packaged in a rather bland white cardboard box featuring a life-size picture of the device on the front, and a list of kit contents, the same legally-required warnings we see on virtually all vaping-related products these days, and and authenticity sticker, if you want to check whether your product is genuine online. It's not the most impressive packaging I've ever seen, but don't let that discourage, because it's what's inside that counts.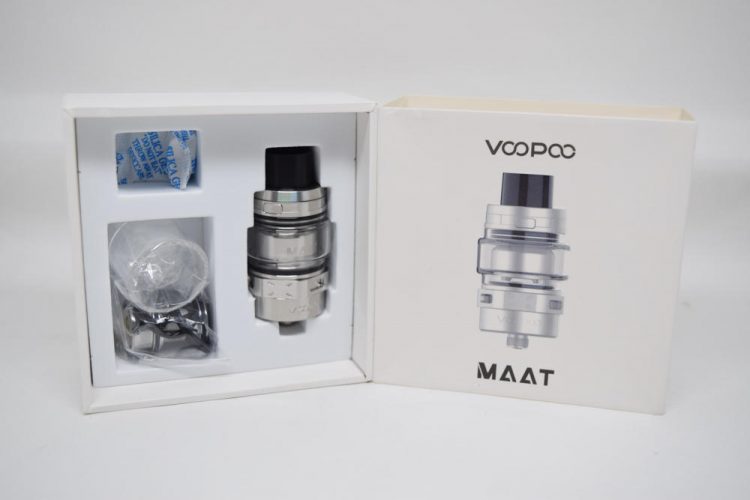 The kit contains one VooPoo MAAT sub-ohm tank, a spare glass tube, spare coil-head, some o-rings and a user manual. It's pretty much your standard sub-ohm tank starter kit.
Design and Build Quality
Looks aren't exactly the MAAT tank's strong point. It's not that it's ugly, it just doesn't stand out from the plethora of other similar tanks we've seen before. Apart from a hex nut-shaped airflow adjustment ring, there's really nothing to grab your attention. But appearances can be deceiving, and that's most certainly the case with this particular tank, at least in terms of interior design and vaping performance.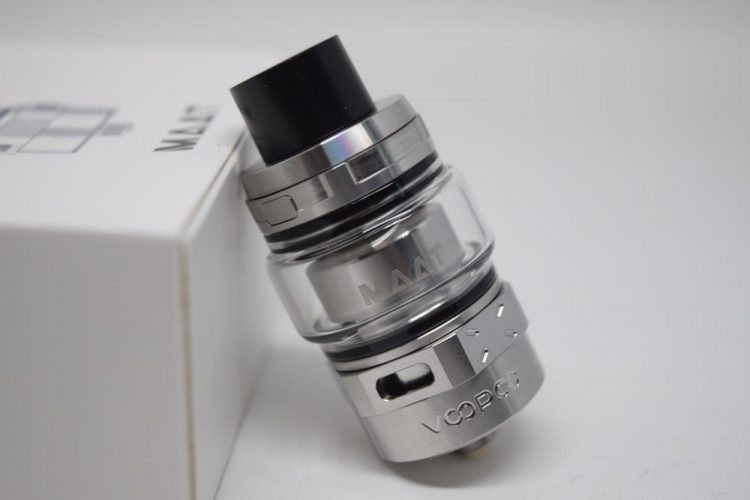 The MAAT sub-ohm tank is 56mm tall and 28 mm in diameter (around the pre-installed bubble glass), but has an e-liquid capacity of just 4ml, which in this day in age is considered relatively low. The capacity drops to 2.8ml if you swap the bubble glass for the included straight glass section, which I really don't recommend, as you'll have to fill it up very often. Juice capacity is one of the few weaknesses I've noticed while testing this device, and it's actually a weird one, as the MAAT is actually a bit taller than the VooPoo UForce T2, which can hold up to 8ml with the bubble glass installed. It's worth noting that the MAAT uses considerably larger coils, but still, I think they could have found a way to increase e-liquid capacity.
The MAAT tank is made primarily of stainless steel and glass, weighs around 75 grams and comes in three different colors – stainless steel, black and rainbow.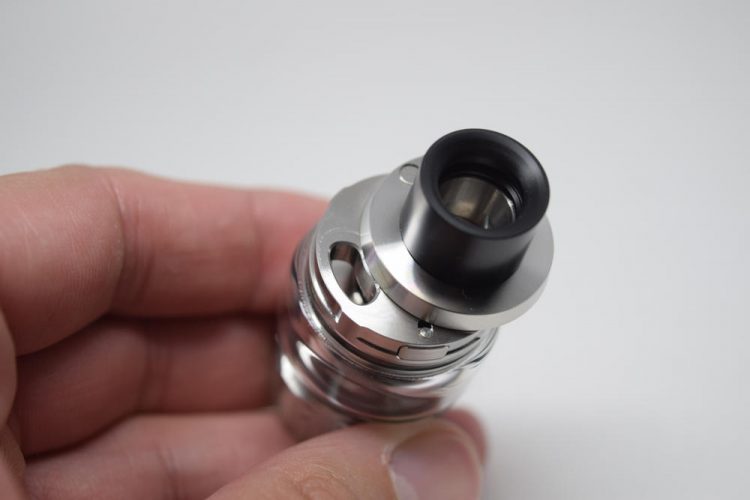 Starting at the top, we have a wide sleeve-type Delrin drip, which means you won't be able to use your favorite 810 drip tips with it. They apparently went with this design to keep the width of the top cap down, as the tank's lower section is bulky enough as it is. The top cap also acts as a swivel fill-port cover which slides to the side when you press a really well concealed button locate on the side of the tank. I actually didn't notice this button, so I had to check the manual to see how it opens.
Because the top cap had to be slimmed down, going with a regular drip tip slot that extended deep into the top cap would have made the swivel mechanism unusable, so I guess going with a sleeve made some sense. I personally would have preferred they went with a regular screw-on top cap, but swivel caps are really popular right now, so I can sort of understand VooPoo's decision.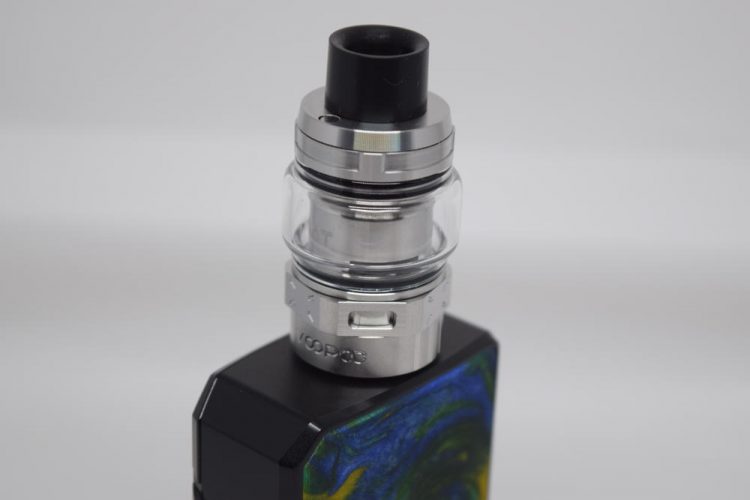 Unfortunately, the sample I received for this review had some problems with the top cap. While pushing the button activated the swivel mechanism, pushing it back over the tank required some extra effort. Basically, I had to push the top cap back into position with one hand and press the button again to get it to slide back all the way. Normally, all you would have to to is push it back and it would click into place, but mine had that button pin sticking out too much. I'm not going to call that a con, because I've been watching videos on YouTube, and everyone else's samples seem to be working just fine. If anything, it's an error of VooPoo's quality control team.
Anyway, the swivel top cap conceals a medium size fill-port that reaches straight into the tank. Further down we have the glass section and a rather large metallic cover that goes over the coil-head, with large gaps at the bottom to allow the juice to flow down through. The lower section of the MAAT tank is made up of a bulky airflow control ring that closely resembles a hex nut with three large airflow holes punched through it, as well as a bottom cover which you have to remove to access the coil-heads.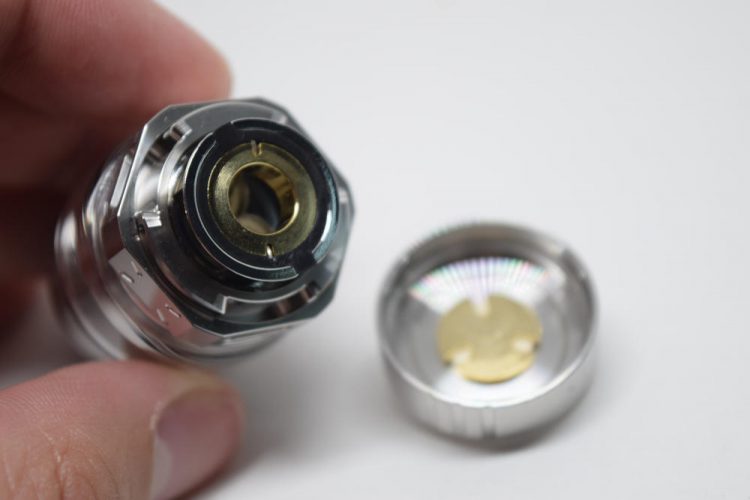 To remove the bottom cover, you need to quarter-turn it counter-clockwise and then pull it off. Putting it back on isn't always as easy though, as you first have to align it properly with the tank and then quarter-turn it clockwise. Also, I've noticed that when screwing off the tank from a mod sometimes detaches the tank from the base instead. It doesn't happen often, but it's still a minor design flaw that VooPoo probably overlooked.
Unlike most tanks, the MAAT coil-heads don't have to be screwed onto the base; all you have to do is push them in through the bottom and then place that detachable base over them. It's much simpler and it eliminates the risk of faulty threading. Also, the pair of o-rings on the coil-heads do a good job of sealing the tank, so you don't have top worry about e-liquid leaks even if the tank base accidentally detaches.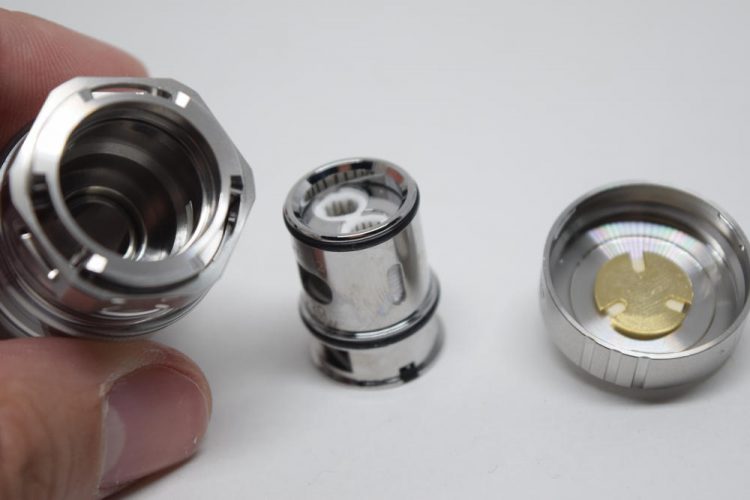 But the true innovation of the VooPoo MAAT tank is the airflow system. When you draw, air goes in through the three slots on the airflow control ring, then down intro the base and back up through the bottom of the coil-heads and through the mesh coils, picking up loads of flavor on its way into your mouth. It's hard to explain just how smooth and quiet the airflow is on this thing, but trust me, you'll love it.
How It Vapes
The MAAT Tank comes with two different types of coil-heads, a single coil rated at  0.13Ω and a dual-coil version with a resistance of 0.2Ω. The first has a recommended wattage range of 60W – 85W, while the latter works best between 55W and 80W. They seem pretty similar on paper, but they actually vape quite differently. The single-coil version provides a slightly tighter draw, and works well even at lower wattages, while the second feels airier and requires a bit more power to really shine. Still, as far as mesh coil-heads go, they are both among the best I've tried.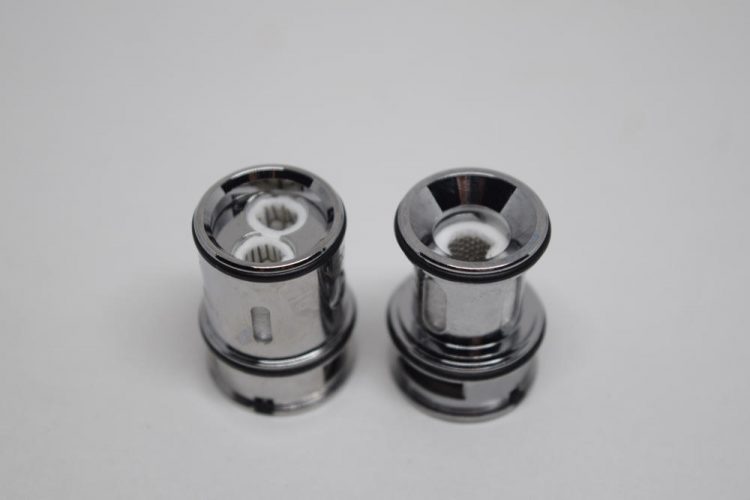 The dual coil has a slightly superior vapor production, although I doubt most vapers would have anything to complain about the sing coil in that regard. They're both miniature fog machines, so if you're worried about blowing mediocre clouds, don't be.
But while flavor production is definitely impressive, the flavor you get vaping on the VooPoo MAAT will simply blow your sucks off. The FreeMax Mesh Pro has been my favorite mesh sub-ohm tank for a long time, and the MAAT is the first one I've tried since that actually comes close. I feel like the tripe mesh coil of the Mesh Pro and Fireluke tanks is still in a league of its own, but as far as single mesh coils go, VooPoo's version is probably the best.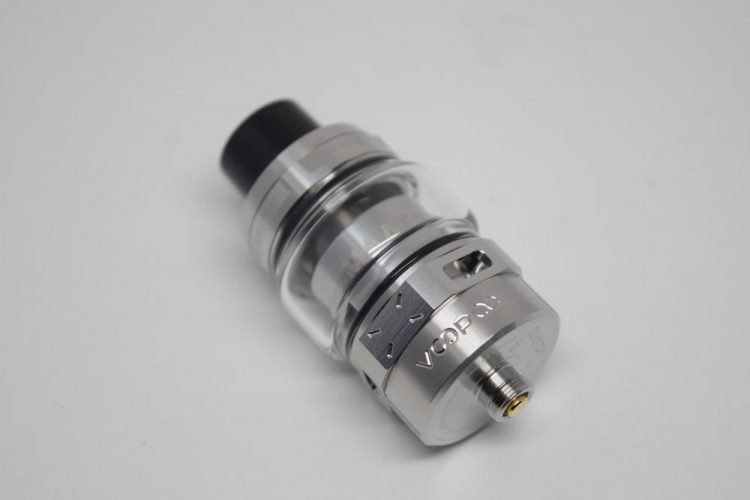 While the MAAT dual-coil has a slight edge in vapor production, when it comes to flavor, the single coil stands out. I don't know if it's the type of mesh used on each of them – the single coil has denser mesh that covers a larger surface on the cotton wicking, whereas the dual coil has a type of metallic net  coiling – or the fact that the single-coil lets less air pass through it, but it just out better flavor. Plus, the draw is smooth, and quiet, with no noticeable turbulence or annoying whistling when you vape.
Conclusion
I've never really been impressed with VooPoo's previous atomizers. They were ok, but nothing to write home about. But the new MAAT tank is different. It's innovative, well-built and performs great, offering both stellar vapor production and incredible flavor. It's by far the best VooPoo tank I've ever tried, and definitely one of the best mesh sub-ohm tanks on the market right now. VooPoo has made a few mistakes in the last few years – both in terms of product releases and self-promotion – which have seriously affected its reputation, but the MAAT is a step in the right direction.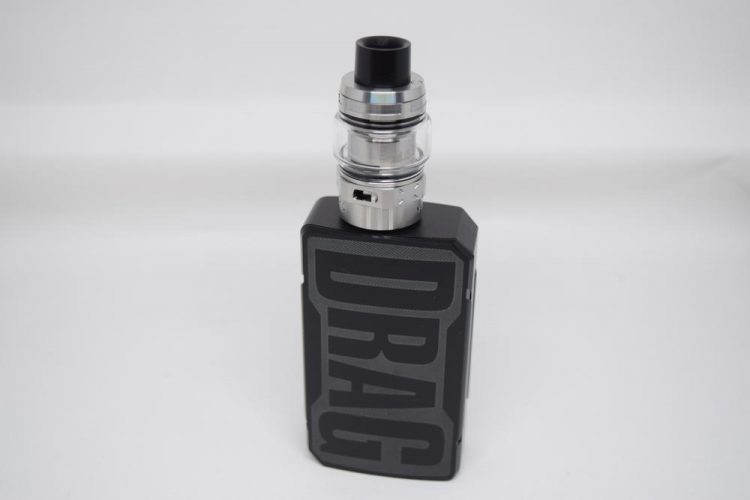 The VooPoo MAAT was sent to me by Heaven Gifts for the purpose of this review.