Britain's Got Talent judge and father of hit TV show X Factor, Simon Cowell has finally been able to quit smoking with the help of electronic cigarettes. The man who once stated he "loves smoking" has now been spotted vaping an e-cigarette on the red carpet.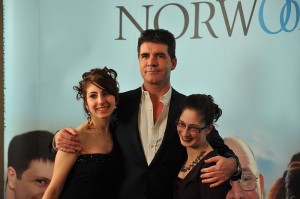 I don't usually care much for news about celebrities using electronic cigarettes. I know Leonardo DiCaprio is using them, as well as Katherine Heigl or Robert Pattinson, but it never seemed like that big of a deal. However, I think Simon Cowell's case is a bit different. Here is a man who, according to his own confession, started puffing on cigarettes when he was just eight years old and until recently had a 44-cigarettes-a-day smoking habit that put his life in serious danger. The 53-year-old collapsed from nervous exhaustion last summer and was ordered by his physician to stop smoking all-together. Easier said than done, as all us ex-smokers know. The X Factor creator had tried to quit twice before without success, and even underwent hypnotherapy in February of last year in an attempt to give up smoking. Nothing seemed to work, and even though he managed to cut down from 44 cigs a day to "just" 15, he was never able to quit smoking completely. Until he tried e-cigarettes…
Amanda Holden, Cowell's fellow judge on Britain's Got talent told the press: "Simon does not smoke anymore. He has got a vaporizing cigarette instead. He smokes air, or rather water. It's amazing." Another BGT source confirmed that "Simon is trying to cut down on the menthols and he's finding that electronic cigarettes are really helping." The health-conscious millionaire is known for using sheep placenta facials, vitamin injections and inhaling pure oxygen from a gas can in order to keep in shape, but was never able to kick the smoking habit and even said he genuinely loves cigarettes and that he equates smoking with having a good time. Things appear to have changed and Simon Cowell was recently spotted holding an e-cigarette instead of those nasty Kool menthols he was so fond of. Good job, Mr Cowell, let's hope this third time's a charm.
It's not yet clear what kind of electronic cigarette Cowell is using to give up smoking. He's British, so it might be a national brand, but he also spends six months a year in Los Angeles, so i wouldn't be surprised if he used a South Beach Smoke e-cigarette, they seem to be really popular with the celebs.
Reading about Simon's e-cig experience on the Daily Mirror website, I stumbled on this little jewel: "They [electronic cigarettes] work by sucking in water from the atmosphere and releasing vapor that looks like imitation smoke." That's so sad it's actually kind of funny. It made me realize just how little most people really know about e-cigarettes and the vaping phenomenon, and just how easy it is for so-called experts to get their slandering messages across. We really need to find a way to raise awareness about e-cigarettes and educate the public on how they work.